Have you ever tried playing an audio on your computer and it begins to play out well but suddenly realize it pops out an error and you are not able to play anymore? It could be that your device lacks a third-party player. Audirvāna is one such audio player that propels your computer for the utmost support. It will scan your computer's local library, find any track then allow you to access them by retrieving the track's information and enabling the completion of the playing process. More so, this audio player comes with streaming app support that enables you to connect Audirvana Tidal, Qobuz, or Hi-Res subscriptions.
How to play Tidal on Audirvāna player? This article will explore more between them and share the steps for connecting Tidal to the Audirvana audio player.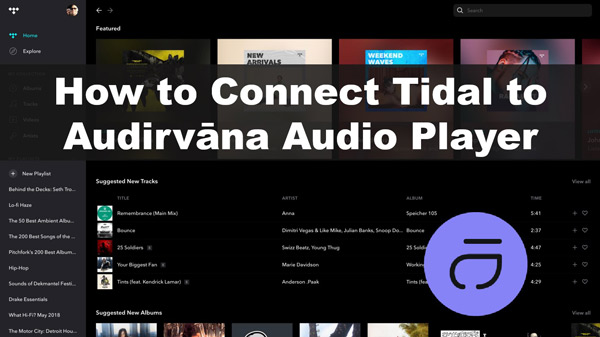 ---
Part 1. More about Audirvāna Tidal Integration
Audirvana is integrated with Tidal and you can choose from among the various Tidal tariffs to use with this app. Tidal doesn't offer a free plan but will give you a 30-day free trial on your HiFi or HiFi Plus plan. Meanwhile, on the Tidal Audirvāna page to subscribe to Tidal, Audirvana Plus owners can enjoy a Tidal 3-month free trial.
Tidal HiFi is a basic service that enables you to listen to AAC 320kbits/ music.
You can also settle on Hi-Fi Surge for superior audio quality that is comparable to Compact Disk support at 44.1kHz/16 bit.
Audirvana lets you listen to your music in very high quality while improving the quality of the original files. You can select your file by genre and quality, making it easy to skip the tracks you don't need. The other benefit is that you can set filters and select your music in whatever criteria you deem fit.
---
Part 2. How to Use Tidal on Audirvāna Audio Player
Tidal losslessness enables you to enjoy Tidal Audirvana wirelessly, in high-fidelity sound quality. Follow these steps to use the Audirvana Plus version on your Mac.
Step 1. Install Audirvana Plus version 2.5 or later on your Mac device.
Step 2. Go to the Preferences > Streaming section.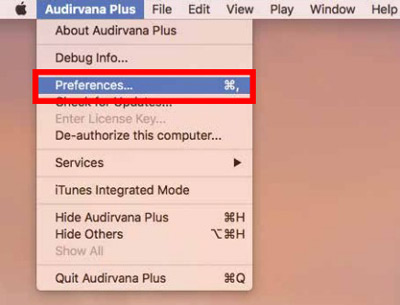 Step 3. Click on the Connect option and enter your TIDAL credentials. Freely enjoy your Tidal tracks to bits.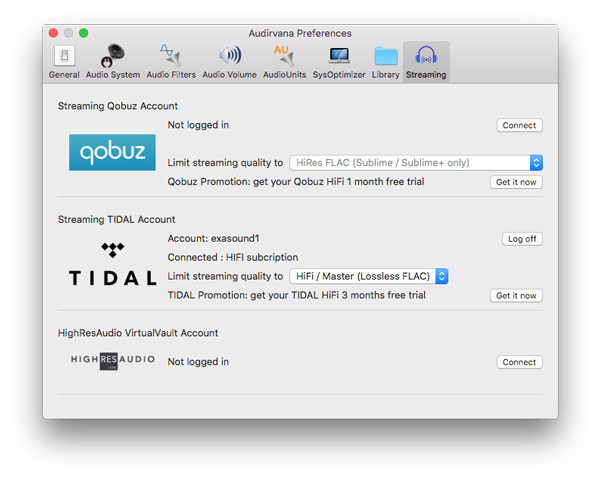 ---
Part 3. Audirvāna Tidal Login Error – Troubleshooting
Audirvana Tidal login problems are usually common after an upgrade. You may realize the Tidal window appears but then disappears after a few seconds then Audirvana crashes. Determine the possible reasons and try these fixes!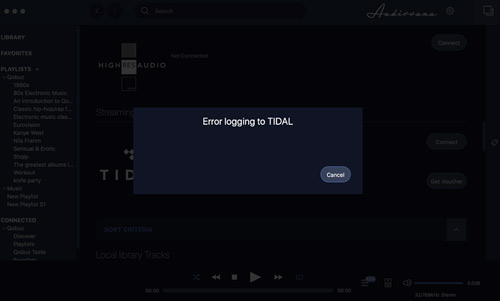 A failure could arise when your "user access control" is not set to the "recommended" option.
A bug in the Audirvana system may cause a null-up.
Internet connection problem.
How to Fix Audirvana Tidal Login Failed Issue
1. Set User Access Control
The user account control will notify you of any harmful programs that are trying to make changes to your computer. Here's how to change the settings to get notifications.
Step 1. Open the "Security and Maintenance" option in the "Control Panel" section.
Step 2. Click the "Change User Account Control Settings" option from the left side.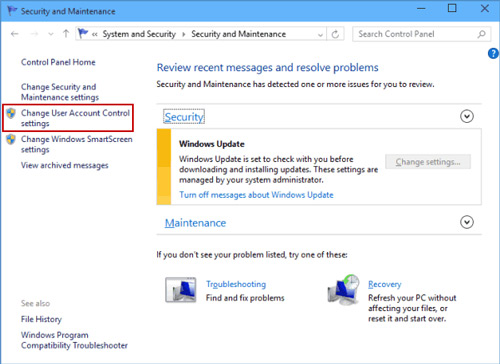 Step 3. Move the scale up or down to choose when to get notifications about changes on your PC, and then click on the "OK" option.
2. Uninstall and Re-install Audirvana
You can re-install the Audirvana system to clear any bugs that could interfere with the login process. However, ensure you have revoked your license from the "Settings" section before uninstalling the app.
3. Check Your Internet Connection
Perhaps it's network issues causing the Tidal app to not function as well as it should. To check your connection, go to the "Settings" > "Network & Internet" option to check and resolve any matters.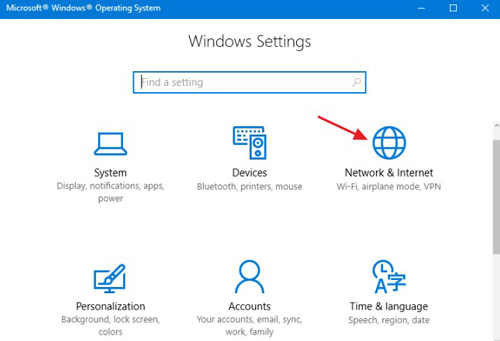 ---
Part 4. How to Import Tidal Music on Audirvāna Audio Player for Free
Rather than an Audirvana Tidal trial that expires in 30 days, you can engage AudKit Tidal Music Converter to import your Tidal tracks for offline listening for free. AudKit will losslessly convert your Tidal tracks, playlists, and albums into common output formats like MP3, WAV, FLAC, and AAC, among others.
It can capture and keep the ID3 tags from the original Tidal playlist automatically, including tags such as album art, artist, year, album, etc. Likewise, you can customize the output settings like audio channel, sample rate, and conversion speed, among others as per your preference. Using it, you can preserve Tidal offline with its MQA quality.
The speed of the AudKit app is impressive, managing up to a 5X rate and a batch conversion of your files. The top joy is enabling you to listen to your Tidal tracks on multiple devices and players offline. These include your smartphone, smart TV, MP3 players, game console, DJ software, and so on.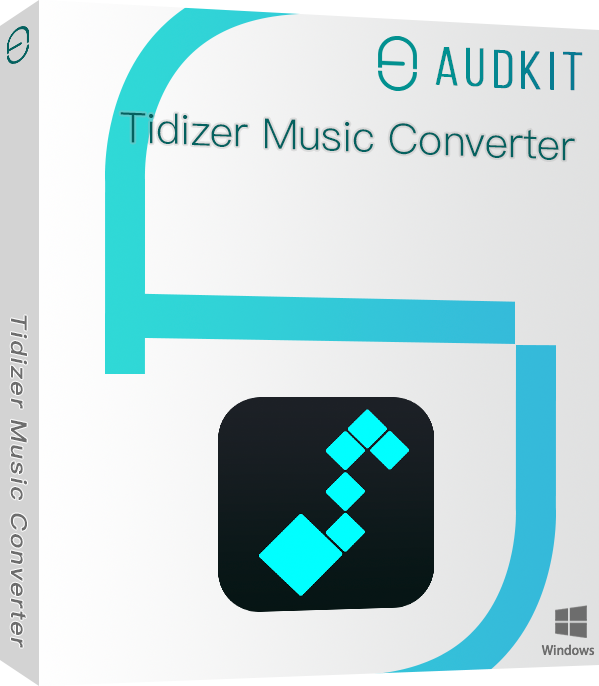 Batch import and convert Tidal tracks to FLAC, WAV, MP3, etc.
Capture and keep 100% ID3 tags and audio quality of Tidal songs
Download songs from Tidal with a quick speed of 5X rate
Use Tidal playlists offline on the Audirvāna audio player
The AudKit Tidal Music Converter works on both Mac and Windows OS devices. Visit the site and download your preferred version. Once you install and launch the AudKit app, it will automatically open the Tidal app. You can then go on to activate Tidizer from the "Menu" > "Register" option then, copy and paste the licensed email and registration code. This will enable you to convert the full tracks of each Tidal.
Step 1 Adjust Tidal music parameters for Audirvāna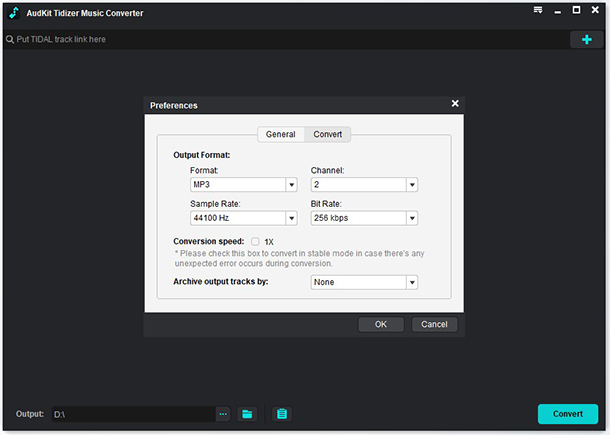 Go to the top of the Menu icon on the AudKit Tidal Music Converter and select the "Preferences" > "Convert" option and move on to customize the output format and other parameters as you want. You can choose FLAC, or WAV as the output format as they are supported by the Audirvana player.
Step 2 Add playlists from Tidal for downloading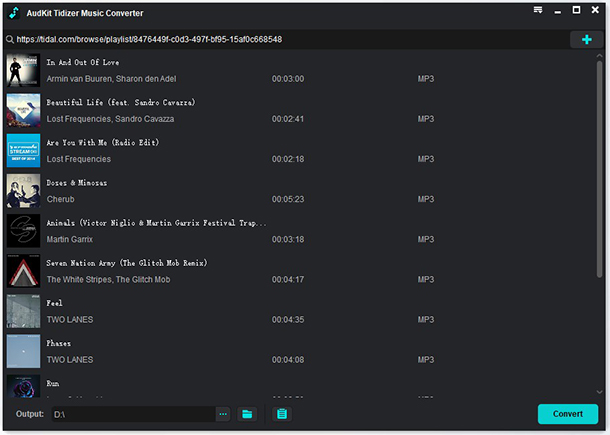 For fewer tracks, simply drag and drop the Tidal song to the AudKit Tidizer app. However, for a pile of tracks, right-click the song, then select the "Share" > "Copy Track Link" option. Next, paste the link into AudKit Tidizer's search bar and click the "+" tab to import them.
Step 3 Convert Audirvana Tidal MQA offline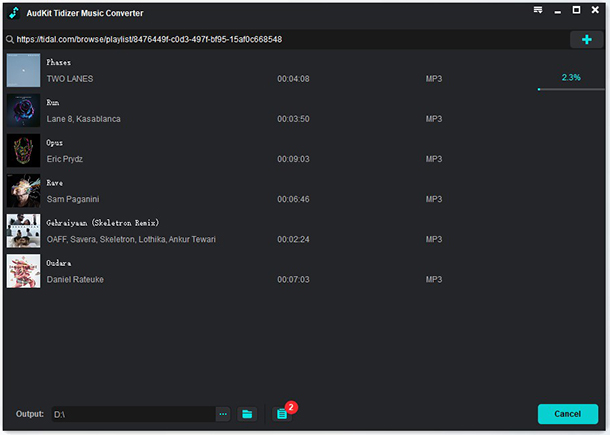 Now, press the "Convert" tab and AudKit Tidal Music Converter will begin the conversion process. It will download Tidal music without premium and save them in a local file. Once completed, a red tip will be shown on the "converted" icon where you can finally see the converted Tidal playlist by opening it.
How to Add Tidal Tracks to Audirvāna Audio Player
Step 1. Open the Audirvana audio player on your computer.
Step 2. Click on the "Settings icon.
Step 3. Then, press on the "Add a folder" button to locate the folder containing the converted Tidal tracks from your computer.
Step 4. Once added, choose the Tidal song to play on the Audirvana player.
---
Part 4. In Conclusion
Other than letting you enjoy streaming your tracks with the best playback sound quality, Audirvana can also synchronize with multiple source folders. You've also got a perfect solution to connect and play Tidal on this audio player, not to mention solving Audirvana Tidal problems. Nonetheless, for offline playback, simply engage the best converter, AudKit Tidal Music Converter, to break all limitations and convert your tracks into common output formats.
---