Are you weary of continually moving between many music streaming services and players to get your favorite songs? Worry not. Now you can browse an extensive music collection, build playlists, and control playing from your smartphone, tablet, or computer with RuneAudio. Tidal, with a high-quality, lossless music collection, is it possible to enjoy RuneAudio Tidal music streaming?
Though the Tidal app doesn't have a direct connection with RuneAudio, you can apply other apps to help you listen to Tidal on RuneAudio. In this article, we will show you the best method on how to use Tidal on RuneAudio. Following the simple procedure in this article, you can enjoy your complete music collection in a single location with the highest possible sound quality.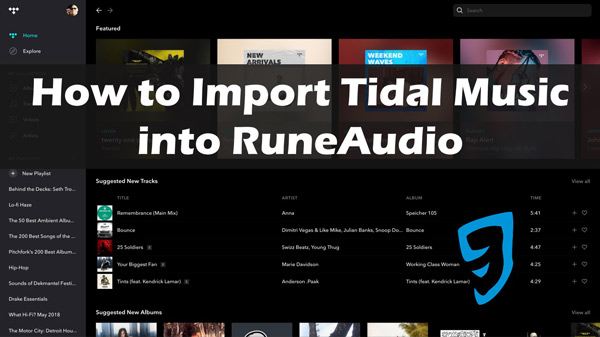 ---
Part 1. What is RuneAudio?
The open-source program RuneAudio converts a single-board computer, such as the Raspberry Pi, into a high-fidelity digital music player. It is intended to be a simple but effective solution for music lovers who wish to experience high-quality audio without needing pricey gear.
The program provides an intuitive interface that enables users to navigate their music collection, build playlists, and control playing from their smartphone, tablet, or computer. Tidal is a music streaming service that provides audiophiles with high-quality, lossless audio streaming.
To get RuneAudio Tidal connect, users can access help from other software to play the Tidal playlists and high-quality stream music straight from the RuneAudio program, enabling them to listen to their music library in the highest quality possible.
---
Part 2. How to Listen to Tidal Music on RuneAudio via BubbleUPnP
BubbleUPnP is an Android application that enables users to stream multimedia content across various home networked devices. It works with several media devices, including Chromecast, Roku, and Xbox, and supports a variety of media servers, including Plex, Emby, etc. BubbleUPnP enables customers to quickly access and stream their media collection from any device, giving a simplified and easy media experience.
Many configuration options enable customization of the user interface. For any Tidal music to broadcast with BubbleUPnP, it must have a DLNA. Furthermore, if you are unaware, Music Player features a UPnP/DLNA mode allowing you to play Tidal songs.
Follow these steps to learn how to listen to Tidal on RuneAudio using BubbleUPnP:
Step 1: Start the RuneAudio configuration menu on your mobile device.
Step 2: Begin by selecting UPnP/DLNA and then waiting for the player to display your networked devices.
Step 3: Select the one you want to use to listen to Tidal.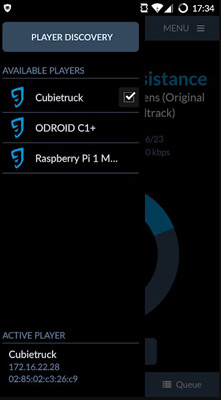 Step 4: Install the BubbleUPnP app on your Android device. When BubbleUPnP is launched, a screen with four tabs—"Now Playing," "Playlists," "Library," and "Devices"—is shown.
Step 5: To choose a file for streaming, you must first select a streaming device. Access the app's list of supported renderers by selecting Devices from the main menu.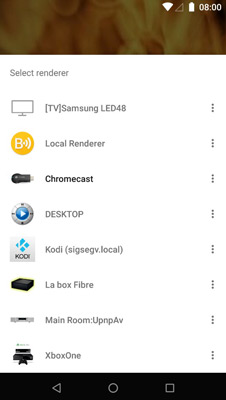 Note: This is your option if you want to use your mobile device to watch a movie or TV show. If you have access to another network storage device, you may use it instead.
Step 6: You'll need to choose the file you wish to play on the device once you've decided. You can play anything on your system by choosing the device from which you want to play it.
Step 7: Choose the music you want to hear by navigating to the folder where Tidal saves its output.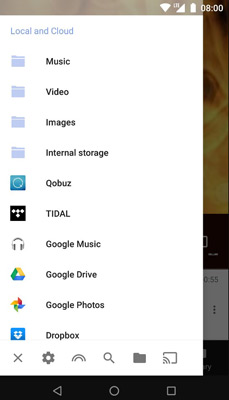 Step 8: Choose the track you want to hear, click it, and the device will play the selected track from Tidal.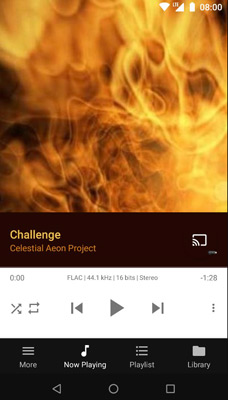 ---
Part 3. How to Play Tidal HiFi Music on RuneAudio Without Restrictions
Are you looking for an unrestricted method to listen to Tidal HiFi music on RuneAudio? Fortunately, AudKit Tidizer Music Converter is here to assist you. This sophisticated program enables you to convert Tidal HiFi records to various output formats, including FLAC, WAV, MP3, and M4A while keeping the lossless sound quality of the original files. With AudKit Tidizer, you may freely listen to your Tidal music on any device or player, including RuneAudio.
AudKit Tidizer's lightning-fast conversion speed, up to five times quicker than conventional conversion techniques, is one of its most amazing characteristics. This allows you to convert massive Tidal HiFi playlists in a few minutes, saving you time and effort. In addition, the program guarantees that the original ID3 tags and sound quality are maintained throughout the conversion process.
The user-friendly interface of AudKit Tidizer makes it accessible to users of all levels of expertise. AudKit Tidizer Music Converter is the optimal answer if you seek a dependable and effective method to play Tidal HiFi audio on RuneAudio.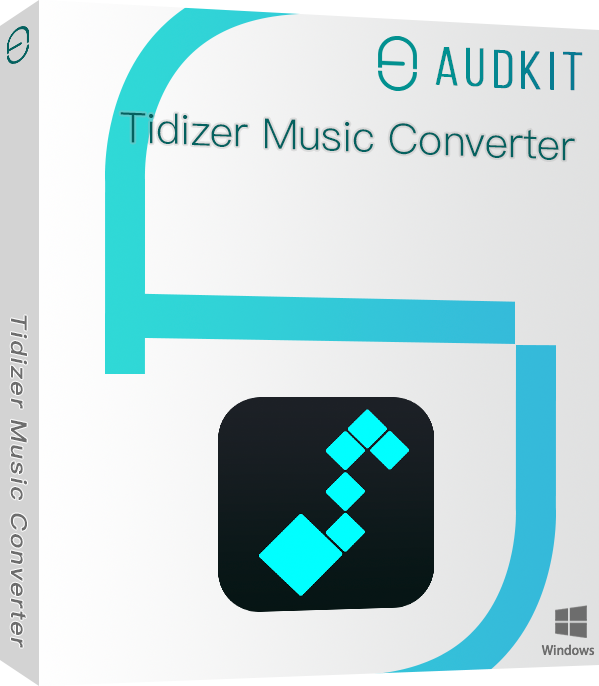 Keep the original sound quality of converted Tidal music
Offer a lightning-fast conversion speed of 5X times
Change Tidal output formats to various ones, like FLAC, WAV, MP3
Download Tidal HiFi and MQA music offline for RuneAudio
Here are the steps to download Tidal HiFi music for RuneAudio without limit.
Step 1 Alter the Tidal output for RuneAudio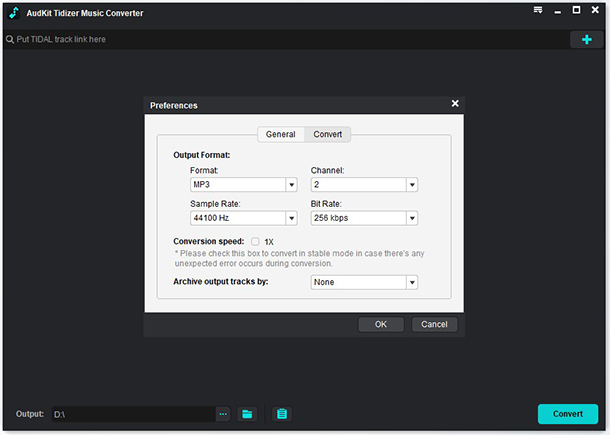 To get the PC version of the AudKit Tidizer Music Converter, use the Download option. When you open the AudKit Tidizer app, the Tidal app will start instantly.
From the menu that appears when you click the AudKit tool symbol in the upper right, choose Preferences. Here you can modify the channel count, sample rate, bit rate, and archiving method to your liking. And you can select a format to convert Tidal to FLAC, AAC, MP3, etc.
Step 2 Add playlists from the Tidal app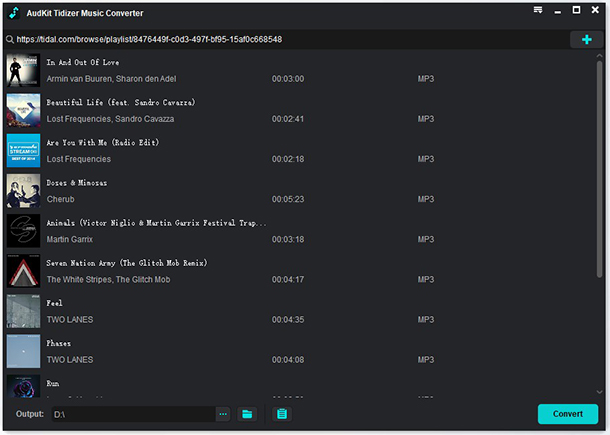 Next, head to the Tidal app to import your favorite music. Right-click the Tidal music and press "Share" > "Copy Track URL" to copy the song. Then, in AudKit Tidizer's search box, paste the URL. After you're ready, import everything using the "+" button.
Step 3 Convert Tidal music for playing on RuneAudio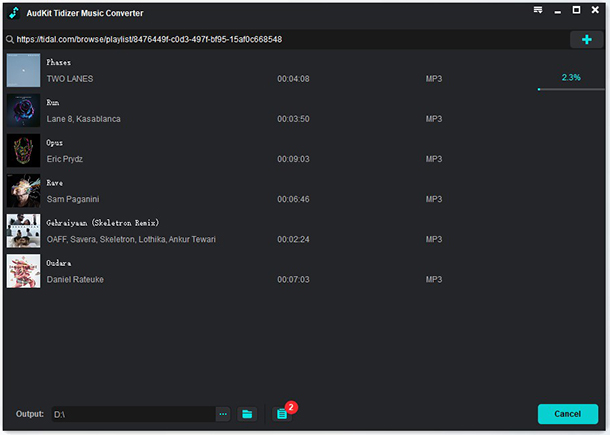 Once everything is set, tap the "Convert" button in the right-hand corner. Immediately, AudKit Tidizer Music Converter will begin the conversion process. You may add Tidal songs to the list being converted at any time. In a few minutes, your favorite Tidal music will be ready to stream on RuneAudio without restrictions using a USB drive.
---
Part 4. In Conclusion
Using RuneAudio Tidal is an amazing method for streamlining your music listening experience and gaining access to all your favorite songs in one location. You have many alternatives if you prefer lossless music streaming or just want to access your Tidal collection on your RuneAudio device.
If you're finding ways how to listen to Tidal on RuneAudio with no intricate steps, AudKit Tidizer Music Converter is the ideal choice to download and listen to Tidal HiFi music on RuneAudio without limits and with the maximum sound quality. Its unique characteristics, such as lossless sound quality preservation, lightning-fast conversion speed, and user-friendly interface, make it the ideal application for playing songs from Tidal on your RuneAudio player.
---