If you want to produce the best, you need to up your game DJing. The emergence of DJ apps has made it easy for even beginners to produce the best mix of music. The Mixxx DJ software even makes it better, with advanced features like mixtape recording, automatic crossfade, HID controllers, and many more.
But is it possible to get Tidal on Mixxx? This is a question that many Tidal users pose. Unfortunately, no. Mixxx does not integrate with the Tidal music streaming service. That's because Tidal music is in Master and HiFi sound quality that is not compatible with many devices except on the Tidal app. But don't think too much! This article will guide you on how to escape the tie and scrap off any limitations on Tidal. Then stream Tidal to Mixxx DJ.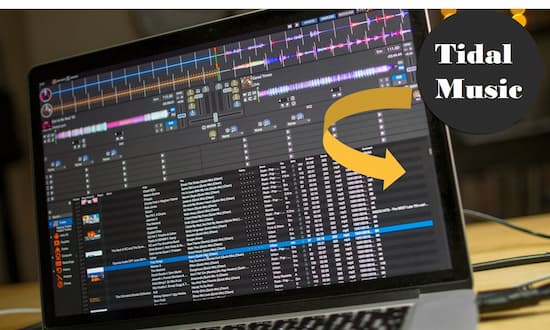 ---
Part 1. How to Use Tidal on Mixxx without Integration
All you need is to download Tidal HiFi music onto your computer for local storage. The best option for that task is AudKit Tidizer Music Converter. This tool has a built-in HiFi music library needing no installation of the original desktop app anymore. AudKit works at a high speed of up to X5 rate, enabling you to perform batch conversion of tones of files. You can batch convert a 10-hour HiFi playlist in only 2 hours. More so, your converted files will retain the original ID3 tags from the HiFi songs. These include the artists, title, album art, year, track number, and so on.
Remember that it's only common output formats that are playable on any device. AudKit ensures that you can convert Tidal music into FLAC, AAC, MP3, and other compatible formats. You will then manage to play the converted Tidal music on any MP3 player and other devices like game consoles, movie editors, smart speakers, DJ software like Mixxx, and many more.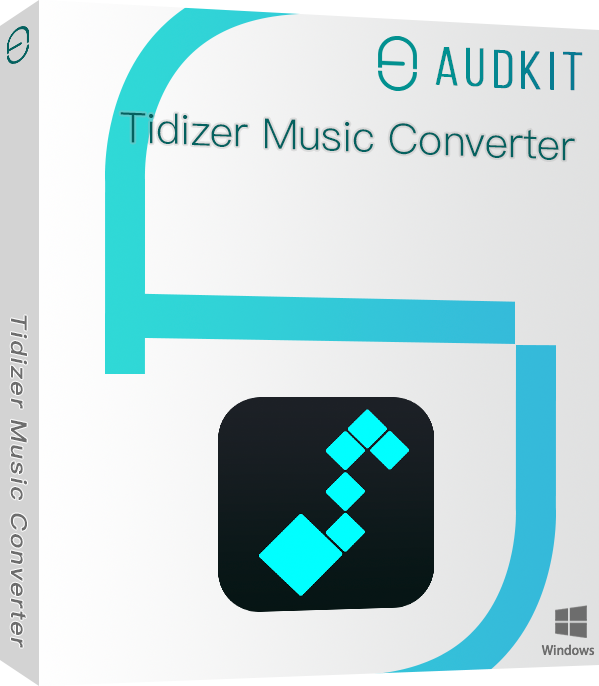 Let HiFi songs play on multiple devices and players
Freely customize Tidal music output quality
Work at a fast speed, going up to 5X rate
Retain lossless sound quality and ID3 tags
---
Part 2. How to Download Tidal on Mixxx DJ with Ease
You can use Tidal with Mixxx only after downloading and converting the Tidal playlist to playable formats. To do this, download AudKit Tidizer Music Converter from its official website by clicking the 'Download' tab. Then install and launch the converter on your computer. Next, you need to unlock Tidal features and activate the full version. Go to the 'Menu' icon and click on the 'Register' option. Then copy and paste both the licensed email and registration code to their respective tabs on the app's interface.
Step 1 Reset the output format of Tidal songs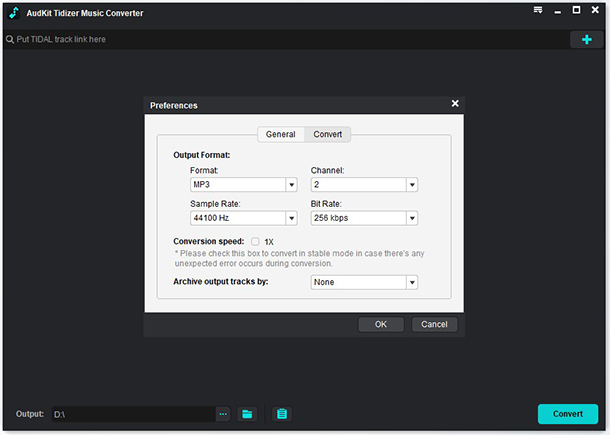 To customize the output settings click the 'Menu' icon then choose the 'Preferences' > 'Conversion' options. Then you can now set the output format and other parameters such as the sample rate, channel, etc.
Step 2 Import Tidal tracks to AudKit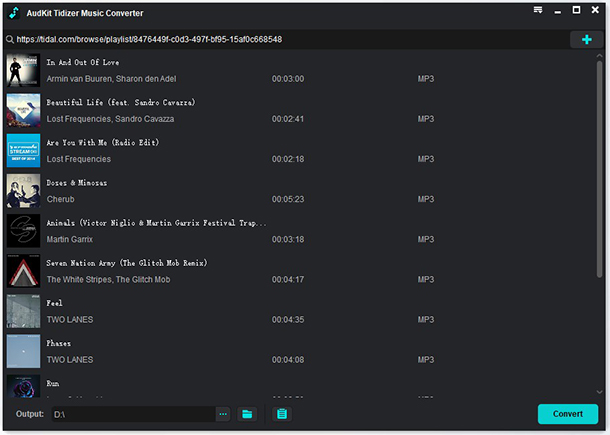 Now open your Tidal playlist from the built-in Tidal app. Note when the 'Add Music' button starts glittering. It means your playlist is ready to be added. Click on the button to select a playlist to add to the converter.
Step 3 Download and convert Tidal playlists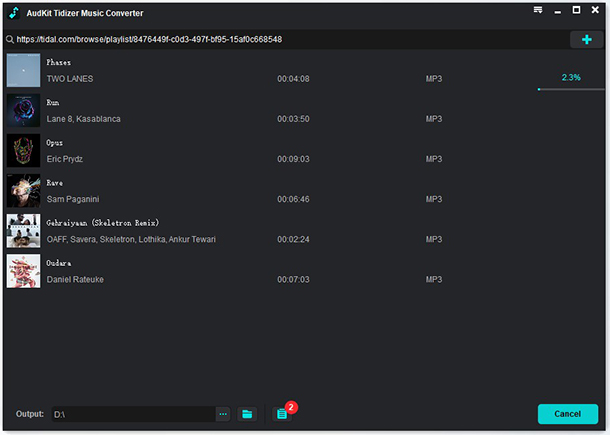 Once you have finalized the settings, click the 'Convert' button at the bottom-right of the converter screen. The download and conversion process will begin immediately. You can add more songs during the conversion process. Wait for the process to be completed then open the 'Converted' icon to find your converted Tidal playlist. Likewise, you can search for any song using the 'Search' icon. Just move the cursor to the file for the search icon to show up. Click on the icon to get your songs and import them to Mixxx DJ software.
Step 4 How to import the converted Tidal tracks to Mixxx DJ for use
You are now on the final lapse to route Tidal audio to Ableton.
Finally, you are not far from playing Mixxx with Tidal. Follow these steps to enjoy Tidal on Mixxx.
Open the Mixxx DJ software on your computer.
The Mixxx DJ tool will first scan and load your local audio if you've never used it before. Otherwise, if you have used it, click the 'Add' button and it will begin to import the converted Tidal playlist.
Your converted files are now ready to be played. Just select a song you wish to play and drag and drop it into the 'Waveform' display. You can then go ahead to engage master sync and optimize the equalizers for great effect as you DJ.
---
Part 3. Bottom Line
You have all the reasons to yearn for Tidal on Mixxx DJ. Thanks to AudKit Tidizer Music Converter that can download and convert your files into playable formats in simple steps. Easily walk the talk and take your DJ music mixing to greater levels with this quick tutorial.