Any kind of music is now at your fingertip given the multitude of music streaming services. However, the quality of these services differs in terms of accessibility, variety, and sound output. And Tidal knows how to lock its users, giving you innovative audio formats in HiFi and MQA quality.
You also get immersive sound formats in Dolby Atmos as the service brings you closer to top-notch artists. What about to DJ with Tidal? It's possible! You just need the best software to blend your tracks and keep your fans entertained with some hot mixes. Here are the top DJ apps currently trending.
---
Part 1. DJ Apps that Work with Tidal Online – Top 7
Enjoy your DJing journey with these top Tidal DJ apps.
1. Serato
Serato offers plenty of features to help you DJ professionally. The user interface is simple to operate, enabling various operations like mixing two tracks simultaneously, locking tracks together for seamless grooves, loop repeating any section, among others. You can then export your playlists to share online through your Serato profile.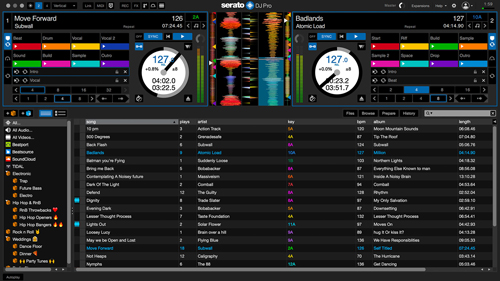 Step 1. Click on the "History" session you wish to export to Serato playlists. Then go to the "Format" section and select the "Serato Playlist" icon.
Step 2. Next, click on the "Export" tab. Note that you need to connect your computer to the Internet to send the History session to the Serato playlist.
Step 3. Wait for the History session data to be transmitted and check out for the web browser that opens. It will then direct you to log in to "serato.com" account.
Step 4. Once logged in, go ahead to verify the exported history session you wish to create the Serato playlist from. Finally, click on the "Continue" button to get your "History" sessions on Serato Playlists.
2. Djay Pro
This Tidal DJ software offers a complete toolkit for DJing at all skills. It seamlessly integrates your music library, offering you the chance to stream millions of tracks. You can also make use of its powerful features like audio effects, four decks, and hardware integration, among others. Follow these steps.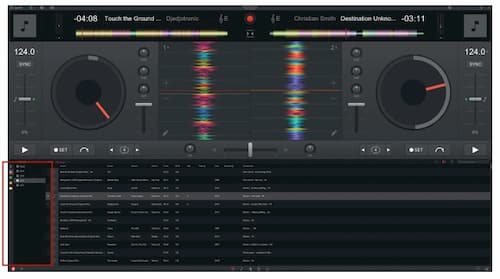 Step 1. Visit the DJ Pro website and click the "Download" tab. It automatically downloads the current version.
Step 2. Then search for the downloaded app and drag the DJ Pro icon to your "Applications" folder in Finder.
Step 3. Install the app and then double-click on the icon in your Applications folder.
Step 4. Go to the main Djay Pro interface.
Step 5. Finally, click on the "Tidal" icon in the lower-left of the screen.
Step 6. Log in to your Tidal account and peruse the playlist you wish to add to Djay Pro.
Step 7. Drag the songs from Tidal to Djay Pro deck to play the tracks.
3. Pioneer DJ
Pioneer DJ is quite powerful and highly compatible with several devices. Follow these steps to access playlists and albums from Tidal.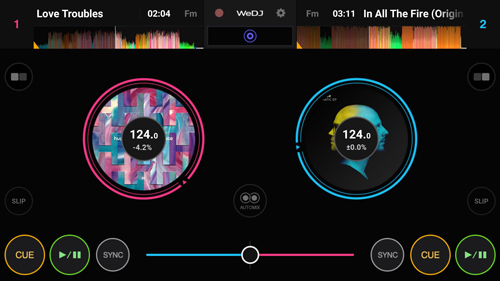 Step 1. Download Pioneer DJ
Step 2. Then click the "log in" tab next to Tidal in the tree view of the browser panel.
Step 3. A pop-up window will appear in your browser once you log in. Click on the "Allow" button.
Step 4. Freely enjoy Tidal playlists as you use them for DJing.
4. Edjing
Edjing lets you mix your tracks without any additional software. The interface is simple to let you sync your tracks and load music from Tidal. It comes with great features like hot cues, audio fx, scratches, etc.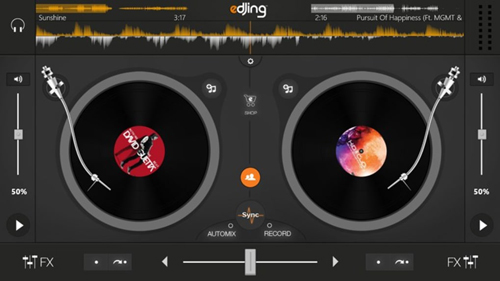 Step 1. Download Edjing mix on your device.
Step 2. Open the music library.
Step 3. Go to the top-left corner and click on the music source selector.
Step 4. Select the "Tidal" option.
Step 5. Sign in to your account to connect to Tidal.
Step 6. Once you are connected, choose the playlist from your library and start mixing your tracks.
5. Denon DJ
With Denon DJ and Tidal, you get a chance to spin high-quality tracks and access over 80 million tracks without a laptop. Ensure first that your Denon DJ is updated to a firmware version 1.4 or later.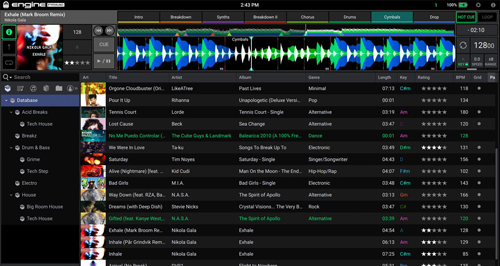 Step 1. Connect the device to a WiFi network with internet access.
Step 2. Once connected, open the "library collection" view.
Step 3. Check the top-left of the library window and tap the media device icon.
Step 4. Activate Tidal with your Denon DJ device. Simply follow the on-screen instruction for the activation process.
Step 5. Wait for the activation process to be effected. Then you'll have access to all Tidal playlists and albums. Continue to DJ to full capacity.
6. DJUCED
DJUCED is another DJ app for Tidal with powerful mixing features. It can track mix, remix, and enable music recording. It also comprises of DJ academy for beginners to up their games.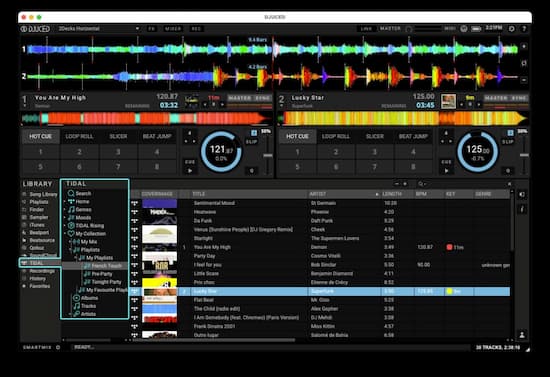 Step 1. First, download "DJUCED".
Step 2. Then click on any category in the DJUCED browser.
Step 3. You'll notice DJUCED displaying a login window.
Step 4. Finally, log in with your credentials on Tidal and enjoy your playlists on DJUCED.
7. VirtualDJ
VirtualDJ is a powerful tool with an intuitive user interface for easy DJing. This app is a haven for stunning visualizations and can be enabled for audio tracks with a beat-aware algorithm.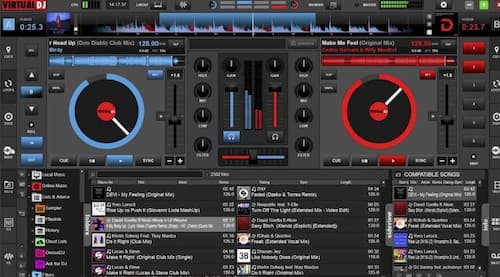 Step 1. First, ensure you have an internet connection. Then go to the "VirtualDJ" website.
Step 2. Check the "Online Music" folder and locate Tidal.
Step 3. Then right-click on the folder to sign in to the Tidal catalog.
Step 4. A browser window will open and show you the login screen. Log in with your Tidal user account credentials.
Step 5. Once completed, you'll get a confirmation window alerting you to close the window as you've already logged in.
Step 6. On the VirtualDJ search bar, use the root Tidal folder to find the catalog directly. Expand the Tidal folder and get any playlist you wish to use for DJing on VirtualDJ.
Step 7. Finally, drag and drop any song or playlist from the "File" list to a deck and go to DJ music.
---
Part 2. The Best Assistant for Tidal DJ Software
There is a better option to DJ app for Tidal. AudKit Tidal Music Converter is at your service to losslessly convert your Tidal playlists and make them available offline on any DJ software. Easily listen to HiFi songs in common output formats like FLAC, M4A, WAV, MP3, etc. This app is also smart to keep 100% ID3 tags from the original HiFi playlists such as genre, artist, composer, etc.
Don't worry if you need to convert several files. AudKit comes with a built-in high-speed processor to convert your files in batches. It works at 5X conversion speed with high quality.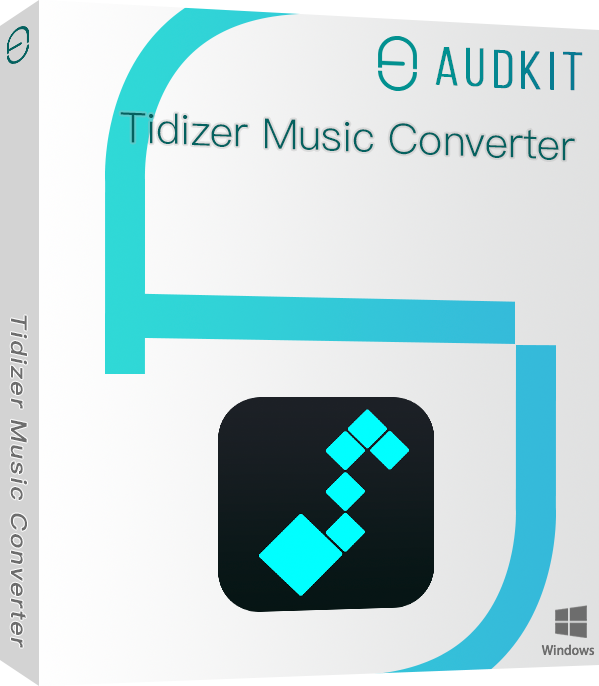 Main Features of AudKit Tidizer Music Converter
Convert Tidal HiFi music to FLAC, AAC, MP3, etc.
Losslessly download Tidal tracks for offline DJing on an DJ software
Built-in a smart ID3 tags editor that keeps 100% ID3 tags
Work at 5X conversion speed and even faster
---
Part 3. How to DJ with Tidal Offline on Any DJ Software
Use this recommended tool to stream Tidal to DJ in simple steps. First, go to the official website of AudKit Tidizer Music Converter and download the app on your computer. Then install and launch it to start the conversion process. It is also better to activate it and unleash its full potential. Just click on the "Menu" > "Register" tab then copy and paste the licensed email and registration code for activation.
Step 1 Reset Tidal tracks' output parameters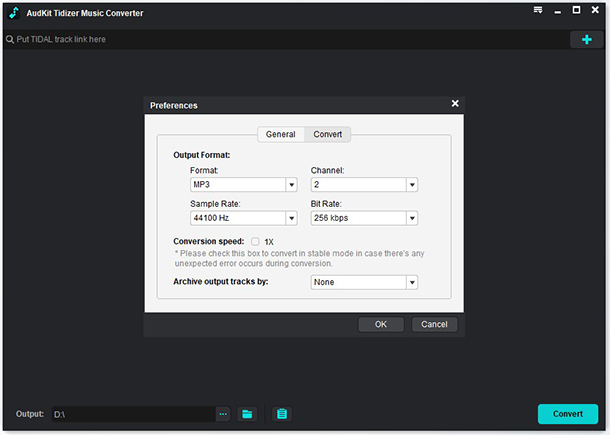 Set your playlist to your taste. To do so, open the top-right menu icon and hit on the "Preferences" > "Conversion" tab. Then start to customize the output format as well as parameters like sample rate, bit rate, channels, etc.
Step 2 Import Tidal tracks for DJ app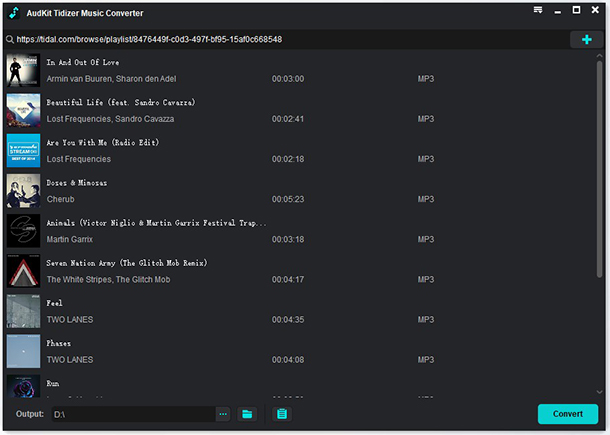 On the interface of AudKit Tidizer, turn on any Tidal playlist or album from the built-in Tidal app. You should notice the "Add Music" button starts to glitter. Click on it to select an entire playlist or any track.
Step 3 Download and convert Tidal tracks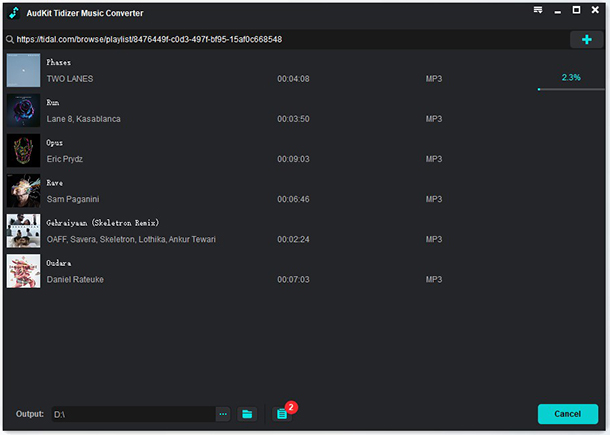 Click on the "Convert" tab in the bottom-right corner of the screen to let AudKit start the conversion process. Once the process completes, a red tip will show on the "Converted" icon. Open it to access the converted Tidal tracks.
Stream Tidal Tracks to DJ Apps Offline
You finally have the downloaded Tidal tracks on your computer and you can now transfer them to any DJ app offline without Tidal integration.
Step 1. Launch the DJ app on your computer.
Step 2. Then click on the "Files" button to access various locations on your computer. Navigate to the "Converted" Tidal files.
Step 3. Directly drag and drop the tracks to add onto the "All" icon.
Step 4. Finally, play any track on your DJ offline.
---
Part 4. Conclusion
Pros
Cons
Serato
1. Easy integration with a mixer
2. Allows you to view all the catalog of music
3. Easy to import and navigate samplers while working
1. Time-consuming to arrange songs
2. It lacks adequate customization settings
Djay Pro
1. Great auto-mix mode
2. It is compatible with over 50 controllers
3. The 4-deck view is great for combining with four-channel controllers
4. Includes video DJ mode
1. Video DJ mode is not present
2. No customizable views
Pioneer DJ
1. Let you sync playlists to your phone
2. Light user interface theme option
3. Highly compatible with different devices
1. Scratching doesn't sound better
2. It is not stable
Edjing
1. Sync feature for a perfect synchronization
2. AirPlay compatibility
3. It has an "Automix" function that automatically plays your tracks in the queue
4. Easily find any track in one click with the smart search feature
1. Sometimes slow
2. It misses some features
Denon DJ
1. Highly portable
2. Simple and effective mixing tools
3. Easy to navigate user interface
1. Quite expensive
2. Bulkier than some controllers
DJUCED
1. Perfectly mix your tracks in real-time
2. In-track location tags like cue points and hot cues
3. Easy to use interface
1. Quite sluggish
2. Lacks adequate features
VirtualDJ
1. Free for non-professional use
2. Real-time stem separation
3. Compatible with different DJ controllers
4. Seamless transition between songs
1. Doesn't offer good support for a turntable
2. Not suitable for DJ live
It is a good experience to learn how to DJ like a real professional. These DJ apps that work with Tidal are the bomb when it comes to giving your best. AudKit Tidizer is at your disposal to convert your Tidal tracks and enable them accessible on any DJ app offline.