Tidal is a popular streaming platform that offers high-quality audio and exclusive content to its subscribers. One of the features that sets Tidal apart from other streaming services is its Crossfade feature. Crossfade is a unique feature that allows users to transition smoothly from one song to another without any abrupt interruptions. It is a great way to enhance your listening experience and keep the music flowing seamlessly. In this article, we will explore more about Tidal Crossfade and how you can use it to improve your music listening experience.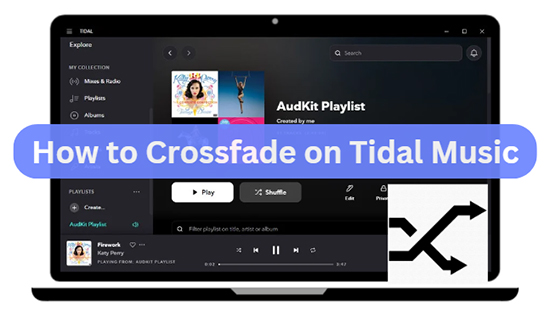 ---
Part 1. More about Tidal Crossfade
Q1: What Is Crossfade Tidal?
Tidal Crossfade is a feature that allows one song to smoothly transition into the next by overlapping the end of one track with the beginning of the next track. With this, you can adjust the duration from 0 to 12 seconds as per your preference. However, come 2018, Tidal removed the crossfade feature.
Q2: Why Tidal Crossfade Gone?
Tidal may not have done detailed research when coming up with the Tidal Crossfade feature. Music taste is highly subjective, and some people simply prefer to hear one song end before the next one begins. They may enjoy the silence or short pauses between songs.
For Tidal crossfade gone case, some users cited it did not enhance their consumer experience. Nonetheless, in 2018, according to Reddit, Tidal brought to the attention of users that the crossfade feature had been disabled in their newest update. The obvious reason they owned to is that their data showed it did not add to the overall customer experience.
---
Part 2. How to Download and Convert Tidal Music for Free Crossfading
Tidal crossfade not working since its removal is a concern for some users who may wish to maintain a consistent ambiance while listening to music. Well, you can still achieve free crossfading with the AudKit Tidizer Music Downloader. It will convert your Tidal hits to common output formats like FLAC, M4A, MP3, and AAC with ease.
It comes with a sophisticated built-in ID3 tag editor that can identify, capture, and keep 100% ID3 tags from the original Tidal track. These include artist, album, genre, track number, among others. More so, it gives you the choice to customize the output parameters like channel, bit rate, and sample rate.
The speed is also good, managing a 5X rate and converting a 10-hour playlist in just 2 hours. The beauty after conversion is that you can listen to Tidal tracks offline on any device after the conversion. These include MP3 players, smart TVs, game consoles, and smartphones, etc.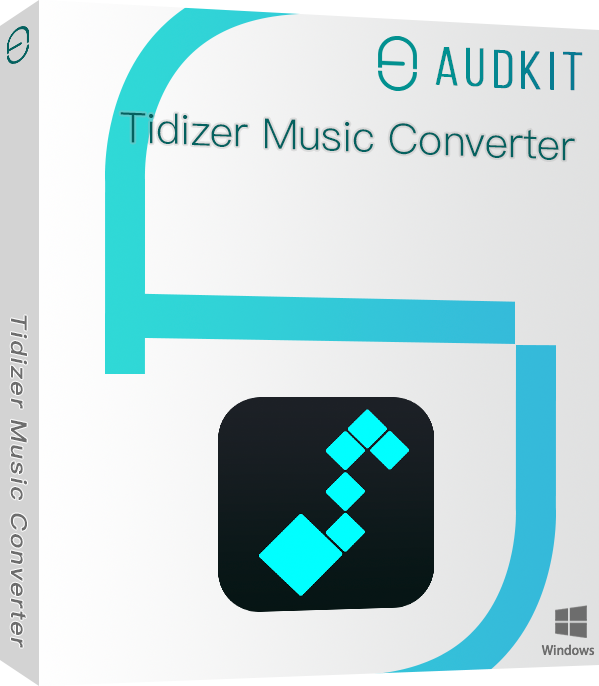 Main Features of AudKit Tidizer Music Converter
Convert Tidal music to common formats like WAV, AAC, and MP3
Download Tidal tracks in batches at a speed of X5 rate
Keep original ID3 tags and lossless sound quality
Offline listening to Tidal music on all devices and MP3 players
How to Download and Convert Tidal Music for Free Crossfading
Now you can follow the steps below to download MQA music from Tidal onto your computer locally.
Step 1 Reset the Output Parameters of Tidal songs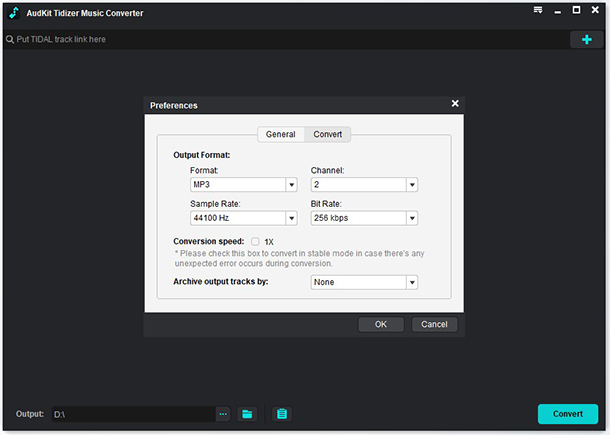 Install and launch AudKit Tidal Music Converter on your computer and the Tidal app will open automatically. Go to the "Menu" icon and select the "Preferences"  > "Convert" tabs. Then go on to customize the format as well as other parameters like bit rate, sample rate, channel, etc. for Tidal music.
Step 2 Import Tidal playlist to AudKit Tidizer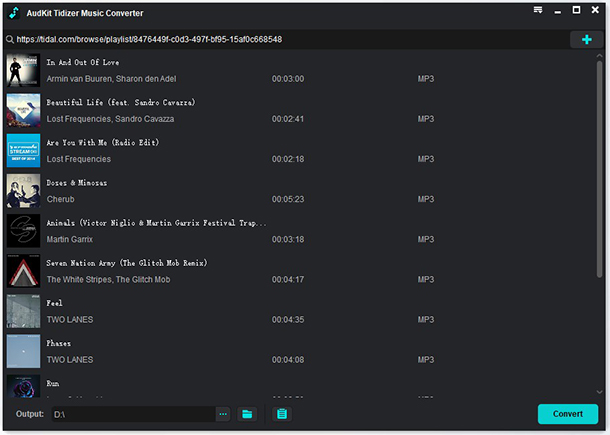 Drag and drop the playlist from the Tidal app to the AudKit Tidal Converter. Alternatively, you can right-click on the Tidal song to add, then select the "Share" > "Copy Track Link" option. Next, paste the link into AudKit Tidal's search bar and click on the "+" icon to import the playlist or songs.
Step 3 Download and Convert Tidal Playlist locally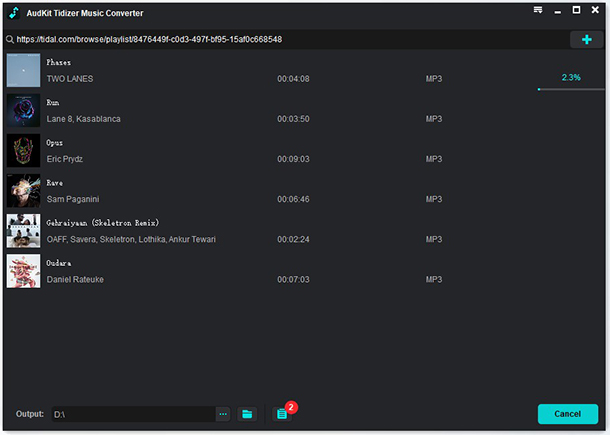 Finally, click on the "Convert" tab for AudKit Tidizer to begin the conversion. More so, you can add any song to the conversion list during the process. Once the playlist is converted, a red tip will be shown on the "Converted" icon with the number of songs converted so far. Open it and save your music files in a folder for playback and crossfading.
---
Part 3. How to Crossfade on Tidal Music with the Spotify App
Spotify also offers a crossfade feature and can be used to crossfade converted Tidal music seamlessly. You can do this by creating a new playlist on Spotify and adding local files to Spotify from Tidal. Once you have added the tracks, you can enable the Crossfade feature in the Spotify settings. This will allow you to crossfade your Tidal tracks without any interruptions.
Step 1. First, open the Spotify app on your computer and ensure you have logged into your Spotify account.
Step 2. Go to the "Settings" > "Library" section.
Step 3. Toggle on the "Show Local Files" option then hit on the "Add a Source" below.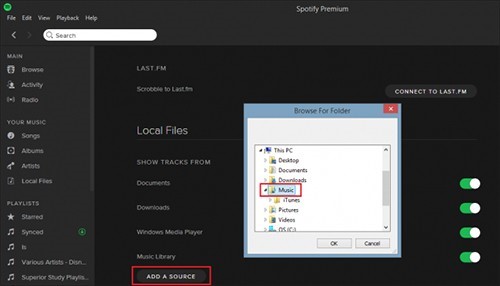 Step 4. Next, choose the folder that harbors your local Tidal songs from your computer to add them to Spotify.
Step 5. Ensure you have the Spotify app installed and are logged in. Then, open the Spotify app to crossfade your Tidal playlist or songs.
Step 6. Tap the gear icon in the top right corner to access the settings menu.
Step 7. Scroll down to find the "Playback" section within settings.
Step 8. In the playback settings, you'll see an option called "Crossfade". Toggle it on.

Step 9. Set the duration of the crossfade. Common options include 3 seconds, 5 seconds, and 10 seconds. Choose your preferred duration then save the changes.
Step 10. Now, Spotify will crossfade Tidal songs based on the duration you selected when transitioning from one track to another.
---
Part 4. How to Crossfade Tidal Music on Desktop – Descript
Descript is a transcription and audio editing software that you can use to create smooth transitions between your Tidal songs.  Here are the general steps to crossfade Tidal music on a desktop via Descript. This method requires some technical knowledge, but it is an excellent option for those who want full control over their Tidal audio files.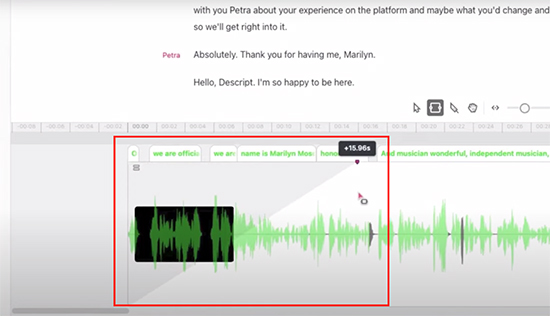 Step 1. Import the converted Tidal songs into Descript audio editing app. To do this, click on the "File" or "Import" option and select the audio files from your computer.
Step 2. Locate the sections of the music tracks where you want to apply the crossfade effect. This is typically at the end of one track and the beginning of another.
Step 3. Cut and overlap the tracks to create a crossfade. You may need to use the software's editing tool to do this. In most cases, you'll want to use a fade-out effect on the first track and a fade-in effect on the second track to create a smooth transition.
Step 4. Next, adjust the duration of the crossfade to your preference. Longer crossfades create a smoother transition, while shorter ones create a more abrupt change.
Step 5. Now preview the crossfade to ensure it sounds the way you want it to. Adjust the timing and effect as needed. Once satisfied, export the edited audio file, typically in a format like MP3 or WAV.
---
Part 5. How to Make Tidal Crossfade on Mobile – Mixonset
Third-party DJ apps and services like Mixonset can help you achieve crossfading between songs on Tidal. Mixonset is designed to enhance your music streaming experience with features like crossfading and automatic beatmatching. Here's a general guide on how to use Mixonset for crossfading on Tidal.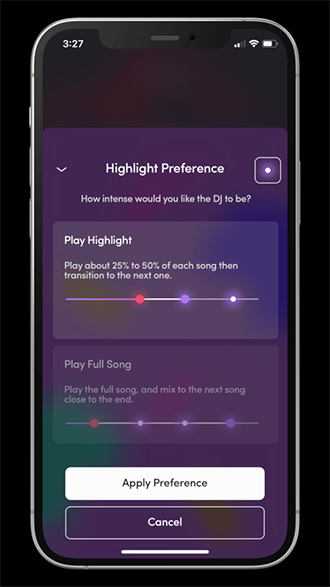 Step 1. Download and install the Mixonset app on your mobile then, launch it.
Step 2. When you open Mixonset for the first time, it may ask you to connect your Tidal account. Follow the on-screen instructions to link your Tidal account to Mixonset.
Step 3. Once your Tidal account is connected, go to the Mixonset settings or preferences to look for crossfade.
Step 4. Enable the crossfade feature and adjust the crossfade duration to your preference. Most crossfade settings allow you to choose the duration in seconds.
Step 5. Search for the songs or playlists you want to listen to on Tidal within the Mixonset app.
Step 6. When you play your music through Mixonset, it should automatically apply the crossfade effect between songs based on your settings.
---
Part 6. In Conclusion
You may experience Tidal crossfade not working since Tidal removed the crossfade feature. However, this cannot deter you from enjoying Tidal crossfade across your devices. Simply use the AudKit Tidal Music Converter to convert Tidal tracks and remove restrictions on the music. Then, use the songs freely on Spotify or other apps for crossfading.
---
---
---