When portable media players were first founded in 1988, they couldn't do much other than play digital videos and audio files. That's not the case presently. With the growth of technology, media players currently come in different kinds. iPod is one of them released by Apple, and whether you can play Apple Music on iPod stimulates wider discussion. Let's unravel more about Apple Music iPod compatibility and the best way to listen to your Apple Music on your portable media player.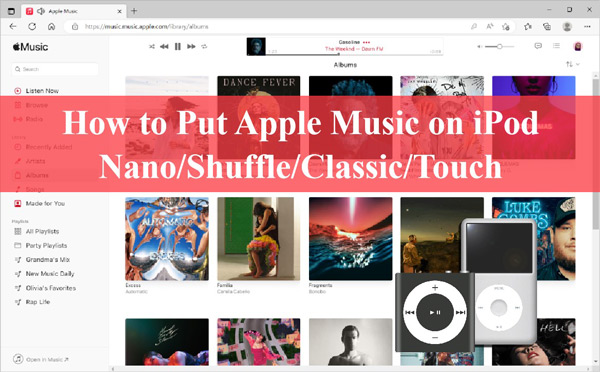 ---
Part 1. Apple Music iPod Compatibility – Everything We Know
The iPod is a portable player, designed by Apple Inc., available in different sizes, and uses a variety of technologies. You can use it to play music through headphones for smaller versions, or even play movies for the larger versions. The original iPod was released in 2001 which was simpler and larger. Years later, other models came about such as the iPod Mini, being just a third the size of the original iPod. Later on, iPod Nano took center stage, then slowly lost it down to the much-famous Shuffle iPod, with a reduced size. Other varieties like the iPod Touch are also part of this transformation, now featuring a touchscreen and being a wireless internet device in addition to being a media player.
Compatibility of Apple Music on an iPod
The various iPod versions pointed out above entered the market at different times. Their features also differ greatly. Check out which are they.
1. iPod Classic
iPod Classic or simply iPod, was released in 2001 as the original iPod. It had up to 6 generations and used a 1.8-inch hard drive for the storage of files. It was quite big in size and simple in design, with the body covered in chrome and acrylic glass. In terms of Apple Music iPod Classic compatibility, Apple Music is not supported in iPod Classic.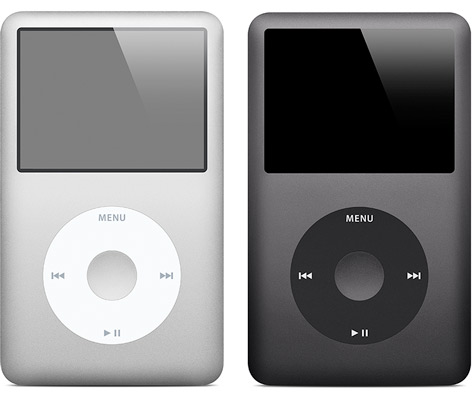 2. iPod Nano
The first generation of this brand came in 2005 just after the iPod Mini. It was developed to use flash memory for storage. It started out as a lightweight portable player and advanced with more features like video playback and recording over the years. The iPod Nano does have the ability to stream Apple Music online as the network required.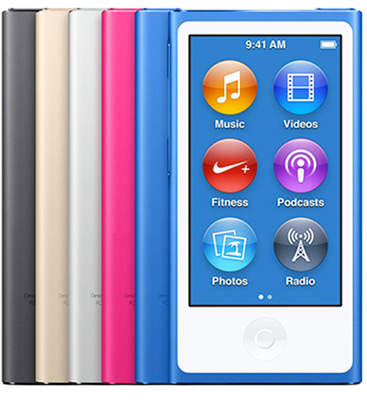 3. iPod Touch
iPod Touch was introduced in 2007, with a touchscreen-controlled user interface. It doubles up as a portable media player and a digital camera as well. It is quite similar in design to iPhone OS devices and perfects even for web browsing and messaging alike. The latest one is iPod Touch 7th generation. This device is equipped with WiFi and lots of functions, which make it easy to listen to Apple Music.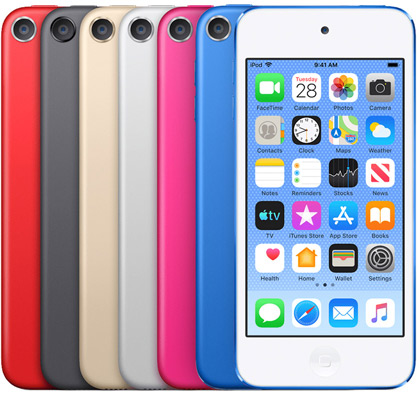 4. iPod Shuffle
The iPod Shuffle goes up to the 4th generation. It is very small in size, lightweight, and has ample storage space. The first generation had in place buttons on the face and a built-in USB port at the bottom. The 2nd generation was an upgraded model of its predecessor and came in multiple colors. The 3rd introduced the use of a remote which was built into the headphone cable. The 4th generation is the final iPod Shuffle.
Is Apple Music iPod Shuffle worked? Unfortunately, it is impossible to get your songs from Apple Music as it doesn't have any app including Apple Music.

The iPod has transformed over the years and you can now use it to store and play your hits. However, music streaming services like Apple Music have protection over their files and you cannot directly get Apple Music on iPod making some iPod modes only compatible with Apple Music after removing that limitation. It is the only iPod Touch that is compatible with Apple Music as it has a built-in Apple Music app.
---
Part 2. Why Apple Music Cannot Be Copied to iPod Classic/Shuffle/Nano
You might already be wishing to sync Apple Music on your iPod but wondering why your music cannot be copied. This is only possible with the iPod Touch since it comes with a built-in Apple Music app that lets you listen to Apple Music on it. Otherwise, other models like iPod Classic, Shuffle, and Nano lack WiFi capability and neither can't play Apple Music because of the service's restrictions on its files.
---
Part 3. Excellent Tool to Download Apple Music to iPod Nano/Shuffle/Classic
Even though Apple Music cannot sync in Apple Music media players like iPod Nano, Shuffle, and Classic, there is a way out to solve the menace. AudKit Apple Music Converter aims to download tracks from Apple Music offline and remove any Apple Music protection over its files and make the music available for listening on any device, including iPods.
AudKit Apple Music Converter works in a sophisticated manner to convert Apple Music into common output formats such as FLAC, AAC, MP3, WAV, etc. More so, it will preserve all the metadata information and maintain the original sound quality of the Apple Music songs. The downloading speed is also of value, going up to 30X rate while converting your files in a batch and achieving a high rate of returns.
Using this AudKit Apple Music to iPod Converter, the playlists from Apple Music can be downloaded without a subscription. It is a piece of cake to copy the Apple Music files to other MP3 players like iPod, Sony Walkman, SanDisk Clip, etc.
Key Features of AudKit Apple Music Converter
Listen to your Apple Music files on any portable media player offline
Convert Apple Music at a high speed of X30 rate with lossless quality
It supports several output formats like AAC, MP3, and FLAC
Offer an intuitive user interface with many useful editing features
How to Download Apple Music to iPod-compatible Audio Files
The best decision to stream Apple Music for iPod Classic/Shuffle is to first, convert and download your soundtracks from Apple Music into common output formats like MP3. Here is the guide you can follow to accomplish the purpose.
Step 1 Launch and register AudKit Apple Music Converter
From its official website, click the "Download" button to get the AudKit Apple Music Converter on your computer. Open it and then click the "Register" tab from its menu dropdown to register it. Input your license and registration code in the available bars to activate its full version.
Step 2 Select Apple Music tracks to import
Identify the Apple Music playlists that you want to download, then press the first "Add" icon from the bottom left side. In the new window, you can choose to add songs from Apple Music or iTunes.
Step 3 Adjust Apple Music sound settings for iPod
To change the output parameters for your Apple Music files, click on the "Audio" tab and then choose the output format for your songs, such as MP3, AAC, or M4A. It is set to MP3 format as default. You can also customize other parameters like codec, sample rate, and bit rate as your preference. Clicking the "Edit" icon behind each imported song can adjust more options like splitting or editing ID3 tags.
Step 4 Download Apple Music files for playing on iPod
Now click on the "Convert" tab shown on the low right side and let the AudKit app begin the conversion process. It will download your Apple Music tracks at 30X speed and save them onto your computer. Once completed, check for the converted Apple Music by tapping the little "converted" icon and sync them to your iPod devices.
How to Add Apple Music to iPod Shuffle, Nano, and Classic with iTunes
Since you just achieved Apple Music iPod compatibility and you can now freely sync your music using these steps with iTunes. Ensure you have saved the converted Apple Music playlist from your computer onto your iTunes library.
Step 1. First, open iTunes then connect your iPod Nano, Shuffle, or Classic with iTunes.
Step 2. Go to the "Music" > "Sync Music" > "Select playlists" options.
Step 3. Choose the "Recently added" which should include the converted Apple Music playlist that you saved in your iTunes library from your computer.
Step 4. Click on the "Apply" option and iTunes will now sync the converted Apple Music song to your iPod Nano, Classic, or Shuffle as you choose.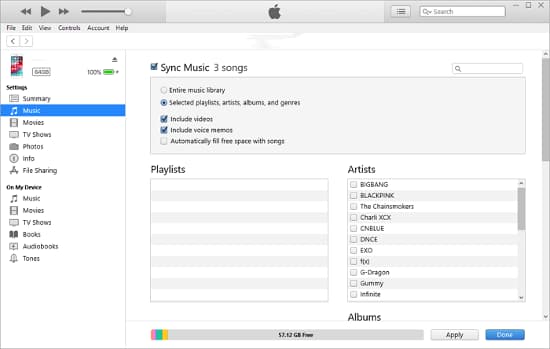 ---
Part 4. How to Put Apple Music on the iPod Touch Directly
The iPod Touch has a built-in Apple Music app and, therefore, you can stream Apple Music iPod directly via the app. We will show you how to listen to and download Apple Music to iPod Touch with its subscription.
Step 1. Go to your iPod Touch and launch the Apple Music app. Then locate the music that you want to add.
Step 2. Then tap on the "Add" button to start adding the songs to your Apple Music library. You can also use the "+" icon to add an entire playlist.
Step 3. Add the selected song or playlist to your library, then tap on the "Download" button to get it for listening offline.
Step 4. Finally, select the song you want to listen to and hit on the "Play" tab to listen to them on your iPod Touch.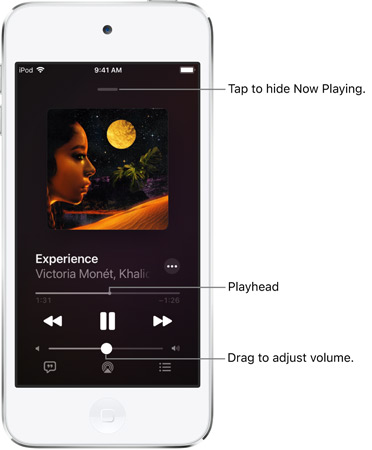 ---
Part 5. Conclusion
iPod portable media players are everyone's favorites. They are lightweight and can store numerous hits. We have expounded on the best ways to sync Apple Music to iPod for offline listening without worrying about Apple Music iPod compatibility. You can directly stream your music on the iPod Touch or convert them into common output formats with AudKit Apple Music Converter to remove all restrictions to play them freely on your iPod portable players like iPod Shuffle.