Apple Music stands tall as one of the leading platforms in the world of digital music streaming. Secondly, this music streaming service offers an extensive library of songs, curated playlists, and personalized recommendations. As millions of music enthusiasts find themselves immersed in this virtual soundscape, the desire to enjoy their favorite tunes offline remains a common demand.
While Apple Music's offline listening feature satisfies this requirement, it is limited to its own ecosystem and comes with a subscription cost. What if we told you there's a way to download your favorite Apple Music tracks to MP3 format for free? It will allow you to listen to them anytime, anywhere, even without an active subscription.
In this article, we'll explore methods that let you download Apple Music online for free and convert it into universally compatible MP3 files. It will also introduce you to an amazing Apple Music song MP3 song downloader online. Stick with the article to learn more about how you can download your favorite tracks from Apple Music to build your own offline music library.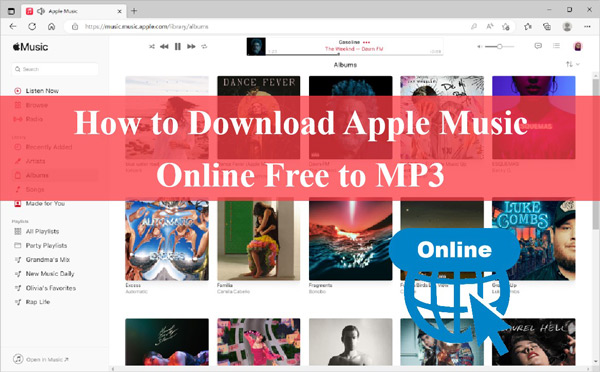 ---
Part 1. Can You Download Apple Music Online from Web Player?
No, Apple Music, like many other music streaming services, does not offer a direct option to download songs from its web player. Unlike its mobile and desktop app, which allows users to download tracks for offline listening, the web player is primarily designed for streaming purposes only. Therefore, attempting to download Apple Music directly from the web player using conventional methods is likely to prove futile.
However, don't lose hope just yet! While you can't download songs directly from the web player itself, there are alternative approaches that allow you to achieve the same objective. These methods involve using third-party Apple Music song downloaders and online tools that can capture audio streams and convert them into downloadable MP3 files. Next, let's take a look!
---
Part 2. Best Online Downloader Website to Download from Apple Music
When it comes to safely and legally downloading music from Apple Music, AAPLmusicDownloader emerges as a game-changing solution. As an Apple Music downloader online website specifically designed to cater to Apple Music users. AAPLmusicDownloader offers a seamless and user-friendly experience for converting your favorite Apple Music tracks into high-quality MP3 files. It operates entirely within your web browser, eliminating the need for any additional software installations.
Unlike some audio converters that may compromise on sound quality, AAPLmusicDownloader ensures that the downloaded MP3 files retain the original audio fidelity. You can enjoy your downloaded tracks with 320 kbps sound quality without any loss of sound clarity or depth. All the Apple Music songs you download through this service retain their metadata. Moreover, this Apple Music downloader online is completely free to use.
Key Features
It is free to download songs from Apple Music
Download from Apple Music online for free without the app installed
Get Apple Music files to MP3 for offline listening
Save your Apple Music tracks with metadata and high quality
---
Part 3. How to Download Apple Music Online to MP3 via AAPLmusicDownloader
As our musical preferences continue to evolve, so does the desire to have our favorite tunes readily available at our fingertips, even in offline settings. The previous sections explored the possibilities of downloading Apple Music online for free.
It also introduced AAPLmusicDownloader, a remarkable solution dedicated to making this process effortless. Given below is the step-by-step guide on how to use AAPLmusicDownloader for Apple Music download MP3:
How to Copy Apple Music Link from Web Player or Music App
Before you can download Apple Music tracks to MP3 using AAPLmusicDownloader, you need to copy the specific link of the song, playlist, or album you wish to download. Here's how you can do it from both the web player and the Music app:
From the Web Player
Step 1: Open your web browser and visit the Apple Music web player (music.apple.com). Here, navigate to the song, playlist, or album you want to download.
Step 2: Click on the three dots in front of the targeted song and choose "Share". Now, select "Copy Link" from the available options.
From the Music App
Step 1: Launch the Apple Music app on your Android, iOS, Windows, or Mac. Now browse and find the song, playlist, or album you want to download.
Step 2: Tap on the three dots located next to the track, playlist, or album title. From the options that appear, select "Share". Afterward, choose the "Copy Link" option to copy the Apple Music link to your device's clipboard.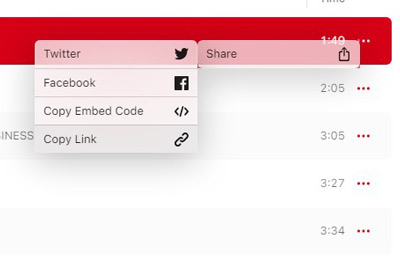 How to Download Apple Music Free Online to MP3
Now that you have copied the song link, the next part of the process includes using this link on AAPLmusicDownloader. Here is how you can do an Apple Music MP3 download:
Step 1: Open your web browser and go to the AAPLmusicDownloader website. Once the website loads, you'll find a text box where you can paste the Apple Music link. Right-click in the text box and select "Paste" to insert the link you previously copied.
Step 2: After pasting the link, click the "Download" button next to the text box. Now, AAPLmusicDownloader will begin processing the link. The website will analyze the Apple Music link and present you with details of the music track.

Step 3: On the music track details screen, click "Generate Download Link". Next, select the quality you want and the Apple Music online downloader will start the downloading process automatically.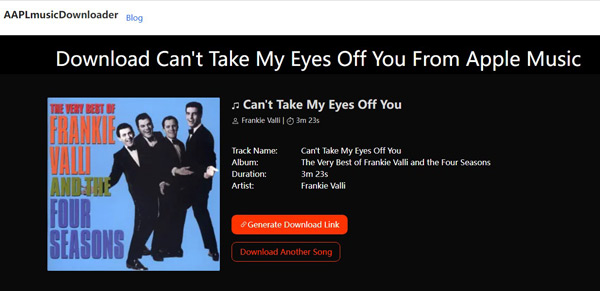 ---
Part 4. More Tips: How to Download Apple Music to MP3 in Batch with Best Quality
If you're seeking a comprehensive solution to download Apple Music in batches with top-notch quality, look no further than AudKit Apple Music Converter. This Apple Music song downloader is designed to cater to all your music-downloading needs, ensuring a seamless and efficient experience. AudKit Apple Music Converter allows you to convert Apple Music tracks to a wide array of output formats, including MP3, AAC, FLAC, M4A, and more.
With AudKit Apple Music Converter, you can preserve the original audio quality of your Apple Music tracks. It employs cutting-edge technology to convert songs without any loss in sound fidelity, giving you a listening experience as intended by the artists.
Moreover, AudKit Apple Music Converter intelligently retains all ID3 tags, including track title, artist, album, artwork, and more. Your music library will remain organized with all essential information intact. With AudKit Apple Music Converter, you can revolutionize the way you download and enjoy your Apple Music collection without a Premium and network connection.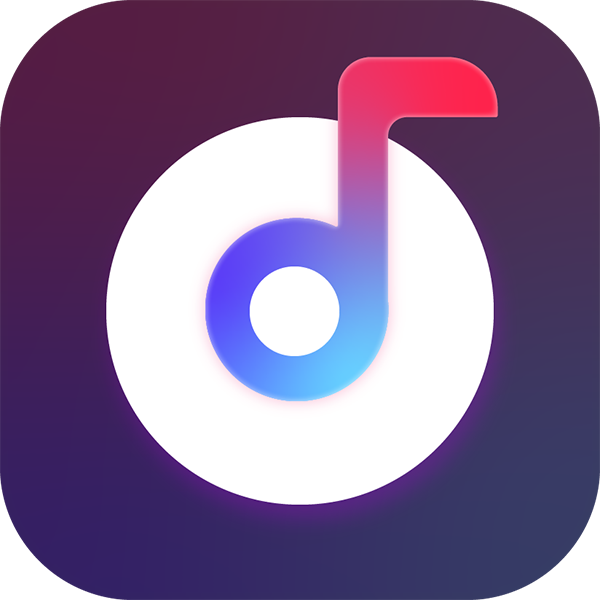 Main Features of AudKit Apple Music Converter
Customize the Apple Music track to your desired parameters
Convert Apple Music songs with desired format and preferences
Use Apple Music offline for free on multiple devices
Provide 100% lossless audio conversion for Apple Music playlists
Simplified Steps to Use AudKit Apple Music Converter to Download Apple Music
Converting Apple Music tracks to your desired output format is a hassle-free process with AudKit Apple Music Converter. Discussed below are the detailed steps for converting your Apple Music to your preferred format.
Step 1 Import Apple Music Tracks into AudKit Apple Music Converter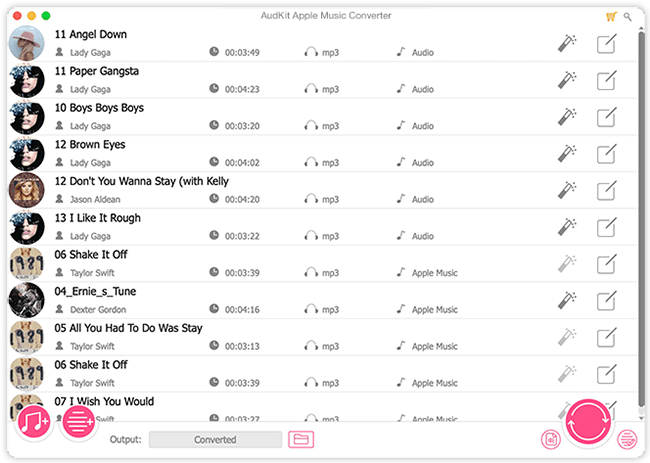 After installing AudKit Apple Music Converter, launch it. Now add the Apple Music tracks by using the drag-and-drop method or click the "Add" buttons at the bottom left corner. You can choose to add songs from Apple Music or iTunes library.
Step 2 Edit Apple Music to the Desired Properties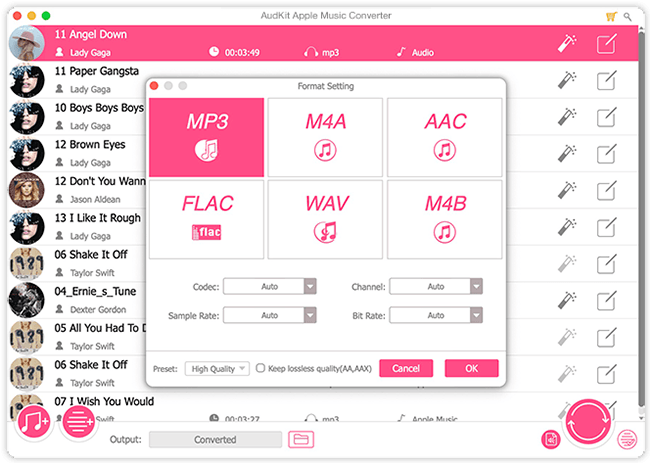 Once the music files have been imported, click the "Format" option from the bottom right corner. You can choose the output format and other parameters like codec, channel, bit rate, and more. Meanwhile, AudKit Apple Music Converter provides two options for each track, "Edit" and "Effect". With "Effect", you can modify track volume, speed, pitch, etc. While in the "Edit" tab, you can split the audio.
Step 3 Convert Apple Music Songs to Your Targeted Format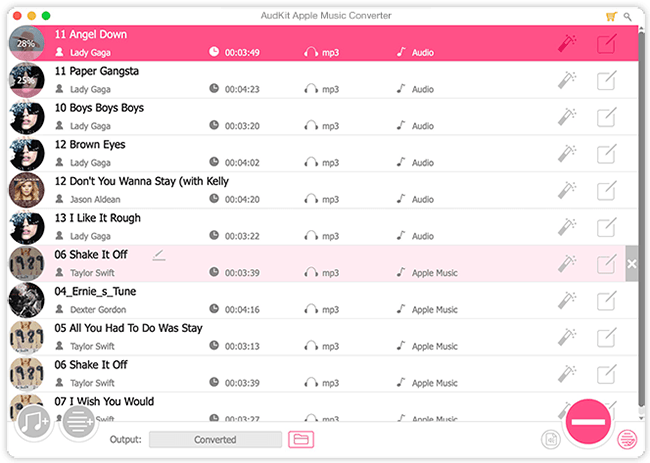 After modifying the music tracks to your desired properties, click "OK". Now, press the "Convert" option located at the bottom right corner to start the conversion process. You then will be able to listen to Apple Music offline on the device you want.
---
Part 5. Conclusion
In conclusion, downloading Apple Music online in MP3 format has never been easier, thanks to the various options available in the digital landscape. AAPLmusicDownloader offers a simple solution for converting Apple Music tracks from the web player online for free.
AudKit Apple Music Converter stands out as a powerful tool for batch Apple Music conversion. It offers versatile output formats, lossless sound quality, blazing-fast conversion speed, and the retention of original ID3 tags. AAPLmusicDownloader and AudKit, both options, grant you the freedom to enjoy your cherished Apple Music tracks offline without restrictions or compromising on audio quality.
---