Why pay when you can get it for free? This is a question that you should consider when getting anything. The same applies to music, but another question arises, how can you get Apple Music for free? Music is a necessity in this current world as it can heal, cure boredom and rejuvenate you after a tough day; therefore, accessing it for free can also benefit your well-being and finances, especially if you need to cut expenses.
Well, do not worry; in this article, we will cover the methods that you can learn how to get Apple Music for free forever or with respective free trials. Follow along to the end and learn how to access your favorite music without paying a dime.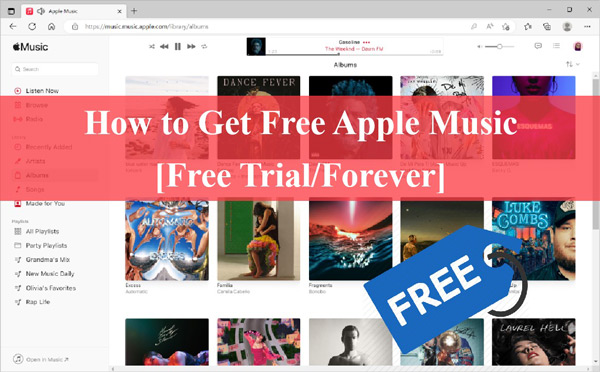 ---
Part 1. How to Get Apple Music Free Trial – 1 Month
Having a 1-month free Apple Music trial is the easiest and most basic offer since Apple Music just provides the free trial in one month for new subscribers. To get an Apple Music free trial is not rocket science that you need years of study to achieve it. No, it just sips your favorite drink, and you will be up and rocking. Check out the ways available for Apple Music's free 1-month trial.
Subscribe to Apple Music's Individual Plan
To subscribe to the Apple Music individual plan, open the Music app on your phone first. You will see the banner shows up when you enter the app, you can click on it and follow the on-screen instructions to complete the subscription.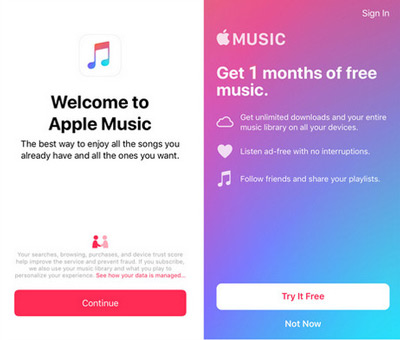 To subscribe later, you can go to Settings on your phone, and then choose the Music app, and click the Join Apple Music button. It will lead you to the app and show you the free trial. Click on it and start a new month's Trial as a new subscriber. You can cancel the trial at any time you feel like. The only consequence of canceling your subscription is that you cannot stream Apple Music songs or even play the songs you hand-downloaded and the trial will no longer be available for the same Apple Music account.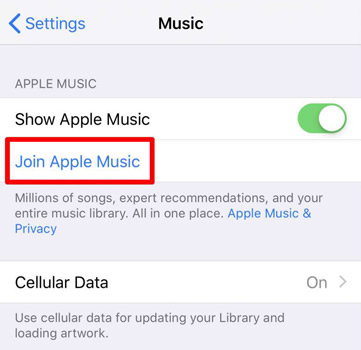 Purchase Apple Beats Flex Earphones
Another way to get a free one-month trial with Apple Music is by purchasing eligible Beats Flex earphones from Apple or an Apple-authorized seller. Buying Beats Flex earphones can have Apple Music student subscriptions for free in 30 days (only for US & UK). You will receive an email to get your redemption. Download the Apple Music app onto your devices for this to be successful. Find a piece of paper in your Beats headphone package that mentions your Apple music deal. While using your phone, follow the site's instructions to receive your offer.
---
Part 2. How to Get Apple Music Free – 3 Months
With the multiple Apple deals available in the market, you can also win a three-month deal on Apple Music. Well, how do you have Apple Music 3 months free? Follow along.
Subscribe to Apple Music Family Plan
One of the main ways to champion the three months of Apple Music for free is through a subscription to the Apple Music Family. With the Apple Music Family subscription, up to six members can enjoy streaming up to 100 million songs available in Apple Music. To use this subscription, first set up family sharing on your device and invite your family members to join the group. The members you invite can have a trial for 3 months. Follow the steps below to subscribe to the Family plan on Apple Music.
Step 1. Open the Apple Music app.
Step 2. Proceed to Listen Now or For You and then tap the trial offer.
Step 3. Choose the family option and then press on the start trial. Complete the process and then you can share the subscription with your friends or family: Go to your Apple account on Settings and then tap Family Sharing.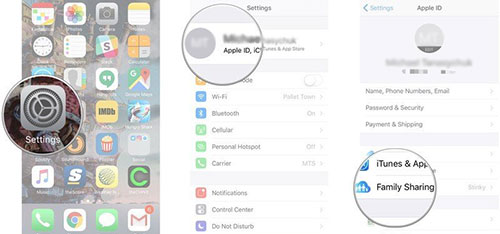 Get Apple Music with Shazam
The Shazam offer lets you enjoy free Apple Music for three months. You must have the Shazam app on your device to be eligible to use this offer. With Shazam, you can instantly recognize any music being played nearby, and from there, you can access Apple Music and start praying to the music. Follow the steps below to get Shazam's free Apple Music trial.
Step 1. Open your browser and visit the Shazam website.
Step 2. Use your phone's cameras to read or scan the QR code on the page.
Step 3. Once you have scanned the QR code, tap the Shazam QR code at the top of the screen for instructions on using your deal.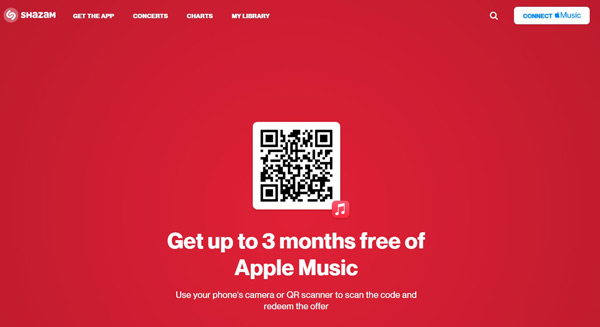 ---
Part 3. How to Get Apple Music Subscription Free – 4 Months
Join Target Circle
To get Apple free music for 4 months through a Target Circle, follow these steps;
Step 1. First, you need to have a Target Circle account. Head to the Target website and sign into your account.
Step 2. Find the Target Free Apple Music partnership and click on it. From the new window, click on the Redeem Now button.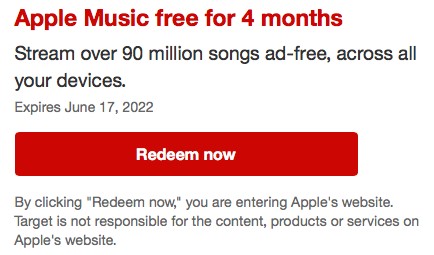 Step 3. You will automatically be directed to your phone's app store to download the required app. After downloading it, set up the Trial in the app.
Step 4. In case you are redeeming this offer through a target app, click on the "My Target" button located in the bottom right corner. Under the 'Circle' button, you will see 'New Offer: free Apple trials'. Here, you can select the Apple Music partner to redeem it.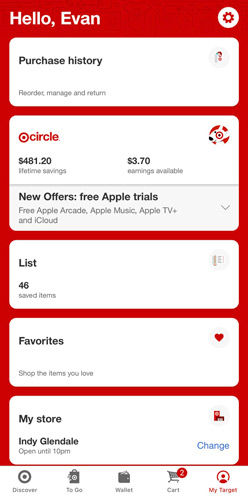 Note: The latest offer for free Apple Music Target now is for 3 months, lasting until September 28, 2023.
Shop at Best Buy
You can also get 4 monthly offers for free Apple Music through Best Buy. You need to sign up and create an account with the Best Buy app, and the Apple Music app will send you a code to enter after you purchase the Trial. To enjoy this free offer, follow the steps below:
Step 1. Visit the Best Buy promotional page and tap 'add to cart' to get an Apple Music trial.
Step 2. Click on the 'go to cart' option and checkout.
Step 3. Enter your valid payment information.
Step 4. Tap on 'place your order' and wait for a confirmation email from Best Buy.
Step 5. Once you receive the email, click the 'Redeem Now' button and follow the prompts to activate your Best Buy free Apple Music subscription. You can now enjoy a 4-month free Apple Music.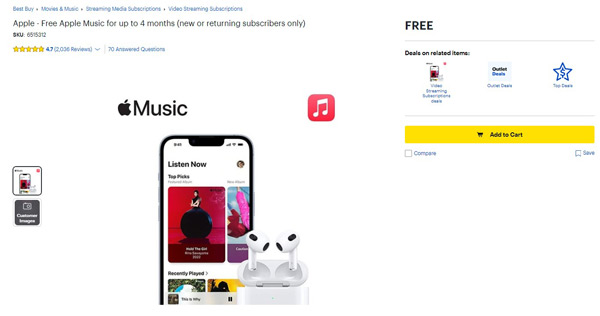 ---
Part 4. How to Get Free Apple Music – 6 Months
Access Free Apple Music with Verizon
How lucky am I to get Apple Music 6 months free? This all seems like a dream, but it is a reality with Verizon Wireless. Well, here is everything you need to know about this promotion: follow along and enjoy six months of free Apple Music.
Step 1. Sign in to My Verizon using a user ID or mobile number.
Step 2. Navigate to Account > Add-ons & apps from the Home page.
Step 3. From the 'Entertainment' section in Add-ons & apps overview, select the 'Learn More' button > 'Get it now' to select the line you want to enroll.
Step 4. Once you've confirmed the terms, you will receive a message with a link to download the Apple Music app.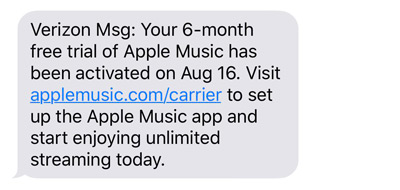 Step 5. Then, you can open the music app to enjoy Apple Music free with Verizon for 6 months.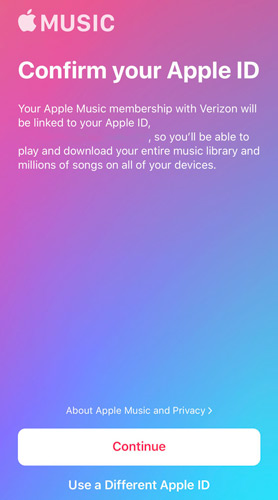 Apple Music AirPods Offer
You only need to purchase eligible Apple products, such as the AirPods, for six months to get free Apple Music with AirPods.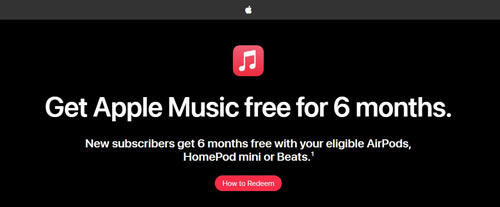 Step 1. To redeem your six-month Apple Music promotion, make sure that your device has the latest version available for the Apple software.
Step 2. Second, connect your device to the Apple AirPods.
Step 3. Then open the Apple Music app and log in with your account. The trial should show up at once. If you cannot see the offer immediately, proceed to the Listen Now tab to find it. To wrap it up, click 'Redeem 6 Months Free' and you can listen to Apple Music free for 6 months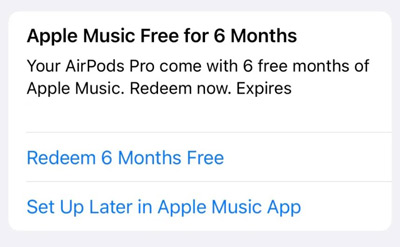 ---
Part 5. How to Cancel Apple Music Free Trial
If you don't want to be charged after the free trial or want to change the subscription plan, you can choose to end the plan. Here are the steps on how to cancel free trial on Apple Music.
Step 1. On the Apple Music app, tap on your profile picture on the Listen Now page.
Step 2. Next. tap Manage Subscription to see your plan.
Step 3. From the bottom of the screen, click on the Cancel Free Trial option to cancel the subscription.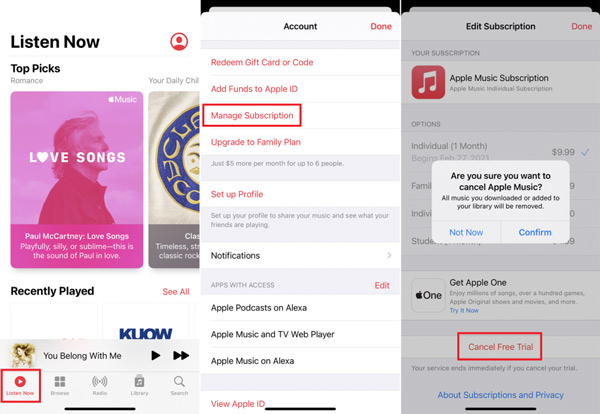 ---
Part 6. How to Get Apple Music for Free Forever
The most efficient way to get Apple Music for free forever is through the AudKit Apple Music Converter. This software gives you the power to download Apple music and remove all the copyright restrictions. AudKit guarantees 100% lossless quality and a thrusting conversion speed that is 30X faster than the normal conversion speed. Once you embrace AudKit and know how to work with it efficiently, you can convert protected Apple music songs to popular audio formats in AAC, MP3, etc.
The beauty of using AudKit Apple Music Converter is that all your worries about the free Apple Music subscription expiring will disappear. It can download playlists from Apple Music to your local drive without Premium and play them anywhere. Thus, you can cancel it anytime and still enjoy Apple Music on any device.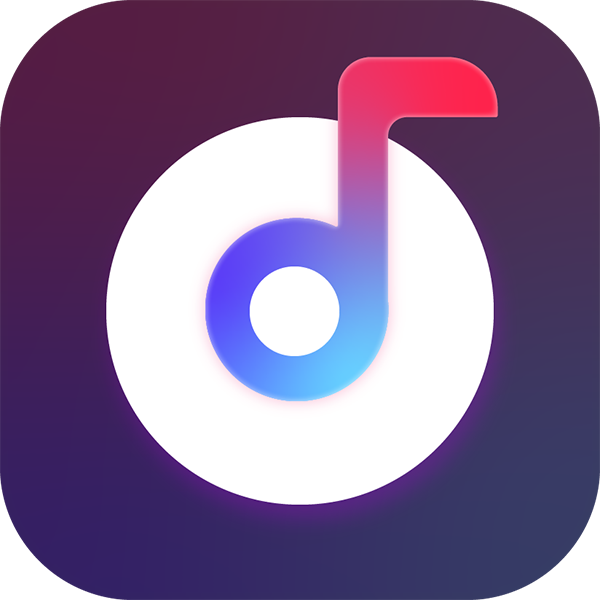 Main Features of AudKit Apple Music Converter
Download Apple Music M4P songs with the 100% lossless output quality
Convert Apple Music to MP3, AAC, M4A, and other personalized formats
Users are able to customize output songs to edit sound and keep ID3 tags
Listen to Apple Music for free forever offline without a subscription
How to Get Apple Music Download Free
Step 1 Import Apple Music playlists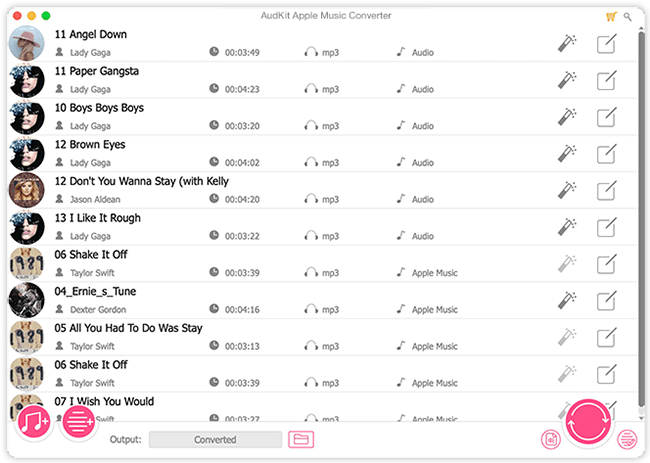 With your Apple Music free subscription, download and open the AudKit Apple Music Converter on your device. Next, drag and drop the playlists in the Apple Music library into the AudKit software's main screen. Or, you can use the '+' button to select all the songs you need to convert from Apple Music.
Step 2 Choose Apple Music audio formats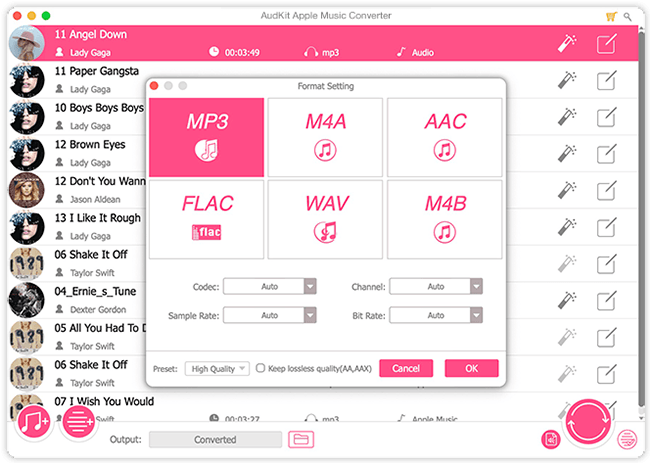 All the Apple Music MP4 files are protected, and you will lose them immediately if you cancel your subscription or in case your Apple Music free trial expires. So, maintain your favorite songs, click the format icon to set the audio settings, you should choose a file format that is encryption free, like AAC, MP3, FLAC, or M4A and hit OK.
Step 3 Download Apple Music for free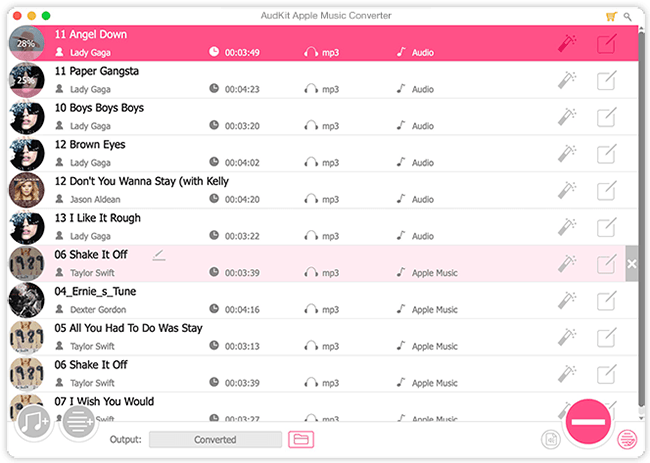 At the bottom of the AudKit Apple Music Converter, you can click the 'Convert' button to download Apple Music offline. You can convert any number of music that you wish to listen to. Once the process is complete, the songs will be stored as common files on your device, and you get to enjoy them for free forever, even if your subscription expires or you canceled it intentionally.
---
Part 7. Conclusion
Apple Music has many offers that can help you use Apple Music without paying for a few months. If you don't know any of it, this article is instructive for you. It has covered tips on how to get Apple Music for free forever with the AudKit Apple Music Converter and redeem the Apple Music free trial with different offers.
Equip yourself with AudKit Apple Music Conversion and get to enjoy free music forever for free. Even my favorite song says, 'All the best things in life are for free'. Enjoy your free Apple music for free!
---