For DJs, the ability to access and play their favorite tracks is essential. With the rise of streaming services, Apple Music has become a popular choice for music lovers. However, playing Apple Music on Traktor DJ can be a challenge. In this article, we will guide you through the process of using Apple Music with Traktor DJ.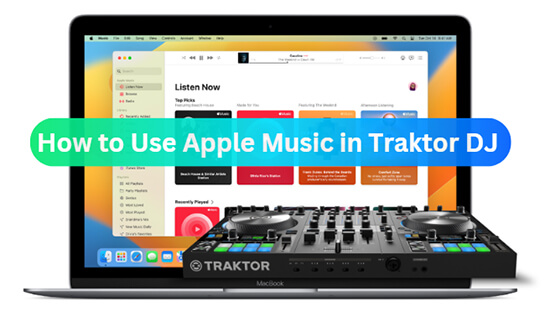 ---
Part 1. FAQs about Apple Music and Traktor DJ
Are you wondering how to connect Traktor to Apple Music but can't work along? These are the most asked questions that will shed some light for you.
Q1: Can Traktor Work with Apple Music?
A: Apple Music with Traktor DJ does not have native integration. Apple Music tracks are protected in AAC (M4A) format, preventing them from being used in third-party DJ software like Traktor. Integrating Apple Music into a DJ software like Traktor would likely require licensing agreements and negotiations with Apple, which can be complex. However, you can convert the M4A format via a third-party converter, into common output formats that are acceptable on other devices.
Q2: Does iTunes Work with Traktor?
A: Apple tends to keep its services and hardware tightly integrated. While you can access your iTunes music library within Traktor, Apple Music is designed to be used exclusively with the Apple Music app or iTunes. So, yes! iTunes can work with Traktor DJ software. Traktor has a feature that allows you to import and use tracks from your iTunes library directly within the DJ software.
---
Part 2. How to Use Apple Music with Traktor –Preparation
Besides using iTunes to access Apple Music on Traktor, you can employ a sophisticated strategy of converting Apple Music to non-restricted formats. That's AudKit Apple Music Converter for you. It's an app that works at a high speed of X30 rate to losslessly download and convert Apple Music tracks in batches. The app supports ALAC lossless quality with up to 24 bits and 192 kHz and Spatial audio for Traktor DJ.
| | |
| --- | --- |
| Traktor DJ-compatible Audio Format | MP3, WAV, AIFF, Audio CD, FLAC, Ogg Vorbis, AAC |
| Apple Music Format | Protected M4P |
| iTunes Purchases Format | AAC (unprotected) |
| AudKit Output Format | MP3, WAV, AAC, FLAC, M4A, M4B |
More so, it will give you the converted music in various sound qualities while retaining the original Apple Music files. AudKit Apple Music Converter can convert Apple Music tracks into common output formats that facilitate offline playback with Traktor DJ. It supports FLAC, AAC, MP3, M4B, WAV, and M4A formats, among others.
Most importantly, it will keep the ID3 tags by detecting and preserving the 100% originality of the tags like track number, year, album cover, title, etc. You can also opt to adjust the output parameters which include the channel, bit rate, and sample rate, then archive the downloaded music by Album or Artist.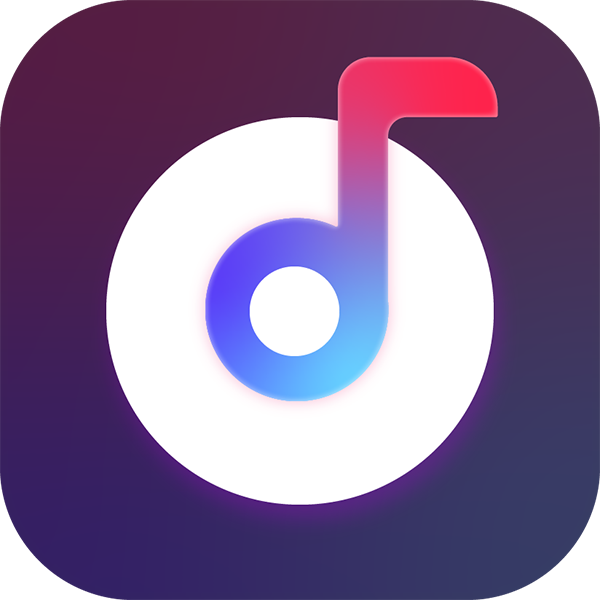 Main Features of AudKit Apple Music Converter
Download Apple Music as unprotected common audio locally
Losslessly convert Apple Music to MP3 for Traktor DJ
Keep up to 100% ID3 tags such as genre, album, and artist
Adjust Apple Music parameters like channel and bit rate for better DJing
How to Convert Apple Music to Traktor DJ-Supported Format
Step 1 Add Apple Music to Convert
First, download, install, and then launch the AudKit Apple Music Converter on your computer. Once you launch the app, Apple Music will automatically open. Choose the downloaded Apple Music playlist that you wish to convert to Traktor DJ. You can either drag and drop them to the converter interface, or use the "Add" button to import them.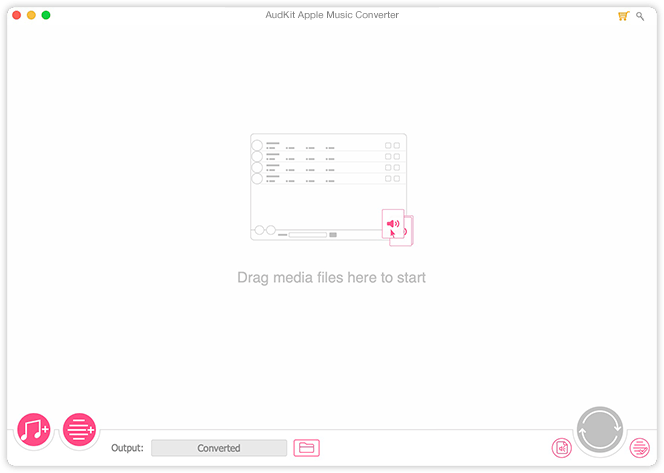 Step 2 Personalize the Output Format and Parameters for Traktor DJ
Click on the "Format" icon then first choose the Apple Music output format for Traktor DJ. Next, edit other parameters such as sample rate, channel, bit rate, etc. Furthermore, you can customize each track from the "Edit" and "Split" buttons to change the speed, pitch, volume, etc. Next, hit on the "OK" tab to effect the settings changes.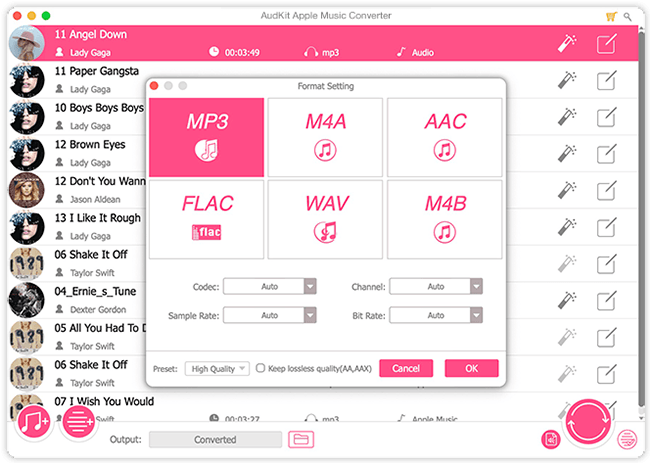 Step 3 Download and Convert Apple Music for Traktor DJ
Now, click on the "Convert" tab to let AudKit start the conversion process. After the download process comes to a finish, search and click on the "Converted" folder at the bottom of the screen. It will open the local folder that harbors converted Apple Music files. Alternatively, you can check on the "History" list to find the downloaded tracks then go on to make Traktor Apple Music integration offline.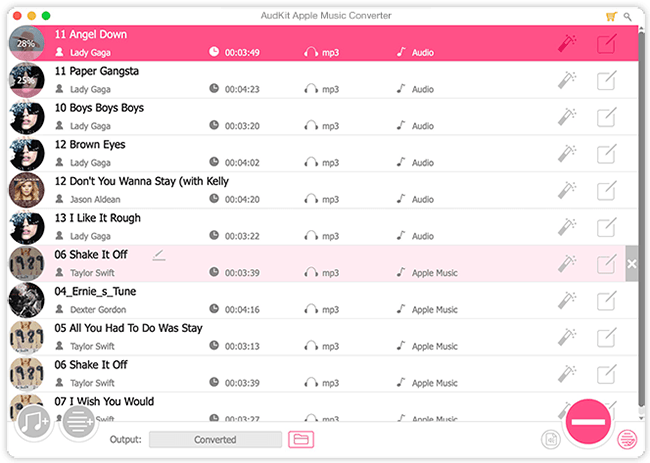 ---
Part 3. How to Import Apple Music to Traktor Pro 3/DJ 2
Your files are finally free from restrictions and you can now freely enjoy Traktor DJ 2 Apple Music via these steps. Please note that you ought to have installed Traktor DJ on your computer to DJ Apple Music.
Method 1. How to Connect Traktor to Apple Music via iTunes
Step 1. Open iTunes on your computer and click on "File" in the top left corner of the screen.
Step 2. Select "Add Folder to Library" from the drop-down menu and navigate to the folder where your downloaded Apple Music is stored.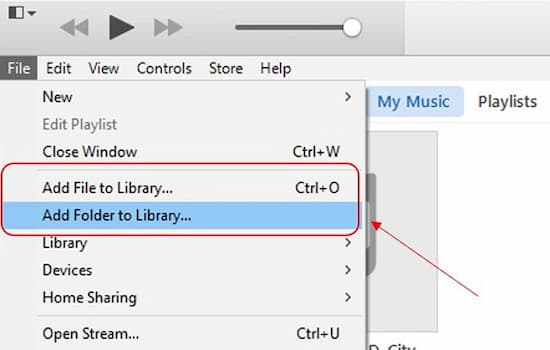 Step 3. Select the Apple tracks you want to add to iTunes and click "Open" to add the selected tracks to your iTunes library.
Step 4. In Traktor DJ, click on the "iTunes" button in the browser section.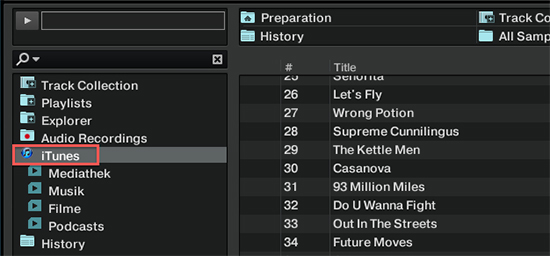 Step 5. Click on the "Refresh" button to update the iTunes library in Traktor DJ.
Step 6. Navigate to the playlist or folder where your local Apple Music is stored in the iTunes library.
Step 7. Click and drag the Apple tracks you want to use into the Traktor DJ deck or playlist.
Step 8. You can now mix and play Apple Music and Traktor DJ.
Method 2. How to Use Apple Music in Traktor via File Menu
Step 1. Launch the Traktor DJ 2/3 app on your computer.
Step 2. Click on the "Menu" bar and choose the "File" > "Preferences" option.
Step 3. Then click on the "File Management" > "Music Folders" > "Add" button and browse through Apple Music on your computer.
Step 4. Find the "Converted" Apple Music folder then click on the "Choose" button.
Step 5. Click on the "Track Collection" > "Import Music Folder" option to import Apple Music to Traktor to play.
---
Part 4. How to Mix Apple Music with Traktor DJ
Now that you have imported Apple Music tracks into Traktor DJ, you can start mixing them with other tracks. Traktor DJ is a powerful tool for mixing music that allows you to create seamless transitions between tracks and add your own personal touch to your DJ sets. Whether you're a beginner or a seasoned pro, Traktor DJ offers a range of features that can help you take your Apple Music mixes to the next level. Let's get started!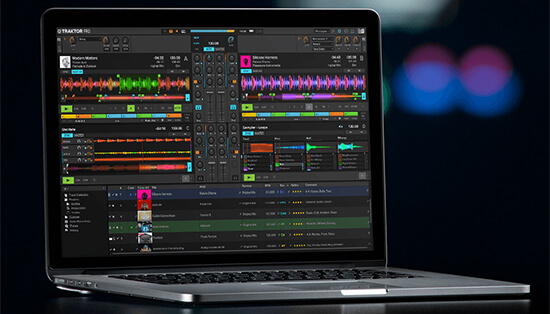 Step 1. Drag and drop the Apple Music tracks you want to mix onto the decks in Traktor DJ.
Step 2. Use the waveform display to identify the beats in each Apple track and set your cue points.
Step 3. Use the crossfader to transition between the two tracks.
Step 4. Use effects such as filters, delays, and reverbs to add variety and interest to your mix.
Step 5. Practice and experiment with different techniques to develop your own style and sound.
---
Part 5. In Conclusion
This article has addressed any questions on how to make Apple Music Traktor DJ connected. By using AudKit Apple Music Converter and following our step-by-step guide, you can easily convert Apple Music to common output formats and use Apple Music in Traktor. With these tips, you'll be able to get Apple Music for free and seamlessly integrate your favorite Apple tracks into your DJ sets.
---
---
---