Music streaming services have revolutionized the way we listen to music, but they have also made it difficult to track and organize our listening habits. This is where scrobbling comes in. Scrobbling is a way to keep track of the songs you listen to and organize them in a way that makes sense to you. While scrobbling has been around for a while, it's now possible to scrobble your Apple Music plays. In this article, we'll explore what it means to scrobble Apple Music, how to enable it with Last FM Scrobbler, and how to troubleshoot any issues you may encounter.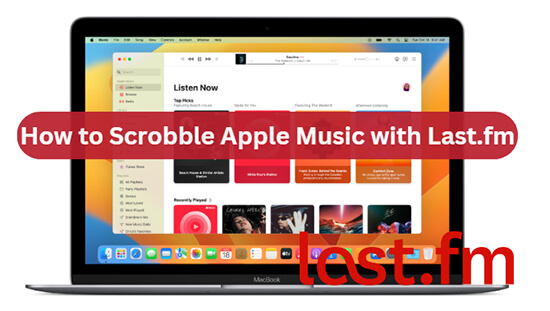 ---
Part 1. More about Scrobble Apple Music
Q1: What Does It Mean to Scrobble Apple Music?
A: Scrobbling is the process of tracking the music you listen to and automatically adding it to your music profile. This allows you to keep track of your listening habits and receive recommendations based on your Apple Music taste.
Q2: Can You Scrobble from Apple Music?
A: You can't scrobble directly from the Apple Music app. However, you can use third-party apps to do Apple Music scrobbling.
Q3: What Is the App for Scrobbling Apple Music?
A: Scrobbling is most commonly associated with Last.fm, but there are other apps that perform the same function. There are several third-party apps that allow you to check scrobbles on Apple Musicto Last.fm, such as QuietScrob, Marvis Pro, and Eavescrob.
---
Part 2. How to Make Apple Music Scrobble with Last.fm
Scrobbling Apple Music is not a built-in feature. Instead, you'll need to use a third-party app or service to enable it. Does Last FM work with Apple Music? Yes, there are several Apple Music scrobblers available, but one of the most popular is Last.fm. It is a music discovery platform that allows you to scrobble your plays from a variety of services, including Apple Music, Tidal, Spotify, etc. To enable Last.fm scrobbling for Apple Music, follow these steps:
How to Enable Last FM Apple Music on Mac/PC
Step 1. Go to the Last.fm website's "Track My Music" page.
Step 2. Click the red "Download Now" button under the Last.fm Desktop Scrobbler heading.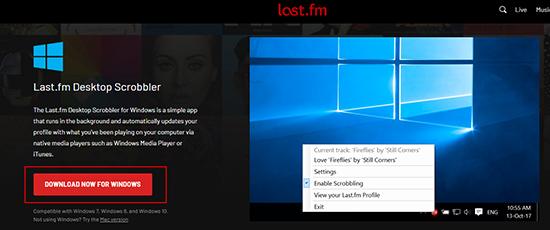 Step 3. Download and install the Last.fm app, then open the app and connect it to your Last.fm account.
Step 4. Tap "File" in the top-right corner, then "Install plugins" and "iTunes".
Step 5. Go to the preferences menu and check the box next to the iTunes option.
Step 6. Open the iTunes app and stream a song from the iTunes library.
Step 7. You can check the "Now Playing", "Scrobbles", "Profile", and "Friends" in the Last.fm app.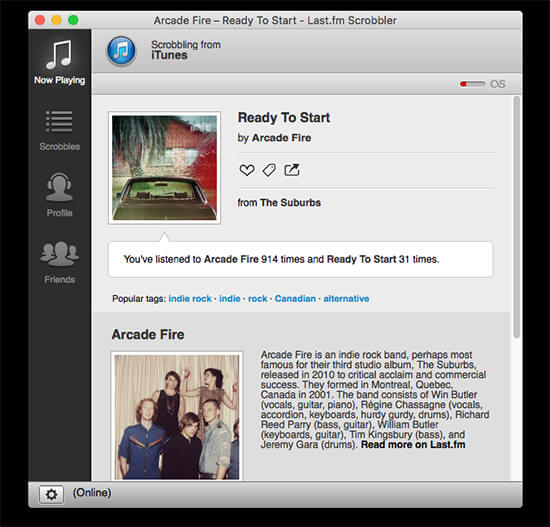 Note:
The Last.fm app for Mac automatically updates your profile with what you've been playing in iTunes. However, it's no longer possible to scrobble Apple Music Last FM since the Catalina update and iTunes died.
How to Connect Apple Music to Last FM Scrobbler on iPhone/iPad
Step 1. Download and install the Last.fm app from the App Store.
Step 2. Register or log in to your Last.fm account.
Step 3. Open the Apple Music app and start listening to music.
Step 7. To scrobble your currently playing Apple track to Last.fm, you need to give Last.fm access to your listening history.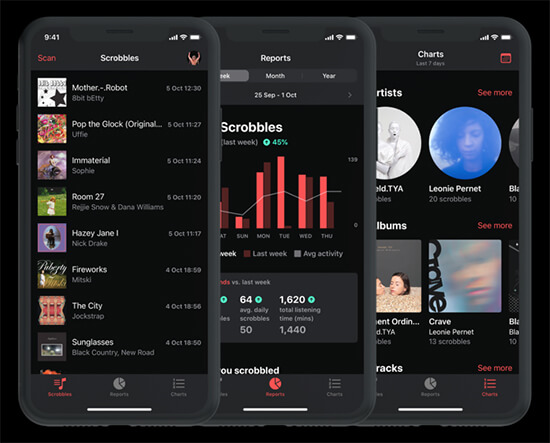 Note:
You can also use a third-party app like Marvis Pro or Soor to connect Last.fm to Apple Music on mobile. These apps let you view and play your Apple Music library. Marvis Pro costs $7.99 and Soor costs $6.99.
---
Part 3. How to Scrobble Apple Music on All Devices
On one hand, Apple Music doesn't have a built-in Scrobble feature. On the other hand, Last FM doesn't work well with Apple Music on Android devices. To solve these problems and check scrobbles Apple Music on any device, we found a perfect way. That is to download and import Apple Music to other scribble compatible services like Spotify and Tidal.
In this way, you can use Last FM to scrobble Apple Music on all devices anywhere. To realize this process, AudKit Apple Music Converter is necessary. It is specialized in converting Apple Music to MP3, FLAC and other common formats on your computer locally. At the same time, it can keep the original quality and full ID3 tags of Apple Music. After that, you can smoothly import Apple Music to other music services for scribbling.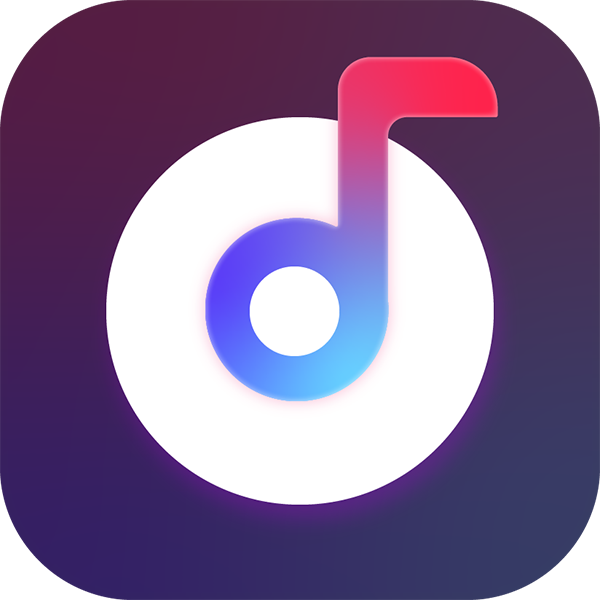 Main Features of AudKit Apple Music Converter
Disable protection from all kinds of audio files like Apple Music, iTunes books
Convert Apple Music to MP3, AAC, WAV, FLAC, etc. for scrobbling
Retain 100% lossless output quality while working at 30X faster speed
Customizable output parameters, like bit rate, sample rate, etc.
How to Download Apple Music for Scrobbling
Step 1  Import Apple Music Files to AudKit Apple Music Converter
Open AudKit Apple Music Converter, click the first "Add Files" button on the bottom left corner to add Apple Music songs you need to scrobble. Or drag and drop Apple Music tracks from iTunes directly to its main interface.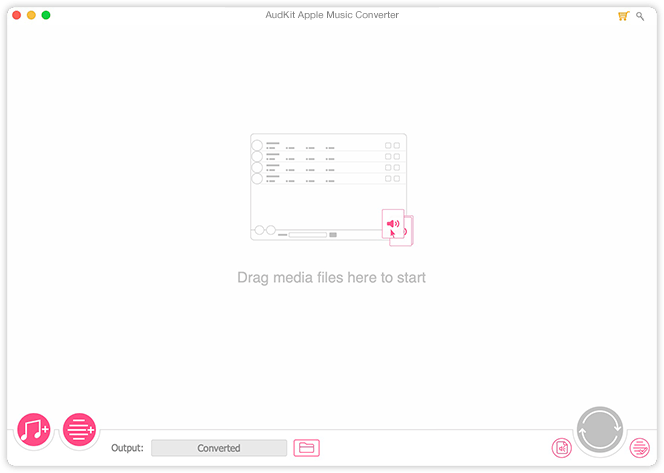 Step 2 Set Apple Music Output Format for Scrobbling
Click the "Format" icon, which looks like a speaker icon in the bottom right corner, to set the output parameters of Apple Music. Here, you can customize the output format, codec, channel, bitrate, etc. Then remember to click "OK" to save the changes.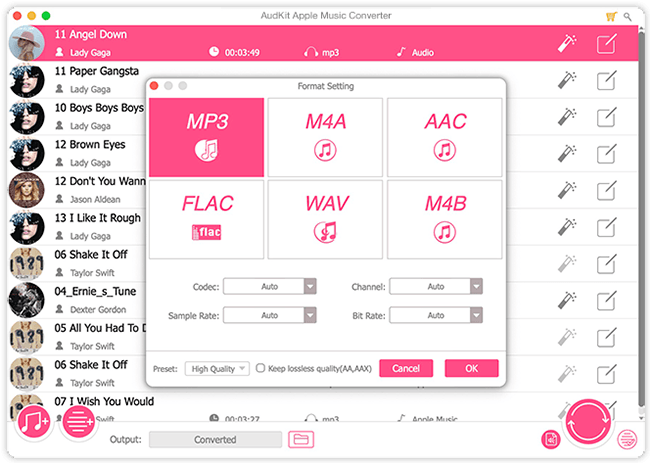 Step 3 Download and Convert Apple Music Locally
Click the "Convert" button at the bottom right corner to start downloading Apple Music songs to MP3 or other common formats on your computer locally. When it's done, you can click the "Converted" icon to locate the Apple Music downloads for uploading to other scrobble-enabled apps.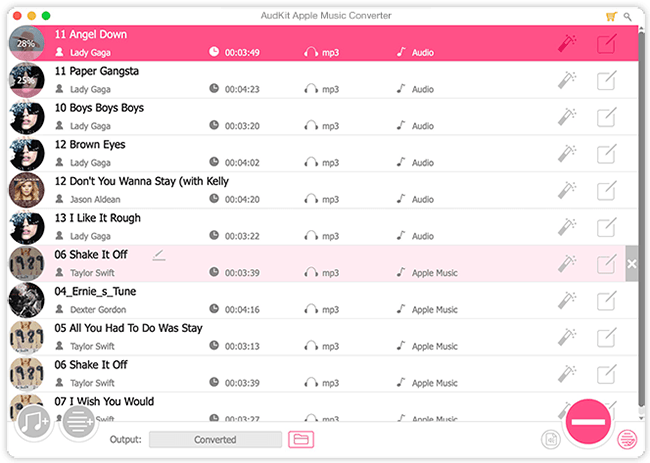 How to Add Apple Music to Spotify for Scrobbling with Last.fm
Step 1. Open the Spotify app, click your profile picture at the top, and select Settings.
Step 2. Scroll to Library and switch Show Local Files on.
Step 3. Under Show Songs from, turn on the folders you want Local Files to have access to.
Step 4. Click Add a source to your stored Apple Music.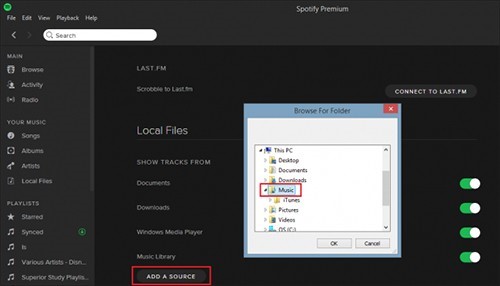 Step 5. Go to Last.fm and log in, then hover over your profile image in the top-right.
Step 6. Click Settings > Applications > Connect, next to Spotify Scrobbling.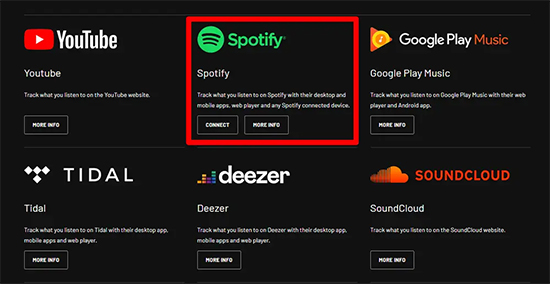 Step 7. Continue to allow access to your Spotify account. Once you've linked your accounts, Last.fm will scrobble Spotify tracks.
Step 8. You can play added Apple Music from Spotify, and Last.FM will scrobble them when you play.
---
Part 4. How to Solve Last.fm Not Scrobbling Apple Music
If you use Apple Music as your primary streaming service, you may have noticed that your scrobbles aren't showing up on Last.fm sometimes. This can be frustrating, especially if you rely on Last.fm to keep track of your music library and recommendations. Fortunately, there are several ways to help you scrobble Apple Music with Last.fm.
🛠️ 1. Use a Third-Party Apple Music Scrobbler App
These third-party scrobbler apps work by syncing your Apple Music library with Last.fm, allowing you to scrobble your plays automatically. Popular options include Marvis Pro, QuietScrob, and EaveScrob. These apps require some initial setup, but once configured, they work seamlessly in the background.
🛠️ 2. Use the Last.fm iOS app
Another option is to use the official Last.fm iOS app. This app includes a built-in scrobbler that can track your Apple Music plays. To use it, simply open the app and start playing music in Apple Music. The app will automatically detect what you're listening to and scrobble it to your Last.fm account.
🛠️ 3. Use the last.fm Web Scrobbler
This browser extension works with most popular music streaming services, including Apple Music. Once installed, it will scrobble your plays automatically, without the need for any additional setup.
🛠️ 4. Manually Scrobble Your Plays
If you don't want to use a third-party app or browser extension, you can manually scrobble your plays to Last.fm. To do this, simply open the Last.fm website and click on "Scrobble from a website" in the bottom right corner of the screen. From there, you can enter the artist and track name for each play, along with the date and time you listened to it.
🛠️ 5. Contact Customer Support
If you've tried all of the above solutions and are still having trouble getting your Apple Music scrobbles to show up on Last.fm, you may want to contact customer support. They may be able to help you troubleshoot the issue or provide additional guidance on how to get your scrobbles to work properly.
---
Part 5. Conclusion
Scrobbling is a great way to keep track of your listening habits and discover new music. While scrobbling Apple Music requires a bit of setup, it's worth the effort if you're a dedicated listener. By following the steps outlined in this article, you should be able to start scrobbling Apple Music plays in no time. Happy listening!
---
---
---