Some people worldwide love to have books and listen to their favourite books. Audiobooks are the best option for such people. They can know the accurate pronunciation of their favourite book and enjoy the aura of books. In this case, Audible is the best option for them to listen to audiobooks.
People can purchase audiobooks from Audible and listen to them offline. And as Audible Premium memberships, users can even use credits to buy the audiobooks they want. If you're looking for discounts, the Audible 2 for 1 sale will be the one that users look forward to getting their favourite audiobook for a less amount.
For your convenience, this article will provide helpful information about Audible 2 for 1. You will learn how to find the Audible 2 in 1 sale and how to download your preferred Audible books.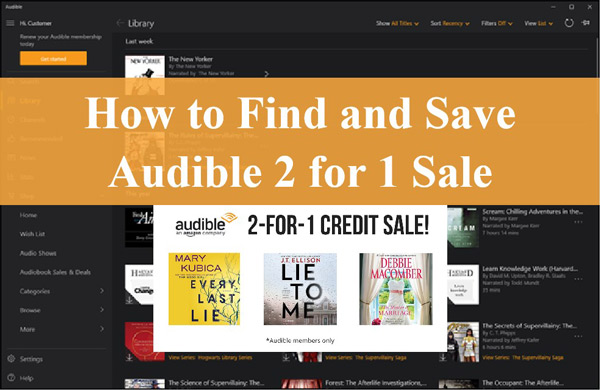 ---
Part 1. How to Find Audible 2 for 1 Sale
The Audible 2 for 1 sale is a big activity for audiobooks lover but where can you find the Audible sale 2 for 1? Here is the way to enter the sale.
Step 1. Open your web browser on your device and type the Audible 2 in 1 sale to search.
Step 2. It will show you the result of your keywords. Click the website when you will see the official website about the 2 for 1 event.
Step 3. Then, sign into your Audible account. After the process of signing in, you will see all the deals and titles which will be available if the sale starts, otherwise, the page will be blank.

In order to facilitate future access to this promotion, you can choose to bookmark this page or save the webpage on your device. To save the page on your device, you can follow the steps.
Step 1. Hover your cursor and click the Share icon near the address bar.

Step 2. Scroll down to select the "Save page as" option.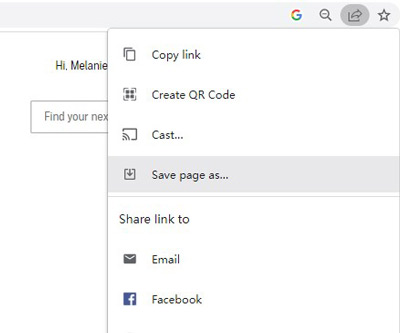 Step 3. In the pop-up window, choose the location where you want to save it. It would help if you kept in mind that your page will save on the desktop as 2for1.html.
---
Part 2. How to Download Audible 2 for 1 Audiobook Permanently
After knowing how to find the best 2 for 1 sale on Audible, you may want to keep those audiobooks for good. The Audible files you download will be limited to play on the Audible app. And here is a way for you to stream audiobooks anywhere. It is advised that you download Audible books using AudKit Audible AAX Converter, a tool that has fantastic features.
Using the AudKit software, you can download and convert Audible audiobooks to your preferred audio formats. It supports audio formats like Lossless, MP3, AAC, M4A, and more. Therefore, you can easily listen to Audible books anywhere you want. The most crucial part is that you can keep those audiobooks with lossless sound quality. This kind of sound quality helps you play the audio files well.
Furthermore, the AudKit Audible AAX Converter will start the conversion process at a 100X speed rate, which is less time-consuming. You may also adjust the volume, speed and pitch of Audible files. It's beneficial for you to edit the ID3 tags and split the audiobook for Audible.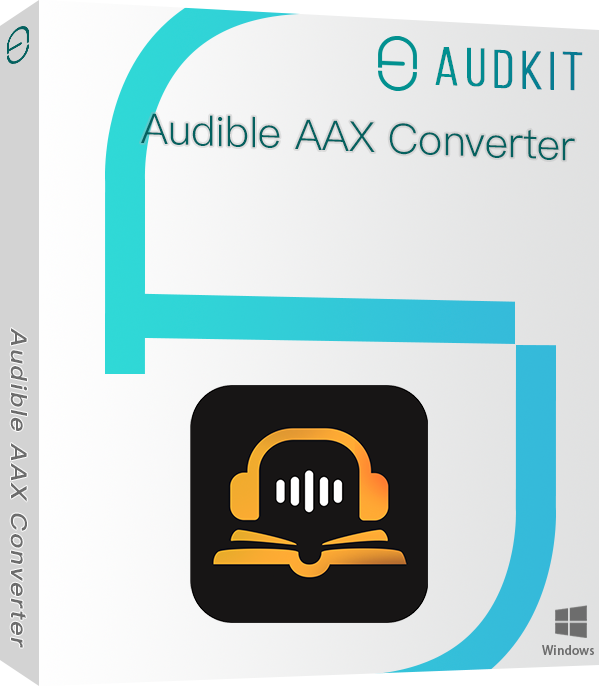 Edit the ID3 tags for Audible, including title, album, artist, year, etc.
Convert audiobooks from Audible to MP3, FLAC, WAV, and more
Process the Audible conversion at 100X expeditious speed
How to Convert Audible Audiobooks by AudKit Audible AAX Converter
Step 1 Load Audible books into AudKit Audible AAX Converter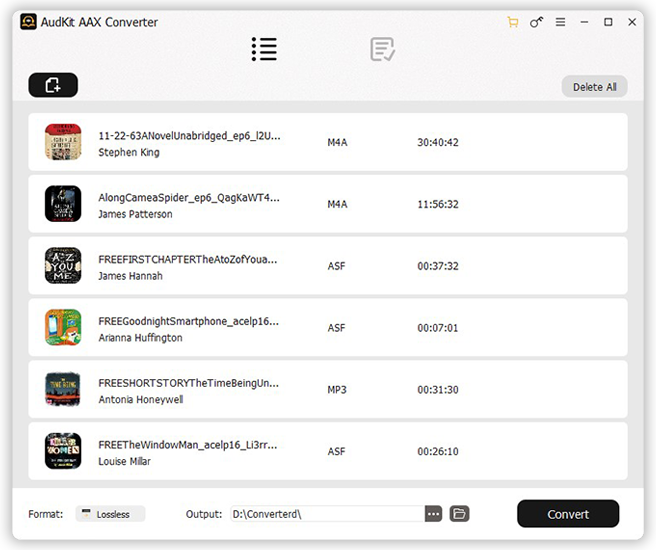 You can download and install the AudKit Audible AAX Converter from the AudKit official website. Then start up the AudKit app. To import the Audible files, there are two ways. One is that you click on the "Add Files" button, choose the Audible books that show up, and press the "Open" option to load them in. Another is that you can easily drag and drop the audiobook files from your PC to the AudKit's interface.
Step 2 Alter the Audible audio format settings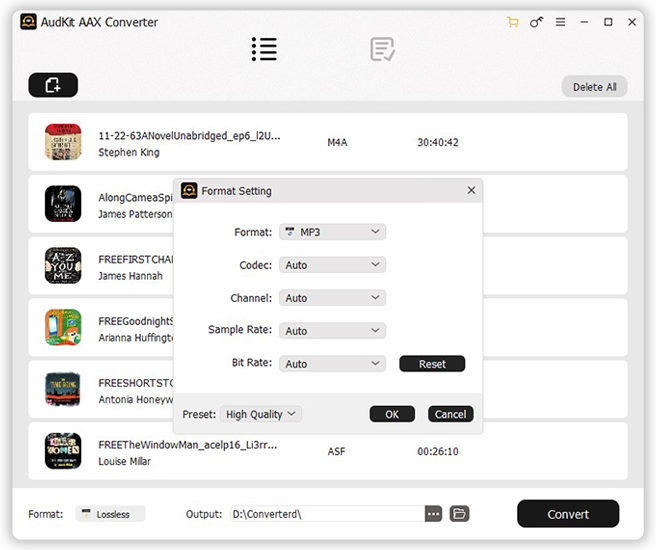 To change the audio output for Audible, press the "Format" tab at the bottom of the screen. You then can adjust the settings like audio format, codec, bit rate, sample rate, etc. You can edit the ID3 tags or effects, and split Audible by chapters by clicking the "Edit" icon next to every Audible book.
Step 3 Download audiobooks from Audible 2 for 1 sale offline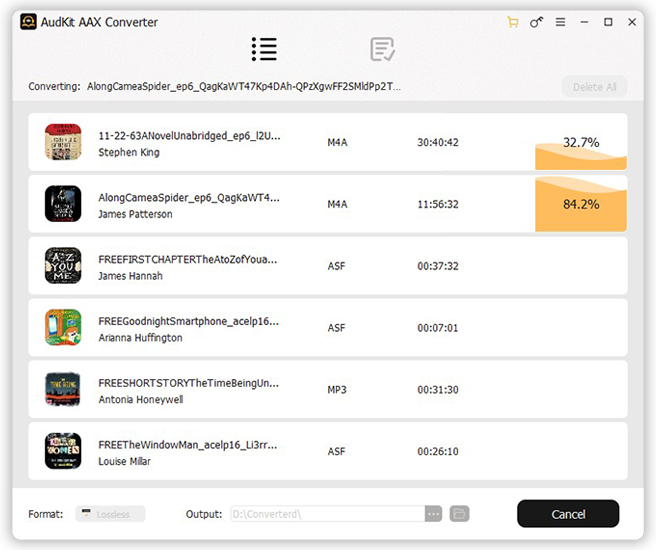 You now can tap "Convert" to start converting the added Audible books after making the audio changes. AudKit Audible AAX Converter will download them to your computer according to what you've set. It will download and convert audiobooks to common audio files at 100X speed. It is easy to search the downloaded Audible files on your local drive.
---
Part 3. FAQs about Audible 2 for 1 Sale
Here are the frequently asked questions about Audible sales 2 for 1. It will clear your confusion after reading the answers to the questions, and you will know more about 2 for 1 Audible sale.
1. How Often Does Audible Have 2 for 1 Sale?
The period of the sale depends on region to region as well. Audible 2 for 1 sale may only occur once in a while in some regions, while others take place constantly. You can pay more attention to Audible's promotional activities, from the forum or from official channels. You can also open your saved Audible sale page at any time to see if the event is running.
2. Can I Return Audible Books Purchased in 2 for 1 Sale?
Yes, users can return the audiobooks they purchased in 2 for 1 sale. The return policy is valid for 365 days. So if you want to return the Audible books, you must return them in 365 days. You can return the first Audible book and get your Audible 2 for 1 credits back, however, if you return the second one, your credits won't come back.
---
Conclusion
Audible is the place where most people will spend their time with audiobooks, and knowing the Audible 2 for 1 sale is promoting more people to listen to and read books. You can get more audiobooks with fewer credits in this sale. If you get need to download and save the books from Audible you like, you can use AudKit Audible AAX Converter to save them on your device. They will be available permanently.
---