You just spent $15 to enjoy an audiobook of your choice for one month. But taking a good look at what you clicked, you realize that you downloaded the wrong one. Perhaps it's not what you wanted and now yearning for how to get your credit back. Well, it's possible to do that. Various means are available on how to return an audible book for your credit.
However, note that Audible has a return policy which then determines your success in the process. You must be a member of the Audible and be within the 365 days of purchasing the book. Check out how to get your credit back via your desktop or mobile.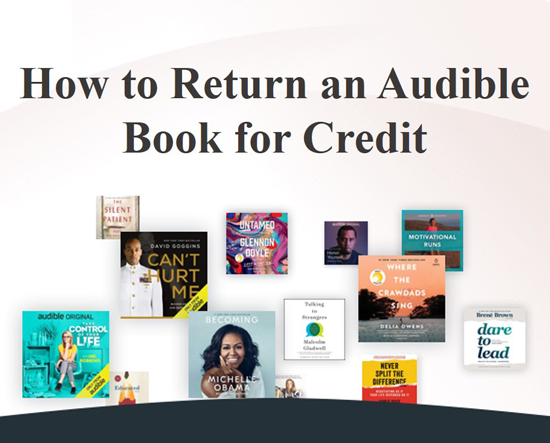 ---
Part 1. How to Return Audible Book on iPhone/Android/Computer
Note that Audible refunds you in the same way that you bought the book. If you paid via credit, then you get your credit back. Here are two methods through which to return Audible books.
How to Return an Audible Book on Desktop
Follow these steps to return the audible book from the desktop.
Step 1. Visit the Audible's official website then login to your Audible account.
Step 2. Click your name at the top-right corner of the screen. A dropdown menu will appear from where you need to click on the "Account Details".
Step 3. Check your account page and click on the "Purchase History" option.
Step 4. Several audiobooks that you've purchased will be enlisted. Choose the title you want to return by clicking on the "Return Title" button that is located next to it.
Step 5. Next, select your reason for returning the audiobook. These include buying it by mistake, and not liking the book or the narrator, among other issues. Then, click on the "Return Title" button to confirm the return action. That's it! You just returned the audiobook.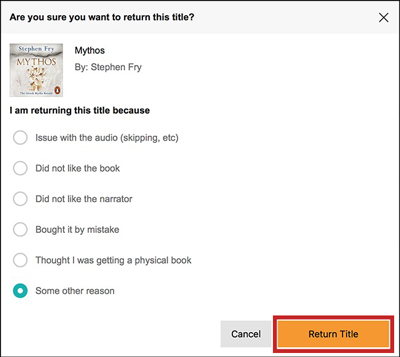 How to Return Audible Book on iPhone/Android Phone
Other than the desktop, find out how to return an audible book on iPhone and Android devices in easy ways.
Step 1. Once you open your browser on your iPhone or Android, log into the "Audible website".
Step 2. Click on the "Menu" tab in the upper-left of the screen. Next, click the "My Account" option.
Step 3. Then click on the "Purchase History" section.
Step 4. The History will populate a list of audiobooks you have purchased. Choose the one you wish to return and click on the "Return" option. If you don't see the button on your mobile browser, you need to go to the bottom of the page and click on the "Full Site" tab to get the "Return" option.
Step 5. Lastly, tap a reason for the return decision and then confirm your transaction by hitting the "Return" tab.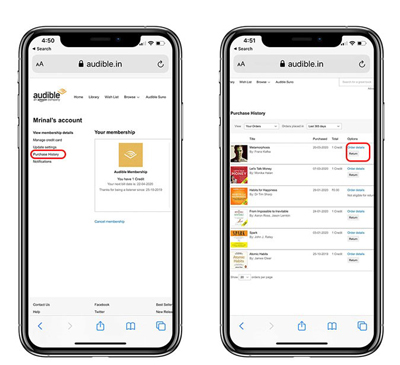 ---
Part 2. How to Keep Audible Books after Returning
Once you know how to return audible books on the app, you should also equip yourself with how to keep your returned audible books forever. If you download your Audible books before returning them, you can enjoy your returned Audible books forever. It is so amazing, right? But how? To download your Audible books for keeping forever, you will need to convert Audible books to a common-used format.
The best tool – AudKit Audible AAX Converter, will losslessly convert your Audible AA or AAX to common formats like FLAC, MP3, M4B, etc. After converting your Audible books, you are allowed to transfer them to other platforms or devices. That means you are able to play your Audible books on several devices and players.
Likewise, this app reports a faster conversion speed of up to 100X rate. It also retains the lossless ID3 tags and metadata information like albums, artists, composers, genre, etc. By this, you can easily manage your converted Audible books. The most outstanding feature that other converts don't have is that the AudKit Audible Converter supports splitting files into smaller segments for easy managing.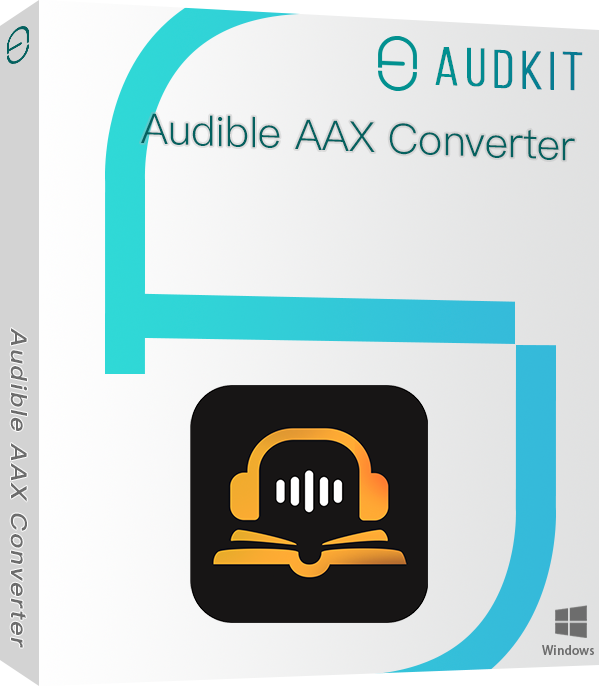 Download Audible audiobooks for free to keep forever before returning
Flexibly customize output audiobooks
Play your converted files on any device and players offline
Convert your Audible audiobooks at a fast speed of 100X rate
How to Use AudKit Audible AAX Converter to Download Audible Books to Keep Forever
AudKit Audible AAX Converter lets you download your audible books to keep forever before you return Audible books. Just visit the official website of AudKit and download the app on your computer. The free version allows you to convert only the first third of the content. So, better register it to break the limitations of the trial version. Click on the "Register" tab to open the registration window. Then fill in your licensed information that you received before and go on to activate the app.
Step 1 Add the Audible audiobooks to the converter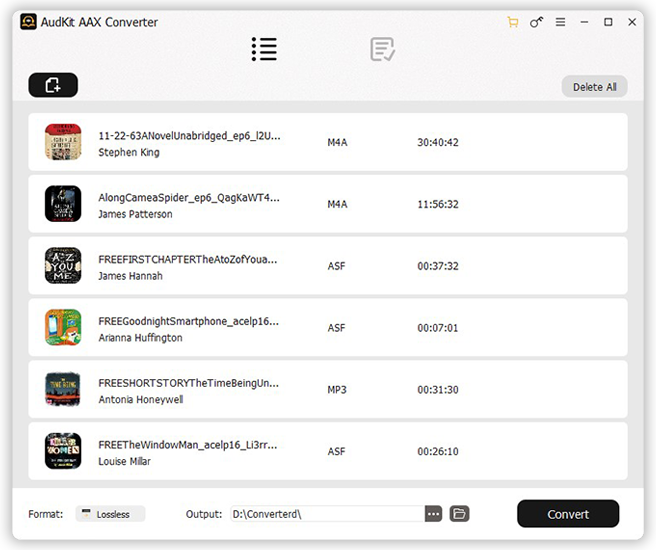 One way to do this is to click on the "Add Files" button. The Audible files will then show up in a new window. Then select your audiobooks in a batch and hit on the "Open" tab to load them automatically. Alternatively, drag and drop the audiobooks from your computer into the conversion window of AudKit.
Step 2 Customize the audiobooks output format and parameters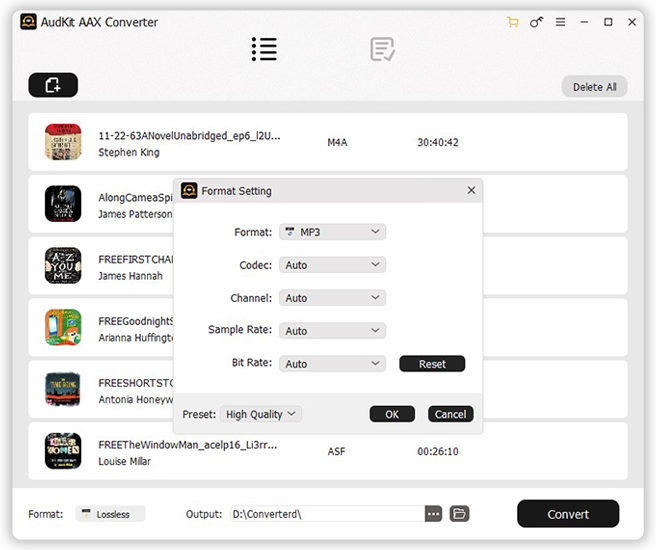 After the upload is completed, go to the "Format" tab to launch the "Settings" window. Next, set the output format of Audible AAX to MP3, WAV, Lossless, FLAC, etc. Also, customize the output parameters such as bit rate, audio channel, sample rate, etc. Nonetheless, AudKit also lets you edit your audiobooks by going to the "Tags" section to customize ID3 tags like album and year or split them from the "Split" tab. And the "Effects" section to adjust the speed, volume, and pitch, among others.
Step 3 Convert Audiobooks to common formats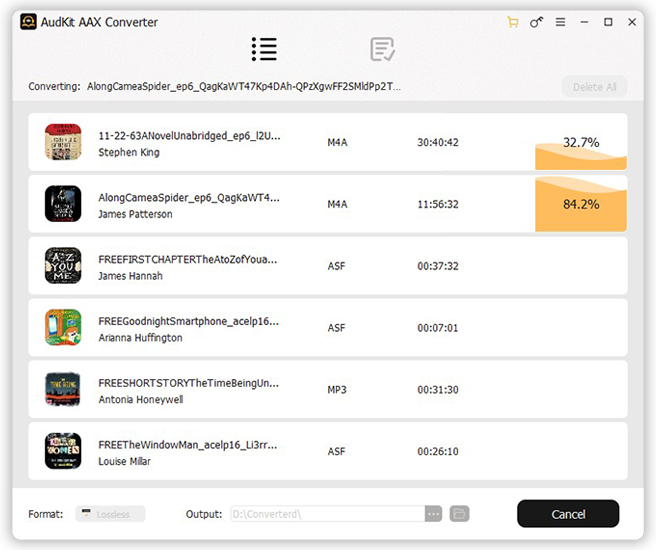 Confirm your entries and then click on the "Convert" button located at the bottom of the Converter. It will then convert your audiobooks to common audio files as you had set them before. Finally, locate the converted Audible books from your computer's local storage. That's it. By the above steps, you can successfully keep your audiobooks before you return Audible books.
---
Part 3. FAQs about Returning Audible Book
Besides knowing how to return audible books, users are still on the lookout to know more. Here are some commonly asked questions on returning Audible books.
1. How many times can you return Audible books?
It is possible to return a maximum of 8 books every 6 months.
2. Can you return the Audible book after listening?
Yes! You can return an Audible book after listening to it.
3. How do I get a refund from Audible?
You get a refund the same way you bought your book. If it was by Credit, so the return will be Credit. But if a friend bought it for you, it's your friend who will be refunded by whatever means they bought it with.
4. How often can you return Audible books?
You must return an Audible book within 365 days of purchase.
5. Why won't Audible let me return books?
You can't return the book if you are not a member of the Audible and also if the 365 days have elapsed.
---
Part 4. Conclusion
Audible gives its members a fair share when it comes to getting value for their money. You are not limited to returning any Audible book that you have purchased by mistake or if you just don't like the choice you made. We have tackled how to return audible books via your desktop and mobile browser. Nonetheless, the best way is to download your audiobooks and listen to them forever. And that's through AudKit Audible AAX Converter. It is a super-fast app that converts your Audible books in a batch and in any format you want.
---