Are you a fan of spoken audio content? Perhaps, you love reading books but don't have the time to roll costa those heaps of pages. If so, Amazon's Audible is the direction to turn to. It not only offers numerous Audible audiobook content but also Audible podcasts among others. The beauty is that you can grab your favorite podcasts on any device or browser.
Audible currently contains over 100,000 podcasts available on selected streaming platforms. But how do you listen to your podcasts on Audible? And what are the best podcasts to stream? We will provide all the things you want to know. Continue scrolling for the finer details.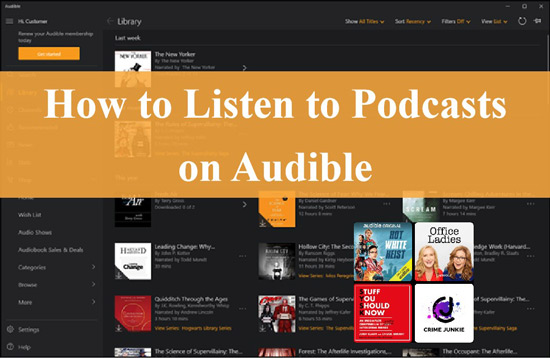 ---
Part 1. Are Audible Podcasts Free?
Like Spotify and Apple, Amazon also offers a good number of podcasts. However, are there free podcasts on Audible? Yes! You need an Amazon account to access them. After having the account, you are able to play free Audible podcasts. Follow the steps to see how to find Audible free podcasts.
Step 1. First, sign in to Audible using your Amazon account.
Step 2. Then go to the Podcasts page on Audible official web.
Step 3. Find the section titled "Top free podcasts" and click one podcast.
Step 4. You'll know it's free if it indicates either "Play" or "Follow". If so, click on it and keep calm as you listen up.

---
Part 2. How to Listen to Audible Podcasts on Mobile/Web
Audible is available on the mobile device and the desktop. It is easy to find and listen to your favorite podcast on the platform. Now, let's venture into how to find podcasts on Audible and listen to them from its mobile app and website.
From the Audible Website
Step 1. Go to your desktop, and launch a browser, and then go to the "audible.com" site.
Step 2. Sign in to your Audible account, then click on the "Browse" tab.
Step 3. Go to the drop-down menu and go to the "GET STARTED" section then click on the "Podcasts" option.
Step 4. Finally, select one episode from the podcast to listen to.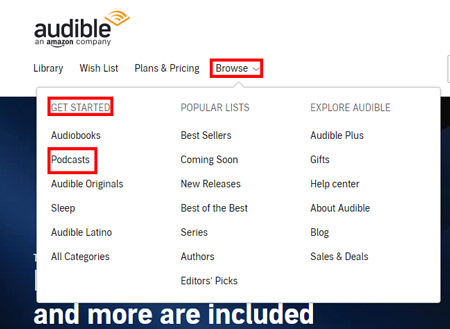 From the Audible Mobile App
Step 1. Set up and open the Audible app on your mobile device to sign in.
Step 2. Next, click "Discover/Browse" from the bottom of the home screen.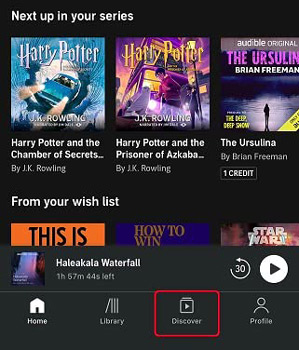 Step 3. Choose "Podcasts" under the Discover something new section.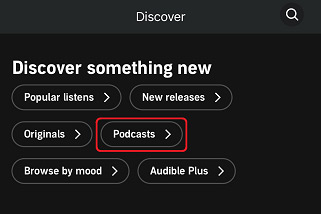 Step 4. Tap on one podcast you are more interested and click the Play button to listen to it.
---
Part 3. How to Download Audible Podcasts on Android/iPhone
If you are the type of person who loves action on the go, then downloading Audible podcast on mobile is a great choice. Check out the steps to get the podcast you like for offline listening with the Audible subscription.
Step 1. First, open the Audible app and log into your account on the phone.
Step 2. Go to the Discover section to search for a podcast or click on Podcasts to find something new.
Step 3. Tap on one podcast and click on View all episodes to decide which one to download.
Step 4. Once decided, click the three dots next to the episode and select Download episode.
If you have followed the Audible podcast, you can find it in your library to download it offline as well.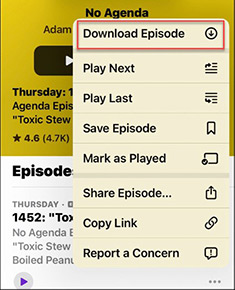 ---
Part 4. How to Get Audible Podcasts Offline on Any Device
You may look for ways to save your best Audible podcasts by listening to them on any device at any time. Well, to play Audible on MP3 players, cars or other devices, it is better to convert content from Audible into the common-used audio format, which is helpful to eliminate the limit from Audible.
In this case, the recommended conversion tool, AudKit Audible AAX Converter, is at your service. It works at a lightning-fast speed of 100X rate to convert your Audible items to output formats including MP3, AAC, M4B, WAV, MKA, OGG, AC3, WMA, and FLAC, among other formats. More so, it offers you an option to keep 100% lossless audio quality while retaining all the original parameters. It also preserves ID3 tags for you to manage podcasts.
You don't also have to deal with large volumes of podcasts from Audible. Simply split them for more convenience. AudKit Audible AAX Converter can split your audiobooks, and podcasts into small clips by chapters or hours. You will be able to play the podcast from Audible on Sony Walkman, Kindle Fire, Tesla, Apple Watch, etc. offline.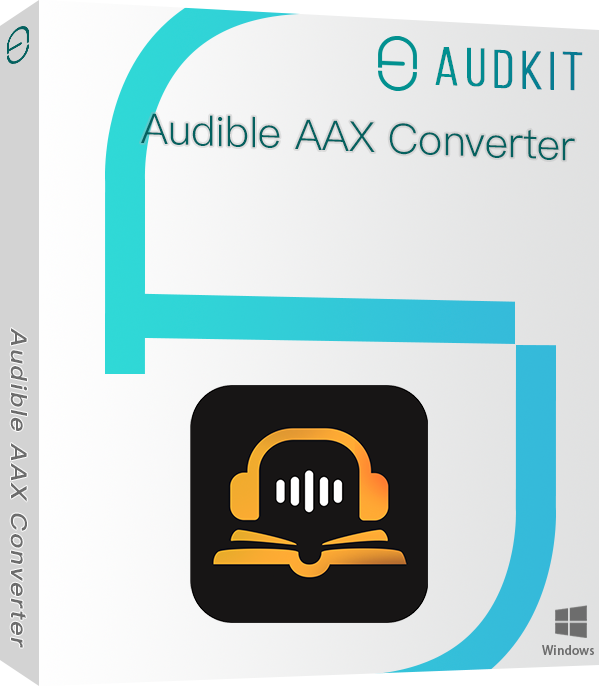 Key Features of AudKit Audible Converter
Convert your podcasts to PC at a faster speed of 100X
Download Audible podcasts to AAC, MP3, WAV and more
Keep all the lossless audio quality and preserve the ID3 tags for podcasts
Split Audible podcasts into manageable segments and edit effects
Steps to Download Podcasts from Audible Offline
Step 1 Download AudKit Audible AAX Converter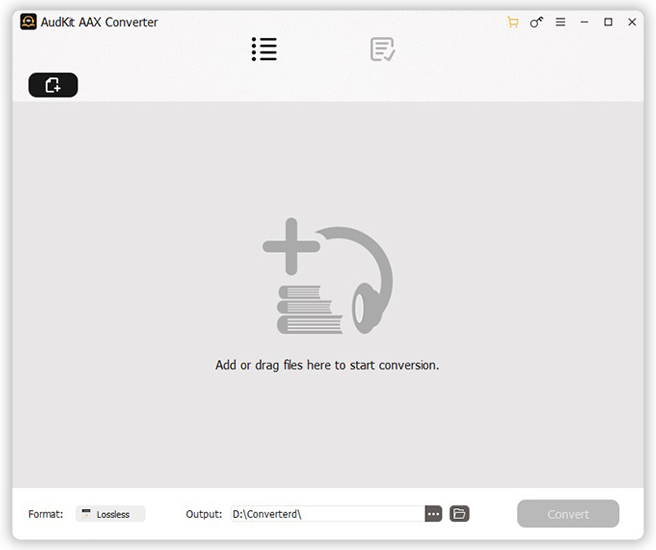 AudKit Audible AAX Converter is available for a free trial on your computer. Go to the official site and click on the "Download" button. However, the free trial enables you to convert 1/3 of your Audible podcasts. To allow full conversion, simply register for the AudKit Audible converter and get a registration license. Click the "Register" option then fill in your licensed information in the pop-up registration window to activate the app.
Step 2 Import Audible podcasts to the converter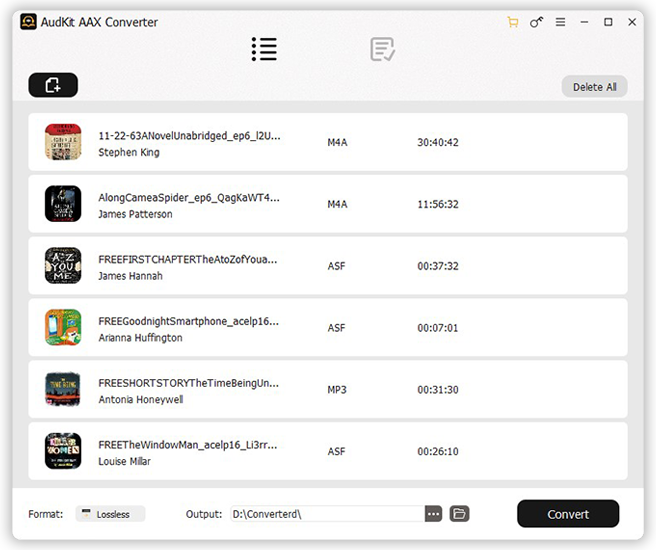 Click on the "Add File" button to see all the Audible files in the new window. You can batch-select your podcasts, then click on the "Open" tab to load them to the AudKit software's interface. You can also drag and drop them individually directly from your computer to the conversion window.
Step 3 Adjust the Audible formats and edit other features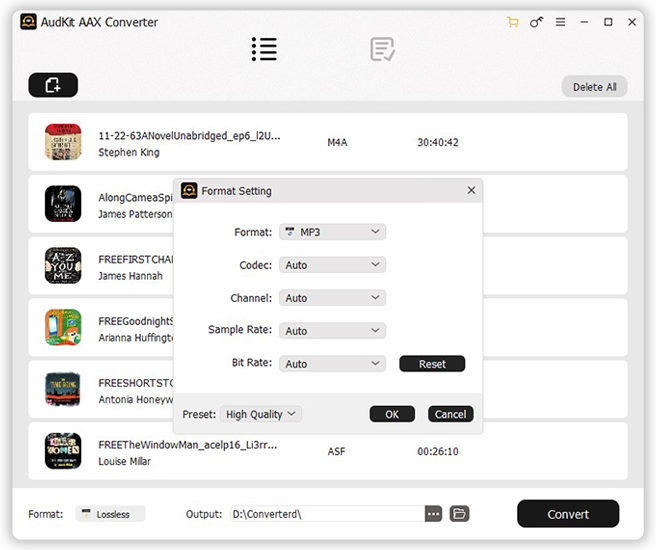 Once your Audible has been uploaded, click on the "Format" option from the bottom to start customizing the podcasts' output settings. You can change Audible AAX to WAV, FLAC, M4A, etc. Likewise, customize the parameters such as audio channel, bit rate, sample rate, etc.
You can also choose to split your podcasts for easy management. Click the "Edit" button next to the uploaded podcast to reset the year, title, album, etc in the "Tags" section. The "Split" tab will enable you to split your books while the "Effect" section enables you to adjust the speed, volume, and pitch.
Step 4 How to download podcasts on Audible offline to PC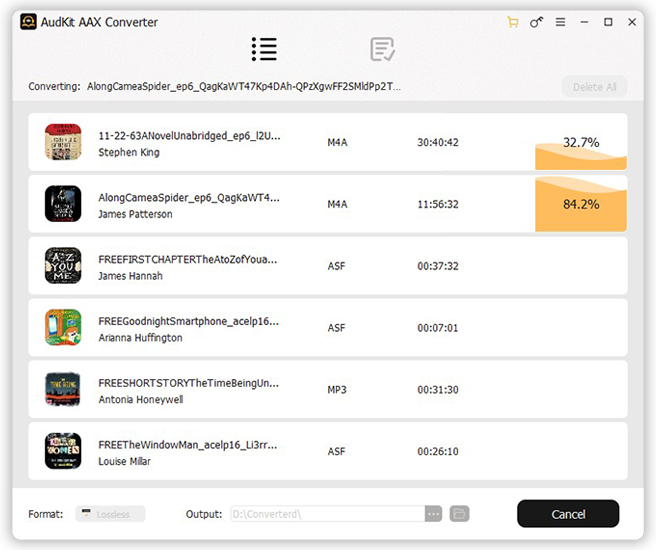 Finally, your podcast will be converted to the set parameters. Click on the "Convert" tab to download and convert your podcasts from Audible to common output formats for offline listening. The downloaded Audible files can be transferred to the device you wish.
---
More Tips: Best 5 Podcasts on Audible 2022
You are certain to see several podcasts that will get you confused about which one to listen to. Here are the best podcasts on Audible that sailed through 2022.
1. Fiasco
If you don't know how the AIDS epidemic in America hit as a great crisis in the early years, then this Audible podcast will shed some light. It was indeed a fiasco as Leon Neyfakh and Andrew Parsons narrated it.
2. Buried Bones
It tells about the true crime cases in history. With a journalist and a retired investigator, they unravel the clues of these cases together.
3. All There Is with Anderson Cooper
This best Audible podcast is all you need if you are on a journey of grief right now. Get to know how to live with loss from Anderson.
4. Start with This
This is a good choice if you want to jungle your mind. You get something to consume and create as well. Check it out and engage in writing an assignment afterward.
5. Wildflowers
Wildflowers will help you solve that mystery of lies, betrayal, and love. It's a great eye-opener as you step into 2023.
---
In Conclusion
Whether you are listening to pass time or for some insights, Audible podcasts are great companions. More so, you can get it from both your browser and on your mobile simply with a few clicks. And when it comes to offline listening, you can listen to podcasts downloaded on the Audible app. For putting them on other devices for playing, AudKit Audible AAX Converter makes it easy. By adding the Audible podcast to it and selecting the right audio format, you can enjoy it anywhere by downloading it on the computer.
---