It's no surprise that audiobooks are gaining popularity, with their wide variety of titles and the ability to be listened to anywhere. And with their growing demand, Audible has become one of the leading audiobook providers. While Audible is accessible on various devices, such as Kindle, Samsung TV, and more. Can you play Audible on Google TV?
Google TV users are out of luck. There is no Audible app available on Google TV. But don't worry! We can provide you with some tips that will make listening to Audible books on your Google TV a breeze. In this article, you can learn the solutions that allow TV users to listen to Audible books without installing a separate app. So, without further ado, let's get started!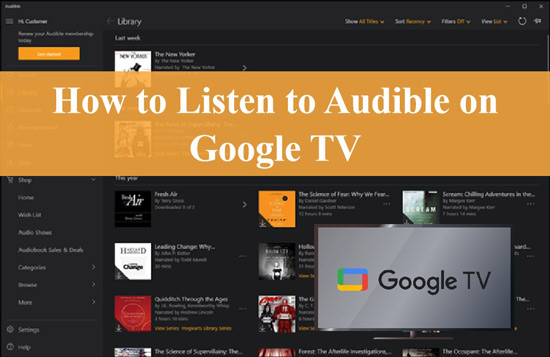 ---
Part 1. Can You Get Audible on Google TV?
The unfortunate news for Google TV users who wish to listen to Audible is that no official Audible app is accessible. However, two simple workarounds allow you to listen to Audible on your smartphone. The first method is to play Audible through Bluetooth by linking your Google TV to your phone, enabling you to stream Audible material straight from your phone to your TV. The second way is to use your Android phone to cast the Audible app on your TV.
To utilize the first way, ensure your phone and Google TV are connected to the same Wi-Fi network. Then, on both devices, turn on Bluetooth and link them. Once connected, open the Audible app on your phone and choose an audiobook. The music will be played automatically via your TV speakers.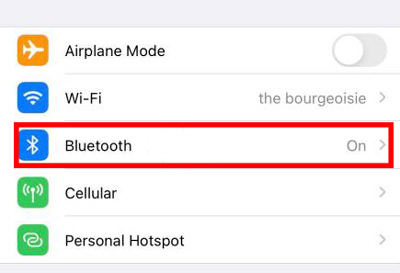 To use the second technique, ensure your phone and Google TV are connected to the same Wi-Fi network. On your phone, open the Audible app and press the Connect to a Device icon. Then, from the "Cast to" list of accessible devices, pick your Google TV, and the audiobook will begin casting the Audible book on your TV.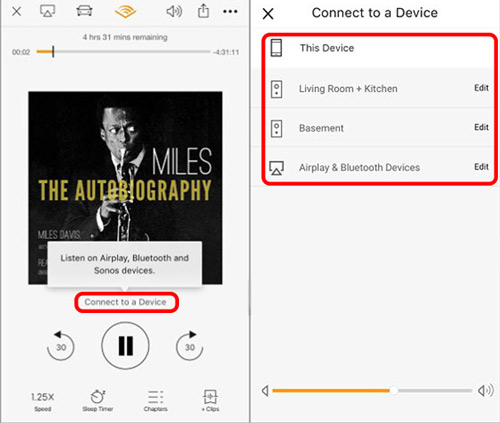 You can listen to all your favorite audiobooks on your Google TV using these two workarounds, even if no official Audible app is accessible. Besides Bluetooth and Audible Connect, you can still find more ways to let you enjoy the Audible Gooogle TV app easily. Continue reading!
---
Part 2. How to Stream Audible on Google TV with Chromecast
As previously said, Audible has yet to develop an official version for Chromecast and other Google Home devices. However, if you have loaded the Audible app on your mobile device, tablet, or computer, you can still connect to Chromecast and enable Audible playing. It is possible to do this with the Google Home app, loaded on your devices and Bluetooth-connected to the Chromecast Audio.
Just follow the steps outlined here to begin casting Audible to Chromecast for immediate enjoyment.
Step 1: Connect your device and Chromecast to the same Wi-Fi network.
Step 2: Open the Google Home app and go to the Profile icon.
Step 3: Choose Minor Device > Cast Screen/Audio, and then select the device.
Step 4: Select Google TV as the casting device. After you confirm the start button, you can listen to an audiobook from the Audible app.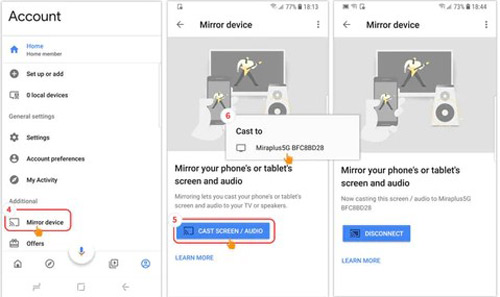 ---
Part 3. How to Play Audible on Google TV as Local Files
Do you want to use Audible Google TV download right on your device with just a few clicks? We have great news for you! If you have audiobooks in the Audible AAX format, you can quickly convert them to local files playing on your Google TV using AudKit Audible AAX Converter.
Audible AAX audiobooks can be converted to MP3, M4A, AAC, FLAC, WAV, and more with the help of AudKit Audible AAX Converter, a powerful and user-friendly tool. The converter preserves the audiobooks' lossless quality so that you can listen to them without interruption. Most amazingly, you can instantly convert your whole Audible collection to local files thanks to the 100X conversion speed.
The ID3 tags of your Audible books, including the author, album, cover, and more, are safely preserved by AudKit Audible AAX Converter, in addition to the high-quality conversion and rapid performance. It also has a useful split function that lets you divide a lengthy audiobook into more manageable chunks.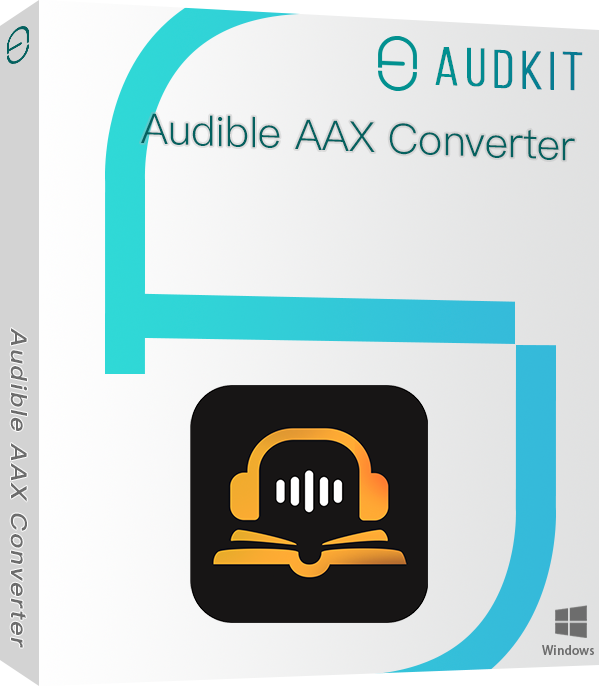 Key Features of AudKit Audible Converter
Convert Audible AAX files to FLAC and other various output formats
Maintain the lossless sound quality of the original audiobooks
Feature 100X conversion speed for batch downloading
Preserve original ID3 tags and includes a handy split feature
Download Audible Books with AudKit Audible AAX Converter
Step 1 Put Audible audiobooks into AudKit software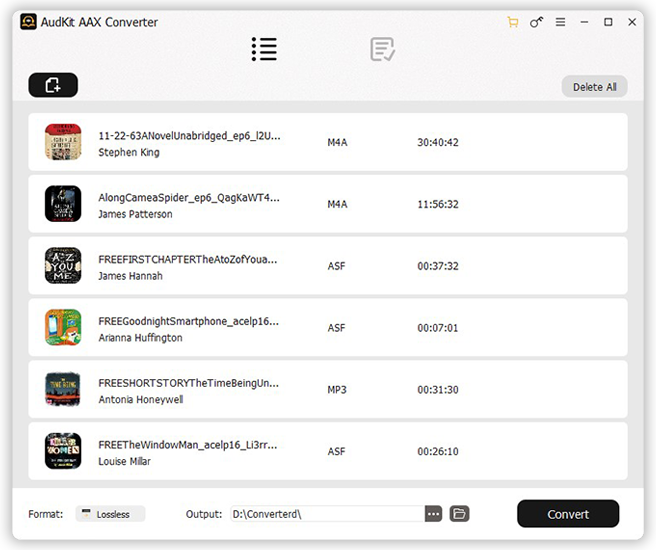 Download the AudKit Audible AAX Converter on your computer and run the program. To add your Audible books, select the 'Add Files' icon on the left side, and the new windows will display all your Audible files. You can select multiple audiobooks and click the 'Open' icon to import them automatically.
Step 2 Customize Audible books format for Google TV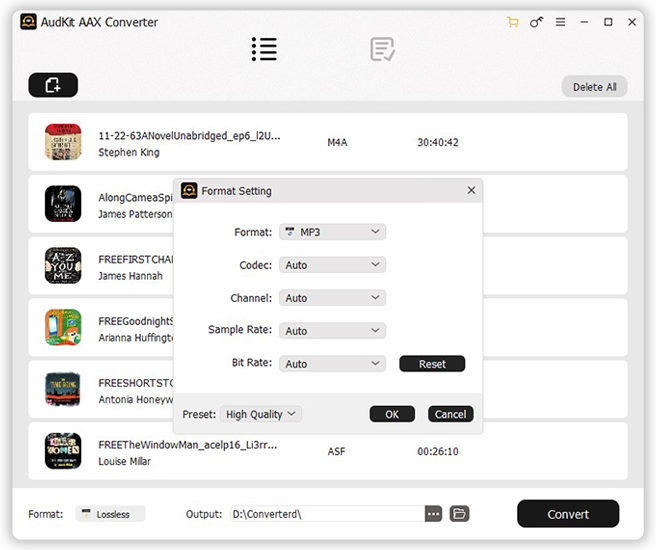 To open the settings window, click the 'Format' tab in the lower-left corner. Depending on your preferences, you can designate the output format as Lossless, MP3, FLAC, WAV, AAC, M4A, and other prominent audio formats. Meanwhile, the audio attributes like codec, sample rate, and bit rate are adjustable.
Note: select the 'Edit' button next to each audiobook to modify ID3 elements such as year, title, and album in the 'Tags' section, and select the 'Split' button to divide large audiobooks into smaller segments.
Step 4 Start downloading Audible books to local files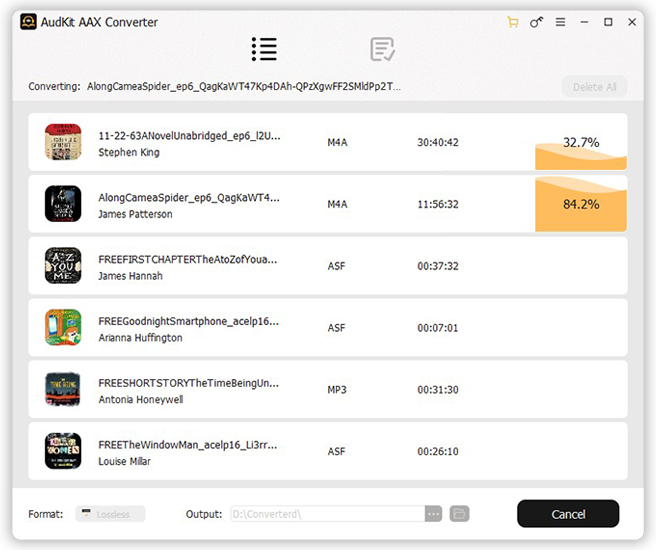 Make sure all the parameters are correct and hit the 'OK' tab to save them. Then, initiate the conversion procedure by clicking the 'Convert' button in the bottom-right corner. The converted Audible files will be stored on your local computer drive. You can copy Audible books to a USB drive and then insert the USB into Google TV for playing.
---
Part 4. In Conclusion
Though the Audible Google TV app is supported, you can strike your efforts to use Bluetooth or Audible Cast. Among all, You can convert your Audible AAX audiobooks into local files with AudKit Audible AAX Converter or use Chromecast-enabled speakers or TVs with your Google Assistant. The former is more hassle-free, while the latter gives you more leeway in how and where you listen to audiobooks.
The lossless sound quality of the original Audible AAX audiobooks is preserved throughout the conversion process when using AudKit Audible AAX Converter. If you're an Audible user who wants to listen to Audible on Google TV, AudKit Audible AAX Converter is your best bet thanks to its 100X conversion speed, original ID3 tags retention, and split option.
---