Spotify is an amazing music service that is enjoyed by millions of people around the globe. It has one of the biggest music libraries on the planet, containing up to more than 20 million songs. Spotify can be played on multiple devices, including smartphones, computers, gaming consoles, etc., but some entertainment systems do not let you enjoy Spotify as it is. Spotify also allows you to download songs that you can listen to while being offline, but you need a premium account to listen to those songs, which means that once your subscriptions end, you won't be able to listen to the songs offline.
Hisense smart TVs are one of the most famous smart TVs available on the market, but unfortunately, Spotify music streaming services does not support Hisense smart TVs. You can't play Spotify on Hisense directly. Surely there are some other tools to listen to Spotify on Hisense smart TV that we are going to discuss in this article.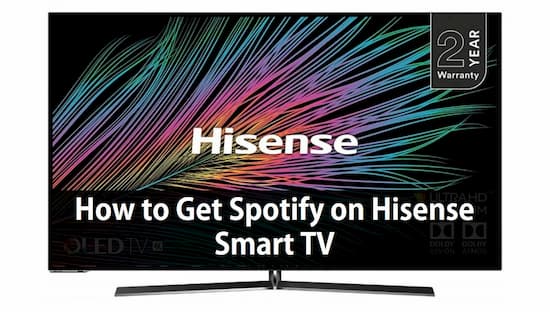 ---
Part 1. How to Download Spotify on Hisense Smart TV via AudKit
Spotify allows you to download music, but that feature is only available for the premium members, and free members cannot download songs from Spotify. There is another downside that you can't play downloaded songs from Spotify on any other media players as they are encrypted by a format that is only supported by Spotify's built-in player. Therefore, to listen to those songs on any media player, we need to break the encryption first. Now we are going to introduce a tool that allows you to break the encryption and convert the songs into a different format so you can get Spotify on Hisense Smart TV. You also will not need a Spotify premium to download songs.
The tool that allows you to download and convert Spotify songs is AudKit Spotify Converter. This converter is a professional tool that is also perfect for beginners. AudKit comes equipped with the technology that allows you to break the encryption of the Spotify songs seamlessly. Then let you convert Spotify songs to MP3, FLAC, M4A, etc. such common formats.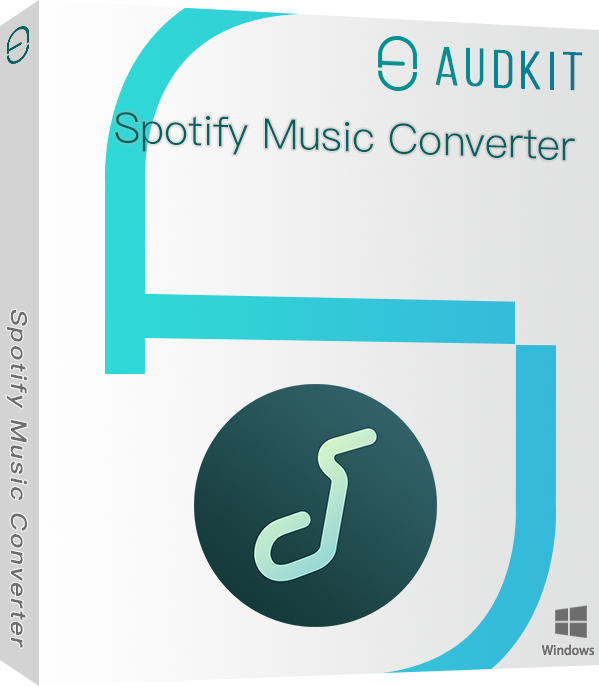 Convert Spotify songs to MP3, AAC, M4A, AAC and more
Download Spotify playlists, podcasts, etc. for offline listening
Keep lossless audio quality and ID3 tags in output files
Batch convert Spotify music at 5X or faster speed
AudKit Spotify Converter also retains all the metadata and ID3 tags to ensure that users get to enjoy songs without any loss. This converter can download up to 100 songs at once. We are now going to give you a detailed guide on how to download and play Spotify songs on Hisense smart TV using AudKit Spotify Music Converter.
Step 1 Launch AudKit Spotify Converter and import music from Spotify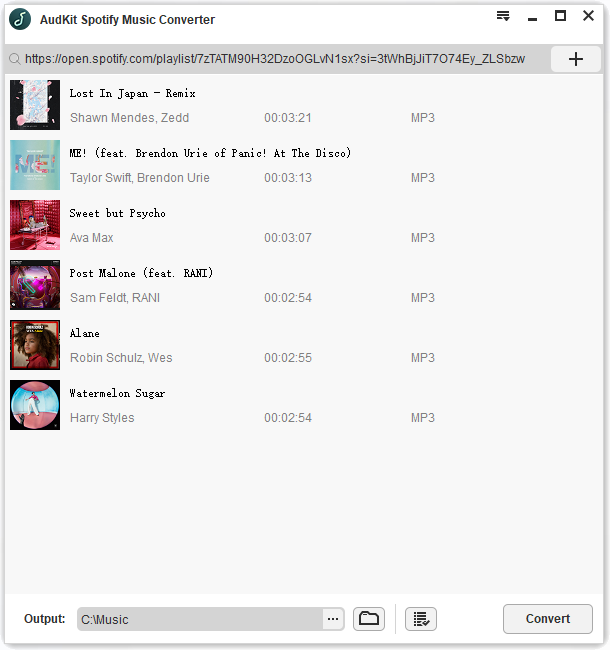 The beginning step is to download and register to AudKit Spotify Music Converter. After downloading and installing it on the computer, you can easily register it by following the on-screen guide. Now we can start with the importing process. That can be made possible by going to Spotify's website, searching for your desired songs, and copying the URL link. Once you copy the URL link, you can come back to the AudKit's interface and paste the URL link in the input field.
Step 2 Alter the format of the Spotify songs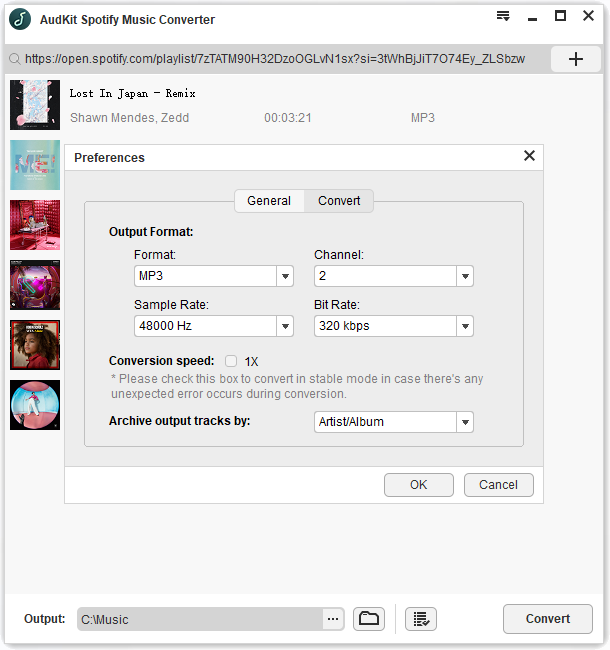 The following stage is to adjust the settings so you can download music in your ideal configuration and format, which for this instance, is MP3. To play out that task, open settings by tapping on the "Preference" button. Once the preference tab is opened, you can adjust the format from the format section. Once you choose your desired format, you can also change other settings such as codec, channel, bit rate, sample rate, etc., to get the highest quality possible.
Step 3 Start downloading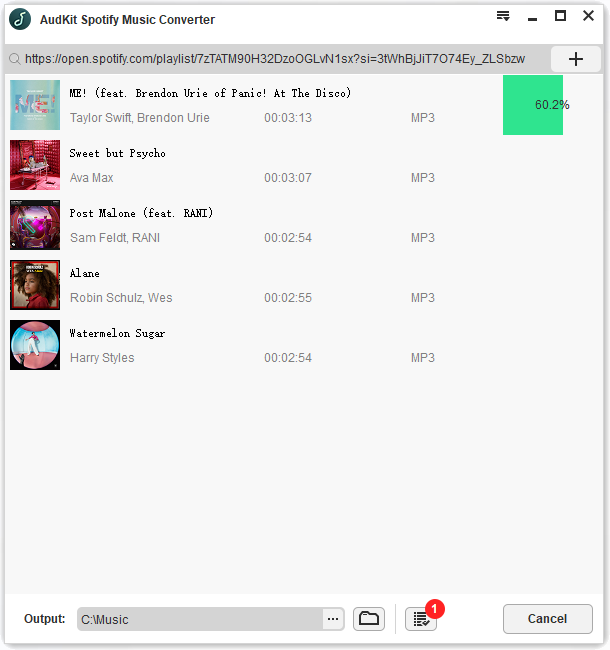 The following stage is to finalize all the settings and start the downloading process. To begin the downloading cycle, first of all, click on the "OK" button on the lower right corner of the settings tab to close it. Now the last step is to tap on the "Convert" button to begin the downloading process seamlessly. Once the downloading process is started, it will complete downloading the songs in a matter of seconds. Once it is done downloading, the songs from Spotify will be stored in the destination folder for you to listen to.
Step 4 Play Spotify songs on Hisense Smart TV
Once you are done downloading the songs from Spotify, the next step is to play the downloaded songs on Hisense smart TV. There are two methods that we are going to explain how to play Spotify on Hisense TV.
Method 1: Play Spotify music on Hisense smart TV using a USB device.
1. Attach a blank USB device to your computer. Now go to the destination folder, copy and paste your desired songs on the USB device.
2. Now attach the USB device to your Hisense Smart TV.
3. Now, access the USB device using the Hisense smart TV and play your desired Spotify songs.
Method 2: Stream Spotify music on Hisense smart TV using Google Play Music.
1. Install Google Play Music app on Hisense Smart TV and sign in to Google play music web player on your computer.
2. Now click on the "Menu" button, then click on upload Spotify music on Google Play music and import the songs by dragging-and-dropping
3. Now stream the uploaded songs from Google Play music on Hisense smart TV.
---
Part 2. Listen to Spotify on Hisense Smart TV via Chromecast
If you are a premium member of Spotify, you can use this easy and direct method to play Spotify music on Hisense smart TV using Chrome cast.
Step 1. Plug in the Chromecast on your Hisense smart TV using the HDMI port.
Step 2. Now, open Spotify on your smartphone and play your desired music.
Step 3. Now go back to the "Now Playing" tab, choose the Chromecast from the playing tab, and it will start playing on the Hisense smart TV.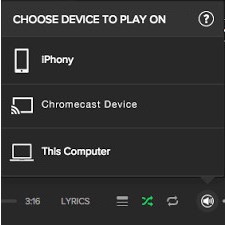 ---
Conclusion
Now that you are end of this article and still reading, we are going to draw a small conclusion about the whole article. We learned a lot of things in this article, including what is Hisense smart TVs, how to download Spotify on TV Hisense, how to play Spotify directly and indirectly on Hisense Smart TV. We suggest you use the first method because it is a more permanent solution.