The online audiobook and podcast service Audible allows users to buy and stream audiobooks and other types of spoken word content. The content can be bought separately or as part of a subscription plan that grants access to a carefully curated on-demand library of content in exchange for monthly "credits" that can be redeemed for content.
On the other hand, a proprietary freeware program called OverDrive Media Console was created by OverDrive, Inc. for use with its digital distribution services for bookstores, libraries, and educational institutions. The application enables users to access audiobooks, eBooks, periodicals, and films borrowed from libraries and schools, or purchased from bookstores.
What's the difference between Audible and OverDrive? How to choose when it comes to Audible vs OverDrive? In this article we will compare and contrast Audible and OverDrive, so make sure to stay with us to know which one is better.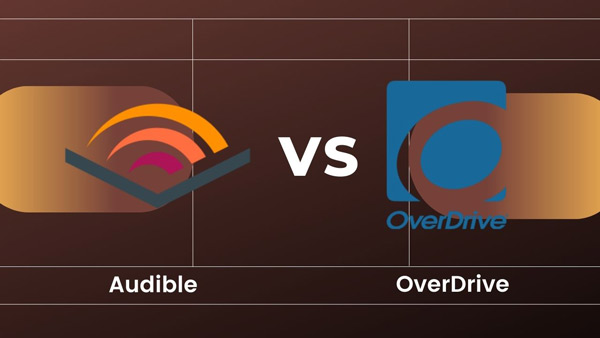 ---
Part 1. Comparison of Audible vs OverDrive
1. Audible vs OverDrive: Price
Audible
Users can choose from Audible's several subscription packages, including Audible Plus ($7.95/month) and Audible Premium ($14.95/month). Additionally, subscribers have access to all audiobooks with the INCLUDED tag in the Plus Catalog. Additionally, subscribers are eligible for some discounts on audiobooks.
OverDrive
A free service offered by your school or library is OverDrive. That is very alluring. There are more than 45000 libraries that support it. It is free of charge for you. However, you need to have a student ID or library card.
2. OverDrive vs Audible: Sound Quality
Audible
Numerous options are available on Audible to enhance the listening experience for customers. If a premium subscriber doesn't like a book, they can return it. If you have purchased both the audiobook and the eBook for the same title, Audible also offers the Whispersync for Voice feature, which can sync both.
Audible offers two formats, Enhanced and Format 4. Format 4 has a bit rate of 32 kbps for those who value storage space over audio quality. Audible Enhanced format is currently 64 kbps, higher than its closest competitor, audiobooks.com, which uses 32 kbps. Audible is also experimenting with a 128 kbps bit rate.
OverDrive
On OverDrive, audiobooks are available for offline or online listening. Additionally, OverDrive will save your audiobooks' positions, bookmarks, and notes. OverDrive merges its eBook and audiobook selection. When you listen to an audiobook with the same title, you can access the matching books from OverDrive. OverDrive, on the other hand, is unable to synchronize the eBook and audiobook, in contrast to Audible Whispersync for Voice.
3. Audible vs OverDrive: Library
Audible
100,000 podcasts and 200,000 audiobooks are available on Audible. Audible makes it simple for you to find the audiobooks you desire, even ones that come in various editions. It offers audiobooks in a variety of genres, including business, fiction, religion, and history.
OverDrive
There is a large number of different categories for OverDrive's audiobooks and eBooks, including business, children's books, literature, and biographies. Many titles are unavailable despite OverDrive's inventory of over two million digital titles, which spans a variety of genres and counts over 45000 libraries as supporters. It is challenging to find the less well-known audiobooks on OverDrive. Additionally, the number of audiobooks is often 2-3 copies. As a result, you might have to wait a while to borrow it from OverDrive.
3. OverDrive vs Audible: Compatibility
Audible
Audiobooks from Audible cannot be played on other apps or devices that don't work with Audible since they are secured in AA/AAX formats. Right now, Audible works with Kindle, Windows phones and tablets, iOS devices, desktops, select Android devices, and more.
OverDrive
There is a large number of devices and applications that support OverDrive. Android, Chromebooks, Windows, Mac, iOS devices, MP3 players, and more are among the supporting devices. Using the OverDrive program on a Windows computer, a Chromebook, or a mobile device, you can also select to download MP3 audiobooks.
4. Audible vs OverDrive: Features
Audible
The best audiobook experience ever is offered by this Audible for Android app. You will get access to Audible's unrivaled collection of audiobooks, original audio shows, and more, and you may explore, buy, and listen to it. The features of the Audible for Android app are detailed here.
Utilize Wi-Fi or mobile data to download audiobooks to your smartphone.
View the details of your audiobooks, give them a "Before you go" rating, navigate by chapter, bookmark, put them to sleep, change the narration pace, and use button-free mode.
Multitask to listen and download in the background.
Keep track of your listening habits while earning badges.
With Whispersync for Voice, you may alternate between reading and listening.
Connect to Facebook and Twitter to share Audible books with family and friends.
Utilize the Audible Newsfeed to learn intimate details on author events and other topics.
OverDrive
The new OverDrive is a faster, easier digital library experience. Enhancements include:
Easy-to-customize lending period.
The "Books" icon takes you right to borrowed titles.
Kindle reading preference.
A history of what you've borrowed.
Improvements to placing and retrieving holds.
Changes to the renewal process.
5. Comparison Table
Here is a comparison table that you can see Audible OverDrive differences clearly.
| | | |
| --- | --- | --- |
| Audiobook Services | Audible | OverDrive |
| Price | Audible Plus ($7.95/month), Audible Premium ($14.95/month) | Free |
| Service | More features for audiobooks | Not well designed for audiobooks |
| Library | 100,000 podcasts and 200,000 audiobooks | less well-known audiobooks |
| Compatibility | Can only be played on the Audible app on supported devices | Android, Chromebooks, Windows, Mac, iOS devices, etc. |
| Audio Quality | Format 4 – 32 kbps, Enhanced – 64kbps, and 128 kbps | Normal |
In the conflict between OverDrive Audible, it would appear that Audible prevails due to the service and the selection of audiobooks. On the other hand, OverDrive is a better option in terms of compatibility and cost. My advice is to select the option with the benefit you value the most. Additionally, you can employ both of them simultaneously. For instance, look up the desired audiobook in OverDrive first. Go to Audible to purchase it if you can't find it.
---
Part 2. How to Improve Audible's Compatibility
As we mentioned above, Audible audiobooks can only be played on the Audible app on authorized devices. Hence, in this section, we will provide you with a method to improve the compatibility of Audible.
You can use the top-ranked Audible audiobook converter, AudKit Audible AAX Converter. It allows you to convert Audible AA/AAX audiobooks to MP3, AAC, M4A, FLAC, WMA, M4B, etc. at speeds up to 100X quicker than the competition. In this way, you will be able to play the downloaded Audible audiobooks on other players or devices.
Not only this, but this AudKit Audible Converter also contains a variety of strong and effective features, such as an integrated audiobook splitter, an ID3 tags editor, lossless output quality, and more.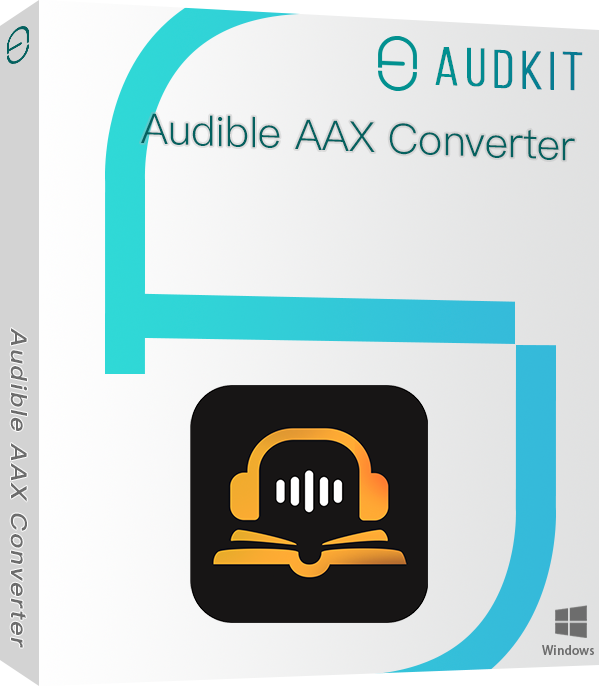 Download Audible books for better compatibility
Convert Audible books into multiple audio formats
Play the downloaded Audible books on other players
Keep lossless sound quality after downloading
How to Use AudKit to Download Audible Books for Playing on Any Device
To use AudKit Audible Converter, please adhere to the detailed guide.
Step 1 Fill AudKit Audible Converter with Audible audiobooks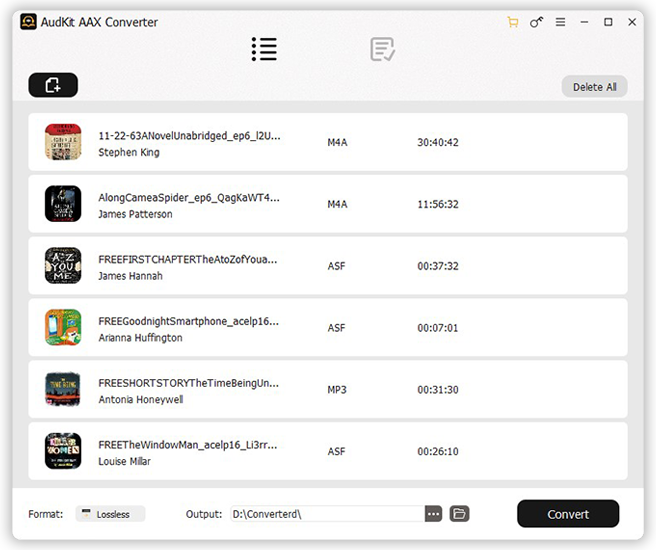 To import Audible AA/AAX audiobooks for conversion, there are two simple methods. The 'Add Files' option should be clicked so that all Audible files appear in the new windows. When you pick multiple audiobooks, simply click the "Open" icon to have them all load at once. As an alternative, you can immediately drag and drop downloaded audiobooks from your computer into the program's conversion window.
Step 2 Customize the Audible output format and other parameters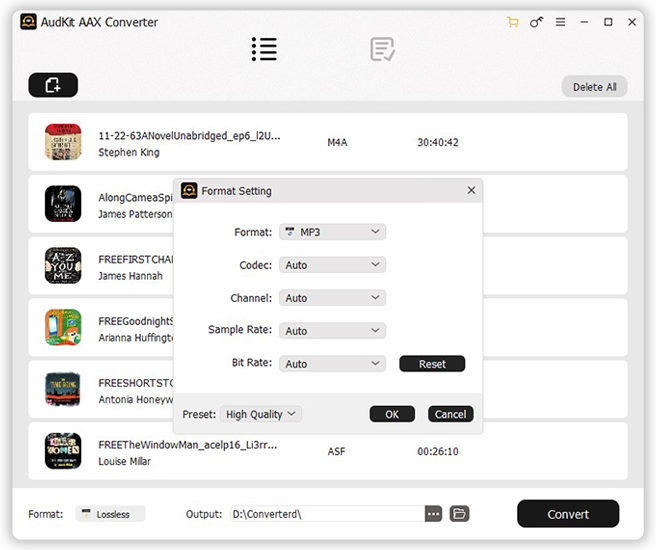 Please select the "Format" tab in the bottom-left corner of the AudKit Audible Converter once all of your Audible books have been uploaded. This will open the settings window. Depending on your demands, it can define the output format as Lossless, MP3, FLAC, WAV, AAC, M4A, and other popular audio formats. If you don't want to maintain the original files in Lossless, you can also change the bit rate, sample rate, audio channel, and other settings.
Step 3 Change effect, split Audible books, edit ID3 tags, etc.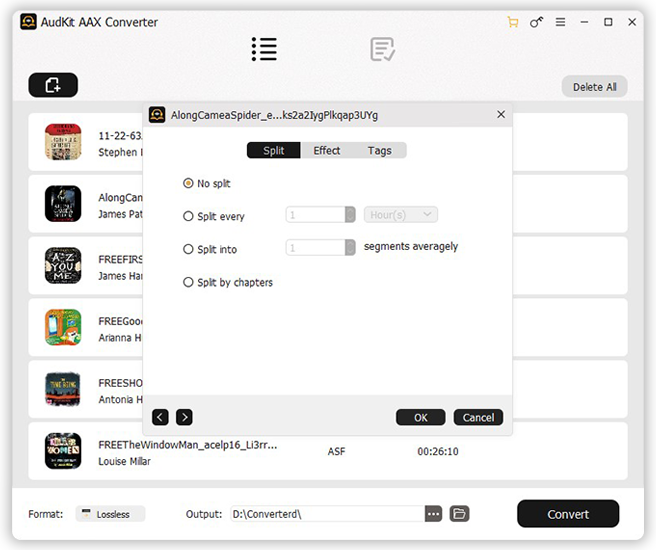 Each has been added as two icons to the Audible audiobook. In the "Tags" section, you can edit ID3 tags like the year, title, and album. In the "Split" section, you can break up long audiobooks into smaller clips or split Audible by chapters. In the "Effect" section, you can change the volume, speed, and pitch for audiobook playback.
Step 4 Convert Audible books to MP3 and other popular formats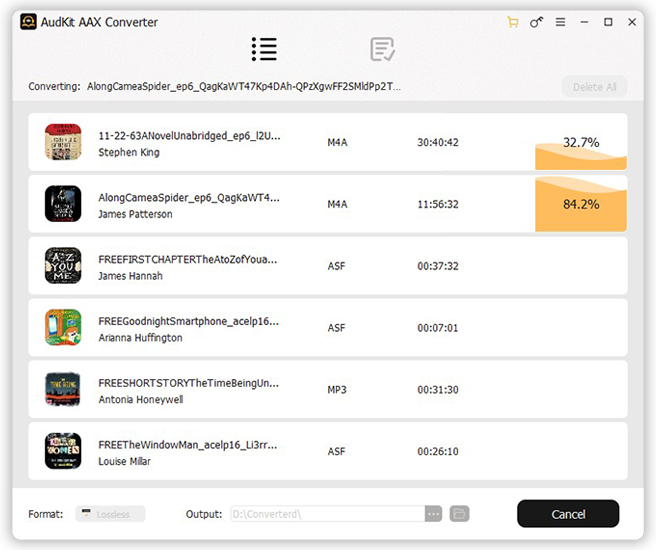 You can modify the destination folder where plain Audible files are stored with AudKit Audible Converter. Please press the top menu bar and select "Preferences" > "Convert" to modify the output pitch before starting the conversion procedure. Then, just click the "Convert" button in the right-bottom center of the screen, and this clever Audible AA/AAX converter will download and convert audiobooks to standard audio files at a rate of up to 100X.
---
Part 3. Conclusion
All in all, if you are not sure how to choose between Audible vs OverDrive, you can refer to the comparison in this post. The comparison table is clearer when you want to make a quick choice. Also, once you choose Audible, you cannot miss the powerful AudKit Audible Converter. It can help you play Audible more flexibly. You can listen to Audible offline on other players or other devices you want.
---