Audible is one of the world's leading audiobook providers, providing consumers with a massive collection of audiobooks from various genres. However, some customers can feel compelled to deactivate their Audible account for various reasons.
One reason might be that they have moved to other audiobook platforms that better fit their requirements. Others can choose to cancel their membership owing to budgetary restraints or a change in their listening habits. Deleting an Audible account is not as simple as clicking a button. Audible's account deletion procedure is multi-step, and consumers must be informed of the actions needed to guarantee that their account is permanently removed.
In this article, we will show readers how to delete Audible accounts and provide advice on what to do before doing so. We will present step-by-step guidance on removing an Audible account and some points to consider before canceling their account.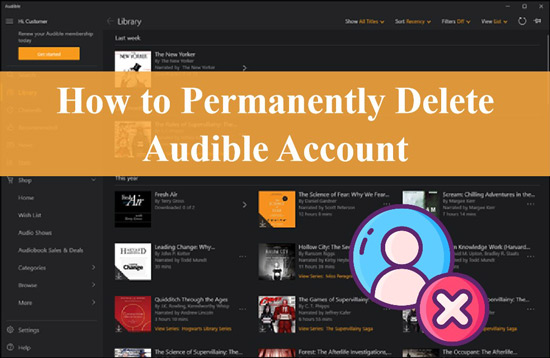 ---
Part 1. How to Permanently Delete Audible Accounts
Remember that you can't only just delete your Audible data and cancel your account without also canceling the Amazon account tied to your Audible account. This is to sign up for Audible. You must also have an existing Amazon account. Due to their inseparable nature, these accounts must be canceled and their related data removed simultaneously.
The following procedures should be taken if you want your account and any associated data to be deleted permanently:
Step 1: Visit the link: amazon.com/privacy/data-deletion and log in to your account to terminate it.
Note: you must sign in with the right credentials. Then, look through the Amazon and Audible-related content you won't have access to anymore.
Step 2: Select the box labeled "Yes, I want to close my Amazon account and delete my data permanently".
Step 3: Select "Close My Account" to permanently end your subscription and account.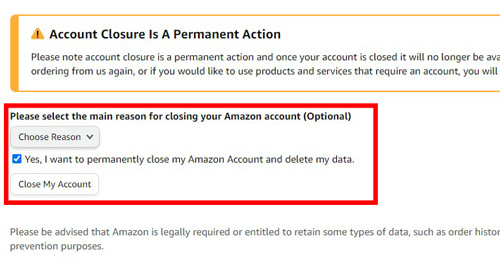 Note: Your registered email address will get a confirmation message. You must respond to this request within 5 days.
---
Part 2. What Happens After Closing Audible Accounts?
Audible users who permanently want to delete their accounts often wonder what happens once they close them. Well, there are a few complex things you must know about. Let's look at them in detail below:
1. Will Audible Purchases Keep after Deleting Audible Accounts?
The audiobook is legally yours to keep when you purchase Audible using a debit or credit card. The titles you have previously bought can be downloaded as often as you want, even if you cancel Audible subscriptions.
However, your Audible account data and transactions can be deleted from your Amazon account if you cancel both services. The possibility exists that you will no longer have access to your Audible library.
If you're concerned about losing access to your Audible purchases after canceling your account, Audible's support team is the best place to turn for answers.
2. Can I Restore the Closed Audible Account?
If you want to reinstate your Audible subscription but have not deleted your account, run the Audible app, sign in, go to Profile, pick the gear icon, select Details, choose the desired plan, and touch Sign Up.
However, restoring an Audible account that has been deleted along with its connected Amazon account is not always feasible. This is due to the irreversible nature of removing an account. You can contact Audible's support team if you want to know whether you have any other choices.
3. Does Delete Audible Account Affect the Amazon Account?
If you delete your Audible account, this action will also affect your Amazon account. The first search result suggests that closing your Audible account would also cancel your related Amazon account.
This will prevent you from accessing any of Amazon's services, including Kindle books, Prime Video, Prime Music, and any others that you may have subscribed to via your account.
It would help if you considered this before deleting Amazon Audible account since doing so might result in you being locked out of other services you rely on. If you want to know exactly what will happen to your Amazon account if you close Audible account, you can contact Amazon or Audible customer support.
---
Part 3. How to Save Audible Books Before Closing Accounts
If you're considering terminating your Audible account, you can be concerned about losing access to your audiobooks. Fortunately, you can save your favorite Audible audiobooks forever before the deletion of Audible. Wondering how? AudKit Audible AAX Converter is the secret tool.
 The AudKit Audible AAX Converter is undoubtedly a robust and dependable application designed to convert Audible AAX files to various formats that can be played on any device. This professional converter supports MP3, AAC, FLAC, WAV, M4A, and more. This means you can effortlessly store audiobooks in a format your device supports. For the best part, the AudKit Audible AAX Converter preserves the original audiobook quality, so you receive lossless sound quality that is just as excellent as the original.
AudKit Audible AAX Converter also has a 100X conversion speed to convert your Audible books rapidly and effectively. You won't have to wait hours for the converting procedure to finish. Furthermore, it keeps the audiobook's original ID3 tags, allowing you to store and manage THEM  on your device without a hassle. There's more, it has a split tool for dividing huge audiobooks into smaller chunks, which is beneficial if you wish to listen to certain chapters or portions of Audible books.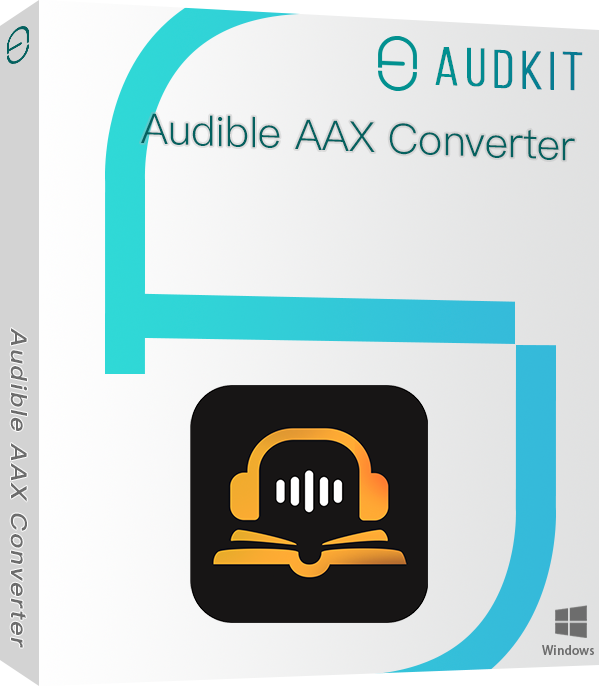 Key Features of AudKit Audible Converter
Convert Audible AAX to MP3 and multiple plain audio formats
Maintain the lossless sound quality of the original Audible books
Offer 100X conversion speed for quick and efficient conversion
Preserve original ID3 tags and allows for easy organization
How to Store Audible Books with AudKit Audible AAX Converter
Step 1: Download and launch the AudKit Audible AAX Converter on your computer.
Step 2: Move ahead to import your favorite audiobooks from Audible. All you have to do is select the 'Add Files' icon, and the new window will display all Audible files. Click the 'Open' button to load multiple audiobooks at once. Alternatively, drag and drop the files from the Audible to the AudKit interface.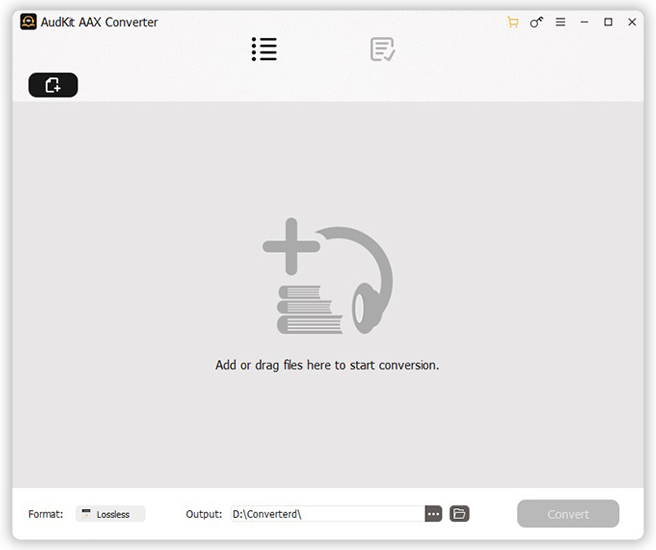 Step 3: Next, navigate to the 'Format' tab in the bottom-left corner to open the preferences window. You can specify the output format as Lossless, MP3, FLAC, WAV, AAC, M4A, and other prominent audio formats including sample rate, bit rate, audio channel, etc. based on your preferences.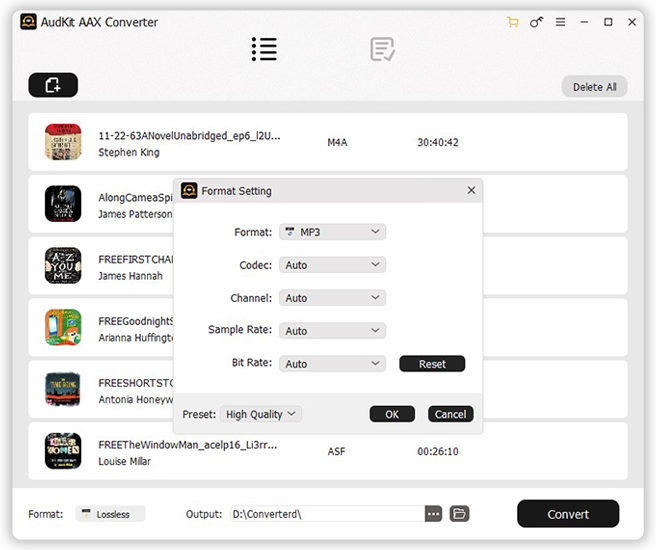 Note: If required, tap the 'Edit' button in the 'Elements' section to modify ID3 tags, split Audible books by chapter or time sections, and adjust the sound effects.
Step 4: Click the menu bar and select 'Preferences' > 'Convert' to customize the output path. After all the settings are done, click the 'Convert' button in the lower-right corner to download your audiobooks from Audible locally.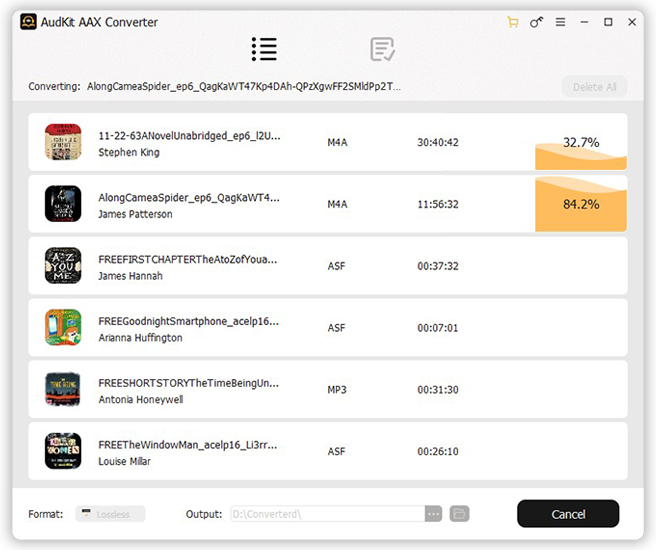 ---
Part 4. In Conclusion
Now that you've known how to delete Audible account. Before closing an Audible account, ensure you have a copy of your audiobooks stored elsewhere because the Audible books won't be available once the process completes. Therefore, AudKit Audible AAX Converter is your best bet to have a backup of all your favorite books.
This converter is a quick and easy solution to be sure that your audiobooks will play on whatever device you own, thanks to its wide variety of output formats. If you're thinking about wiping out your Audible membership but still want access to your library of audiobooks, give it a try.
---