The invention of the audiobook was a game-changer for the reading public since it made it possible to experience literature in a portable and fully immersive form. Audible is one of the most popular audiobook sites because of its extensive library. Listeners come from all over the globe to experience the stories it has to offer. Despite its widespread adoption, one persistent issue plagues Audible listeners: moving their favorite audiobooks to another account.
Finding an easy way to do this is essential whether you want to introduce your children to your favorite books, or organize your collection. However, if you're unaware of the best ways to transfer Audible books to another account, you're at the right place. In this article, you'll get your hands on the finest ways of transferring Audible books to another account. Let's get going!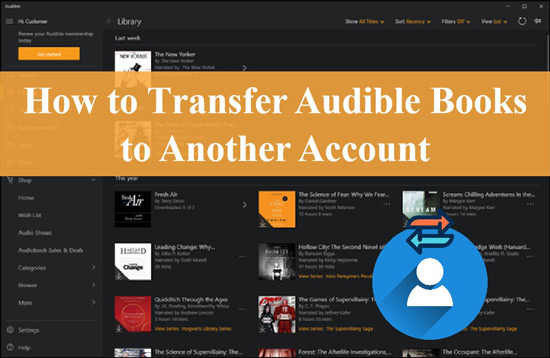 ---
Part 1. Transfer Audible Books to Another Account by Amazon Household
Can you transfer Audible books to another account? A straightforward is yes. The best way to transfer the Audible book is through Amazon Household. The Amazon Family Library Sharing function is available in Amazon Household. By doing so, the book's owner may provide access to their copy to another Amazon account holder. Both accounts may be used to listen to the same copy of a shared audiobook. This will allow you to give away not just books but also free shipping, discounts, and more from your membership.
To understand how to transfer books from one Audible account to another using Amazon Household, follow these steps:
Step 1: Navigate to Amazon Household, log into your Audible account, and click the yellow Add Adult button to input the details of another Audible account.

Step 2: Follow the screen instruction to select the audiobooks and click on Continue. Next, Hit on the Send Invite button.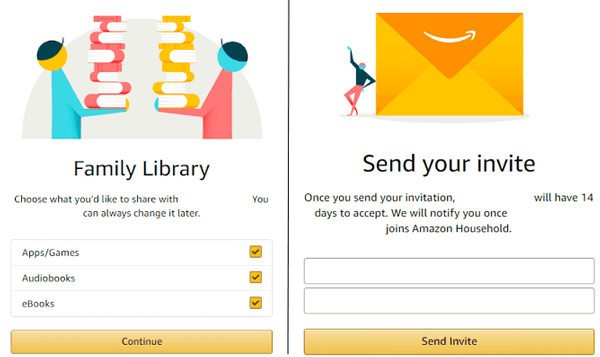 Step 3: Open the received invitation on the other account and click Get Started to join the Amazon Household. Now, click Manage Your Content and Devices on the first device.
Step 4: Click on Content and select Show Family Library. Choose the audiobooks you wish to share and click on Add to Library to share Audible books with your family finally.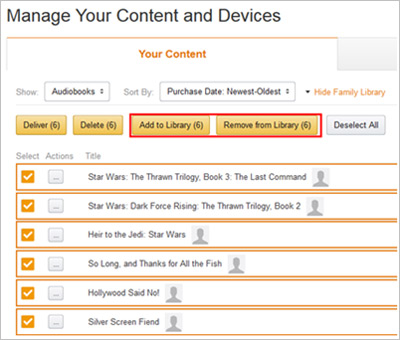 ---
Part 2. Transfer Books from One Audible Account to Another by Sharing Books
Another way to Audible transfer books to another account is by using the sharing books feature. With the 'Send this book' option, Audible allows users to send audiobooks to friends and family. Transferring Audible audiobooks to another account is not only possible but also simple with the help of this feature.
To understand how to transfer audible books to another account via sharing audiobooks, follow the steps below:
Step 1: Open Audible on your device and tap Library to navigate to the audiobook you wish to transfer.
Step 2: Once you find the audiobook, tap the three dots next to it and select Send this Book option in the popup menu.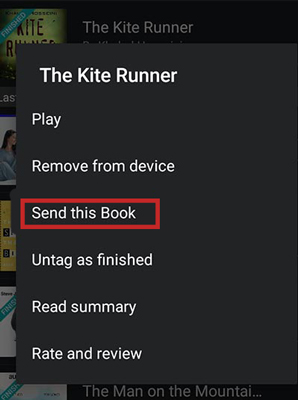 Step 3: Now, on the next screen, select the sending option you wish to use for sharing your audiobook. Then use another Audible account to open the share link to get the book on its library.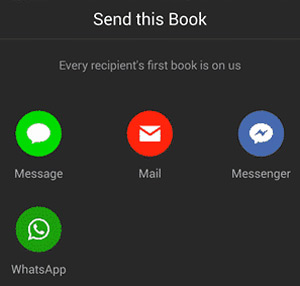 ---
Part 3. Transfer Books from One Audible Account to Another by Gifting Books
Audiobooks can be purchased and sent to another Audible member if you'd want to give them the gift of listening. Using this approach, you may send certain books as presents to people not in your Amazon Household or otherwise associated with your account. You may show your loved ones how much they mean to you by giving the gift of reading with Audible.
To understand how to add the Audible audiobooks to another account via gifting an Audible book, follow these steps:
Step 1: Open Audible on your PC and navigate to the audiobook you wish to gift.
Step 2: Click the More options tab and select the Give as a Gift button.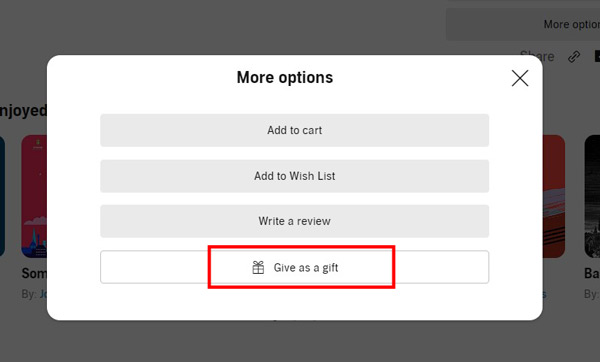 Step 3: Choose Email from the method and enter the recipient details and the date for sending the book as an email.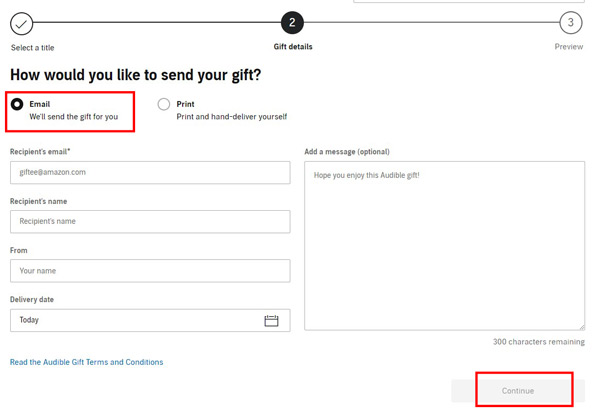 Step 4: You can add the note for the recipient. Once done, click on Continue and select the Buy option in the next window to complete the process.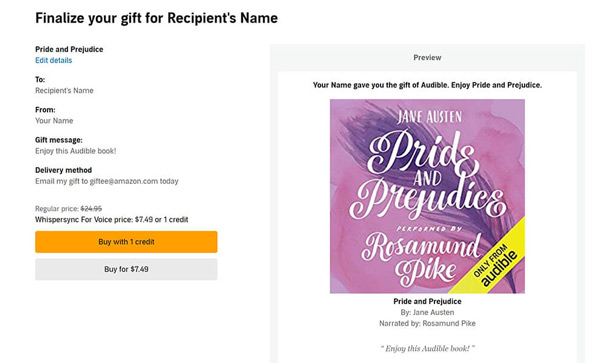 ---
Extra Tips: How to Keep and Play Audible Audiobooks without Restrictions
Since you cannot play Audible audiobooks in any other app, it's smart to look for ways to download them to your local storage in different formats to play them wherever you want. To do this, you need a professional Audible audiobook converter. And one such converter is AudKit Audible AAX Converter.
This top-notch AAX to MP3 converter makes it possible to convert Audible to standard audio files and gives you the option of setting the output format to Lossless, which is optimal for listening to audiobooks. You may convert Audible AA/AAX files to MP3, AAC, M4A, and more widely supported formats with the help of this powerful AudKit Audible AAX converter. It touts a 100X lightning-fast download and conversion rate for Audible books. That's not all, the original ID3 tags are preserved, allowing manual song metadata editing, including title, albums, year, cover art, genre, and more.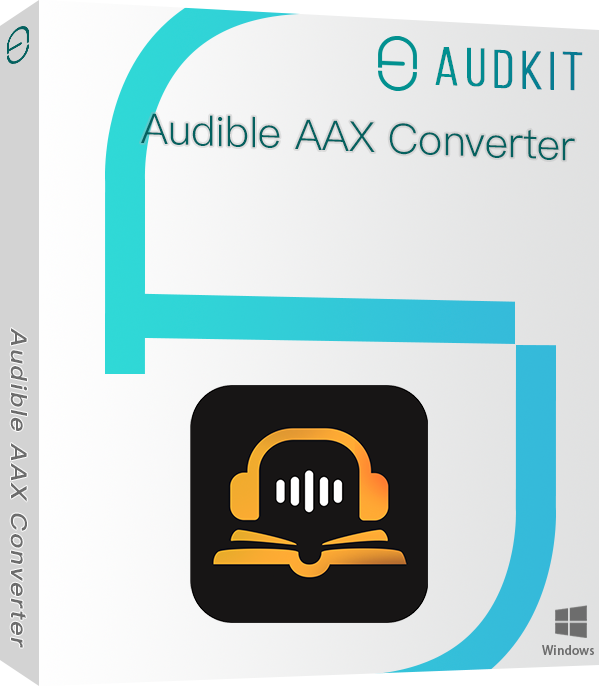 Key Features of AudKit Audible Converter
Convert Audible books into multiple audio formats
Retain the lossless audio quality and ID3 tags
Start the Audible downloading at a speed of up to 100X
Provide many features such as splitting books, editing volume
To convert and download the Audible books using the AudKit Audible AAX Converter, follow the steps below:
Step 1 Add Audible files to AudKit Audible AAX Converter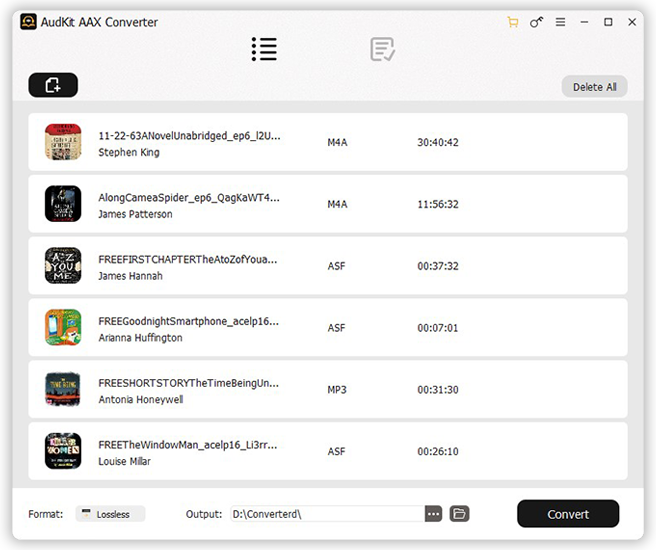 Download and install AudKit Audible AAX Converter on your PC and launch the tool. Now, it's time to import the Audible audiobooks to the AudKit Audible Converter. Click the 'Add Files' icon and select the multiple audiobooks from Audible you want and hit the 'Open' icon. Alternatively, you can simply drag and drop the audiobooks on the AudKit interface to load them.
Step 2 Change Audible output preferences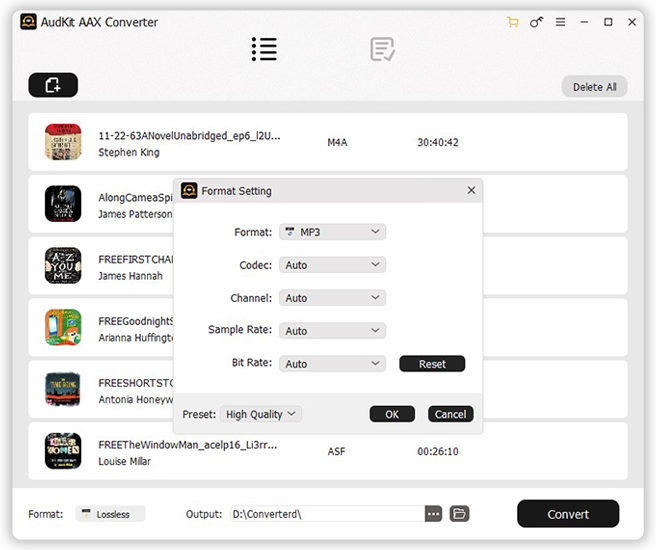 Once uploaded, click on the Format option at the bottom and customize the output settings, such as output format, bit rate, audio channel, etc. You can also click the Edit icon to adjust the ID3 tags or split the audiobooks.
Step 3 Download Audible files to the computer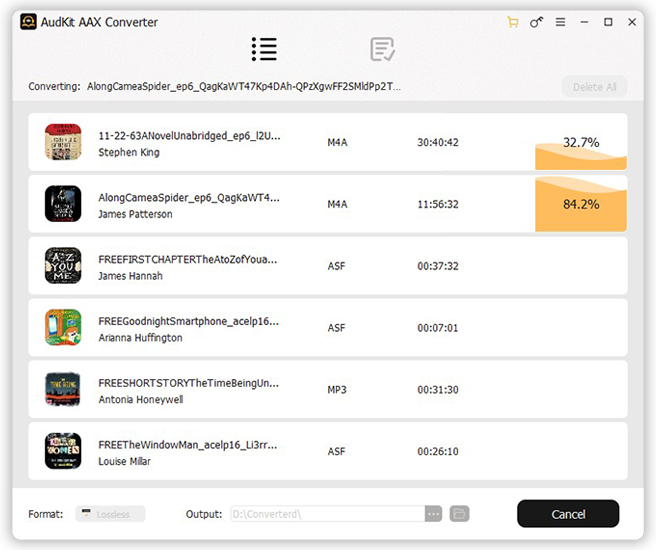 Finally, select the folder to store the converted audiobooks by hitting the three dots icon next to Output. Once done, click on Convert to convert and download the Audible books to PC. You can find those downloaded Audible files according to the folder that you've set. Voila! The Audible books now can be kept as long as you want and used anywhere.


Note:
If you want an all-in-one tool to get Audible audiobook downloads, AudKit Apple Music Converter would be a better choice. It can convert and download Apple Music, iTunes audios, Audible books to MP3, WAV, AAC, FLAC, M4B, and M4A easily and rapidly.
---
Final Words
Transferring your Audible books to another account can greatly expand how others can enjoy your collection. Although many people are unaware of how to transfer Audible books to another account, we hope you now are proficient in adding them to another account after reading this article.
Moreover, AudKit Audible AAX Converter is our top recommendation if you want Audible books kept in different formats. Audible books may be converted to standard audio formats with this convenient program, allowing you to listen on any device without any restrictions.
---