Fifteen years after its launch date, Audible has become one of the popular platforms for providing users with a great audio listening experience. As you know, Audible Originals are audiobooks that you can only find in the Audible app. Audible awards its users with timely offers according to their subscription plans. Audible offered its subscribers to choose two exclusive Audible Originals audiobooks from six of a total other than their monthly credits. This raises a question, how to download Audible Originals?
Audible users intend to download audiobooks for offline listening. And this article will provide information about the most popular Audible Originals books for your reference. Also, we will introduce the guide on how to download the best Audible Originals offline with the easiest and best ways for permanent use. Go through the article and enjoy listening to audiobooks without any issues.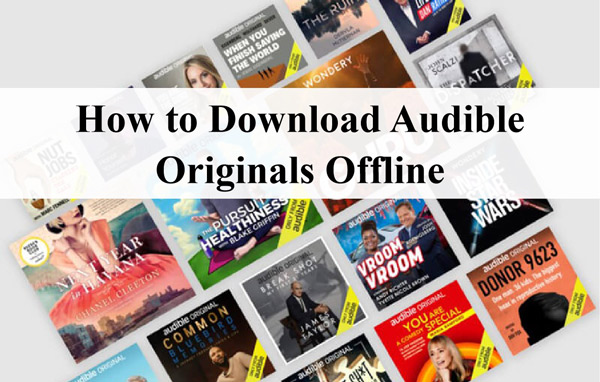 ---
Part 1. List of Best Audible Originals Books
Following are the top 6 best Audible Original books that are worth listening to.
1. Pride and Prejudice by Jane Austen
With the opening lines, "It is a truth universally acknowledged", Jane Austan has written this masterpiece. With the story of Elizabeth Bennet, witty dialogue, unique characters, and a romantic plot, Pride and Prejudice is the most popular Audible Original.
2. Half Light by Tayari Jones
Half Light is a story of two twin sisters in Atlanta who want to change a wrong into a right. It is a short story with fun elements, exciting turns and other amazing facts.
3. The Body, Written and Performed by Bill Bryson
Bill Bryson, with his remarkable writing skills, has written The Body. This book explains our body functions, the healing process, and sometimes its fails. Its popularity arose with its detailed explanation from the brain to the skin. With great reviews, The Body got famous over time.
4. Malcolm and Me, Written and Performed by Ishmael Reed
Ishmael Reed has pointed out a great thing, opportunity, fact, and reality, that we, at our young age, continuously lose our chances of how we transform from immature to mature and especially how artists develop their character.
5. Wanderlust by Lauren Blakely, Performed by Grace Grant and Richard Armitage
Wanderlust is another popular Audible Original with fun, wit, sweetness, and romance. It focuses on how to live life to its fullest without short boundaries. A story of a handsome man and a woman who live life by pushing boundaries and creating a radiant love story.
6. Caffeine, Written and Performed by Michael Pollan
Michael Pollan, in his "Caffeine", has highlighted the use of caffeine as it gets popular rapidly. We use it daily in many forms, like tea or coffee. Also, our children consume it as soda. So with the purpose of how caffeine has created the Modern World, he wrote this book.
---
Part 2. How to Download Audible Originals with the Audible App
If you are an audiobook listener, you must know about Audible. It has become popular among a vast audience providing TV shows, podcasts, audiobooks, interviews and more. Audible has twenty-three catalogs, such as Business & Careers, Education & Learning, etc.
Audible has created many original audiobooks to provide users with the best book listening experience. For new and existing audiobook lovers, Audible Originals is the best thing. However, many users have no idea how to download Audible Originals. The most straightforward method to get Audible Originals is to use the Audible app.
Follow the steps given below to get Audible audiobooks downloaded offline:
Step 1. Open the Audible app on your device and enter your account information to sign in.
Step 2. On the Menu, scroll down to find the "Originals" tab.
Step 3. Six choices will appear on the screen for this month. (Audible provide its subscribers with two audiobooks monthly)
Step 4. Select two titles and click on their covers to download them.
Step 5. Now, the Audible Originals are downloaded, and you can listen to Audible offline.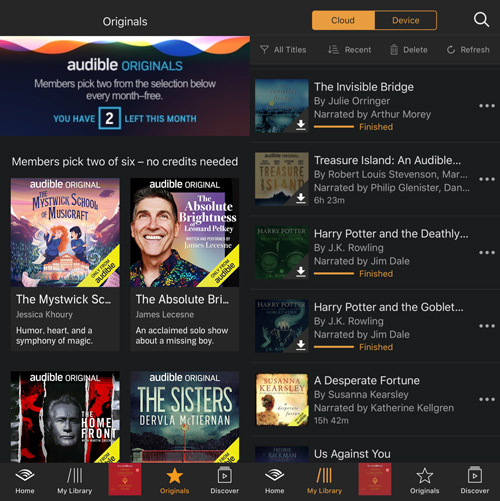 ---
Part 3. How to Get the Best Audible Originals Downloaded on Other Devices
With the previous method, you must use the Audible app to listen to the downloaded Audible Originals. Audible audiobooks have AA/AAX format encoding, so they can't be played on other devices. It is necessary to convert AA/AAX format to MP3 audio for playing Audible Audiobooks on different devices.
To change the audio format of Audible audiobooks, you need to use powerful and professional software. We recommend you use AudKit Audible AAX Converter that converts AA/AAX files into multiple audio formats such as MP3, AC3, AAC, M4A, M4B, WMA, WAV, and more.
With an easy-to-use interface, the AudKit Audible AAX Converter keeps the original ID3 tags of the audiobook files, such as artist, title, year, and album. It offers customization settings of output parameters such as bit rate, channel, sample rate, and more. It downloads and converts Audible AAX audiobooks with 100X faster speed. With easy processing, you can get Audible audiobooks on your device without the iTunes app, account authentication and an Audible account.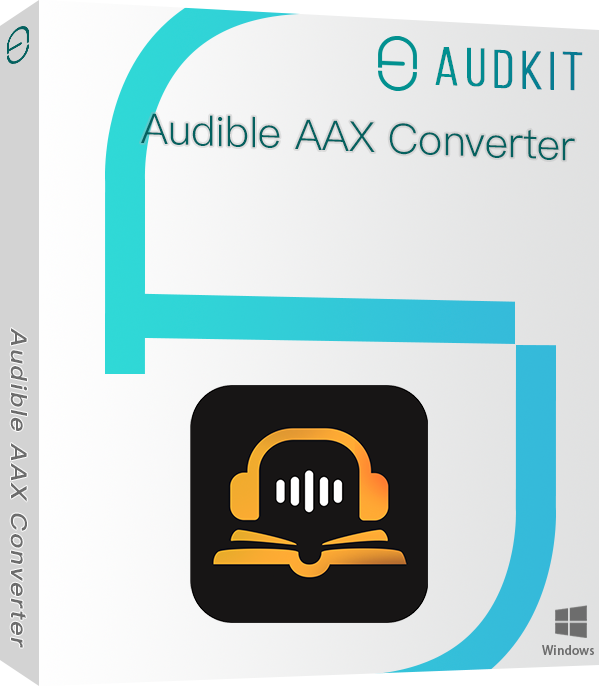 Key Features of AudKit Audible Converter
Converts Audible AAX to MP3, AIFF and other audio formats
Keeps the original ID3 tags and provides lossless quality of Audible
Has an easy and friendly interface for users to download Audible
Downloads Audible with 100X faster speed to shorten the conversion time
The process to download Audible Originals with AudKit Audible AAX Converter is very easy. Follow the step-by-step guide:
Step 1 Import Audible Originals to AudKit converter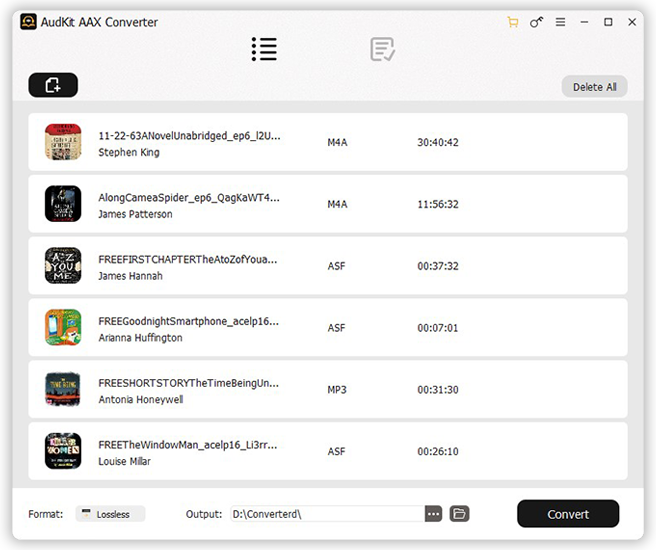 After successfully installing the AudKit converter on your computer, you must choose the audiobooks you want to save. Click the "Add Files" option, and all Audible files appear in a pop-up window. Select your favorite and click "Open", and they will add automatically. Also, you can use the drag-and-drop method to add Audible files to AudKit Audible AAX Converter.
Step 2 Set Audible Originals output preferences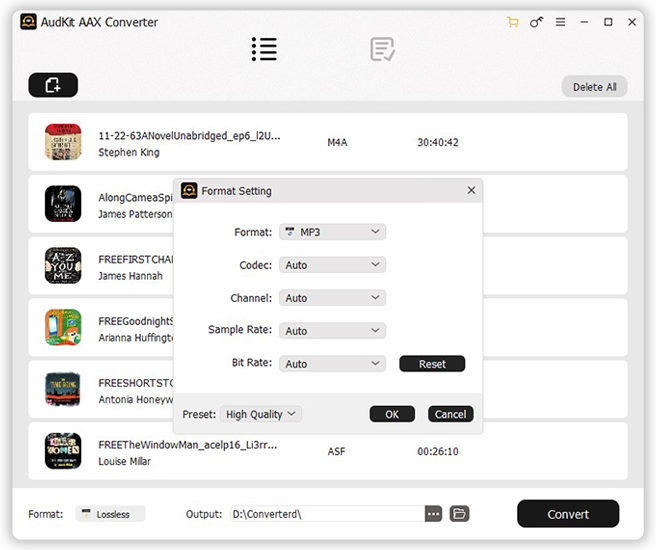 Click on the "Format" option at the bottom, and the settings window will pop up on the screen. You can change output parameters like sample rate, audio channel, bit rate, audio format, and codec. Choose MP3 as the output format for Audible Original books.
Step 3 Edit other features for Audible files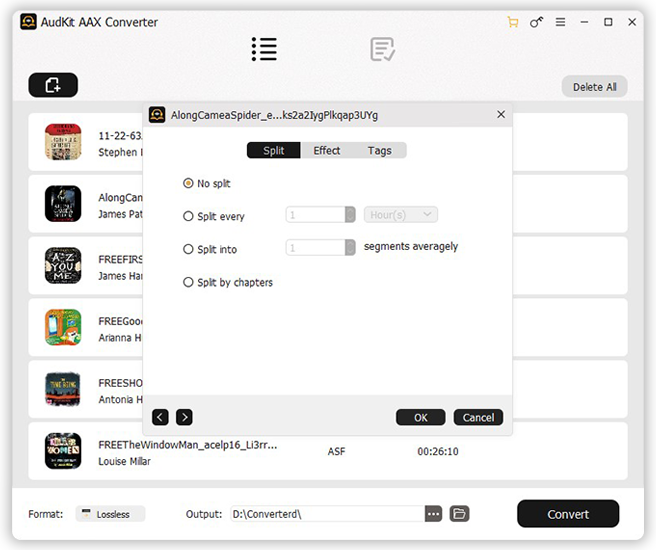 Hover your cursor on the Audible book, and swipe the arrows to open more customization options. You can choose options like splitting the audio files, editing them to change ID3 tags, and adjusting pitch, speed and volume. To save all the settings, click OK to confirm.
Step 4 Convert and download Audible Originals into MP3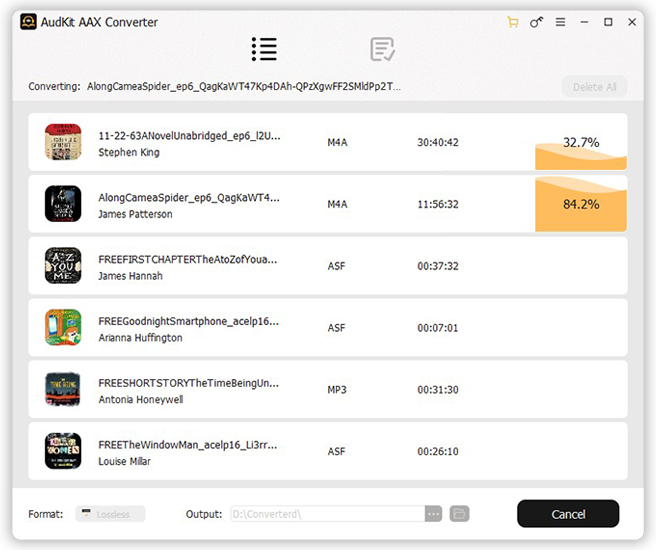 After making all the necessary changes, Click "Convert" in the bottom right corner to start downloading Audible books. With its 100X faster speed, AudKit Audible AAX Converter will convert and download your Audible files in a short time. Once the download is finished, you can locate them in the local folder of your device.
You have downloaded Audible audiobooks on your computer, and you can easily listen to them anytime, anywhere, without the network. As they are converted into MP3 audio format, you can play them in any MP3-supported media player.
---
In Conclusion
Audible has become popular among many people with its best quality and variety of audiobooks. In this article, we have provided you with the best Audible Originals list. If you don't know how to download Audible Originals, the official method with the Audible app is presented in detail.
Moreover, to listen to your favorite Audible audiobooks on other devices, AudKit Audible AAX Converter is the right tool for you. It can easily download Audible AAX files into MP3 and other audio formats so that you can enjoy listening to Audible Originals on any MP3-supported media player.
---