Audible books are part of life for book enthusiasts. Some people get so busy with life but still want to enjoy the spark of books. Audiobooks make their life easy. They can listen to their favorite Audible books when they're running an errand or working. While providing online streaming, Audible also has the download option to get audiobooks offline. Some individuals would like to play Audible books on their MP3 players or devices, and then they wonder, where are Audible books stored.
There are multiple places where you can save the audiobooks you downloaded from Audible. To learn where to find the downloaded files, we will have a discussion about where do Audible downloads go on your Kindle Fire, PC and Android devices. Let's get started.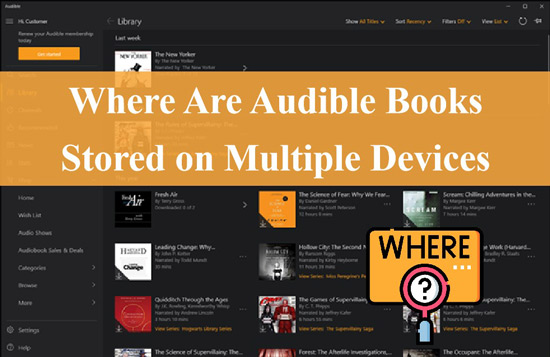 ---
Part 1. Where Do Audible Downloads Go on Android
If you want to find the Audible files, it is important to know where are Audible books stored on Android.
After the update of the Audible app for Android, the format of the saved Audible file is different. Before the update, the saved format was AAX and AA, and now the design is AAXX. Mostly, the Audible books on Android go to:
Files\Internal storage\Android\data\com.Audible.application\files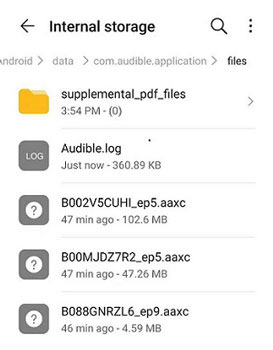 ---
Part 2. Where Are Audible Downloads Stored in Kindle Fire
Some people frequently use Kindle Fire and mainly download Audible on Kindle Fire. Therefore, to locate the Audile downloads on your Kindle Fire, here's the guide for you.
Step 1. Connect your Kindle Fire to your computer.
Step 2. Launch the File Explorer > click This PC > select Kindle.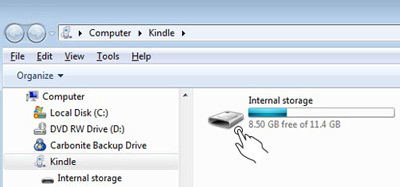 Step 3. Find the Audible folder from Kindle to open it and find the downloaded Audible titles.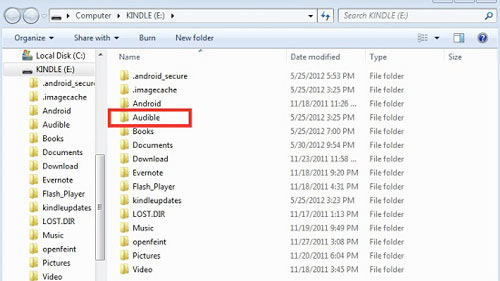 ---
Part 3. Where Do Audible Books Download to on PC
Audible usually has a web player and a desktop app for you to play and download Audible books on PC. And to know where are Audible files stored on Windows and Mac, here is the guide for you to know.
On Windows
Directly from Website:
If you use the method of the direct website to download the Audible books on a Windows computer, then the format of your books will be .aax. When you hit on the "Download" button from the Audible website, it will let you choose where to keep your audiobooks, so your Audible download will be available in the folder that you've selected on Windows.
From the Desktop App:
If you have downloaded the Audible books from the app, then the storage location will be different. The area, in that case, will be:
C:\Users\your computer username\AppData\Local\Packages\AudibleInc.AudibleforWindowsPhone_xns73kv1ymhp2\LocalState\Content
In another way, you can use the Audible desktop app to locate where does Audible download to. To do this, head to the Audible app and select Settings > tap Downloads > find Download location and click on Open Download Location in File Explorer to look for the Audible downloads.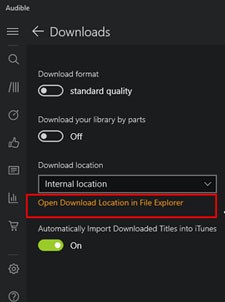 On Mac
Since the Mac computer plays the Audible content from iTunes or Apple Books app, you will need to first download Audible books from the Audible Library web page. Then, to find the location of Audible downloads, you can follow these tips to find and add them to Apple Books app.
For Chrome: Click the three-dot to open the menu on Chrome > tap Downloads > choose Open downloads folder to see where the Audible content is.
For Firefox: Open the Firefox menu > click on the Options icon > Choose Save files to under Downloads after entering the General option.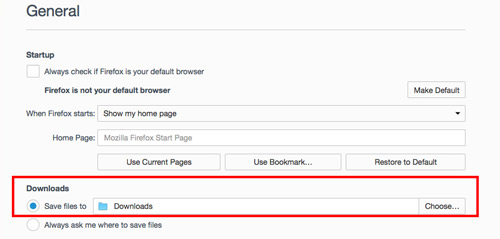 For Safari: Click on Safari > select Preferences from the dropdown > tap the General option to locate File download location.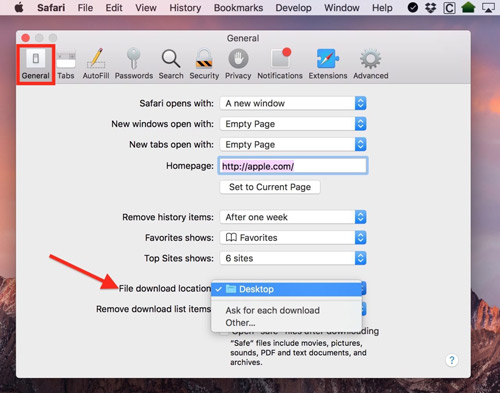 ---
Part 4. How to Download and Save Audible Books Anywhere
Now, you know how to look for the location of Audible files on your device. Do you want to use the found Audible audiobooks on other applications or devices? Unfortunately, the files are encrypted by Audible so you won't be able to directly move those files to elsewhere. If you wonder if is there a way to make them available outside the Audible app, there is a helpful converter for you – AudKit Audibel AAX Converter.
AudiKit Audible AAX Converter is an option by which you can easily download and save Audible books anywhere. You can use it to convert the audiobooks into the audio formats you like, such as MP3, M4A, AAC and more, which are completely unrestricted by Audible. They can be moved to other devices and listened to smoothly. The AudKit app will save the sound quality for your Audible downloads. What's more, it runs the downloading at 100X speed which is faster than many converting apps.
Furthermore, AudiKit Audible AAX Converter also provides ID3 tags. With this feature, you can get unique customization for the artist, year, album or genre for Audible books. You also have the option to split your audiobooks according to the chapters and the time frame.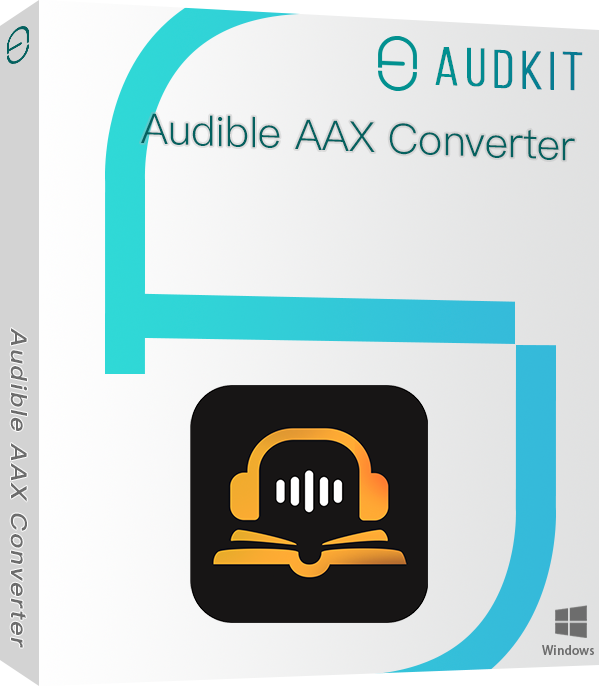 Key Features of AudKit Audible Converter
Convert Audible books to various formats with a prominent 100X speed
Offer remarkable sound quality and metadata customization for Audible
Download and save Audible books where you want
Easily locate the folder with the Audible downloads
Steps to Download Books from Audible Offline
Step 1 Install AudKit Audible AAX Converter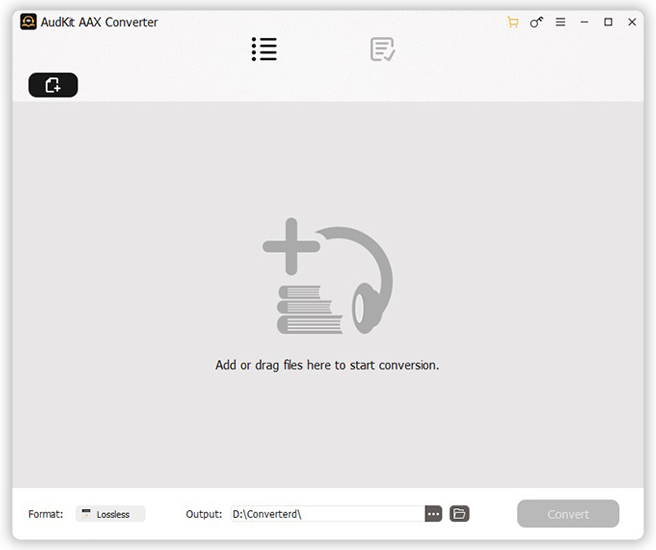 Go to the official site and click on the "Download" button to set up the AudKit Audible AAX Converter. Launch it, click the menu from the top bar and select "Register" to register for the AudKit app and get a full downloading experience.
Step 2 Import Audible files to the converter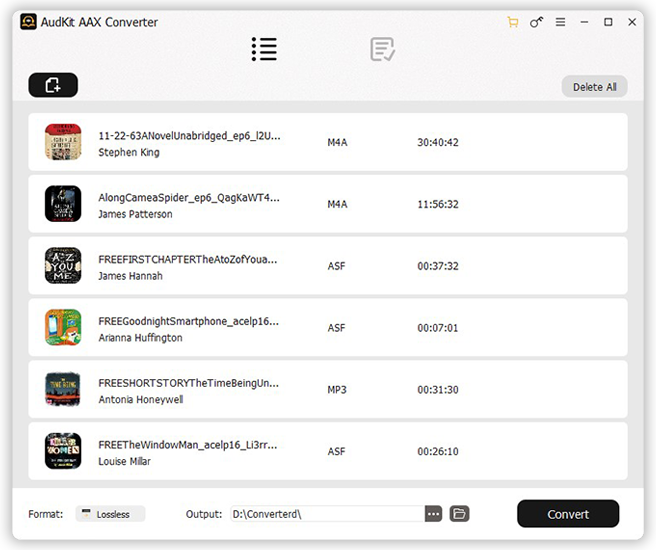 Add your audiobooks from Audible into AudKit Audible AAX Converter by tapping the "Add Files" icon. Select the books you'd like to upload and click on the "Open" tab. For a simpler way, locate where your Audible files, and drag and drop them directly from the computer to the conversion window.
Step 3 Reset Audible output parameters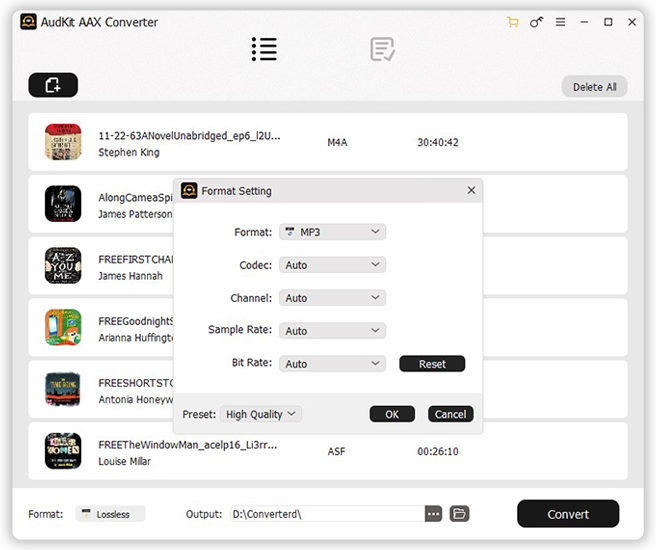 Tap the option next to the "Format" to change the output settings for Audible. In this window, you can convert Audible AAX to MP3, WAV, M4A, etc. Besides, customize the audio attributes such as audio channel, codec, bit rate, sample rate, etc. Save those setting by hitting "OK".
To set your output location, see the Output option at the lower bar and tap the three dots to choose where to save downloads. Or open the menu of the AudKit app, and choose Preferences > Convert to change or reset the output path.
Step 4 Download Audible files to your local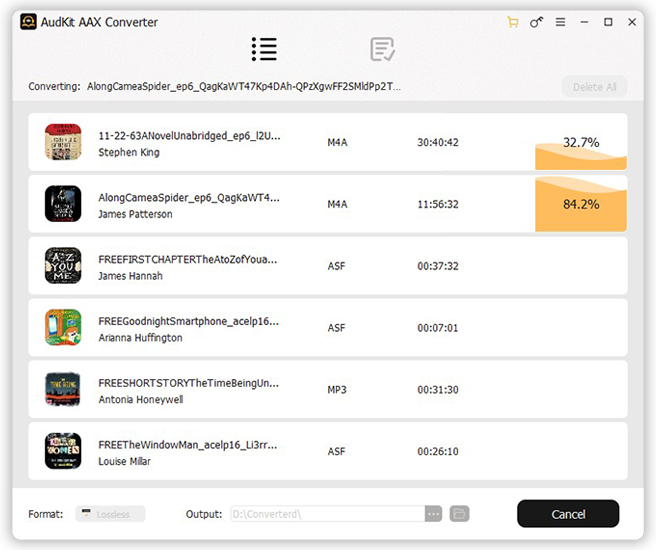 Click on "Convert" to begin the conversion. The AudKit Audible AAX Converter downloads and stores the downloaded Audible books to where you've set them. You can hit the folder icon to let the app leads you to the folder.
---
Part 5. In Conclusion
Audible books are becoming a significant trend in this world. People can take the advantage of Audible audiobooks to enjoy themselves while driving or doing other essential tasks. Audiobooks are easy to handle because, on your mobile, you can carry them anywhere. For certain purposes, you may want to know the location that stores your downloads from Audible. Then, where are Audible books stored on Android/PC/Kindle Fire?
We have addressed the answers in this article thoroughly. Furthermore, to keep and use Audible books in any place, using AudiKit Audible AAX Converter can make this a doodle. You can select anywhere to save them.
---