Alexa is a smart assistant launched by Amazon Corporation, originally used in the Amazon Echo smart speaker. It has features for voice interaction, music playback, to-do lists, alarm clocks, streaming podcasts, playing audiobooks, and providing weather, traffic, sports, and other real-time information such as news.
For users who enjoy Alexa as the home entertainment equipment, one question is: Can I play Audible on Alexa?
The answer is absolutely yes. You can make Alexa Audible work via your personal voice commands. Check your two personal tips!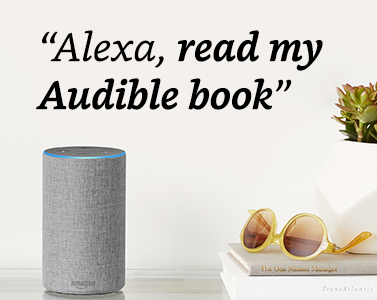 ---
Method 1. Play Audible on Alexa via Alexa App
Amazon Alexa app enables you to manage Alexa-enabled devices by voice commands. Therefore, you can use Alexa Audible via the Alexa app. (Note: You need to make sure that you have combined your Audible with your Amazon account.)
Step 1: Open the App Store (iOS) or Google Play Store (Android), search for "Amazon Alexa App", install and download it.
Step 2: Open Alexa App, sign in with your Amazon account, and press "Play" at the bottom of the screen to access "Music & Books."
Step 3: Scroll down to find "Audible Library", you will see all your Audible books.
Step 4: On the menu that pops up, connect to the device you want to playback.
Step 5: There are two ways for you to make Alexa play Audible books for you: voice commands or screen commands. One way: Simply say: "Alexa, read XX" to Alexa. Another way: Just tap the title you want to hear. And you can also jump back/ahead 30 seconds, change narration speed, and some other operations.
---
Method 2. Play Audible on Alexa – Professional Tool
The other method to play Alexa Audible is to store your Audible book in MP3 formats with the help of a professional tool – AudKit Audible Converter. This is highly recommended to Audible listeners who want to play Audible on multiple devices and players.
It's known that Audible has the protection of its music, which makes it impossible to play Audible books on devices that are not compatible with Audible. Therefore, you can use this best Audible converter to download the MP3 format of Audible and then upload it to the devices you want to use.
Section 1. The Best Tool to Help You Play Audible on Alexa
AudKit Audible Converter has strong power in downloading and converting Audible audiobooks. It can convert Audible AA, AAX audiobooks to popular audio formats such as MP3, AAC, FLAC, M4B, etc. That makes you available to play Audible on any device you want.
The most concerning issue by people is the listening quality, and AudKit converter can perfectly guarantee your listening experience for that it retains 100% sound quality of original files and all ID3 tags.
Moreover, the conversion speed has reached 100X, which helps you save a lot of time. And the most attractive quality of AudKit is that it can divide large audiobooks into multiple small files by the length of time or chapter.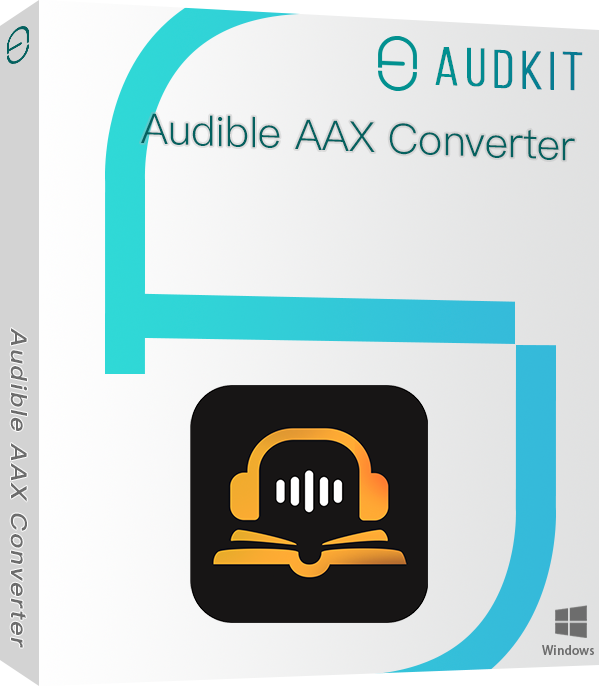 Keep 100% audio quality and ID3 tags of audiobooks
Download Audible books at 100X amazing-fast speed
Convert Audible AA/AAX multiple output formats to fit Alexa
Customize Audible books' split way, volume, speed, etc.
Section 2. Detailed Tutorial to Get Audible on Alexa
Using AudKit Audible Converter, you can get the compatible Audible format for Alexa. Here is the detailed tutorial.
Step 1 Get AudKit Audible Converter on your computer
Search on the Internet to get to the official website of AudKit Audible Converter. Download and install it on your computer.
Step 2 Register on AudKit Audible Converter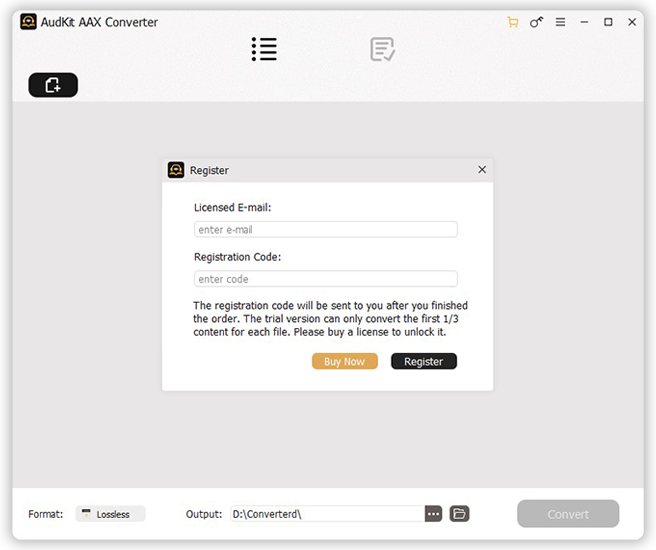 For further use, you need to register on AudKit. The free trial enables you to download and convert 1/3 content of each Audible file. You can purchase the full download of Audible audiobooks.
Step 3 Add Audible books to AudKit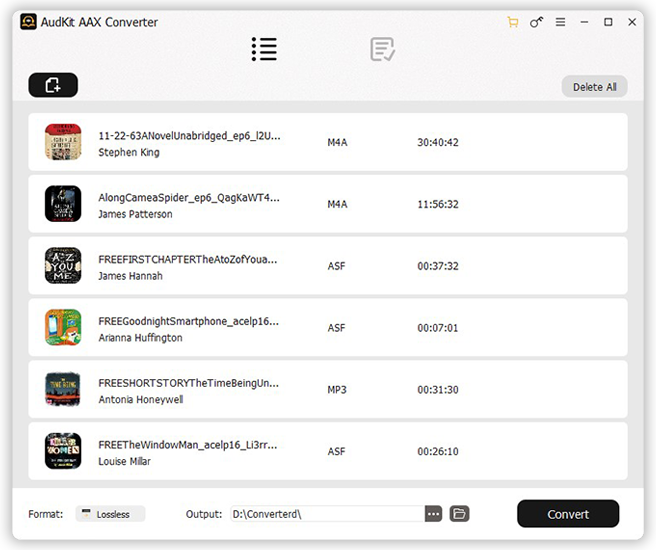 Select Audible audiobooks you need to listen to on Alexa. Simply drag and drop Audible files from your computer folder to AudKit. You can also click the "Add Files" button in the top center to load the audiobooks. You can batch select as many audiobooks as you want to convert.
Step 4 Customize Audible output format for Alexa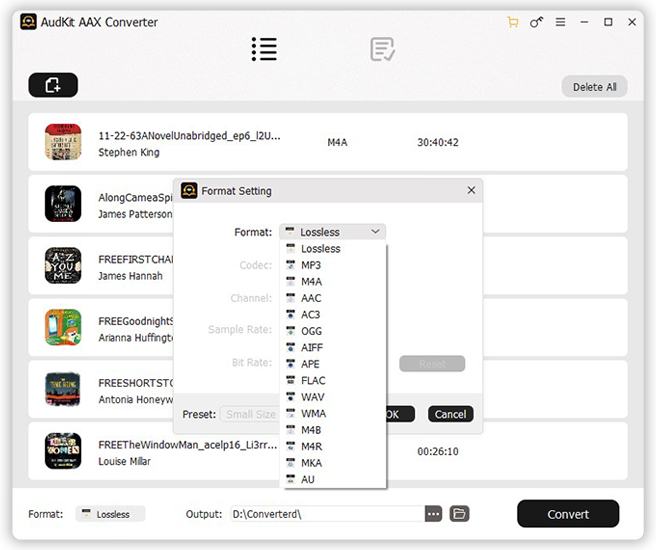 After adding files, you can click the "format" button at the bottom of the main interface. It supports a variety of popular audio formats including MP3, FLAC, WAV, AAC, M4A, and other common formats. That enables you to listen to Audible books on Alexa or other fittable devices. You can also customize parameters including channels, codecs, bitrate, sample rate, etc.
Step 5 Divide sections and other adjustments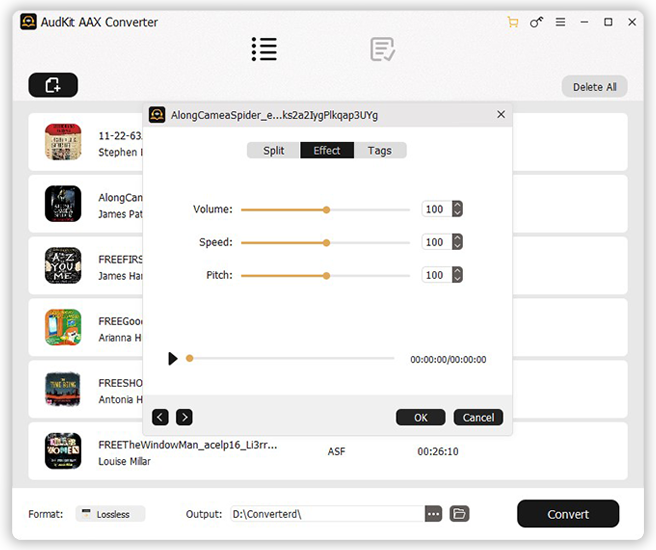 You can choose to divide large audiobooks into smaller segments by clicking the "Split" icon and customizing ID3 tags in the "Tags" section. You can also change the volume, speed, and pitch by clicking on the "Effect" button.
Step 6 Convert Audible for Alexa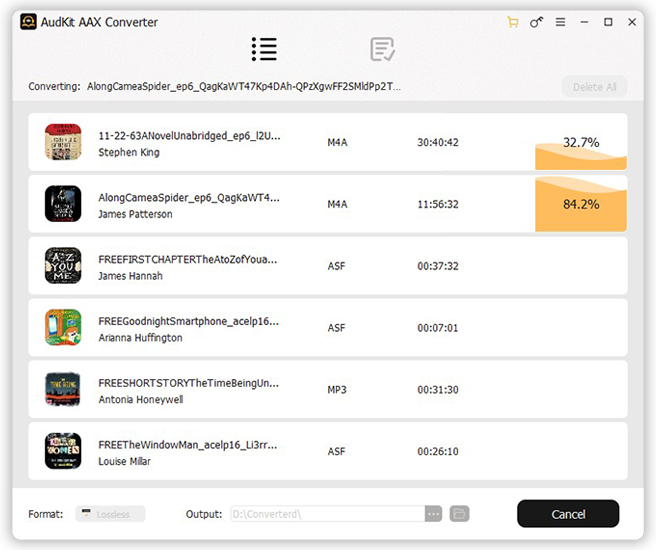 You can change the destination folder to store Audible files. Click the menu bar at the top right and choose "Preferences", change to "Convert" to change the output pitch. After that, simply press the "Convert" button, and AudKit will convert audiobooks for Alexa at up to 100X speed.
Section 3. Add Audible books to Alexa via My Media for Alexa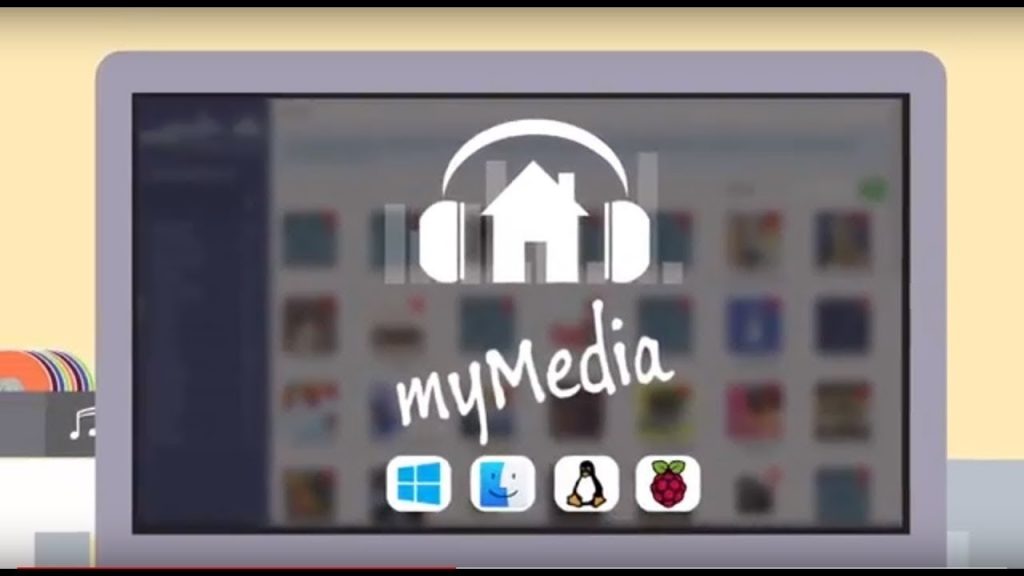 Step 1: Get My Media for Alexa on your computer.
Step 2: Open My Media for Alexa app and log in with your Amazon account.
Step 3: Select "Watch Folders" on the left side, click the "Add Folder" button at the bottom and then find your converted MP3 audiobooks.
Step 4: Enable My Media skill for Alexa to access all available Alexa devices.
Step 5: Simply say "Alexa, ask My Media to read XX" to My Media. And you can listen to Audible books on Alexa.
---
Final Word
Maybe you will find that it's much easier to play Audible on Alexa by using the Amazon Alexa app. But there's no denying that using AudKit Audible Converter is also a convenient way to get Alexa Audible to work.
Besides, AudKit Audible Converter does well in listening to Audible books on multiple devices. Thanks to the professional skills, it enables you to download and convert Audible to MP3 at a fast speed of up to 100X and keeps 100% original sound quality. That's a unique advantage that other techniques can't reach.
---