Everyone loves a good read. It clears your mind and is a good source of entertainment. With the increasing popularity of audiobooks, catching up on your favorite author and best-selling novels is far easier.
Audible by Amazon is currently the best place that provides book lovers a platform to get millions of books in one place and in an audio format. Audible has a huge collection of about 200,000 audiobooks. With such an immense audio library, you will surely get an awesome book, keeping you hooked up for hours to come.
But the only problem with Audible audiobooks is that they are encrypted. This makes them accessible through limited audio devices and not just any MP3 player. So, how to combine an MP3 player with Audible. And which is the best MP3 player for Audible audiobooks through which you can enjoy your favorite books with comfort.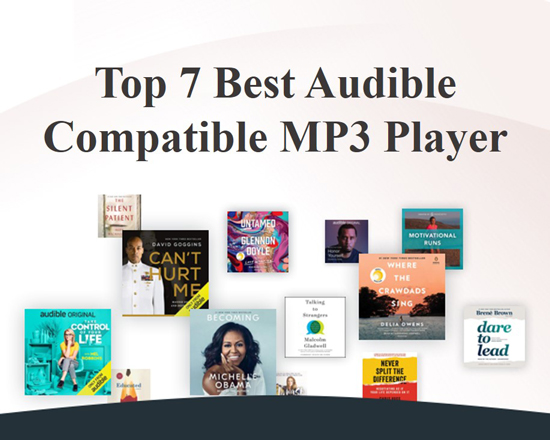 ---
Part 1. How to Select an Audible Compatible MP3 Player
Finding an Audible compatible MP3 player is not a big deal. But look for the following factors to ensure you get the best Audible MP3 player.
1. Battery Life
Battery life should be your major concern while choosing an MP3 player. Audiobooks are pretty lengthy with some lasting for a straight 40 hours. Therefore, the MP3 player must have a long battery life to avoid any interruption during book listening.
2. High Audio Quality
The best MP33 player for Audible will produce superior quality audio without any noise and disturbance. This will allow you to listen to each word and phrase of the story being read.
3. Storage Capacity
When it comes to storage, the more the better. Having an immense storage space will allow you to save many audiobooks and keep numerous trendy songs on a single device.
4. Bookmarking
The Audible MP3 player becomes convenient if it has a bookmarking feature. Surely, you can't finish an entire book in a single day. So, bookmarking will help you pause and resume your story right where you left.
5. Compatible File Format
Choose an MP3 player that is compatible with all common file formats including MP4, M4A, FLAC, and more. Because Audible audiobooks are well-protected, it might be difficult to find an MP3 player that supports the Audible app. So, finding this feature may become a bit difficult.
---
Part 2. Top 7 Best MP3 Player for Audible Audiobooks
We have compiled a list of MP3 players for your Audible app. Move on to pick a suitable MP3 player compatible with Audible.
1. AGPTEK MP3 Player
AGPTEK is the best MP3 player to use with Audible. It consists of all the features that users demand in an Audible compatible MP3 player. It has an extensive 16 GB built-in memory and a 128 GB Micro SD Card slot making it a preferred choice for listening to audiobooks. The Bluetooth mode allows you to transfer your audiobooks without the need for any cables. Small in size, portable, and lightweight makes it easy to carry anywhere you go. Besides, it has a longer battery life of about 40 hours and supports all popular file formats including FLAC, WAV, MP3, and more.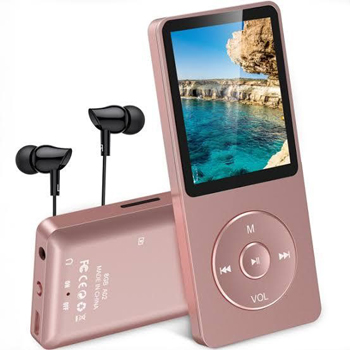 2. KLANTOP Digital Clip Music Player
KLANTOP Digital Clip music player is another incredible option for listening to Audible audiobooks without compromising on quality. It has an internal storage of about 8GB but the expansion slot for a 32GB SD card allows you to store as many songs and e-books as you like. It supports all popular file formats (OGG, MP3, WAV, FLAC, and more). The long battery life, Bluetooth mode and simple hook design make it even more attractive for users.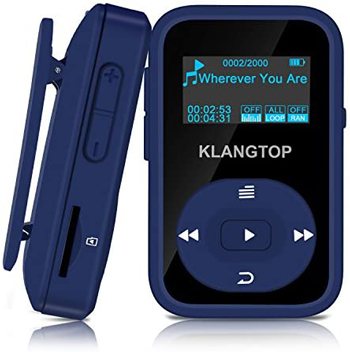 3. iPod Nano 7
iPod Nano 7th generation is a widescreen advanced music player that is great for playing Audible audiobooks. This product by Apple is considered the best MP3 player for Audible books because it has a 16GB storage capacity. With this much space, you can store both music files and audio files on the player. It has a touch screen, supports Bluetooth, and has a battery life of about 30 hours. Available in multiple colors give you more choices, a built-in FM Radio and a pedometer also make it a demanding MP3 player that is worth putting Audible on iPod.
4. Creative Zen MP3 Player
The Zen MP3 player was designed by Creative Technology Limited. It is a smart MP3 player that works with Audible and is equipped with advanced features that enhance your audio listening experience. It is compact and pretty lightweight. This makes it a perfect portable solution for long journeys. The 32GB storage capacity and 25-hour long battery life let you enjoy all your favorite series without interruption. It supports all the common audio file formats and has a bookmarking feature.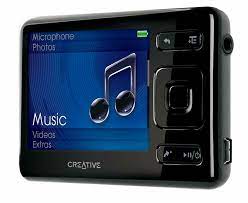 5. Sony Walkman NW-E394
Sony has always been known for its high-quality audio output. The Sony Walkman NW-E394 is similarly designed with Clear Audio+ Clear Bass technology. This way the Walkman reduces distortion even at high volume. It comes with earbud headphones, has an 8GB built-in memory, and has battery life that goes on straight for 35 hours to play Audible on Sony Walkman NW-E394. The display screen is pretty wide. Whereas the drag and drop interface allows you to quickly load audio files from the compatible operating system.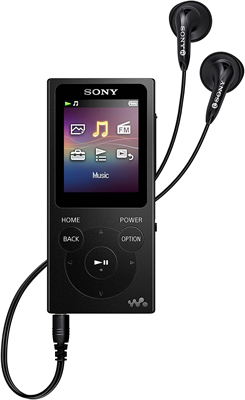 6. Portable SanDisk Clip Jam
SanDisk Clip Jam is a highly preferred choice of MP3 player as it supports multiple file-formats including MP3, WMA, WAV, and Audible audiobooks as well. It has a music equalizer that makes sure users get a superior listening experience. The 8GB built-in memory and 20 hours of battery life make it a reliable MP3 player.
This portable MP3 player comes with a price tag that is under $40 which makes it the cheapest Audible compatible MP3 player on our list. Even at this price, you get to enjoy a 1-year warranty on the mp3 player.
7. Soulcker MP3 Player
Soulcker MP3 player is a multifunctional player with a 2.4 display screen. It is suitable as an e-book reader, supports FM radio and recordings, and also has a built-in pedometer. It supports high-quality file formats including MP3, FLAC, DRM, and WAV. Besides, the powerful battery can run for as long as 55 hours straight. It has a 16GB built-in storage and supports a 128GB SD card giving you more space to save your audio files.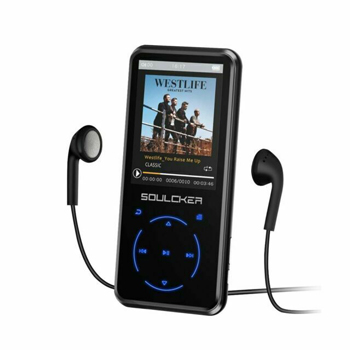 ---
Part 3. How to Play Audible Books on Any MP3 Player
All the MP3 players mentioned above are Audible compatible. But what if your MP3 player does not support Audible?
AudKit Audible Converter is designed to remove the AA/AAX audiobook from Audible. With audio files being closely protected, you can't transfer them to any other MP3 player. But with this software, you can quickly convert all your favorite audiobooks into MP3 format. It has an advanced decryption technology that works 100 times faster than any other converter. Even with the fast conversion speed, it preserves the high-quality of the Audible audiobooks.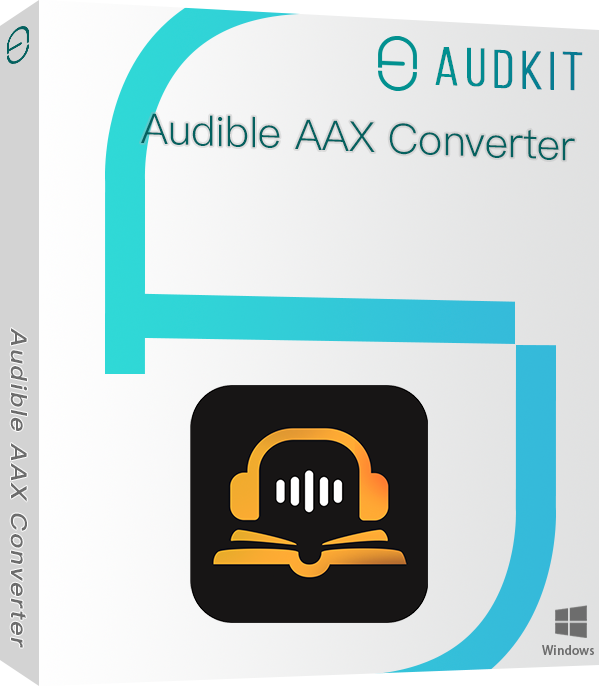 Key Features of AudKit Audible Converter
Save all the ID3 tags from Audible books
Download the audiobook files at a 100X speed
Convert Audible AA/AAX to MP3 and other audio formats
Preserve Audible audiobooks at high quality
Convert Audible Audiobooks Using AudKit
AudKit has a simple and friendly interface. After downloading and installing the software on your PC, all you need to do is follow these three simple steps. It will convert all your selected audio files into an MP3 format compatible with all MP3 players.
Step 1 Import Audible audiobooks to AudKit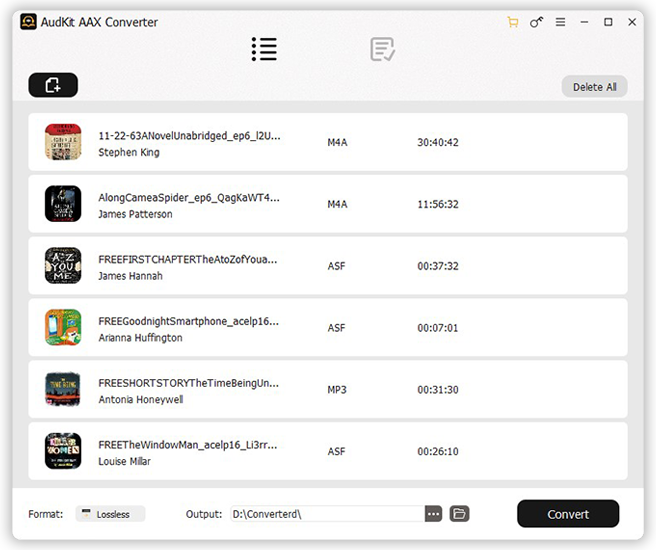 Import Audible files by going to the "Add Files" options. All audiobooks will appear on the menu. Click on the "Open" icon to load the audiobooks into the converter. It supports batch conversion enabling you to upload multiple audios at a time.
Step 2 Adjust the settings of Audible for MP3 player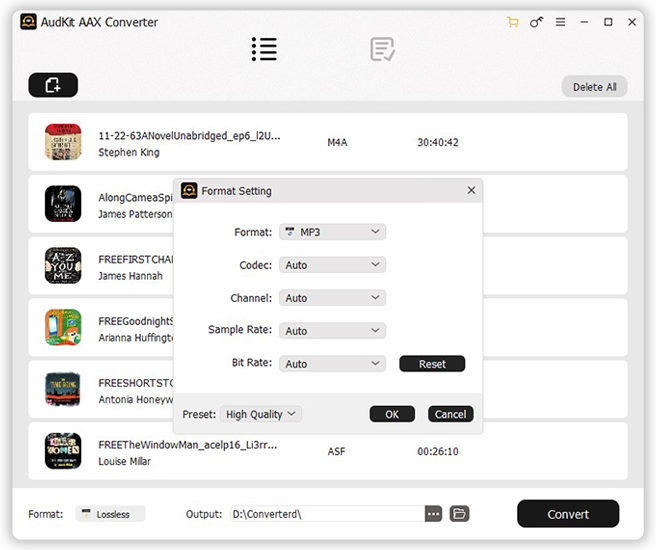 Now, you need to adjust certain parameters before moving on to the conversion process. Go to the Preference option from the top bar, and in the next window, customize the output settings. Set the output format to MP3 and also adjust the bitrate, sample rate, audio channel, and conversion speed as well.
Step 3 Convert and downloading the audiobooks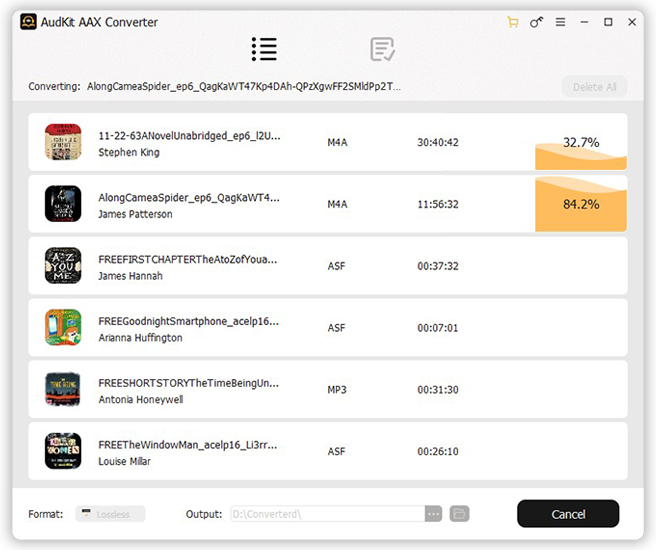 After that, simply press the "Convert" button. The software will convert and download audiobooks to your PC from Audible at the same time.
Transfer Audible Books to Any MP3 Player
Step 1. Connect your computer to the MP3 player using a USB cable.
Step 2. Copy-paste the audiobooks from your system into your MP3 player.
Step 3. You can also drag and drop audio files from your PC to the MP3 player.
Step 4. Now, listen to the audio files freely on your device.
---
Learn More: What Is Audible – Detailed Introduction
Audible is one of the biggest audiobooks and podcast subscription services in the world. It enables you to purchase audiobooks and stream audiobooks along with other forms of spoken content. Launched by Don Katz in 1995 and was later on purchased by Amazon.
The platform gives users access to booms by major publishers and also has an interesting catalog containing books from multiple genres. Among the 200,000 audio programs on Audible, you will find stand-up comedy, radio shows, speeches, interviews, and much more.
Audible is a distributor who purchases the rights of any audiobook. It then sells these audiobooks to the subscribers. The platform offers two subscription plans known as "Audible Gold" and "Audible Platinum". Both these plans issue credits to the users which are then used to purchase audiobooks. Once users have purchased a title, the audiobook remains in their library and can be downloaded anytime.
---
Conclusion
Audible is an amazing place to get all your favorite books in a perfect accent and sounding effect while also carrying out your daily workout plans. But since the audiobooks are well-protected, you need a reliable and safe converter such as the AudKit Audible Converter to remove the protection. This way you can transfer the audiobooks to any MP3 player of your choice.
---