"How to play Audible audiobooks on BlackBerry z30?" BlackBerry was one of the best smartphone brands for its secure communication and mobile products, known for its keyboard on most of its devices. Previously, BlackBerry devices were operated with the BlackBerry operating system.
However, with the advent of Android and iOS, BlackBerry lost its dominant position. As a result, BlackBerry now produces devices with the Android operating system. If you are using the latest BlackBerry device, you can easily make Audible BlackBerry work. If not, you can use a tool to enjoy Audible on BlackBerry. let's get started!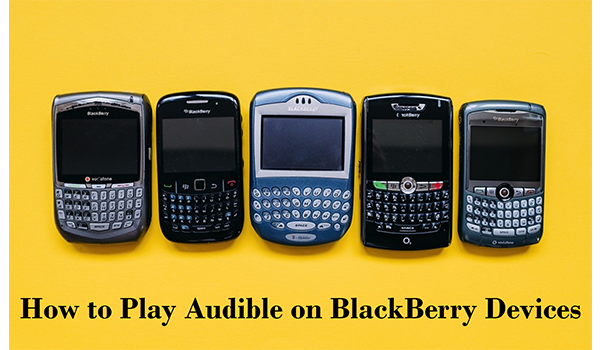 ---
Part 1. How to Play Audible on BlackBerry for Android OS
Is there an Audible app for BlackBerry? The latest BlackBerry devices such as BlackBerry KEY2, run Android systems. As for these BlackBerry devices, as with other Android phones, there is an Audible app. So, you can directly download Audible app for BlackBerry and listen to Audible on BlackBerry without effort.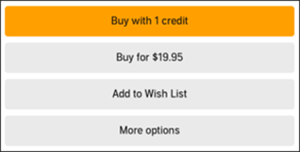 Step 1. On your BlackBerry device, go to the Google Play Store and install the Audible app.
Step 2. Once the installation is completed, open Audible and log in to your Audible account.
Step 3. Tap on Discover and find the Audible book you want to listen to.
Step 4. Tap on the book title to go to the detail page. Tap on Buy with 1 credit to purchase it.
Step 5. After purchasing, go to the Library to find the purchased Audible book. Tap on it to download.
Step 6. Once downloaded, you can tap on the Play button to play Audible audiobooks on BlackBerry.
---
Part 2. How to Play Audible Audiobooks on BlackBerry for BlackBerry OS
If your BlackBerry is old and runs BlackBerry OS, there is no Audible app for BlackBerry. You cannot find and download the Audible app on your BlackBerry. But don't worry, we have found a solution for you.
To play Audible on BlackBerry with BlackBerry OS, you can use the AudKit Audible AAX Converter to download Audible audiobooks and then upload them to your BlackBerry. As its name suggests, it is a dedicated converter for Audible users. You can use it to download Audible books for offline listening. You can also use it to convert Audible books to MP3, FLAC, AAC, M4A, M4B, M4R, MKA, OGG, AIFF, etc.
With AudKit Audible Converter, you are able to offline listen to Audible on BlackBerry or any other device you want. Because it removes the digital protection of Audible books. Now install the AudKit software on your computer to enjoy all its features.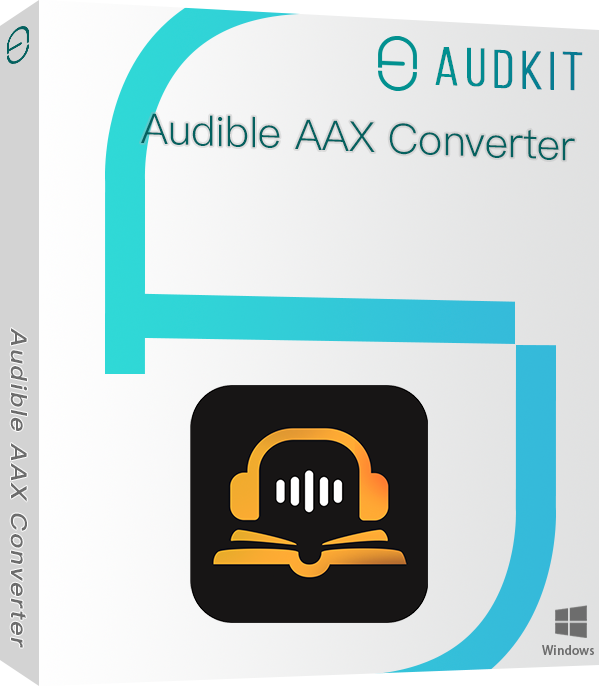 Play Audible on BlackBerry running BlackBerry OS
Download Audible audiobooks as local files
Convert Audible AAX to MP3, AAC, FLAC, etc.
Listen to Audible books on any device you want
Here are the instructions to download Audible books and listen to Audible audiobooks on BlackBerry with AudKit Audible Converter.
Step 1 Import Audible books to AudKit for BlackBerry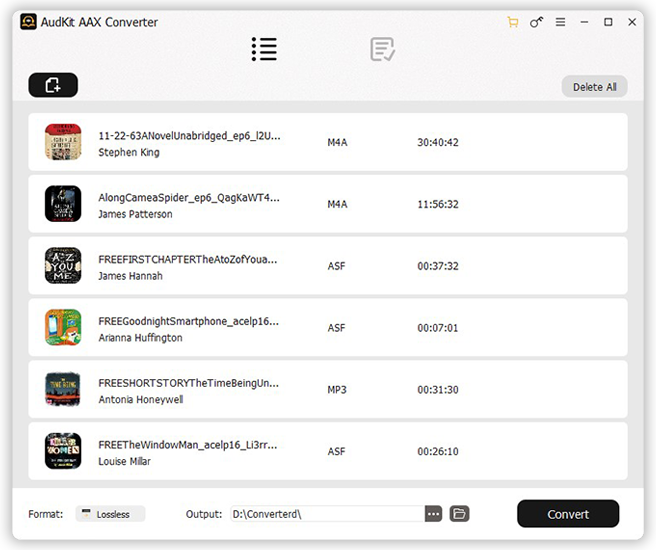 There are two easy ways to add Audible audiobooks to AudKit software for downloading. You can click on the Add Files icon to open your computer's folder and choose your Audible downloads, finally click on Open to add them. You can also simply drag and drop the Audible downloads to the main interface of AudKit software.
Step 2 Choose the MP3 format for Audible BlackBerry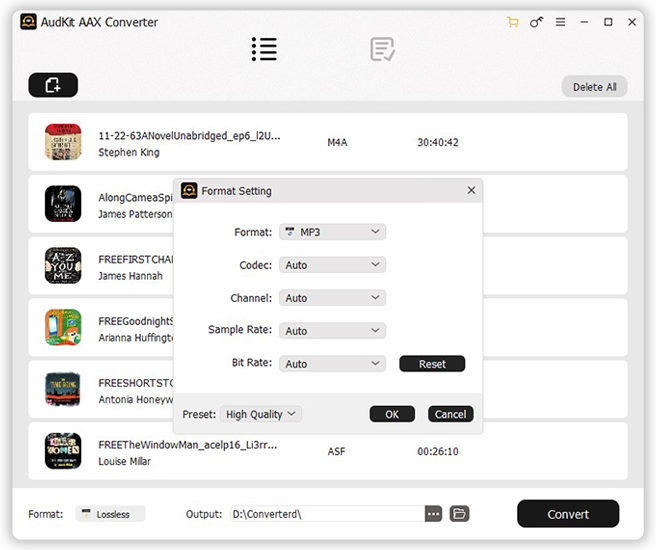 To play Audible on BlackBerry, you can convert Audible audiobooks to MP3 audio format. To do this: Click on the Lossless tab and then change the Format to MP3. You are also able to change other settings like the channel, bit rate, sample rate, and so on.
Step 3 Convert Audible books to MP3 for BlackBerry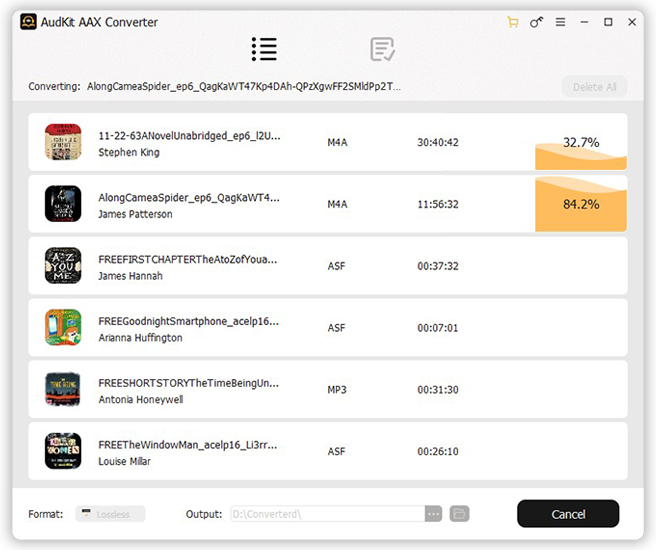 Simply click on the Convert button, and all your added Audible books will start to be converted to MP3 as your settings. When the conversion process is done, you can locate the downloaded Audible books on your computer's local folder. Or you can click on the History section to find them. Until now, you are ready to play Audible on BlackBerry.
Step 4 Play Audible audiobooks on BlackBerry
After getting the compatible Audible files with BlackBerry, you can easily transfer them to your BlackBerry in two ways.
Way 1. Transfer Audible books to BlackBerry via an SD card
Put an SD card into a card reader.
Insert this card reader into your computer.
Copy and paste the converted Audible books to this SD card.
Unplug the SD card from your computer and then insert it into your BlackBerry.
You can now listen to Audible offline on BlackBerry.
Way 2. Move Audible books to BlackBerry via a USB cable
Connect your computer to the BlackBerry device with a USB cable.
Move the converted Audible books to your BlackBerry.
Start playing Audible on BlackBerry.
---
Part 3. The Bottom Line
When it comes to Audible BlackBerry, it is easy to connect Audible with BlackBerry when your BlackBerry runs Android OS. Because there is an Audible app for BlackBerry. However, if your BlackBerry device runs BlackBerry OS, you need to resort to the AudKit Audible AAX Converter. It can help you to download and convert Audible books to a format compatible with your BlackBerry. Then you can easily play Audible on BlackBerry.
---