Spotify is the best and leading music streaming service provider worldwide. It offers an exceptional music collection and continues to upgrade content to meet the needs of music lovers. The free users of the platform can listen to the content but cannot download or store songs. You get the chance to download only when you become a Premium subscriber.
Nonetheless, Premium subscribers often find it challenging with Spotify download limit. Spotify limits the users to a maximum of 10,000 songs on up to five devices. Moreover, they can listen to the same song on only one device. Such a situation is annoying for anyone because you must delete old files to download newer ones.
Today, we will look at a solution that allows you to bypass the limit and enjoy Spotify music on any device. So let us dive into the details!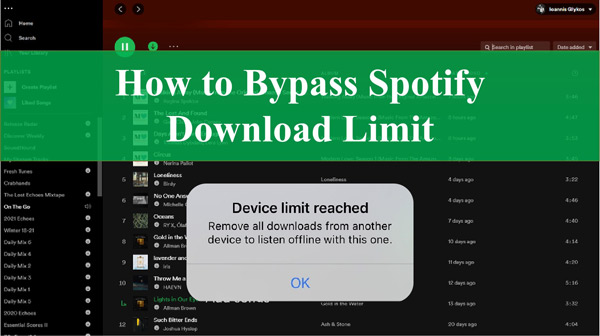 ---
Part 1. What Is the Download Limit on Spotify
Is there a download limit on Spotify Premium? Yes, there are some restrictions.
Firstly, you should remember that downloading music from Spotify is valid only when you become a Premium subscriber. This is a privilege for Premium members, so you can't download songs with a free account. Not only this, but when you subscribe to the Premium service, you will be unlocking other features offered by Spotify. These include ad-free listening, downloading on five different devices, unlimited skips, and so on.
Nevertheless, there is a Spotify download music limit. You can download only 10,000 songs. Due to this, you will receive error messages when you reach the limitation or when your device runs out of storage space. Spotify's download facility limits your other downloads, and you must delete some of your previous Spotify music.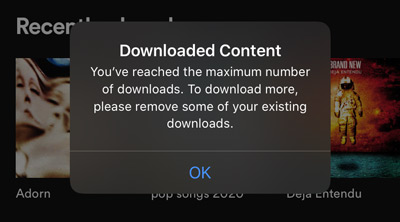 Also, you can only continue to listen to downloaded music if you log in to your account at least once every 30 days. When you cancel your premium subscription, you will lose access to downloaded content, even offline.
---
Part 2. What Is Spotify Library Limit
Does Spotify have library restrictions? Yes, there is. Initially, Spotify limited the maximum number of songs users could add to their music library to 10,000. But on May 26, 2020, Spotify announced that it was lifting the cap on the size of its music library. Users can add up to 70 million of their favorite songs to Spotify's music library. This update is very pleasant for all premium and free users.
---
Part 3. What Is Spotify Playlist Limit
Although Spotify has removed the song limit from their library of favorite songs, for playlists Spotify has the same limit of 10,000. This limit exists for users who are either paid or free subscribers. A maximum of 10,000 songs can be added to each playlist, and once the limit is reached, Spotify will ask users to delete old songs to add new ones.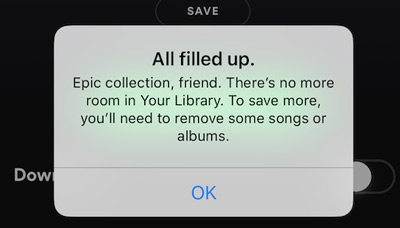 ---
Part 4. How to Break Spotify Download Limit
To Spotify download music limit, you can use AudKit SpotiLab Music Converter. It lets you download unlimited songs, albums, playlists, and podcasts from Spotify. The download music will be stored in your local folder so you won't be affected by the Spotify song download limit.
The best part is that AudKit SpotiLab Music Converter is available for all Spotify users. You can save your favorite songs for offline playback even if you don't have Spotify Premium.
Not only this, but it also enables you to convert Spotify music to universal formats like MP3, M4A, etc. You can then upload these converted Spotify songs to any device like MP3 players, tablets, sports watches, etc.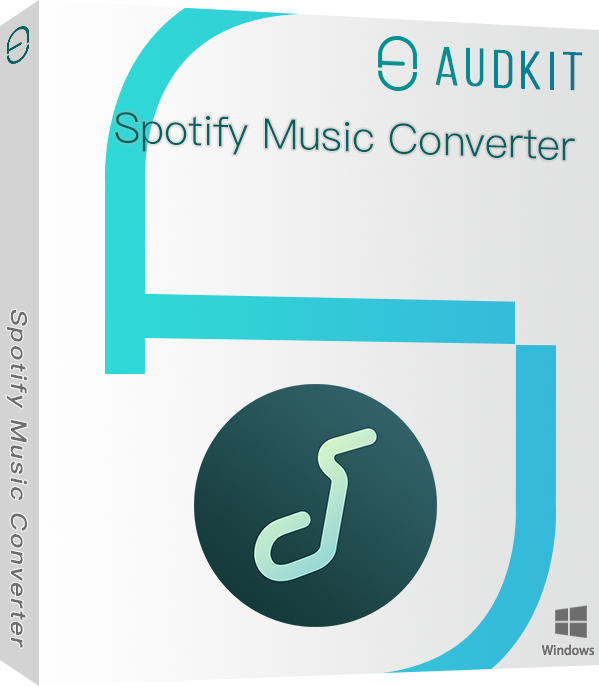 Download unlimited songs/playlists/albums from Spotify
There is no Spotify Premium need, available for all Spotify users
Convert Spotify to MP3, WAV, M4A, AAC, FLAC, etc.
Work at 5X faster speed and bypass Spotify download limit
How to Download Spotify Music without Download Limit
You can visit AudKit SpotiLab Spotify Music Converter's website to download the software. Or you can directly install it via the 'Download' button above according to your computer OS. Then, we will guide you on how to use it to download music from Spotify without the Spotify download limit.
Step 1 Add Spotify Tracks to AudKit Spotify Converter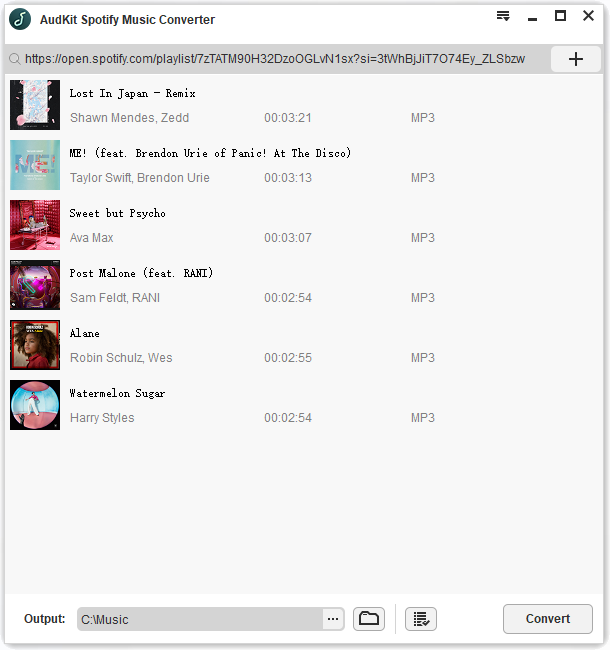 After installation, launch the program and you will see Spotify also open. Go to Spotify and browse for songs, playlists, podcasts, and albums you want to download. Simply drag and drop them to the main interface of AudKit Spotify Converter. Alternatively, copy the link of the track and paste it into AudKit's top search box. Continue to add links by clicking the "+" button.
Step 2 Reset Spotify's Output Parameters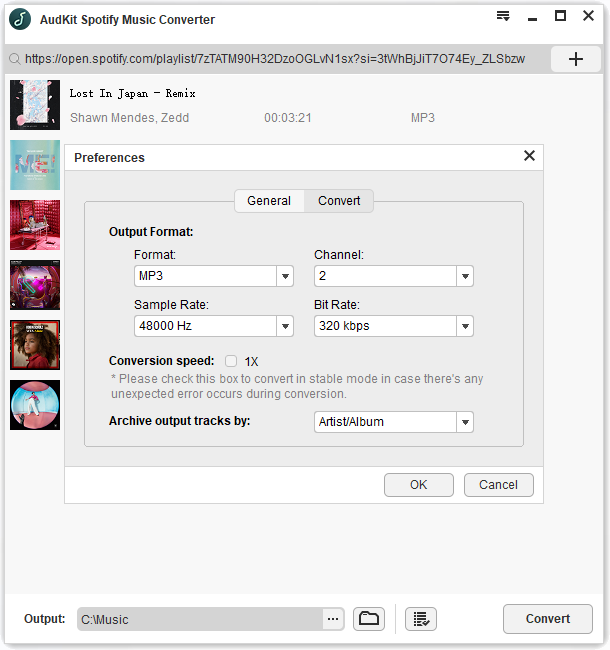 Open the "Preferences" option by clicking the "Menu" button. Once the conversion window opens, choose the "Convert" option and you can set the audio format, sample rate, channel, and bit rate. You can also choose to convert the songs at 1X speed and archive the downloaded and converted songs either by artist or album.
Step 3 Download Spotify Tracks without Spotify Download Limit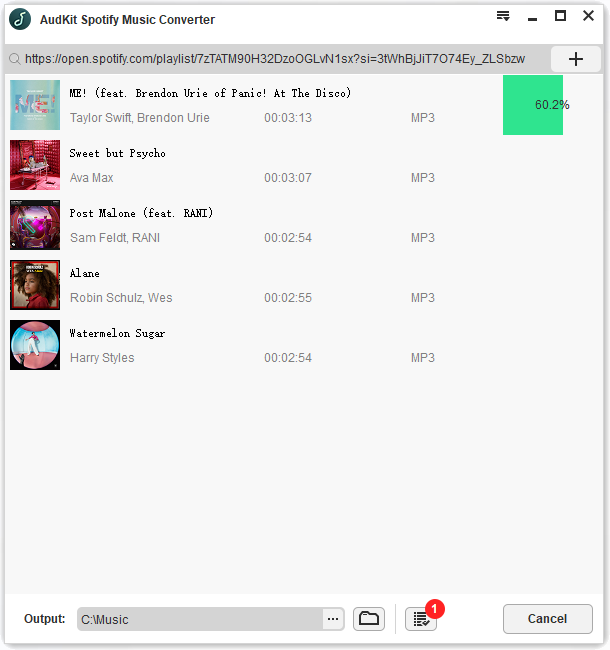 Click the "Convert" button at the bottom-right of the main interface. Then all your imported Spotify tracks will be downloaded immediately. Once completed, click on the folder icon beside the destination location at the bottom. Then you will see all your converted Spotify music files. You can listen to them offline without an Internet connection without Premium. Besides, you can transfer them to other devices even if they don't support the Spotify app.
---
Part 5. FAQs about Spotify Download Limit
Q1: What is the download limit for Spotify?
A: Spotify's download limit restricts the number of songs you can download to 10,000. Users can download up to the limit on five different devices.
Q2: Why does Spotify have a download limit?
A: The primary purpose of Spotify download limit is to protect its streaming service. Spotify only allows its Premium subscribers to download songs. Premium subscribers can only download a total of 10,000 pieces on a maximum of five devices. When a user reaches this limit, Spotify will send a message, and one should clear their downloaded content to add more songs. Spotify set the limit because it prevents heavy users from continuously streaming content. In addition, the limit allows for a fair usage policy, where every user can enjoy music anytime and anywhere.
Q3: Why does Spotify say the device limit has been reached?
A: The Spotify download device limit error appears because you have reached the number of 10,000 songs to download. If you want to proceed with the current download, you must remove the song from another device. Suppose you are no longer using the old device. In that case, you can contact customer support, who will help remove the content from the inaccessible device.
Q4: How do I increase my Spotify download limit?
A: You can increase/bypass the Spotify download limit by using a Spotify music downloader such as AudKit SpotiLab Music Converter. It won't have a limited number of songs you can download. Plus, it doesn't require a Spotify Premium account.
---
Part 6. Wrapping Up
If you are a Spotify Premium user, you can download songs for offline playback. However, Spotify has download limits that restrict you in several ways. According to this, you can download up to 10,000 songs on up to 5 devices. Once you reach the maximum number, you need to delete some of the downloaded songs. This is inconvenient, so we offer you a way to bypass these limits.
That is, you can use AudKit Spotify Converter to download Spotify music without Premium. It allows you to download any content from Spotify without any restrictions. It will save Spotify songs locally to you so that you can use them as you wish on any device.