Spotify is a popular music streaming service that offers a vast library of songs and other audio content. However, due to regional restrictions and other limitations, some users may find themselves unable to access Spotify's full range of features. If you're one of these users, don't worry, there are several ways to unblock Spotify and enjoy all the content, no matter where you are in the world. In this article, we'll explore some of the most effective methods of how to get Spotify unblocked so you can start listening to your favorite music and podcasts right away.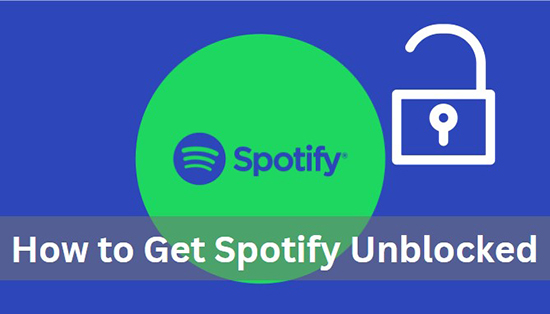 ---
Part 1. Why Is Spotify Blocked at School, Work, or in Some Regions
With millions of users in over 170 countries, Spotify is one of the most widespread music streaming platforms in the world. So, you may wonder why you cannot enjoy Spotify music. Below are some possible reasons.
For Schools or Workplaces
Streaming music platforms like Spotify can be a distraction for school students and may interfere with productivity in some workplaces. Leaders of schools and workplaces may want to limit access to entertainment websites and apps, including Spotify, to promote focus and concentration.
Another reason is that schools and workplaces may have policies in place that restrict access to certain types of websites or applications, which aims to prevent students or employees from accessing inappropriate content or to protect the organization's network from security threats.
For Limited Regions
Spotify may be blocked in limited regions due to licensing agreements with music labels and copyright laws. These agreements determine which countries or regions Spotify can legally operate in and which content it can offer to users in those regions. Additionally, some countries may have stricter copyright laws that make it difficult for Spotify to operate there.
---
Part 2. How to Unblock Spotify at School, Work, or Elsewhere
Don't be upset. Although there are several limitations, you can still listen to your favorite Spotify music via a Proxy Server or a VPN. Next, we will show you how to unblock Spotify at school, work, or other limited regions.
2.1 Get Spotify Unblocked for School with Proxy Server
How to Unblock Spotify on School computer? If you are a school student and you want to get Spotify on a school Chromebook, a Proxy Server can help you out. A proxy server for Spotify is a server that acts as an intermediary between the Spotify application and the Internet. It allows users to bypass geographical restrictions and access Spotify content that may not be available in their region.
Please follow the guide on how to get Spotify unblocked on a school computer.
Step 1. Open the Spotify app on the school Chromebook computer and click on "Settings".
Step 2. Search for "Proxy Settings" then select "No proxy" under "Proxy type".
Step 3. Tap on "Restart App" and you will find Spotify unblocked at school.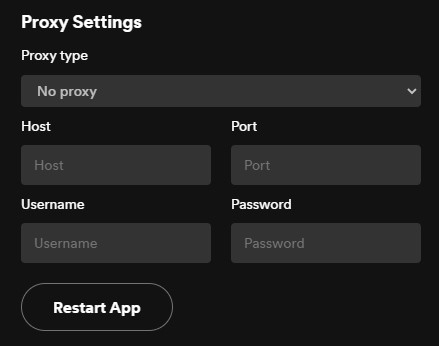 2.2 Unblock Spotify in Limited Regions via VPN
If you are confused about how to unblock Spotify in your region, you can use a VPN for Spotify to access music that may be restricted. A VPN for Spotify is a virtual private network that allows users to access Spotify from anywhere in the world. When you connect to a VPN server, your IP address will be replaced with that of the VPN server. So, you can bypass regional restrictions and unblock songs on Spotify.
Let's follow the instructions below.
Step 1. Download a VPN app on your device and create an account.
Step 2. Select a country or region where can get Spotify unblocked and switch on the VPN.
Step 3. Launch the Spotify app and play a song then you will find you can get blocked songs on Spotify now.
---
Part 3. How to Unblock Spotify Without VPN
Maybe you're worried that getting unblocked Spotify via a VPN is not safe, or a little bit complicated. Most importantly, you need to connect VPN to Spotify every time you listen to Spotify music. Are you looking for a better way to get Spotify free unblocked? AudKit Spotify Music Converter must fit you well. It can allow you to unblock Spotify without any VPN restrictions.
AudKit Spotify Music Converter is a special tool that enables you to download Spotify songs, playlists, and albums to listen offline no matter where you are. Moreover, it supports converting Spotify music to MP3, AAC, M4A, and other common output formats with high track quality at 5X conversion speed. With AudKit Spotify Music Converter, you can get unblocked Spotify at school or other regions.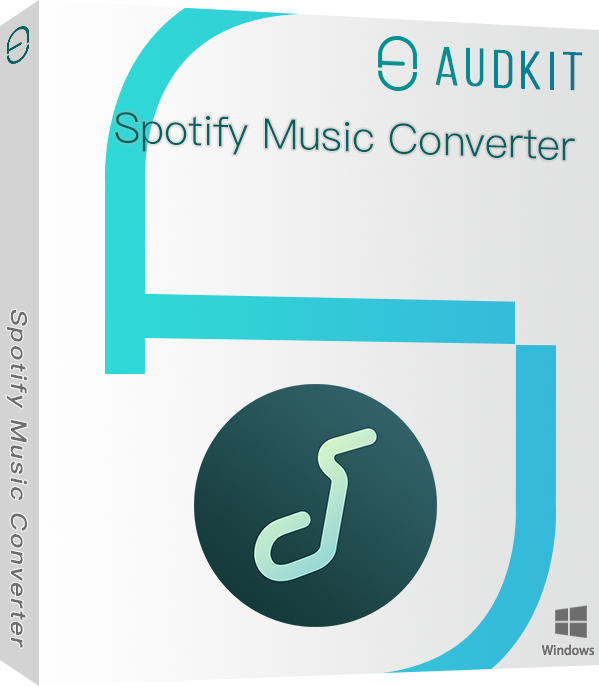 Main Features of AudKit Spotify Music Converter
Listen to Spotify offline without Spotify ads
A quick conversion speed of up to a 5X rate
Convert Spotify playlists to many audio formats
Reset output bitrate, codec, sample rate, etc.
Here is a full tutorial for Spotify unblocked download.
Step 1. Download AudKit Spotify Music Converter and Register an Account.
You just need to simply click on the "Download" icon to install AudKit SpotiLab and then register an account for the full version. You can also try it for free with a minute for each track.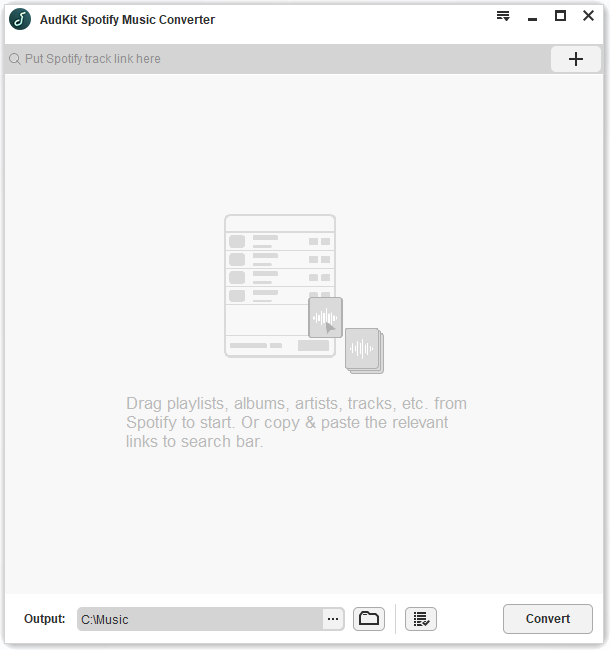 Step 2. Add Spotify Music for Unblocking Spotify
Once open the AudKit Spotify Music Converter, it will launch the Spotify app automatically. You need to select a Spotify song or playlist then tap on "Share" > "Copy Song Link" to import Spotify music to AudKit SpotiLab.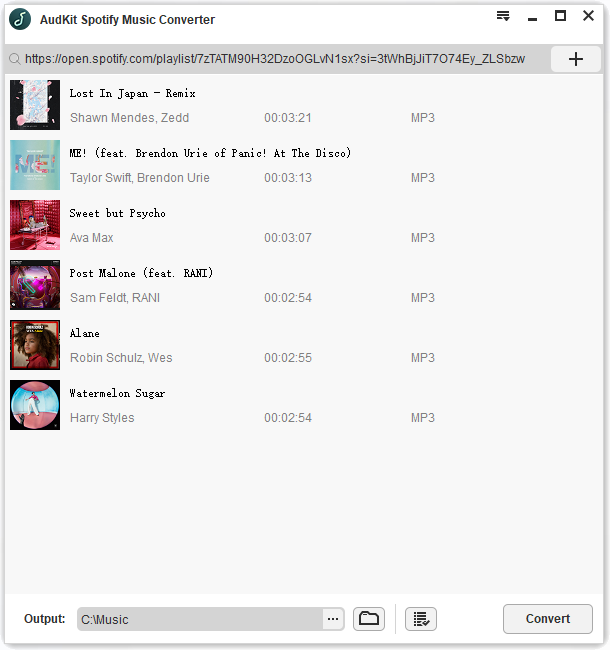 Step 3. Customize the Output Format of Unblocked Spotify
Tap on the "Menu" icon in the top right corner and click "Preferences" > "Convert". Select the output format such as MP3, AAC, FLAC, etc., and sample rate, bit rate, as well as channel based on your preference.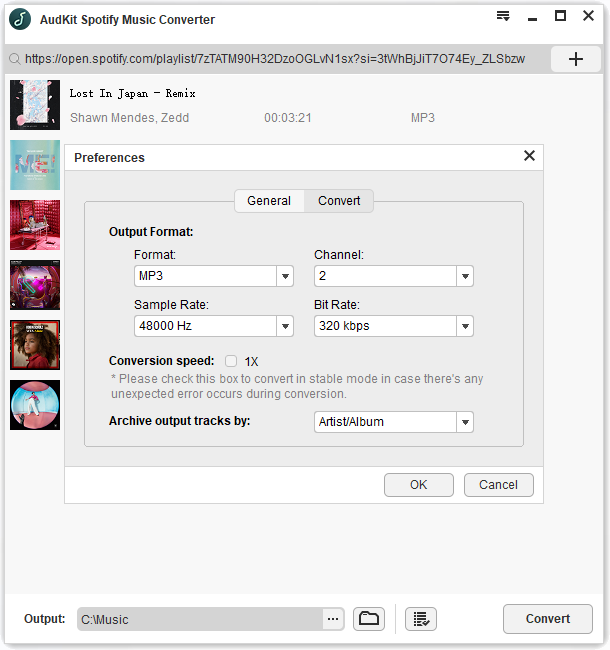 Step 4. Start the Conversion to Get Unblocked Spotify
Hit on the "Convert" button at the bottom right to convert and download Spotify music. When the process is done, click on the "File" icon at the bottom to check the downloaded Spotify music in your local folder. Now, you are able to unblock Spotify without VPN and listen to Spotify offline anywhere.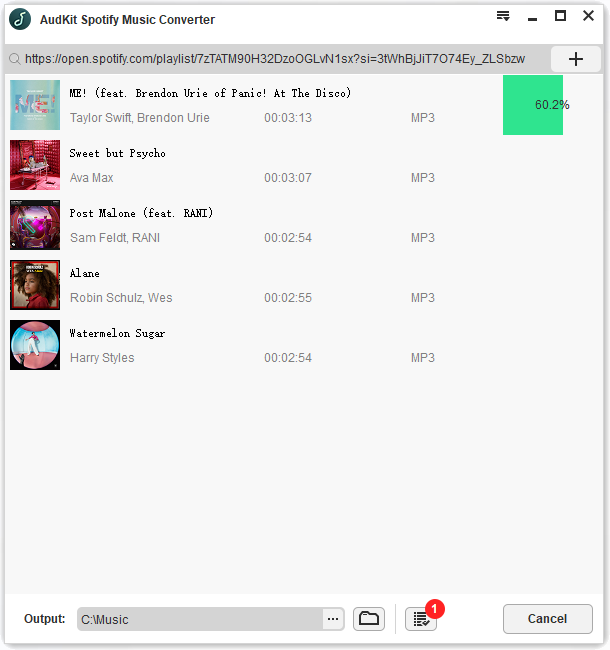 ---
Part 4. FAQs about Unblocked Spotify
Q1. How Do I Know if Spotify Is Blocked in My Region?
A: If you are unsure whether Spotify is blocked in your region, you can try accessing the Spotify web player or app. If you are unable to access it or receive an error message, it is possible that Spotify is blocked in your region.
Q2. Will Using a VPN Affect My Spotify Account or Subscription?
A: Using a VPN to access Spotify should not affect your account or subscription. If you're still worried, we recommend you unblock songs on Spotify with AudKit Spotify Music Converter, which supports downloading Spotify music for offline listening without any issues and you don't have to be concerned about the safety of VPN.
Q3. Will Using a VPN Slow Down My Internet Connection When Using Spotify?
A: Unfortunately, using a VPN may slow down your internet connection when using Spotify. This may be because the VPN encrypts your internet traffic and routes it through a remote server. You can try another VPN or use AudKit Spotify Music Converter to prevent this situation.
---
Part 5. In Conclusion
Today we have explained why is Spotify blocked and provided three methods of how to get Spotify unblocked. For optimal safety and security, it's recommended that you can get Spotify when it's blocked through AudKit Spotify Music Converter. It can enable you to download Spotify on multiple devices and listen to blocked songs on Spotify whether you're at school or in the workplace, or anywhere. Try it out and see if it works for you.
---