Spotify has been very popular among music lovers due to its great features and services. One feature that is loved by many users is called Spotify Wrapped. It contains data on your listening habits over the past year, showing the top artist's users listened to during the year.
Users around the world are viewing their personal metrics, such as preferences for artists, albums, and songs. However, for some users, Spotify Wrapped doesn't work and shows an error on their phone screen that the page can't be loaded.
So, if you are also facing the same problem and now looking for a solution to Spotify Wrapped not working Android/iOS, then the 10 fixes shared below will help you to resolve the issue.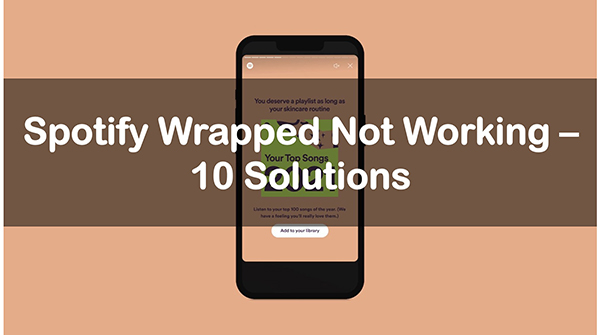 ---
Solution 1. Search for Wrapped in Spotify
Spotify Wrapped is only available on the app. When you open Spotify, you will see an identical banner on your home page, however, if it doesn't work, you can try an alternative by searching.
Step 1. Open the Spotify app on your device.
Step 2. Click on the search bar at the top.
Step 3. Type in "Spotify special" and you should see Spotify Wrapped in the results.
---
Solution 2. Restart Your Device
You can try restarting your Android phone to fix the Spotify Wrapped Android not working issue. Whenever an app on your phone faces such an issue, the first thing you should do is restart your device to fix it.
Most of the time, apps stop working due to minor technical glitches or too many apps being open at the same time and consuming too much memory. In any of these cases, giving your device a fresh start will solve the problem of Spotify wrapped not working.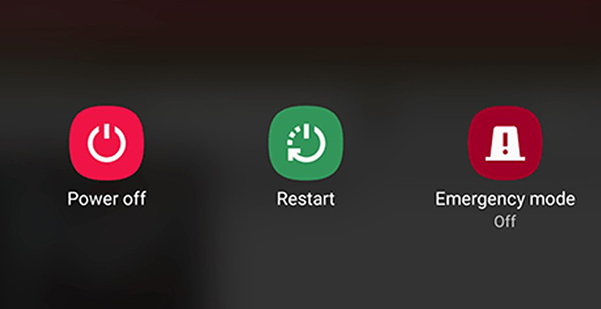 ---
Solution 3. Switch the Internet Connection
Sometimes you may experience problems with the Spotify Wrapped not working Android/iOS due to insufficient or unstable Internet connection. Keep in mind that accessing the application requires a stable Internet connection and if it fluctuates, then this error is bound to pop up.
Therefore, the best thing to do is to close the Internet connection and then open it again to see the changes. Follow the steps provided:
Step 1. Open Spotify. Then log in to your Spotify account.
Step 2. Close the internet connection.
Step 3. Now use Spotify in offline mode for a few seconds.
Step 4. Then open the data connection and check whether Spotify wrapped can work.
---
Solution 4. Force Stop Spotify
When your Spotify Wrapped not showing up, you can try to force stop the Spotify app and then open it. This is a useful way to deal with any kind of application problem.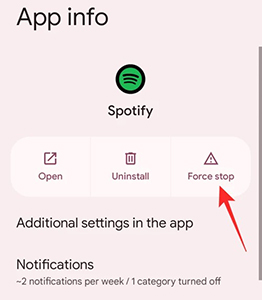 Step 1. Navigate to the Settings app on your phone. Then tap on the Applications.
Step 2. Tap on More and then click on Show system apps.
Step 3. Search for the Spotify app and click on it.
Step 4. Select the Force Stop option.
---
Solution 5. Log out and Log back into Spotify
"Why is my Spotify Wrapped not working?" If your Spotify Wrapped not loading, there may be a problem with your account. Try logging out of your account from Spotify and then logging back in to see if it works for you.
Step 1. Open Spotify and tap on the gear (settings) icon in the top right.
Step 2. Scroll down and select Logout.
Step 3. Click Logout again in the confirmation window that pops up.
Once you have logged out, log in again using the phone number or email address you used previously. Now check to see if your account is available for Spotify Wrapped.
---
Solution 6. Clear Spotify Cache
Spotify has a tendency to store temporary files offline to provide fast playback. If you play music over a longer period of time, there will be more cached data. These caches may cause problems with Spotify Wrapped not working.
To solve this problem, you can log into your Spotify account and delete all its offline cache. However, the process of clearing the cache is different on Android and iOS. You can see as below to clear Spotify cache.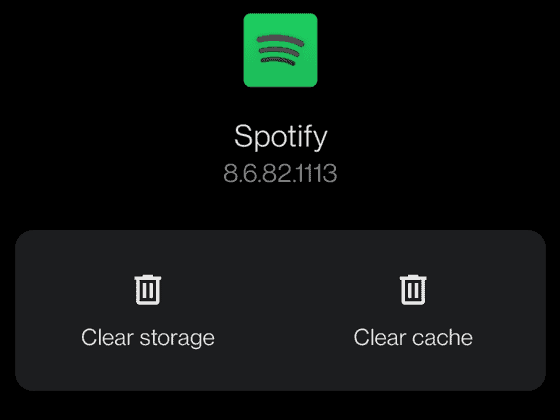 Android: Settings > Apps > Spotify > Storage > Clear Cache.
iOS: Settings > Storage > Delete Cache.
---
Solution 7. Update Spotify
If your device has been updated but is still running an outdated version of the Spotify app, then there may be compatibility issues. And therefore, you may experience app problems with Spotify Wrapped not working on Android/iPhone. In this case, you must make sure that you update the app to the latest version.
Updating the application will not only make the application work properly but will also fix some bugs and security issues. Therefore, you should always keep the application up to date.
---
Solution 8. Update Device Software
Similarly, if you run an outdated version of your device system, Spotify won't be used normally due to compatibility issues. So, you need to make sure your device software is the latest.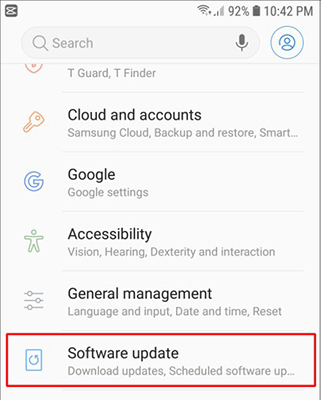 ---
Solution 9. Reinstall Spotify
If all the fixes don't work for you, you can uninstall the current application from your device and reinstall it again. After uninstalling, you need to download the app from the Spotify website and install it on your device. This should fix your problem with Spotify Wrapped not working.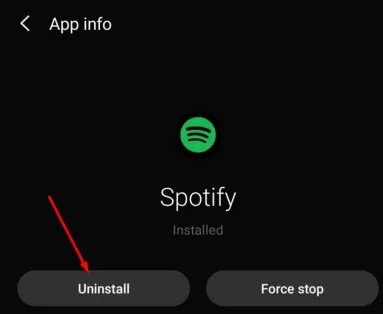 ---
Solution 10. Use a VPN
Since many users are using Spotify Wrapped at the same time, the server may become slow. But you can always change the server by using a free VPN service. Download any free VPN app from Play Store and then try using Spotify Wrapped.
Step 1. Open Play Store and search for VPNs.
Step 2. Download and install any VPN app you want.
Step 3. Select any available server and connect. Now try to turn on the Spotify Wrapped feature and see if it works.
---
Bonus Tip: How to Offline Listen to Spotify without Premium
Now that you've got 10 ways to fix Spotify Wrapped not working issue, in this section we will show you an additional tip to offline listen to Spotify music without Premium.
Usually, even if you are a Spotify Premium subscriber, the music content you download from Spotify is just a cached file and once your music subscription expires, the downloaded music files will not be playable.
So, we have selected a powerful tool called AudKit SpotiLab Music Converter for you to download Spotify music without Premium to your computer as local files. And then you can keep Spotify music tracks forever, no matter whether you are a premium user or not.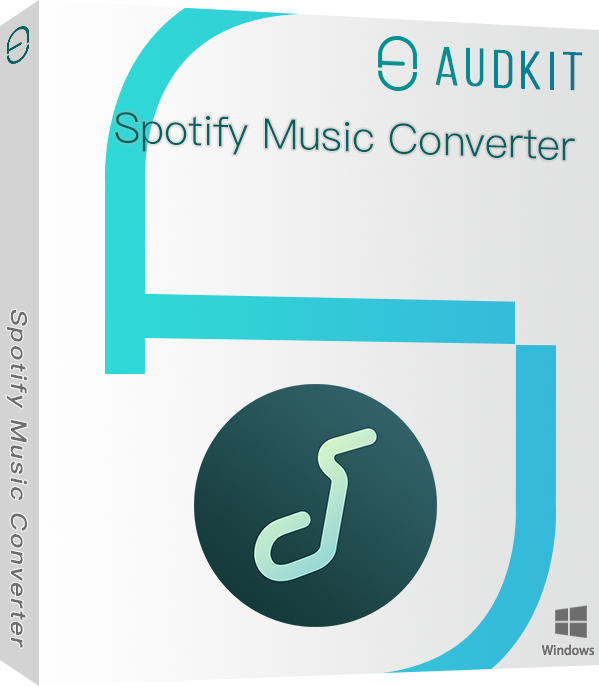 Download Spotify songs, playlists, albums, and podcasts
Convert Spotify music to MP3, FLAC, AAC, etc.
Keep lossless sound quality and all the metadata
With AudKit Spotify Downloader, you will have the chance to play your songs offline and share them with your friends even if they don't have the Spotify app. Check out the link above to download this tool for a free trial and enjoy everything Spotify has to offer offline.
Now let's see how to download Spotify music to MP3 and listen to Spotify offline without Premium.
How to Listen to Spotify Offline without Premium
Step 1 Import Spotify music to AudKit Spotify Downloader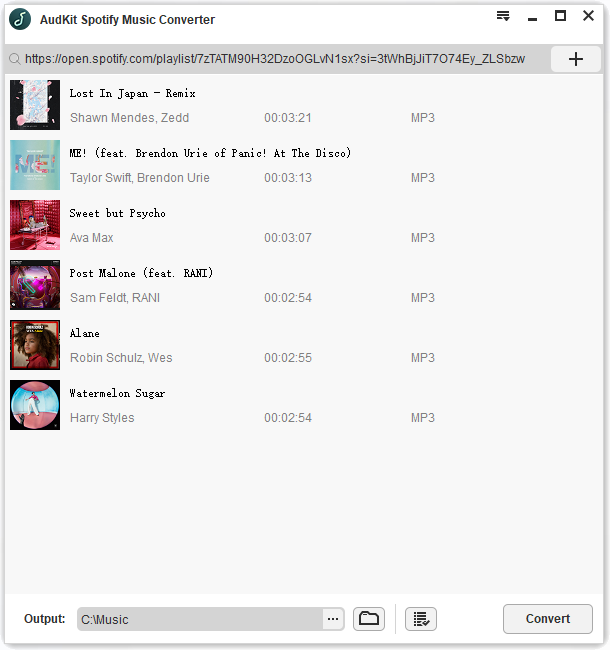 Choose the music you want to download and offline listen to offline. Then drag and drop them to the AudKit Spotify Downloader. You can also copy and paste the song's link into the address bar of this downloader, then click on + to add them.
Step 2 Reset Spotify music output format as MP3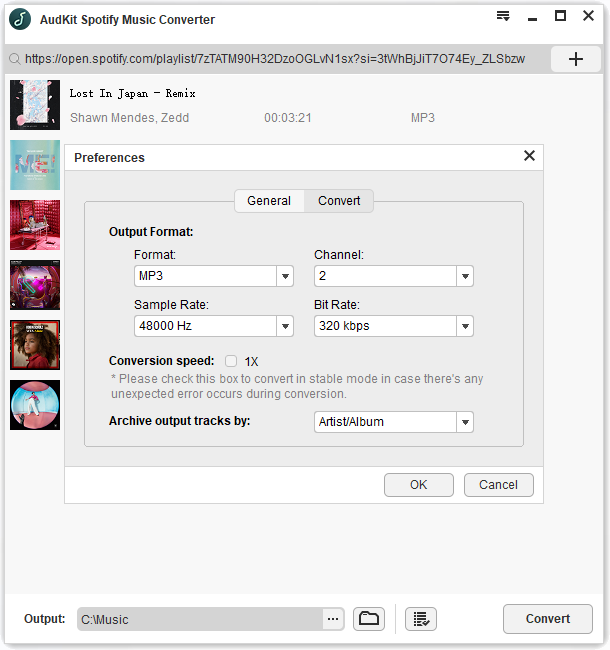 AudKit Spotify Converter enables you to reset the output format and other parameters. Click on the menu icon which locates in the top-right corner. Then select the Preferences option and the Convert tab to go to the output settings section. You can reset the output format as MP3 to fit most devices and music players.
Step 3 Download Spotify music without Premium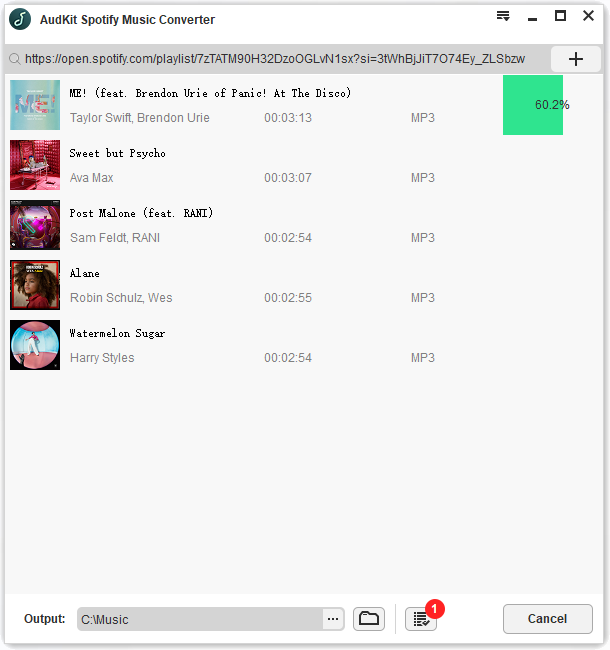 Click on the Convert button located in the bottom-right corner. All your added Spotify music will be downloaded at up to 5X. After downloading, you can find Spotify music by clicking the Converted icon. They are stored on your computer and you can start listening to Spotify music offline without Premium.
---
Conclusion
Why is Spotify Wrapped not working? It could be because your internet connection is unstable, the Spotify app or your device's software is outdated, and so on. Whatever the reason, you can fix the problem with the 10 solutions above. We have also provided you with an additional tip on how to listen to Spotify music offline without Premium. You can follow the tutorial step by step to enjoy Spotify better.
---