"I have a Samsung Galaxy s9 and have had Spotify for ages. Recently whenever I listen to Spotify, the music will randomly stop playing. Sometimes multiple times in a song and sometimes won't happen for a few songs. As soon as the phone is touched/woke up it will resume (without actually having to press play). It does not happen if the phone is in use (awake). I have tried turning power saving off, restarting my phone, and reinstalling the app. Nothing works. Please help, it's super annoying!" – Taylajoyce from Spotify Community
There are many similar questions, such as: "Why Spotify app stops playing when screen is off iPhone?" "Why Spotify stops playing in offline mode?" Spotify is the trending music streaming platform. But Spotify's pausing issue is common among many users. They may be worried about it and want to know how to fix this annoying problem. Thus, this article gives you 6 solutions to fix this problem.
---
Part 1. Why Does Spotify Stop Playing – Reasons
Although Spotify are keep updating, there are still unavoidable pausing problems. It's hard to determine the reason behind pausing. But we outline the most occurring reasons here for your knowledge:
1. You may use the same account on more than one device without logging out.
2. You may be on an unstable network so Spotify stops playing.
3. You may open the save battery mode or data restriction mode.
4. You may have run too many apps in the background so the Spotify app stops playing music.
5. You may have excessive cache or temp files on your device so it's hard to play Spotify music at normal.
---
Part 2. Six Common Ways to Solve Spotify Stops Playing Issue
According to the common reasons behind Spotify pausing problem, here are some specific ways to fix it.
1. Turn Off the "Battery Saver" Mode
If you turn on the battery save mode on your device, your Spotify music will be stopped. Therefore, you can turn off the battery save mode to solve the issue.
For Android: Go to the "Settings" on your Android phone. Find "Battery & Battery Performance">"Battery saver" option. Turn off the "Battery saver" button.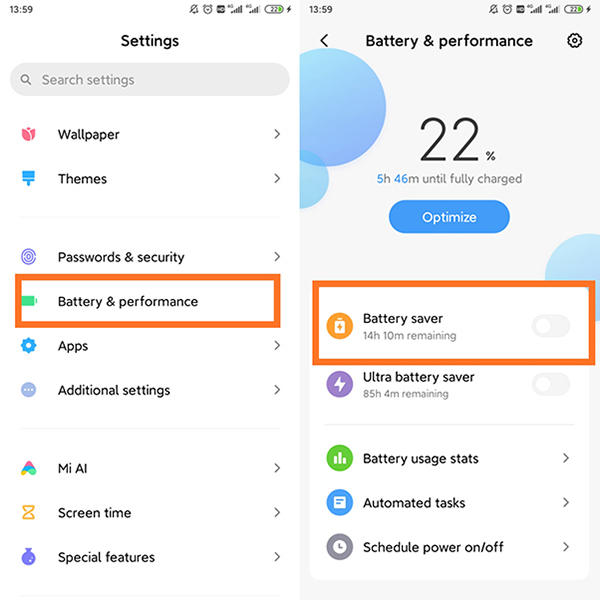 For iPhone: Go to the "Settings" on your iPhone. Scroll down to find the "Battery". Turn off the "Lower Power Mode".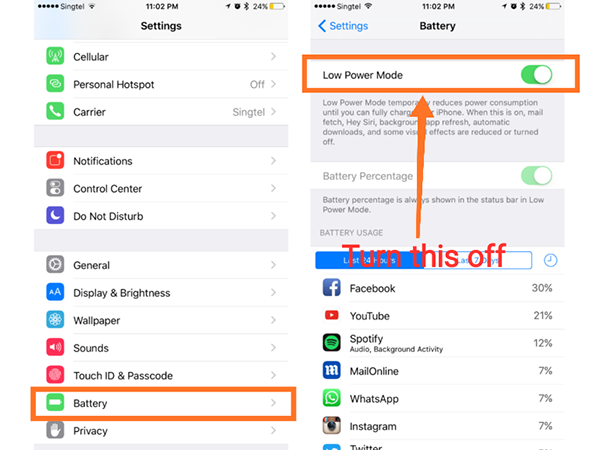 2. Install the Latest Spotify App
If you have a lower version of the Spotify app, or you accidentally delete cache data, Spotify stops playing randomly. Therefore, you can update your Spotify app. The official solution is to delete the Spotify app and re-install it. You can firstly sync all your playlists to avoid losing.
3. Reduce Consumed Storage Space
If your device has been occupied with a large proportion of storage space, Spotify will have no space to store files, then it will cause Spotify stops playing issue. Therefore, you can reduce the consumed storage space to fix this problem. You can remove your unused apps, clear your files, clean your browser's data, etc. Or you can also clear Spotify cache. Here is how to do it:
For Android: On the home screen of your phone, long-press the Spotify app. Then select "app info" > "Storage & cache". Finally, tap on "Clear cache".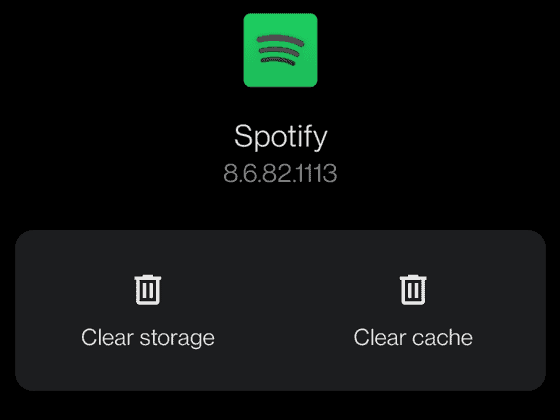 For iOS: Open the Spotify app on your iOS device. Go to the "Settings" > "Storage". Then tap on "Delete cache".
4. Sign Out from All Devices
There is one possible reason for Spotify's pausing issue, which is signing in to Spotify account on another device without logging out from one device.
Step 1. Visit Spotify.com and log in to your Spotify account.
Step 2. Click on your "profile" icon at the top right. Then select the "Account" option from the list.
Step 3. From the left-side navigation menu, click on "Account Overview".
Step 4. Scroll down to click on "SIGN OUT EVERYWHERE".
After that, Spotify is logged out from all devices that used it. Now you are prompted to log into the current device you are using.
5. Restart Your Smartphone or Computer
If Spotify stops playing on your phone or PC, it could be a system clashing with it. You can restart your phone or PC to clear everything out. Make sure you completely power off your phone or computer for 30 seconds to a minute. Then power it back on.
6. Reconnect to the Internet Network
When you connect to an unstable internet, you may find Spotify appears pausing problem. In such a case, reconnecting to an internet network will be useful.
You can turn off the internet connection, and then reconnect to refresh the network. Or you can also turn off the data connectivity on your device while you're inside the Spotify app. Then, use Spotify in the offline mode for 30 seconds. Finally, turn on the data connection on your device.
---
Part 3. Ultimate Way to Fix Spotify Stops Playing Issue
If you have tried all the methods above and find them useless, you can turn to this ultimate way to solve your problem. You can download Spotify songs with the AudKit SpotiLab Music Converter. Then you are able to play Spotify music on other music players and never worry about Spotify stops playing issue.
Using the AudKit Spotify Converter, you can batch download Spotify music with 100% original sound quality. Moreover, it allows you to extract MP3 from Spotify for compatibility with your desired device.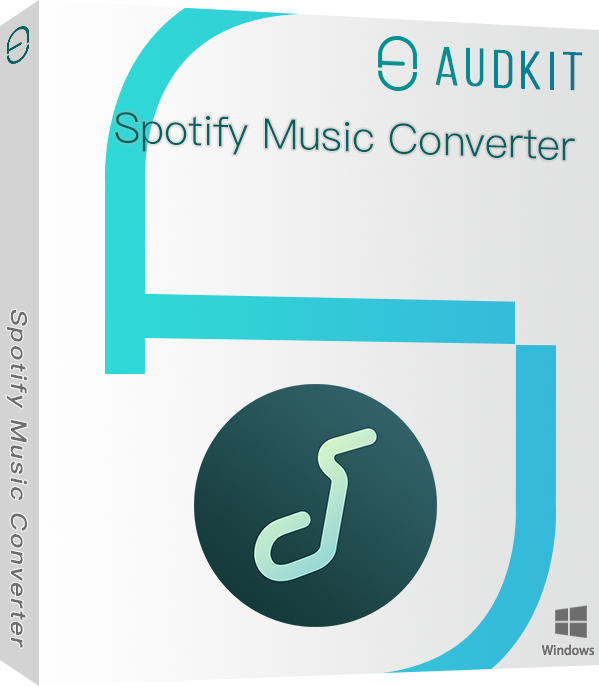 Download Spotify music without Spotify stops playing issue
Batch import and convert Spotify music to MP3, AAC, M4A, etc.
Preserve 100% sound quality and ID3 tags
Listen to Spotify music offline on many devices
Download this smart converter on your computer and follow the steps below to solve Spotify stops playing issue.
Step 1 Import Spotify music to Converter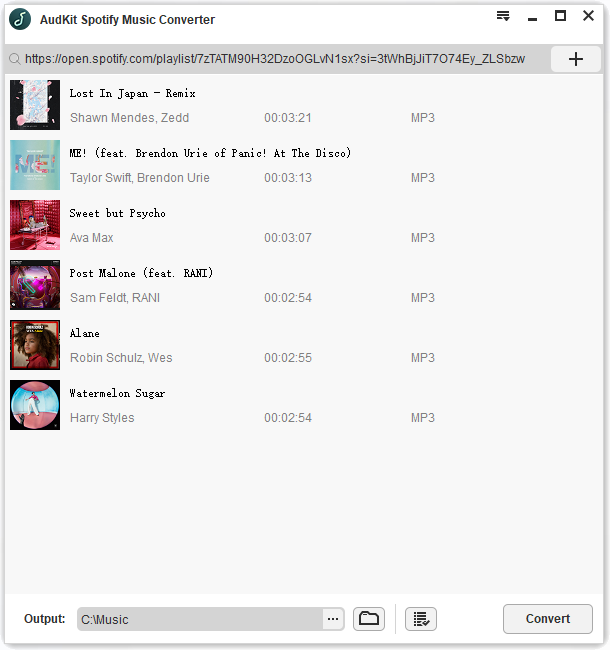 Open the AudKit program on your computer. Import Spotify music to it by dragging and dropping. Or you can also copy the Link of Spotify music, and then paste it into the search bar of AudKit.
Step 2 Customize Spotify output format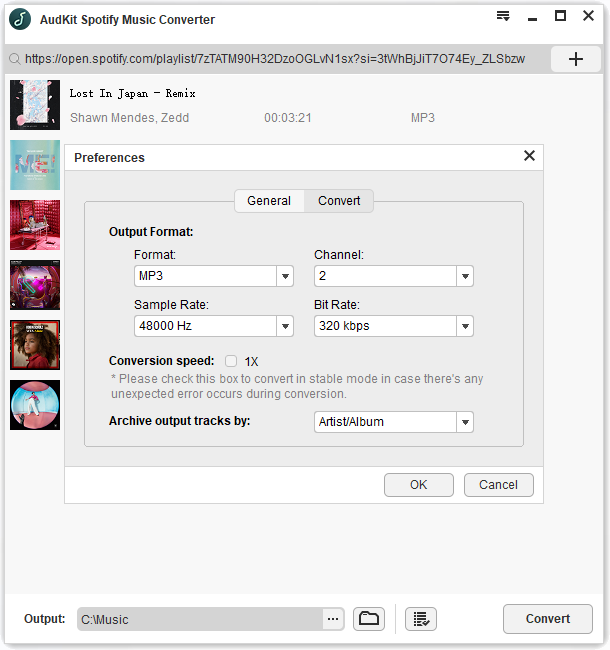 Go to the "menu" icon at the top right of AudKit. Then select the "Preference" option. Click the "Convert" button to go to the settings window. You can choose the output format or customize other parameters.
Step 3 Download and convert Spotify music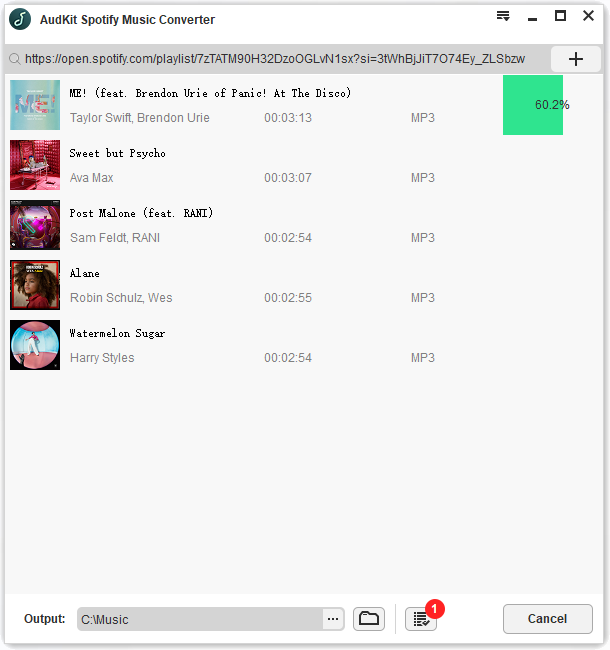 Finally, click the "Convert" button at the bottom right to start conversion. When it's done, you can get Spotify music as local files on your computer. And you are able to stream Spotify music on any music player without Spotify stops playing issue.
---
Conclusion
Above are seven useful methods to fix Spotify stops playing issue. You can firstly check your Spotify with the six methods in Part 2. If the problem is still not solved, you can turn to the ultimate way in Part 3. Using the AudKit SpotiLab Music Converter, you don't need to worry about Spotify pausing issue. Because it helps you download Spotify music as local files and convert Spotify music to multiple kinds of audio formats. That enables you to stream Spotify music on any other music players on your device, or any other device.
---