The biggest strength of Spotify is to create playlists depending on the preference of someone's listening taste and liking or disliking some songs. It can help Spotify's algorithm to understand them better.
Well, everybody is familiar with how to like any song on Spotify. If a person is listening to music and specifically enjoying it, they can hit the like icon present next to the song. All the liked songs will display in your library in the liked playlist. It helps Spotify to play songs similar to your interests to provide you with an overall personalized experience.
However, things are slightly different with the Spotify dislike songs option, which is not directly portrayed. Still, there are numerous ways to dislike song Spotify. Let's proceed to learn how to dislike a song on Spotify.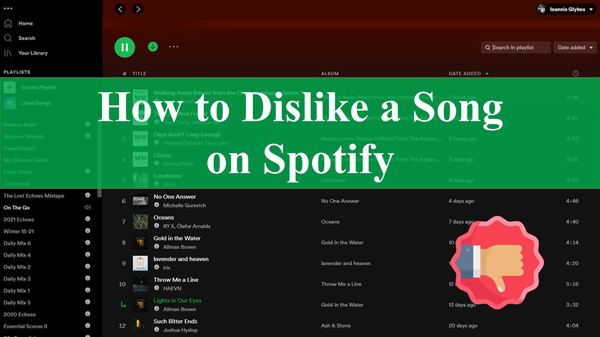 ---
Part 1. How to Dislike Songs on Spotify Premium
If you are wondering, "can you dislike a song on Spotify?", then the answer to your question is Yes. Spotify has introduced the latest feature for Android and iOS versions, allowing premium users to hide songs they don't wish to listen to within a playlist. So, the song will always automatically skip while listening to the playlist. If you have changed your mind, you can also unhide a song on Spotify. This minor update offered by Spotify allows premium users to customize their created playlists that can still contain songs they don't like.
Here is how to dislike music on Spotify Premium:
Step 1: Firstly, you need to navigate to the three dots menu on a song in the playlist.
Step 2: Select the option "hide this song". Moreover, you can also visit an artist's page, and select Don't play this from the context menu.
Step 3: On the desktop, you get the options to hide songs in some of made for your playlists and the unlimited radio stations.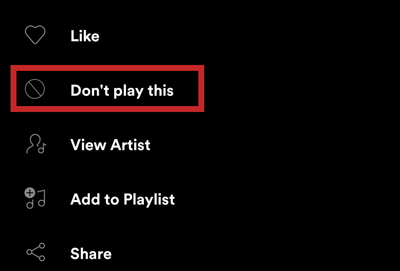 ---
Part 2. How to Dislike a Song on Spotify Free
For the people who are using the free version of Spotify, the steps to dislike a song are as follows:
Step 1: Open the Spotify app.
Step 2: Go to your favorite playlist and start playing a song.
Step 3: Then, open the playback screen. Here you will find the '⊖' icon to the right of the pause/play button.
Step 4: Tap the button which will hide the song from appearing in that specific playlist, album, or station. This hide/dislike button must occur on any song, whether it's being played from a playlist, album, Daily Mix, etc.
Tips: How to See Disliked Songs on Spotify
Songs that you've disliked would not appear in every list view. To see your disliked songs, you can navigate to the "Home" tab, and hit the "Settings" icon at the top. Then hit on the "Show unplayable songs". You will see your disliked songs.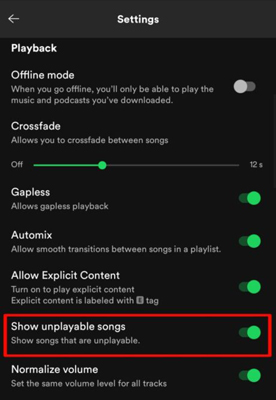 ---
Part 3. How to Dislike Spotify Songs Everywhere
Apart from selecting the specific song on Spotify to dislike, you can simply download just your favorite songs for offline listening. AudKit SpotiLab Music Converter is all you need to get the best songs. This application helps to download Spotify songs, playlists, radio, and albums on a local PC and convert them into WAV, MP3, M4A, or any other format compatible with your device with zero loss quality.
You can import Spotify songs in large numbers from your premium or free account into AudKit Spotify Music Converter and save Spotify on PC or Mac in several simple clicks. In this way, you can dislike and download Spotify songs everywhere.
Moreover, it has the latest technology to convert the file at a high rate of 5X speed. Your downloaded Spotify songs can be transferred and streamed to any device offline with the help of the AudKit SpotiLab Music Converter.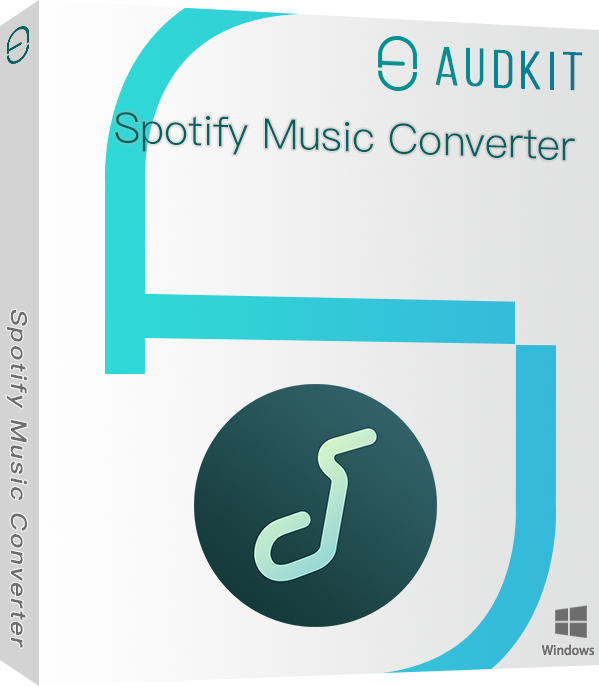 Main Features of AudKit Spotify Music Converter
Compatible with all versions of the Spotify desktop client
Listen to the ad-free Spotify music offline without a premium account
Easily organize the local Spotify music library by the instinctive ID3 tags
Freely customize the output format and other parameters
How to Use AudKit to Download Spotify Liked Songs
Step 1 Add favorite Spotify songs to AudKit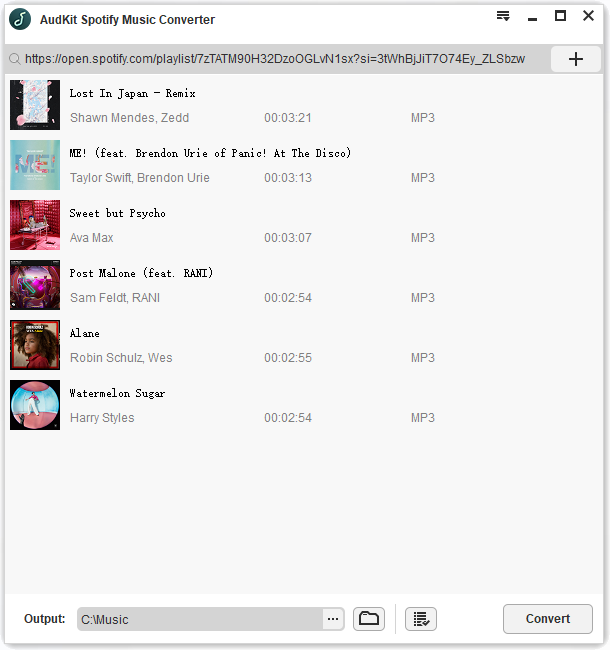 Download AudKit Spotify Music Converter and launch it on your device. Then add albums, and songs from Spotify, whether you are a paid or free user. Right-click on the selected song and then copy the song link. Paste it in the search box and tap the "+" tab to import it. Also, you can directly drag and drop the songs from Spotify to the converter.
Step 2 Customize the output quality of Spotify liked songs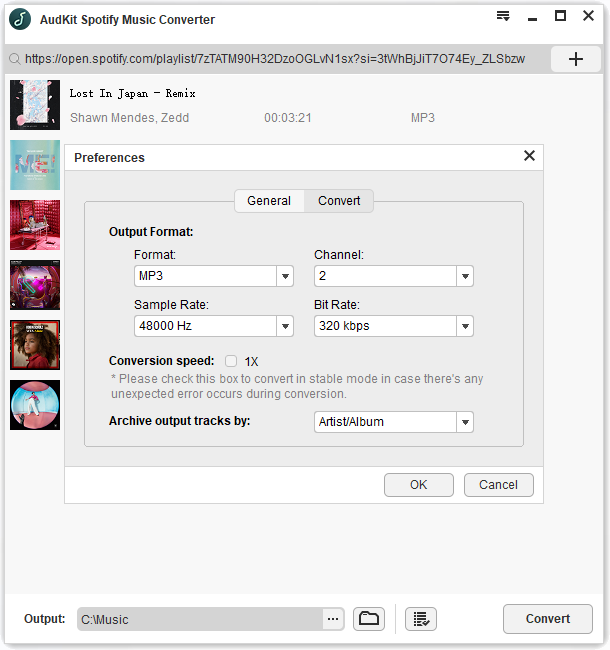 Click on the menu icon and then select the Preferences option and Convert tab. You can set the preferences for the output format and the audio attributes. You may also edit the audio parameters like sample rate, bit rate, and channel to save the output tracks. It's recommended to select the MP3 format to satisfy most music players or devices.
Step 3 Download your Spotify songs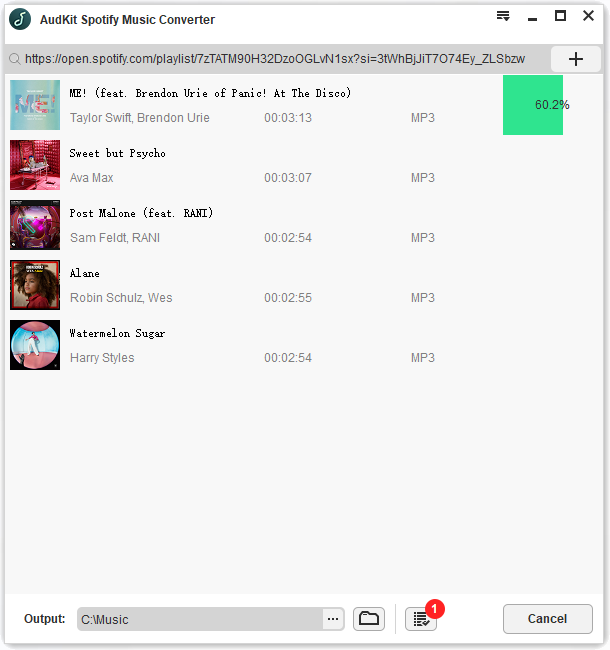 Hit the Convert button from the bottom-right corner to download Spotify playlist teemed with your most listening songs. Once done with the conversion, all the downloaded songs will be saved as MP3 files in the local folder. Now, you are ready to transfer and play only your favorite Spotify tracks on any device anytime and anywhere.
---
Part 4. How to Dislike an Artist on Spotify
Hiding an artist on Spotify will stop their music from appearing in the music suggestions and auto-generated playlists. Here are the steps to unlike an artist.
Step 1: Go to Spotify app on your mobile phone. If there is an artist that you don't want to hear in your playlist, you can block them easily using the mobile app. The process is straightforward if you have already blocked an artist and want to listen again.
Step 2: Search for the artist page by typing the band's or artist's name. Then, tap on the matching result to open the artist page.
Step 3: Tap the context menu with three dots. A menu will open.
Step 4: Select the "Don't play this artist" button to unlike or hide the artist. The artist will be blocked. You can unblock by repeating this process and then select remove text present next to the blocking icon. Spotify will immediately determine your new selections.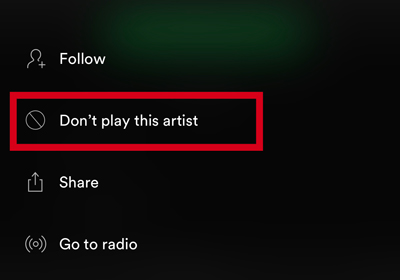 ---
Part 5. Conclusion
Getting aware of how to dislike a song on Spotify is quite easy. The AudKit SpotiLab Music Converter creates the playlist of your tracks depending on your liked songs. Moreover, the AudKit Spotilab Music Downloader downloads the tracks in seconds and converts Spotify tracks. With this, you can listen to just your liked songs to convert and listen to any device anywhere.
---