Spotify is a leading online platform that offers music streaming services. Users can choose from an ad-based free plan, which limits the quality of the audio, or a premium plan that provides more than high-quality audio. In addition, you can discover new artists, sign in to multiple devices, create and share playlists, and much more.
Spotify history is a unique feature that allows you to access artists, albums, songs, and playlists that you played recently. What makes it fascinating is that Spotify listening history is available to everyone who follows you or those who can access the playlists. As a result, you may feel this feature is an invasion of privacy.
If you are a person who likes to keep the listening habits to yourself, then continue to read the post that discusses the solutions to check and clear the Spotify history. Clearing the history helps protect your privacy and start with new recommendations from Spotify.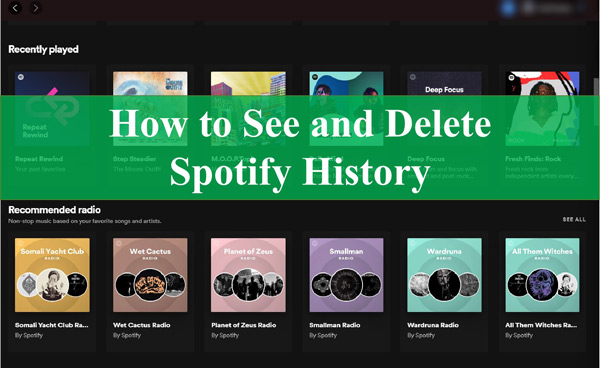 ---
Part 1. How to See and Check Spotify History
You can actually access Spotify on your smartphone, computer or web browser, which leaves Spotify history, so let's learn how to see listening history Spotify on different devices first.
How to Check Spotify History in Mobile App
Step 1. Launch the Spotify app on the phone and then sign into your Spotify account.
Step 2. Tap the "Home" button to go to the home screen of Spotify.
Step 3. Click the icon as shown in the image to check the recently played list.
Step 4. You will see the list of songs, playlists, albums, etc., that you have listened to recently.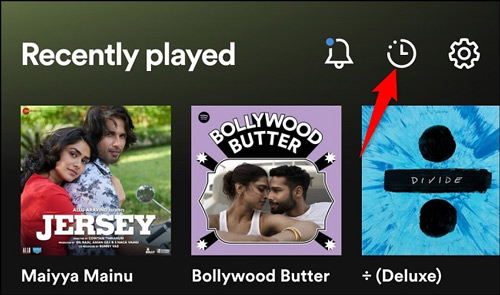 How to See Spotify History on Desktop App
Step 1. First, launch Spotify on your computer, then log into your account of Spotify.
Step 2. Besides the volume bar at the bottom, you will notice a play icon with horizontal lines. It is the queue option. Click it!
Step 3. Spotify will open the queue. Here, select the recently played tab, as shown below.
Step 4. You will now see all the playlists, songs, albums, and everything you did on Spotify here.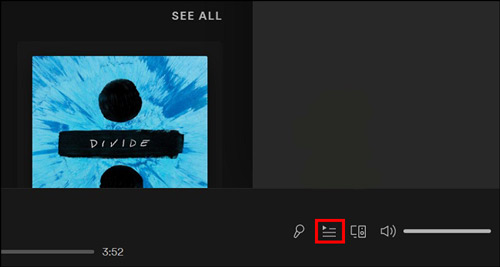 How to View Spotify History on the Web
Step 1. Log into your Spotify account using a web browser. Then select "Home" from the left side, as shown below.
Step 2. Once you click the home button, you will see all the albums or songs you have played recently on the right side.

---
Part 2. How to Delete Spotify Listening History
Now that you've learned how to look at Spotify history in the previous section, it's time to learn how to delete history on Spotify mobile app and computer app for better protection of your privacy.
How to Delete Spotify History on iPhone/Android
Step 1. Run the Spotify app on your iPhone or Android device, tap the three-dot icon in the top left corner, and hit on the "Recently Played" section in the drop-down list.
Step 2. Find and select the Spotify song you want to delete from the list, and swipe left to tap the "Delete" option.
Step 3. After that, the deleted Spotify songs will no longer appear in the Spotify listening history.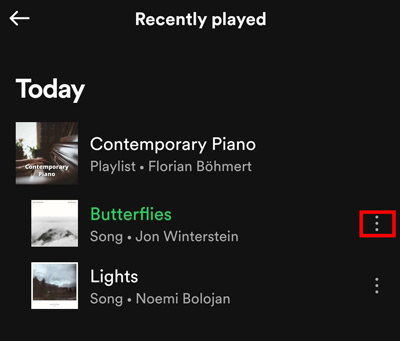 How to Clear Spotify History on Computer
Let's learn how to clear Spotify history from your computer, provided that Spotify hasn't received any recent updates. Please follow the steps below:
Step 1. First, launch Spotify app on Mac or Windows computer. Then, scroll down the home page to see the recently played list. Then, click "See All" beside the heading.
Step 2. Next, identify the song, album, or playlist you want to delete. You can hover the cursor over the album media to bring up the three-dot menu. Alternatively, you can right-click it.
Step 3. From the menu list that appears, click "Remove from Recently Played". Thus, you can remove all the recently played items and start over. However, remember that this option will only function if you have not updated Spotify to the latest version.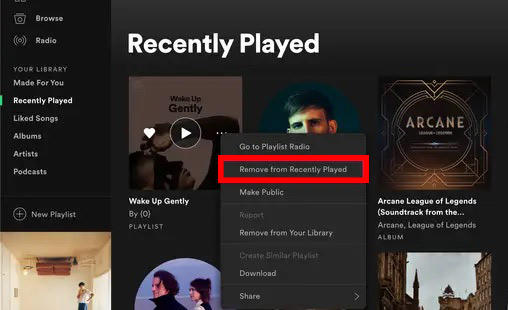 ---
Part 3. How to Listen to Spotify Offline without Premium
Spotify listening history can be a threat to people who prefer privacy. Given that other people can see what a person is listening to or the artists they follow, Spotify history may not be the ideal feature for everyone. A better way is to download all your favorites on your computer without letting anyone else peek at what you're listening to. But Spotify doesn't allow local downloads? Yes, it's true, and that's why you need AudKit SpotiLab Music Converter.
AudKit SpotiLab Music Converter helps you download Spotify music to computer without any quality loss, including MP3, FLAC, AAC, WAV, M4A and other formats. This way, you can enjoy your favorites permanently on any device without the need for a premium account. Moreover, it protects ID3 tags and audio quality even when converting at high speed. Therefore, you can convert all your Spotify music and save them on your computer in a matter of minutes.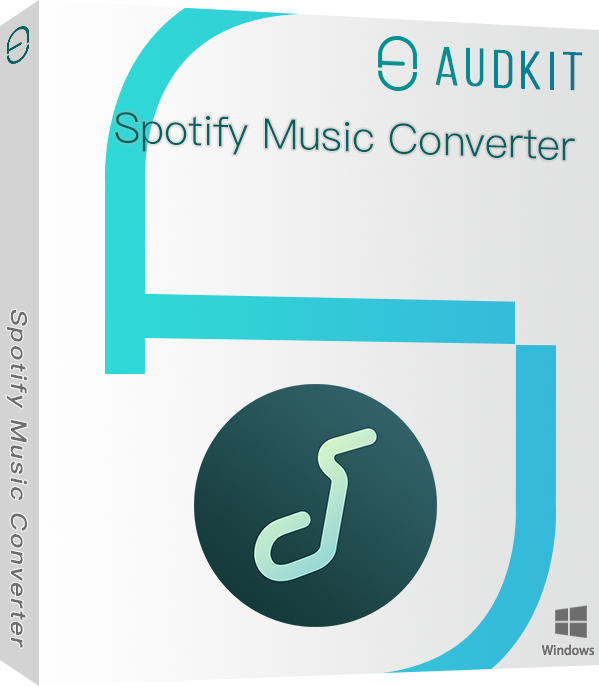 Convert Spotify music to common audio formats, such as MP3, AAC, FLAC, etc.
Download Spotify songs, albums and playlists to your computer locally
Keep Spotify songs' ID3 tags and metadata information intact
Listen to your favorite Spotify songs offline without the premium
How to Listen to Spotify Offline without Premium
Ensure that you have installed and completed the registration process before proceeding with the steps.
Step 1 Add Spotify to AudKit Spotify Music Converter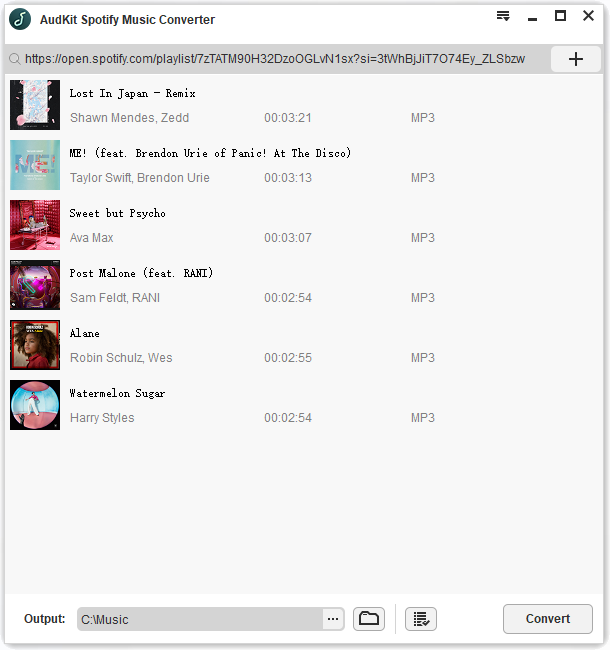 Launch SpotiLab Music Converter along with the Spotify app. Select a playlist or album from the Spotify app and copy its link. Now, paste the link into the search bar of AudKit SpotiLab Converter. Continue to add music by clicking the "+" symbol.
Step 2 Reset audio preferences for Spotify songs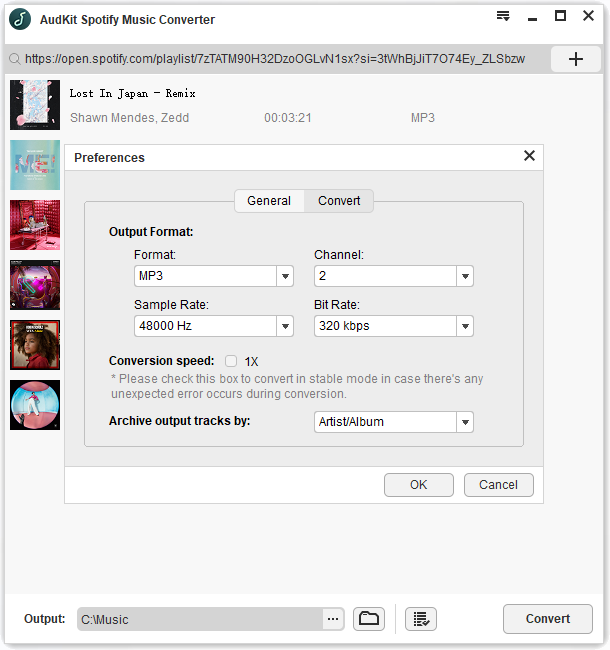 Click the menu button and select "Preferences", then select the "Convert" tab in the window that opens. Here you can change the format, sample rate, bit rate and audio channel of Spotify music. Likewise, you can select how you want to archive your Spotify content – by artist or album.
Step 3 Download and listen to Spotify offline without history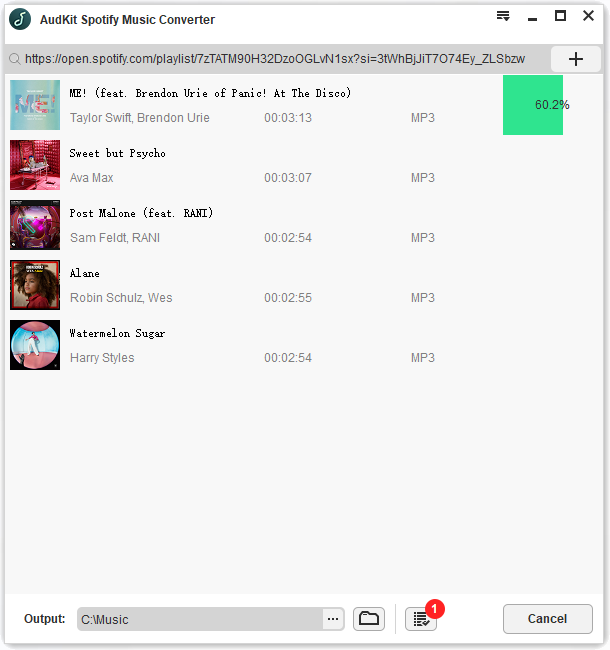 Start downloading and converting Spotify songs by clicking the "Convert" button. When it's done, click the folder icon at the bottom to open the destination folder. Here, you will have all the downloaded and converted Spotify music files. In this way, you can enjoy your favorite Spotify songs without leaving any Spotify listening history.
---
Part 4. Conclusion
Spotify history is a great feature because it recommends new artists and music based on your listening experience. However, for those privacy-conscious users, you can check and clear your Spotify listening history by following the tutorials in this article. Alternatively, downloading Spotify songs locally is a better way to listen to Spotify and keep things personal. Try AudKit SpotiLab Music Converter to listen to Spotify offline without premium on any device!
---