The tracks from the Liked Songs list seem to be suddenly completely missing after an upgrade to Spotify, according to many people. Although if visitors attempt to reload the page in this situation, they are presented with an empty playlist. There seems to be an empty playlist with the phrase "Your liked songs will appear here" if you select your favorite music in the collection. If you are currently wondering, "Why are my liked songs not showing on Spotify?" we can help!
While there are numerous sites where the Spotify liked songs not showing problem has been mentioned, we'd rather keep the various platforms or systems apart in this article. We will include reasons why Spotify not showing all liked songs, methods on how to fix the issue, and obtain Spotify-liked music to computer locally that is gone. Read on.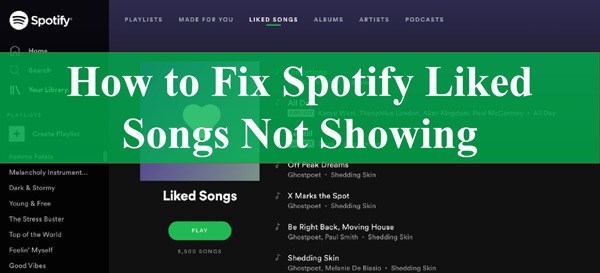 ---
Part 1. Why Are My Spotify Liked Songs Not Showing
Your favorite music may not appear on Spotify for a variety of factors. Here are a couple of these explanations:
1. Virus Attacks
Virus attacks are among the most frequent causes of the issue of "liked songs not showing up on Spotify". The root problem of Spotify not displaying liked songs might be a malware attack on the system. Your Spotify records could easily be corrupted by malware or a virus, leading to this issue.
2. Expired Membership
The Spotify app may have removed the song after the paid premium service had run out. You cannot continue to see the Spotify tracks you've liked when your Spotify paid version has expired. You will need to reactivate your subscriptions to see your liked songs again on Spotify.
3. Network Accessibility
This Spotify issue might be caused by the inconsistent connection to the Internet that you are using because a poor Internet connection might affect the way Spotify synchronizes your data. You may find it shocking, but usually, it's the primary cause of Spotify missing liked songs.
4. Removal
Another potential explanation for the disappearance of Spotify liked songs is mistaken removal. You should save all the tracks from Spotify in the appropriate location, such as the media library. It is indeed probable that somebody would unintentionally remove a piece of music you liked on Spotify.
---
Part 2. How to Solve Spotify Liked Songs Missing – Common Solutions
If you have a situation of liked songs not showing up on Spotify desktop or mobile, don't freak out. You can get support using the following solutions to resolve it quickly.
1. Reinstall the Spotify Application on Your Device
Uninstalling and then reinstalling the Spotify app on your device is the primary step if the issue is related to the app itself. To delete the Spotify app from any Windows and Mac system, follow these directions.
On a Windows
Step 1. Click the "Apps" option under System Settings.
Step 2. Next, select the "Spotify" application, tap on it, and then choose "Uninstall". Then, select "Agree" from the confirmation window's buttons.
Step 3. Pause for the uninstall to be finished.
Step 4. Reboot the computer.
Step 5. Download Spotify music to computer from the Windows app stores, then run it.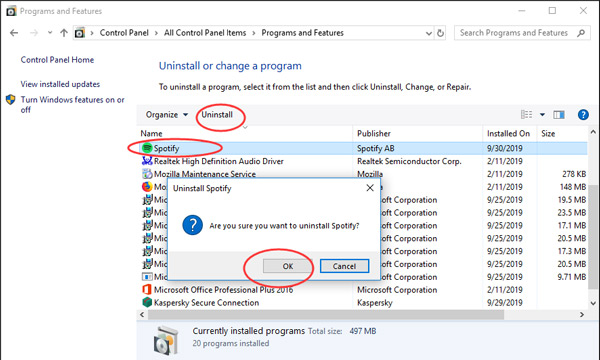 On a Mac
Step 1. Enter "Finder" and select "Go" from the Menu.
Step 2. Next, choose "Library" from the drop-down.
Step 3. Select "Caches" and remove the "com.spotify.client" and "com.spotify.client.helper" directories from your computer.
Step 4. Access the "Application Support" after clicking the back arrow, and remove the Spotify folder.
Step 5. Reinstall the "Spotify" software to complete the process.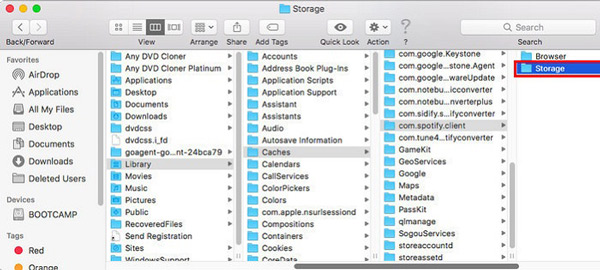 2. Check the Network
A poor internet connection may be one of the causes of your favorite tracks not appearing. So, you really should make sure that your internet is functioning correctly.
When connected over Wi-Fi, consider rebooting the router to see if it resolves the issue. Ensure that you have sufficient data left in case of mobile internet.
3. Membership Renewal
Moreover, if your Spotify Premium subscription has run out, your liked songs won't play. Users will need to reactivate their membership to solve this issue. Launch the Spotify app, then select the "Account" tab. After that, select "renew my subscription" to fix liked songs not showing Spotify.
4. Make Sure You're Logged into the Correct Account
Just double-check that you were using the correct Spotify account. When you've connected Spotify to Facebook, log in by choosing "LOG IN WITH FACEBOOK". Confirm that the email you entered into Spotify is accurate in case it's not linked to your Facebook account.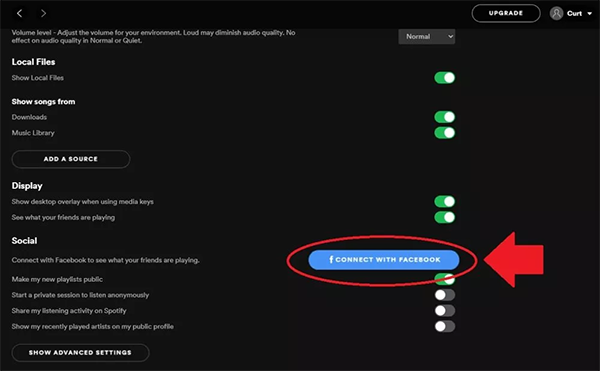 5. Use a Different Device
Spotify liked songs not disappeared on phone could be due to a breakdown or malware assault on a device. Use a different device in this situation to check whether you can still get all liked songs from Spotify to show successfully.
---
Part 3. How to Fix Spotify Liked Songs Not Showing – Permanent Solution
Typically, a paid membership is necessary to create a Spotify collection of your favorite music. It implies that you cannot view the Spotify tracks you like when using a basic account or even if the Spotify subscription has ended. Plus, you won't be able to view the Spotify playlists often, particularly if you don't have a connection to the Internet.
That means there are a lot of restrictions on how you can enjoy your Spotify liked songs list. For this case, we'd like to present you with a permanent resolution for the Spotify trouble of not displaying all of your favorite tracks. With this technique, you simply download your preferred Spotify playlists so that you can access them anywhere at any moment.
For this issue, AudKit SpotiLab Music Converter is the ideal option. Its sole purpose is to enable offline listening of any Spotify track, playlist, album, etc., without requiring a premium account. It can download Spotify to AAC, MP3, M4A, M4B, WAV, FLAC, and other widely accepted audio formats. The converter even downloads songs from Spotify with a 5X download speed. Therefore, a 5-minute track only requires a 1-min conversion time.
And the fascinating feature is that 100% of the Spotify songs' lossless sound quality can be preserved, and all of the original Spotify music metadata, like track numbers, musicians, titles, and albums, is retained in the converted files. It makes it easy for you to stream Spotify music on any gadget and player without using the Spotify app.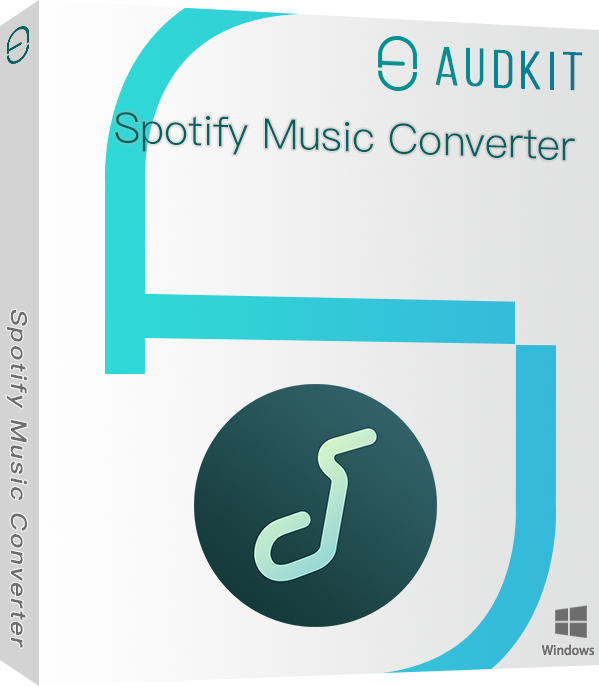 Main Features of AudKit Spotify Music Downloader
It enables you to listen to Spotify songs offline without Premium anytime
It removes the ads, so the converted Spotify files are ad-free
You can play your Spotify liked songs on multiple devices
It is accessible to Spotify users without a premium account
How to Download Liked Songs from Spotify by AudKit Spotify Music Converter
Step 1 Download and install AudKit Spotify Music Converter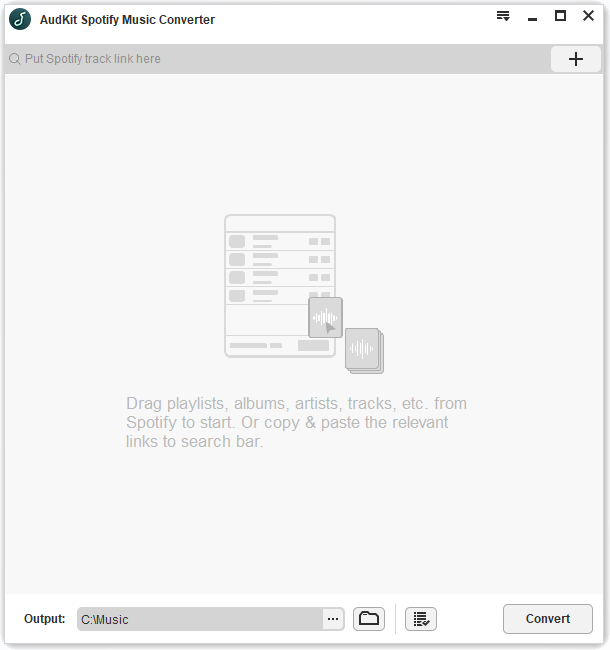 Select the Download button on the website to get the AudKit software and install it onto your computer. Start AudKit Spotify Music Converter after that, and the Spotify app will start immediately. Pick Menu > Register from the upper taskbar to access all of AudKit's features.
Step 2 Add Spotify liked songs to the AudKit converter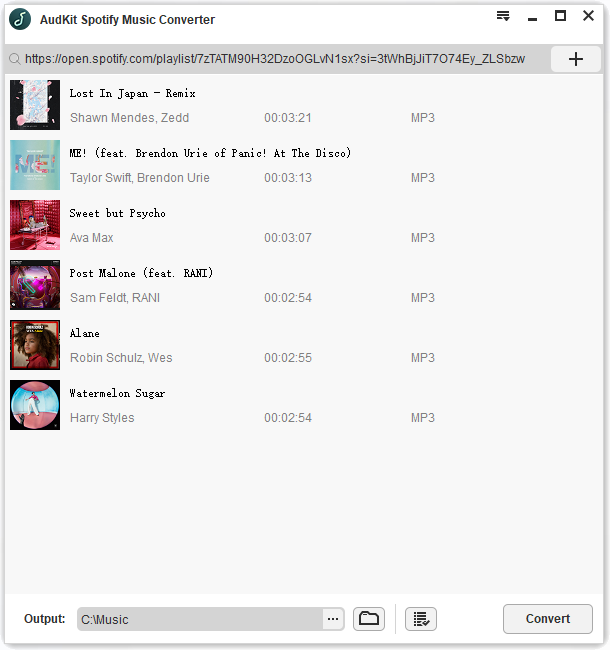 Whether you are a paid or unpaid user of Spotify, you can explore and choose any songs, albums, or playlists through the Spotify app. Right-click one Spotify liked song you want to download and choose Copy Song Link under the Share option. Next, in the AudKit UI, put the URL into the search box. To import it, select the "+" button. Or, you could simply drag and drop tracks from Spotify into the converter.
Step 3 Change Spotify liked songs audio settings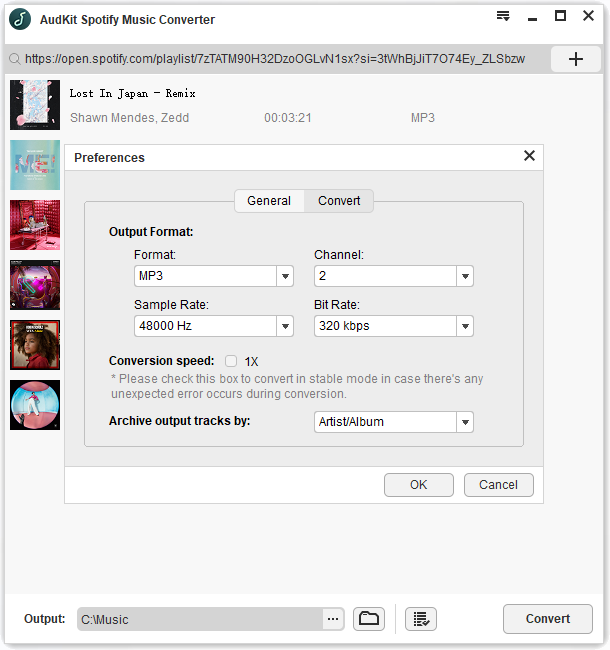 Select Preferences in the top menu. You could then adjust the output format by selecting the Convert option. Here're the format, channel, bitrate, conversion speed, etc. 5X is the standard running rate. Change the rate to 1X if you want a steady Spotify conversion.
Step 4 Download liked songs from Spotify on desktop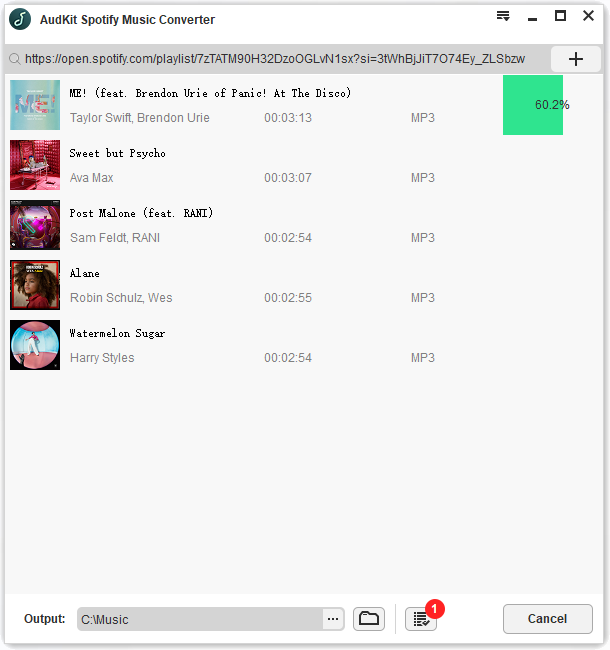 In the lower right corner, click the Convert option. AudKit Spotify Music Converter will start downloading your liked songs from Spotify. Once done, all downloaded music files from Spotify will be stored in the local directory on your computer. You then will not have the problem of all likes songs missing Spotify.
---
Part 4. Final Words
The trouble with your Spotify liked songs not showing is a normal issue and can be fixed easily. This article has provided instructions on fixing the problem according to different causes so you can keep grooving to your favorite Spotify tracks. And to avoid the Spotify missing issue, it's better to keep your liked songs offline with AudKit Spotify Music Converter which can solve it once and for all.
---