Spotify is a music streaming service famous for the million tracks on it. It offers you hundreds of millions of tracks by registering on Spotify. You can also access its website if you do not have downloaded the Spotify application. When it comes to the songs in your Spotify playlist, then there is a question that arises by Spotify subscribers, how Spotify saved songs disappeared? It looks like as time passes; your Spotify tracks playlist gets shorter because some of the tracks may be disappeared.
To get rid of the disappeared tracks issue, we come up with some of the problems that may cause trouble for the tracks in your Spotify playlist or downloaded tracks. There could be many reasons for the instant deletion of tracks from Spotify. We will explain to you all the possible reasons due to which Spotify songs disappeared.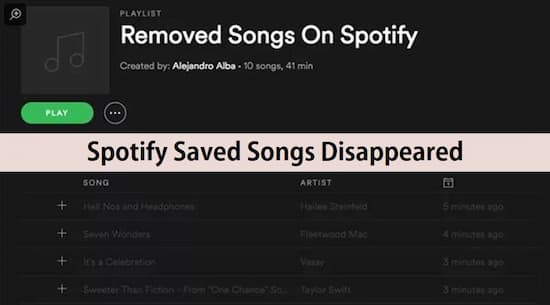 ---
Part 1. Why Spotify Saved Songs Disappeared: Reason
All the possible reasons for the user's problem that in Spotify my songs disappeared are explained below:
1. License authorization removal by artists or Spotify producer team.
If that is the case, your downloaded tracks of those artists will be greyed out and gets disappeared from your playlist. It may be due to the dissatisfaction of the artist from Spotify's free account service.
2. Expired tracks or limit of downloaded tracks exceeds.
You need to open and go online on Spotify so that you can ensure your membership; otherwise, your tracks will get expired. Moreover, Spotify offers 10000 limits for downloading your favorite tracks, but if you exceed that limit, then Spotify will remove your old tracks to download the new ones.
3. Change in location or Network problem.
Spotify is categorized as playing a song in different regions like some of its tracks can only be played in one region but not in another. If there is a network problem, then Spotify can't detect your location, and issues of song disappearance may happen at that time. For this purpose, you are suggested to use VPN.
4. Exceptions happened due to viruses.
It necessary for you to take care that antivirus is installed on your computer; otherwise, it may cause songs on Spotify to disappear.
---
Part 2. Spotify Saved Songs Disappeared: Solved
The issue of the disappearance of Spotify songs has to be permanently resolved. How about permanently downloading your favorite tracks on your devices? For this purpose, you need to use a tool and get rid of this disappearance issue. AudKit Spotify Music Converter is a well famous tool use for the conversion of Spotify tracks into other formats to make downloading possible on any device. This Spotify Music Converter has some features which make its working special from other converters.
The main feature or task of AudKit Spotify Music Converter is to convert Spotify to MP3, M4A, M4B, ACC, WAV with a 5 times faster speed of conversion. It downloads the Spotify tracks on any type of device for offline use.
This Spotify Music Converter keeps the original quality of the tracks even after the conversion or downloading process. It is easy to use while downloading the tracks on your computer.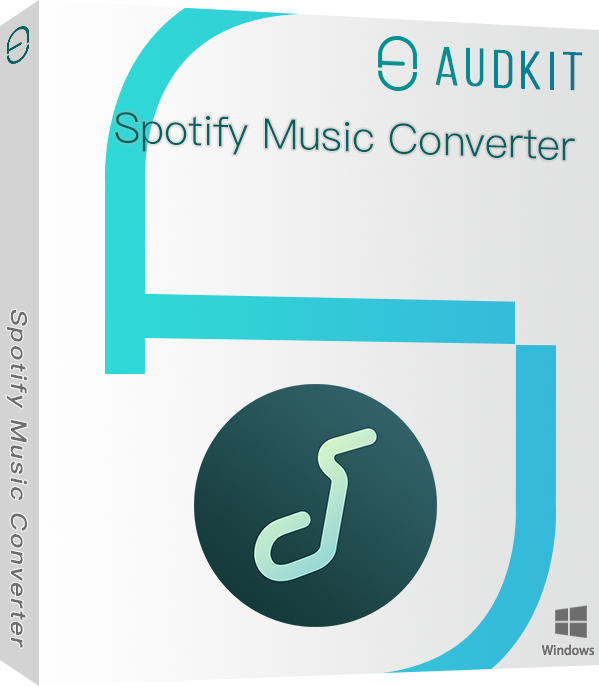 Batch download Spotify songs on local computer
Convert Spotify Ogg Vorbis to MP3 and other formats
Keep 100% sound quality and 100% ID3 tags for edit
Available to play Spotify songs in other players
How to save Spotify music on your device permanently
For permanently downloading Spotify tracks on your device, you need to follow the steps below.
Step 1 Add Spotify tracks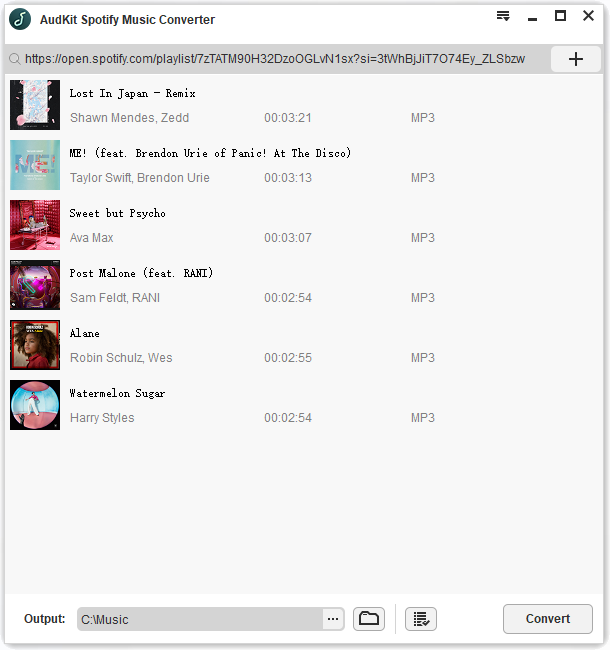 Choose your Spotify albums, playlists, podcasts by searching from the Spotify application. Then right-click the selected tracks and click on "Share" and "Copy" the link of selected tracks. After that, paste the copied link on AudKit's browse box to search them. Click the "+" tab on the right side of the link to add it. The other way is to drag the tracks and drop them into AudKit's page.
Step 2 Adjust formatting and other attributes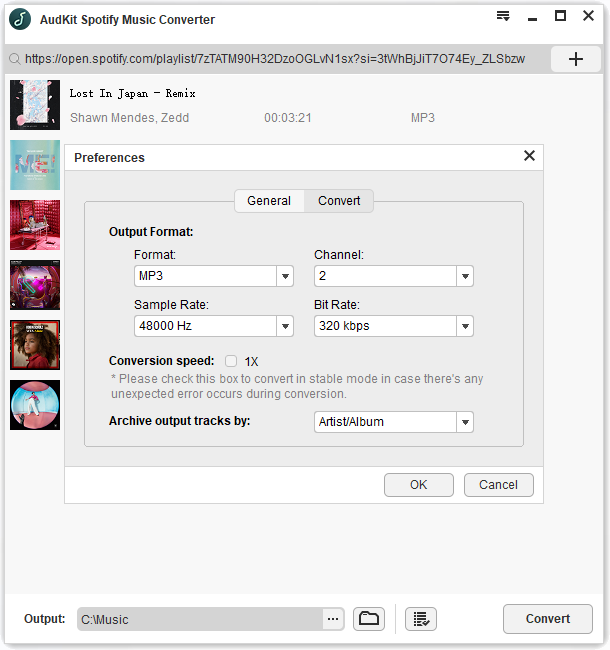 Tap the "Menu" from the taskbar and then the "Preferences." Then by selecting the conversion option, you can choose the output formats like FLAC, MP3, M4A, M4B, ACC, WAV. You are also allowed to adjust the audio properties like channels, sample rate, etc.
Step 3 Convert and download Spotify tracks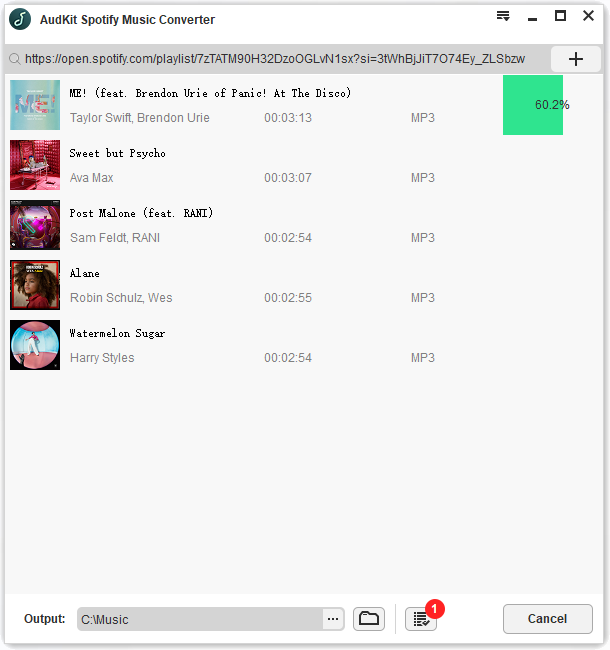 On the bottom right corner, there is a "Convert" button; click on it. The conversion will start the conversion of the tracks according to your requirements. When the conversion would be done, all your tracks will be downloading and saved into a local file on your PC. You can change the position of the folder by clicking on the folder icon at the bottom of the page. Now you are free to use the downloaded tracks wherever and whenever you want to.
---
Conclusion
In this article, we have tried to resolve your issue of Spotify saved songs disappeared by discussing the issue causing parameters that why this tragedy could happen with you. Moreover, we have discussed AudKit Spotify Music Converter, which you can use as a solution to this problem and permanently download your favorite Spotify tracks on your device.
---