Spotify is one of the leading music streaming platforms trusted by many users. You can listen to millions of songs on Spotify with the best audio quality. However, if you are not a premium user of Spotify, you may encounter ads while playing the songs.
Ads can ruin the listening experience as it disrupts your whole temperament. Resultantly, you won't be able to relax and enjoy listening to your favorite songs. Fortunately, there are some designed ways that let you remove ads from Spotify. If you are unaware of such reliable ways, this article can help you.
For your convenience, we have suggested multiple tools and methods on how to remove ads from Spotify for free. Each method is well-described; thus, you can select any solution according to your feasibility.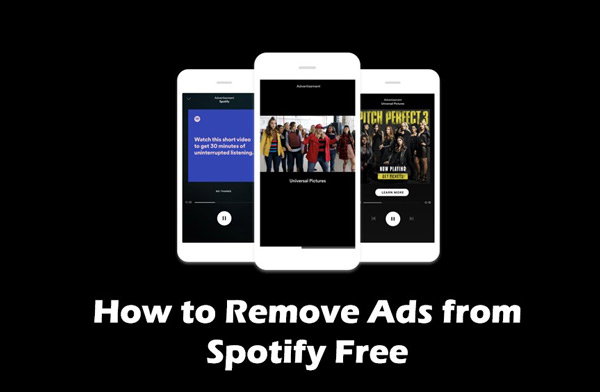 ---
Part 1. How to Remove Spotify Ads for Free on Windows/Mac
The best solution to remove Spotify ads on the computer is by downloading the preferred songs on your desktop. In this manner, you would be able to play your Spotify songs offline without interruptions. To download Spotify songs in their original quality, you can try the AudKit Spotify Music Converter.
This tool supports all the desktop platforms that allow users to download their favorite Spotify songs on any platform. Besides songs, you can also download Spotify playlists, albums, remixes, podcasts, and more. Furthermore, this tool provides you with the option to convert the file format of downloaded Spotify songs efficiently at 5X. You can convert Spotify files into M4A, M4B, WAV, MP3, and other formats flawlessly.
With Spotify Free, you can easily download and remove ads from Spotify songs with this converter. Once you have done the conversion, you can play Spotify songs on any media player and device with no ads. Therefore, AudKit Spotify Music Converter is a well-trusted platform that can assist you in listening to Spotify songs without annoying ads.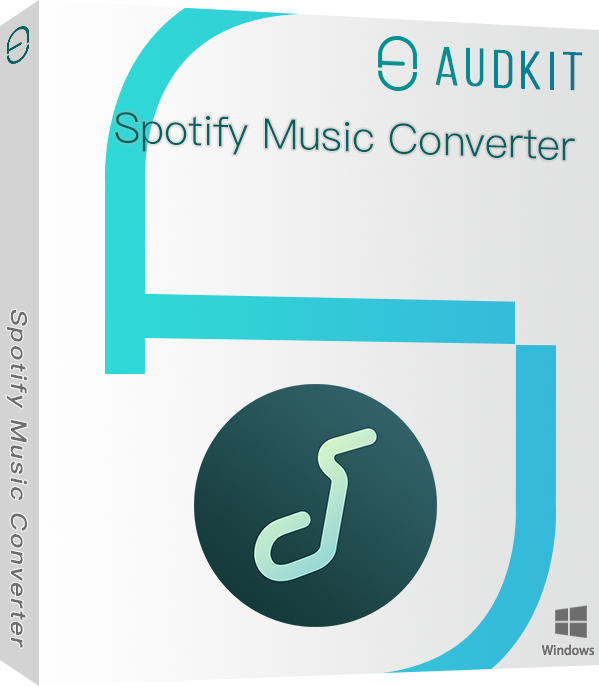 Offers 5X speed to download Spotify to common formats quickly
Save ID3 tags and the original sound quality of Spotify
Start the Spotify conversion with a Spotify Free account
Download and enjoy ads-free Spotify tracks offline
How to Remove Ads from Spotify Windows/Mac with AudKit Spotify Music Converter
Are you ready to learn how to remove ads from Spotify PC using AudKit Spotify Music Converter? Proceed to the following section to find the related instructions.
Step 1 Install AudKit Spotify Music Converter on PC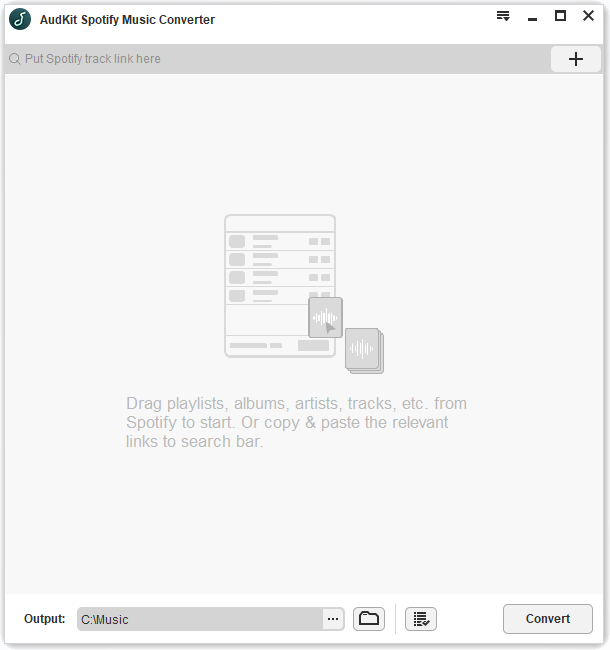 Install the latest version of AudKit Spotify Music Converter on your desktop by visiting its official website. For smooth installation and registration, follow the on-screen guidelines. Once the tool gets downloaded, its main interface will open automatically.
Step 2 Paste Spotify links into AudKit SpotiLab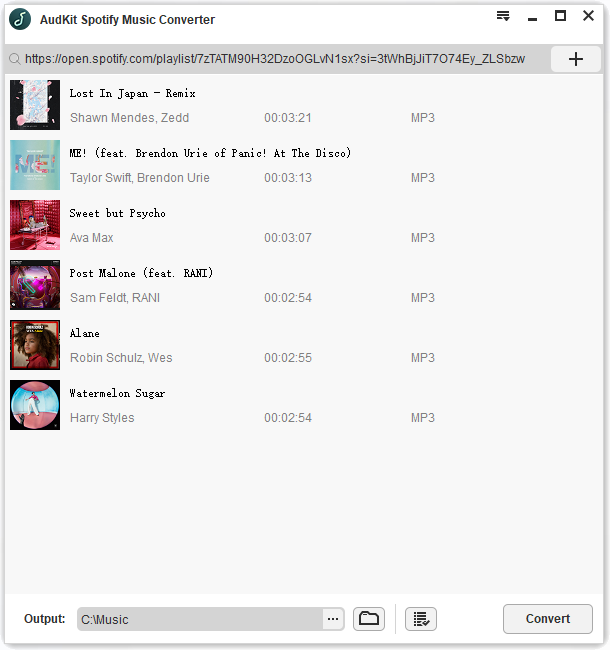 Now, open your Spotify and locate your favorite songs, albums, or music tracks. Right-click on your favorite song and click on the "Share" option. Following this, tap on "Copy Song Link" and then paste it into the search box of the AudKit. You can also use the "Plus" icon to import the soundtracks to AudKit Spotify's interface.
Step 3 Customize Spotify music conversion output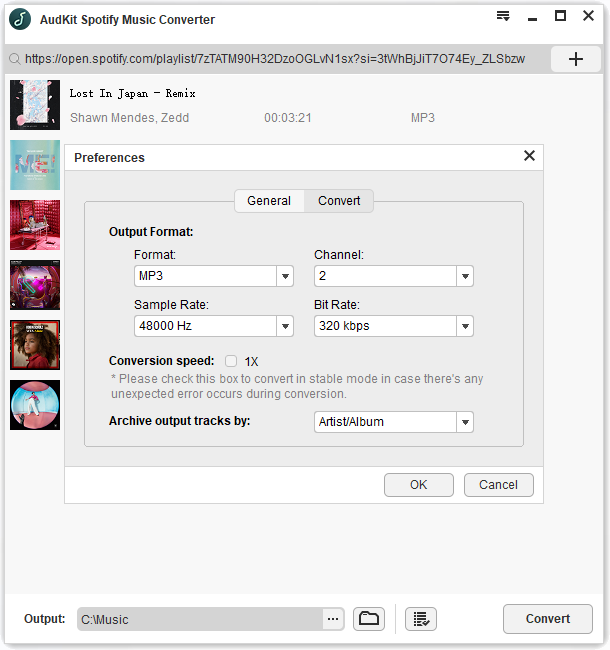 Afterward, head to "Menu" displayed at the taskbar above and tap the "Preferences" option. By doing so, you can easily choose the audio format to convert Spotify to WAV, MP3, AAC, etc. You can also customize the bit rate, channels, and other output settings. It also allows you to specify the conversion speed according to your need.
Step 4 Download and remove Spotify ads free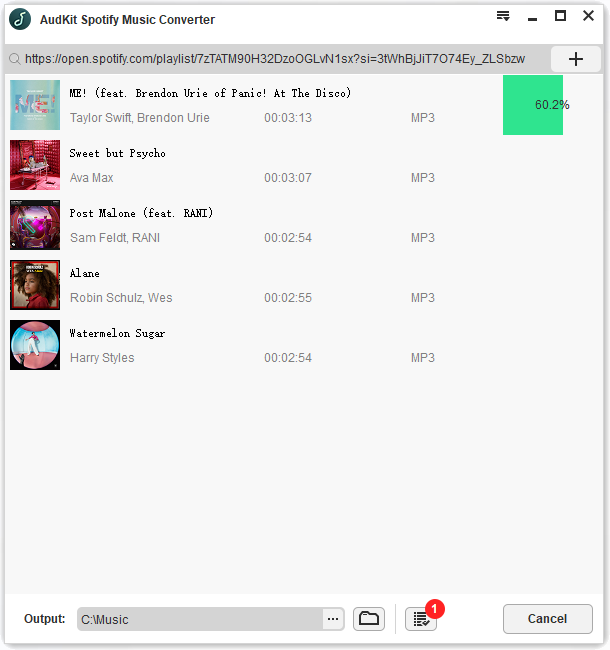 To begin the conversion, click the "Convert" button displayed at the bottom-right corner. Once the conversion is done, your favorite Spotify songs will be downloaded to your PC/Mac successfully. To locate them, you can tap on the "Folder" icon. And the Spotify audio files are saved in lossless quality without ads.
---
Part 2. How to Remove Spotify Ads without Premium on Android/iPhone
If you are an Android or iPhone user, you would also need a friendly app that can remove Spotify ads effortlessly. In this regard, we suggest the StopAd app that is compatible with iPhone and Android devices. Through this app, you can remove pop-up ads from multiple websites automatically. 
It's a free Spotify ads remover that does not require any registration or subscription. Thus, with StopAd, you can target the annoying ads on Spotify that are disrupting your user experience. Besides Spotify, StopAd can also function to remove sponsored ads on Facebook. To use this app, follow the steps described below to learn how to remove ads from Spotify Android/iPhone app:
Step 1. Download and install StopAd from the provided links on your Android or iOS device. Following this, enable the StopAd option to enable its ad block features.
Step 2. If you want to block the ads on the Safari browser, then open the iPhone settings and access the Safari app settings. Afterward, choose the "Content Blockers" feature and toggle the StopAd app.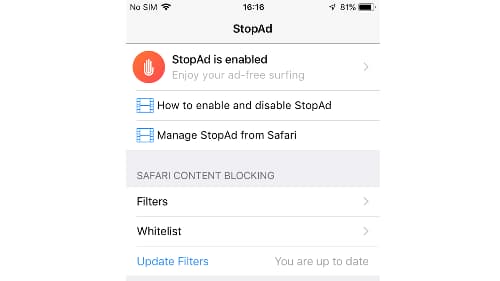 ---
Part 3. How to Block Ads from Spotify Web Player on Chrome
If you are using Spotify web player on Chrome, you can still block ads using a trustworthy Chrome Extension. For this, we recommend using SpotiAds, which is a reliable Spotify ads remover for Chrome. It's free of cost and functions automatically once you add it to your web browser.
Thus, adding this Chrome extension can be a great idea if you want to enjoy your Spotify songs on your web player easily. To use SpotiAds, you can check the following instructions:
Step 1. To begin, navigate to your Chrome web store on your PC/Mac.
Step 2. On the search box, type "SpotiAds" to proceed. Select it from the search results and hit the "Add to Chrome" button.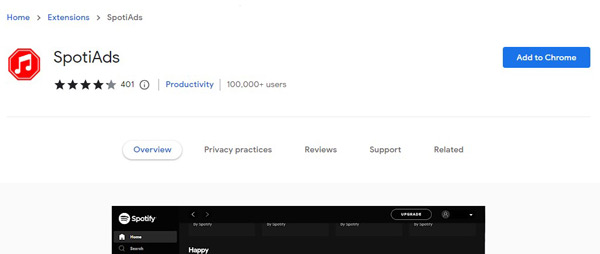 Step 3. From the pop-up menu, select "Add Extension". Once this Chrome extension is installed, enable it on your Chrome and you will not face the issue of Spotify ads.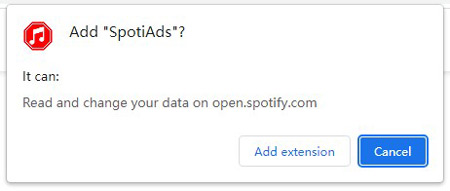 ---
Part 4. How to Stop Ads from Spotify by Modifying Host File
If you don't want to install any tool on your PC, there is an alternative way to get rid of ads from Spotify Free by changing the host files. You can add modifications to the host files of your PC by adding the links of Spotify ads in a loopback address. This solution can be technical and time taking. However, you can try this method if you don't want to use any Spotify ads remover.
In this part, you can learn how to remove ads from Spotify without premium by adding changes to your PC's and Mac's host files. Therefore, jump to the following well-described instructions:
For Windows
Step 1. First, navigate to the C:/ drive of your PC and locate "Windows".
Step 2. Afterward, tap "System32", "drivers", and "etc" using your mouse. From the new window, find and right-click the "hosts" file and choose to open it with "Notepad". Once you have opened the host files, you can add the entries from this link and save the file.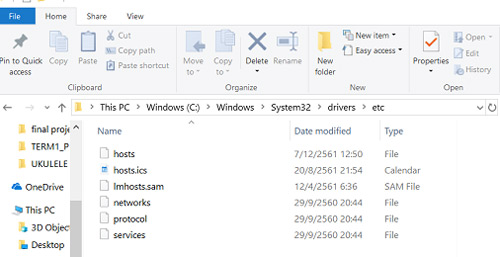 Step 3. Now tap on the Search icon on your Windows and type "CMD". Afterward, open the "Command Prompt" option by right-clicking on it and then select "Run it as administrator". Following this, type "ipconfig/flushdns" and hit the "Enter" button. Now, restart your Windows and listen to Spotify songs ads-free.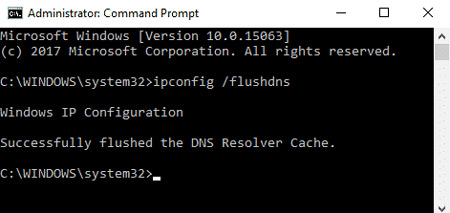 For Mac
Step 1. Head to "Finder". access the "Go" tab from the top and choose "Utilities".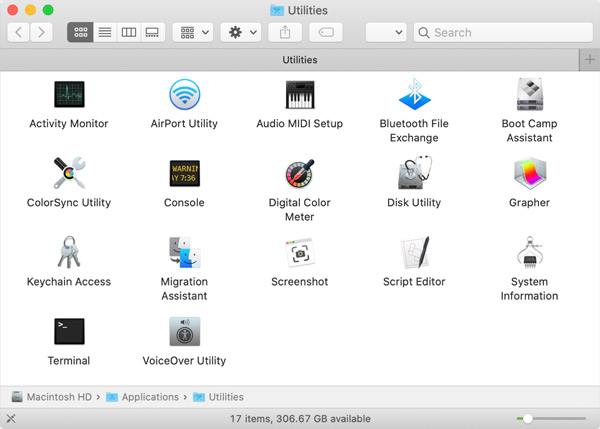 Step 2. Next, double-click on the "Terminal" option. Now, type "suno nano/etc/hosts" and press the "Enter" button. Once done, insert the required password and press "Enter".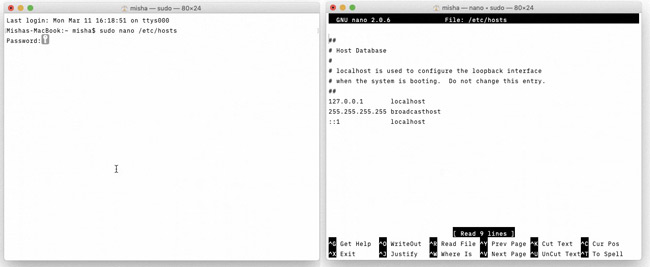 Step 3. Afterward, you can insert the host entries at the bottom of the host file from this link. Ensure to save it afterward. 
Step 4. Now, access the Spotify options menu by right-clicking on it. Select "Show Package Contents" and then proceed to "Contents" and "Resources". Click on "Apps" and make sure to delete the file known as "ad.spa".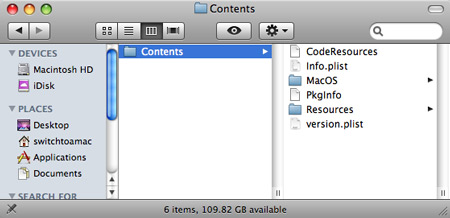 ---
Part 5. In Conclusion
Ads on Spotify can immensely disrupt your listening experience. If you have ended your subscription to Spotify, you can still find a way to listen to Spotify songs without ads. In this regard, you can discover multiple ways to remove Spotify ads through this article. No matter what device you use, the instruction on how to remove ads from Spotify for free has been specified. Among all, a safe method of eliminating Spotify ads is by using AudKit Spotify Music Converter.
---