Tidal is a leading music streaming service on the Internet. As a good place for music devotees, it gives you access to more than 80 million songs from music artists around the world. With its HiFi and HiFi Plus subscription plans, users are able to listen to high-quality music. However, those non-avoidable ads that pop up on the screen every time you play your favorite track are enough to spoil your mood.
Indeed, Tidal ads interrupting your listening experience can be annoying and frustrating. If you are struggling with unbearable Tidal ad songs, then you are in the right place. We have just the right tools to help you block Tidal ads on Windows, Mac, Android and iPhone. Keep reading to know the details.
---
Part 1. How to Block Ads from Tidal on PC/Mac without Subscription
If you're a free Tidal subscriber, you're probably asking yourself, "Does Tidal have ads?" Well, unfortunately, yes. All free users get interrupted by ads that prevent them from enjoying the great music and videos offered by the streaming site. Only paid subscribers can enjoy the ad-free privilege, which often makes free users feel very distressed.
Don't worry, AudKit Tidal Music Converter is here to facilitate you, as it is dedicated to downloading ad-free music from Tidal for all users. This way, even if you don't have a Tidal HiFi account, you can easily download and transfer Tidal music to multiple devices. In turn, you have the freedom to enjoy Tidal songs on all your favorite devices with no ads to interrupt your listening experience. Also, the converter supports a wide range of output formats, allowing you to quickly convert Tidal songs, playlists and albums to common formats such as MP3.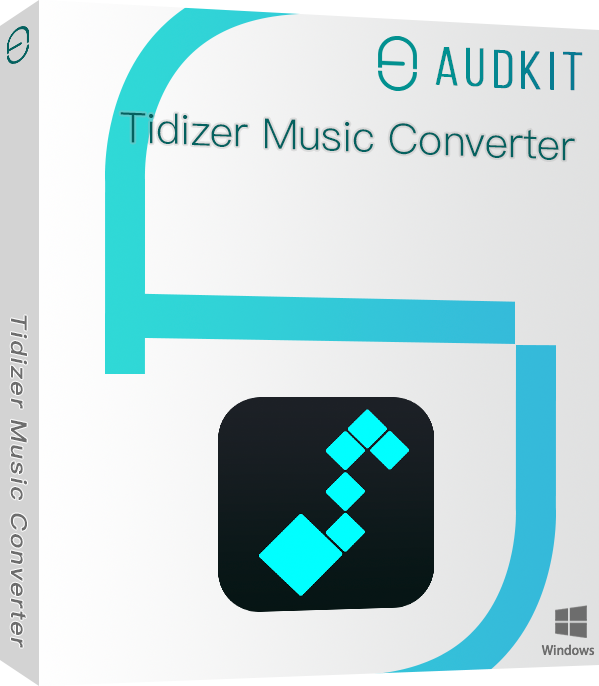 Convert encrypted Tidal music to MP3, AAC, WAV and FLAC
Preserve the lossless quality of Tidal HiFi and MQA files
Download ad-free Tidal music without subscriptions
Enjoy Tidal music offline on any device without ads
How to Block Tidal Ads without Subscriptions
Step 1 Customize Tidal Music Output Parameters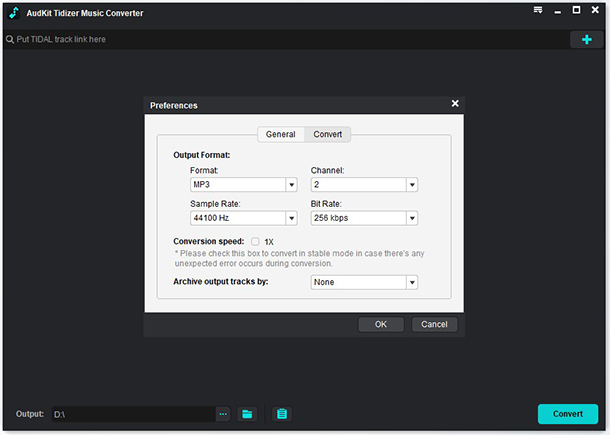 First, you have to adjust the output parameters of the Tidal music files. Click on the menu icon in the upper right corner and select Preferences > Convert section. At this point, you can customize the output format, channels, sample rate, bit rate, and archived way for the downloaded files.
Step 2 Upload Tidal Music to AudKit Tidal Music Converter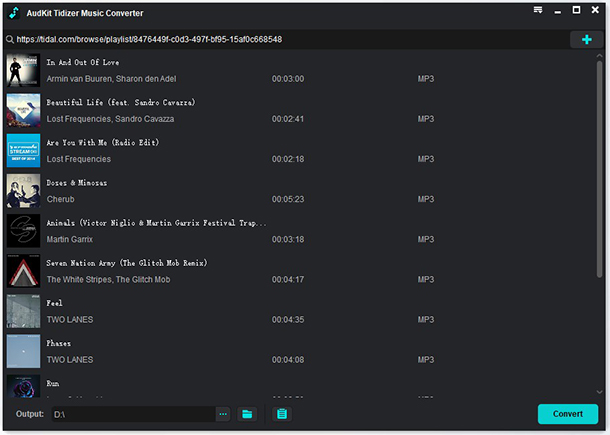 There are two ways to upload Tidal songs to the converter. You can directly drag and drop your favorite Tidal songs to the conversion window. Or click the Tidal song you want to download and select Share > Copy Track Link. Then paste the link in the search bar at the top and press the Add button.
Step 3 Convert and Download Ad-Free Tidal Songs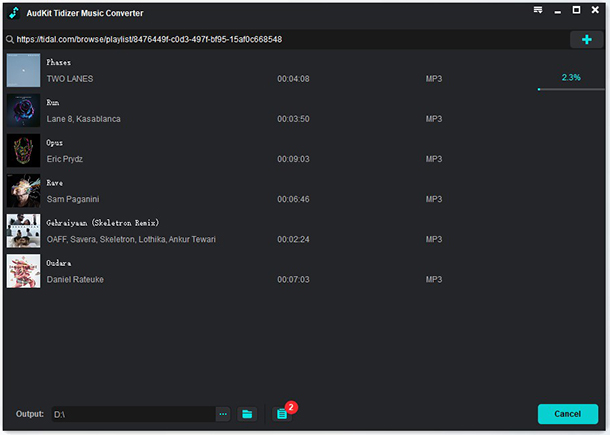 Now click on the "Convert" button at the bottom of the page to download the Tidal song into the target format. When the conversion process is complete, hit on the Converted icon to view all your Tidal music. After that, you can enjoy your favorite Tidal songs without Tidal ads at all times and places.
---
Part 2. How to Get Rid of Tidal Ads with HiFi/HiFi Plus
The Tidal HiFi and HiFi Plus plans bring a number of special features to its customers, such as the availability of Lossless streaming. Lossless quality means no data loss when transmitting audio to your ears. Users can also download songs, videos and podcasts for offline listening. What's more, you can block Tidal ads to avoid any distractions during the concert sessions.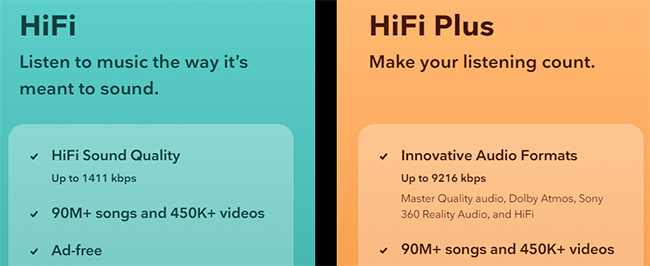 How to Block Ads With Tidal Premium
Step 1. Navigate to the official Tidal website on your computer and click on the 'Log in' option in the top right-hand corner.
Step 2. Enter your account details to log in to your Tidal HiFi or HiFi Plus account.
Step 3. If you don't have an account, select a subscription plan from the page directly. Afterward, enter your payment details to complete the subscription process.
Step 4. Now you can enjoy Tidal songs without any ads to perfect your listening experience.
---
Part 3. How to Remove Ads on Tidal for Mac/Windows – Shelblock
Tidal streaming app can also be enjoyed from your Windows or Mac device. However, even using the desktop app, we are inevitably exposed to hundreds of ads that pop up in the middle of songs. To get rid of the ads on Tidal, users can turn to Shelblock.
Shelblock is actually a desktop ad blocker that promises to enhance your browsing experience by blocking ads. It also blocks website trackers from web browsers and applications. Another major benefit of using Shelblock is that it keeps your computer away from malicious websites. All these attributes of Shelblock make it a reliable ad blocker on Windows and Mac.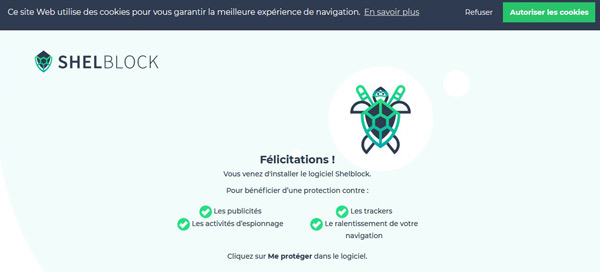 How to Block Tidal Ads with Shelblock
Step 1. Download and install the appropriate version of Shelblock on Windows and Mac devices.
Step 2. Play your preferred Tidal song from the Tidal app or the web player on your desktop, then Shelblock will automatically block the appearance of ads in the background.
Step 3. This way, you can enjoy your favorite Tidal tracks on your computer without any interruptions.
---
Part 4. How to Block Ads from Tidal on iPhone/Android – StopAd
StopAd is the ultimate ad blocker designed to stop all those pesky Tidal ads. It removes pop-up ads on Android and iPhone, providing a smooth music listening experience. Moreover, it blocks banner ads and automatically auto-play ads on all major browsers such as Chrome, Firefox, Opera, Safari and Internet Explorer. And StopAd removes ads on YouTube, Facebook and gaming apps.
Therefore, you can use this smart tool to remove Tidal ad songs on iPhone and Android. In addition, the software protects the personal data and information of all users, making it more reliable in the long run. There is a simple user interface that ensures that Tidal songs load more smoothly without any ads blocking the process.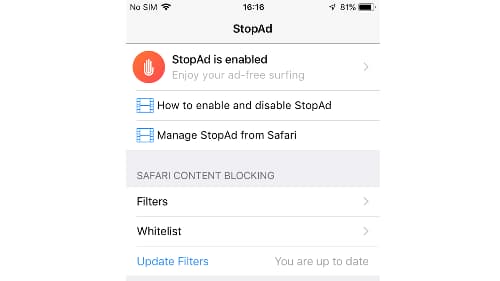 How to Block Ads from Tidal with StopAd
Step 1. Install StopAd on your iPhone or Android device and click on the Settings option on the home page.
Step 2. Select the Apps button and click on the Search apps option. Then enter Tidal as the target app.
Step 3. Click on the checkbox next to Tidal and select the "Add to filter" option. After that, the app will block any Tidal ads while you enjoy the best Tidal music in the world.
---
Part 5. FAQs about Tidal Ads
Q1. Does Tidal Free Have Ads?
Yes, Tidal free users do have to put up with ads. While Tidal gives you access to millions of songs, playlists and videos, the app also displays ads that pop up in between tracks.
Q2. How Often Does Tidal Play Ads?
In general, Tidal brings a variety of genres to its users, but free users inevitably encounter Tidal ads after playing a few songs.
Q3: Is There an Ad Blocker for Tidal?
There are three effective Tidal ad blockers described above that can block ads on Tidal. What you can't miss is the AudKit Tidal Music Converter for downloading ad-free Tidal music to Windows and Mac computers. What's more, it is convenient for all kinds of users, including Tidal free users.
Q4: Can You Get Banned for Using Tidal AdBlocker?
Using a Tidal ad blocker for personal use is not considered illegal. Therefore, users can use the ad blocker without fear of being banned.
---
Conclusion
Tidal brings you an amazing collection of music and videos from artists all over the world. When you want to enjoy your Tidal songs to the fullest, the annoying ads that pop up on your screen every now and then can be frustrating. But this article has pointed out various ways to help you avoid unwanted ads while listening to Tidal. Choose the method of your choice and enjoy a smooth Tidal music journey.
---