If we talk about the present age, there is no doubt in saying that music becomes a part of human life. Every generation has its own taste of music. Considering this, Spotify offers its users hundreds of millions of tracks. People don't download or save songs for listening offline; they prefer to listen to tracks on online music streaming services like Spotify. But Spotify users are facing issues regarding "Spotify can't play the current song" It's not a critical issue, and it can be solved without having any expertise in the Spotify application.
There are many ways to fix the problem of "Spotify can't play the current track." Many users get confused when they face any sort of issues like this. You do not need to worry; we will give you the solution to this problem with detailed steps for your better understanding.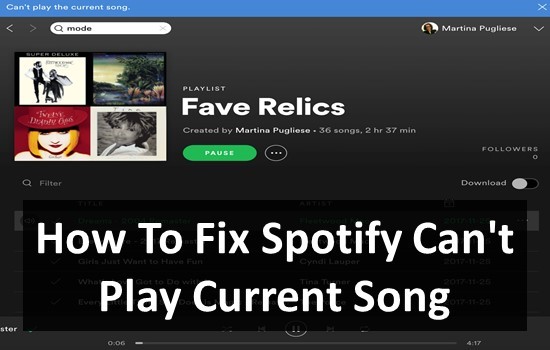 ---
Part 1. Spotify Can't Play Current Song: Common Solutions
The solutions that can fix the problem of "Spotify can't play song" are given below:
1. Log in again to your account
The simplest solution to this problem is to log in again to your account. For re-logging in, you need to:
Open your Spotify app.
Click on the "Down arrow" option present on the top right corner of the Spotify app.
Tap on the "Log out" option.
Then you will see the login option.
In the required fields, enter your login credentials.
Play the troubled song again to see that the issue is resolved or not.
2. Turn off Hardware Acceleration
If your Spotify can't play the current song, then you should turn off hardware acceleration. For getting this done:
Open Spotify setting by clicking the "Down arrow" on top and select the "Show Advanced Settings" option.
Under "Compatibility" settings, there is the "Enable hardware acceleration" option.
Turn it off and restart your Spotify app and check if the problem is resolved or not.
3. Restart your PC
It is our basic solution for many problems that we restart our computer, and all our programs start functioning in a better way. So, do the same for Spotify tracks proper functioning. Restart your PC and then check out that your problem is fixed or not
4. Unavailability of tracks
Some tracks can't be played in every region due to copyright issues. If Spotify can't play song, then check whether this track is available for your country or not. If it's not available, then you can't play it.
5. Enough memory in your device
You need to be sure that your device has enough memory to run Spotify smoothly. If you are facing a problem like "Spotify can't play the song," then you must check your memory. For mobile phones, it needs to be at least 250MB for the proper functioning of the Spotify app.
6. Sign-in to your Spotify account
As a Spotify user, you must know about the 30 days status policy. You need to be active at least one time in 30 days. This may cause your saved track to not play smoothly or show an error. So, open your Spotify account on at least a monthly basis.
7. Connect to a current device
If you are using your Spotify account on different devices, then make sure that whenever you are using Spotify, you must connect the currently used device to the account. If you forgot to do that, then it may cause a problem in playing songs.
8. Turn OFF/ON crossfading
In Spotify, crossfading may cause an issue. For an issue like, why can't Spotify play the current track? You need to consider crossfading factor, whether it is on or off. Try to turn it on if it is off and vice versa. For this,
Access Spotify settings by clicking on the "Down arrow" on top.
After that, tap on the "Show Advance Settings" option present at the bottom of the page.
Tap on the "Playback" option and adjust the "Crossfade Songs Bar" to zero seconds.
Turn off the crossfade option if it is on or reverses.
Restart the Spotify app and play the song again.
9. Removing history of Spotify offline tracks cache
If a Spotify song gives an error rather than playing, it can be due to Spotify cache, which is used to make Spotify work faster. Follow the steps below to get rid of that type of error:
Open Spotify app setting from "Down arrow" on the top bar.
Select the "Settings" option and wait for window loading.
Scroll down your page and select the "Advanced Settings" option.
Go to "Offline songs storage" and copy the given directory.
Select and remove all the files and folders of that location.
Restart Spotify and check that the issue is resolved or not.
10. Re-installation of Spotify App
If the above-mentioned techniques are not useful, then try to re-install the Spotify app. The steps for re-installing the Spotify app are as follows:
Open the "Control Panel."
Search for the software and uninstall it.
Look for the below path and delete all files and folders.
C:\Users\%Username%\AppData\Local\Spotify\Users\ (replace %Username% with your username)
Restart your system and download the latest Spotify application from the given link.
Login again and try to play the songs which were showing errors.
---
Part 2. Spotify Can't Play Current Song: One-click Solved
If Spotify is not supporting some tracks to be played on. Then you need to find a permanent solution for listening to your favorite tracks whenever you want to. You are preferred to use a tool that can permanently download your tracks on your device. For this purpose, AudKit Spotify Music Converter is the best choice. It successfully converts the Spotify tracks into other formats according to the requirement.
AudKit Spotify Music Converter is a software that is assumed as one of the best programs for the conversion of Spotify to MP3, M4A, M4B, FLAC, AAC, WAV, and other music formats. After conversion, the Spotify tracks are saved in the music folders on your PC, and then you are free to listen to them on any other device.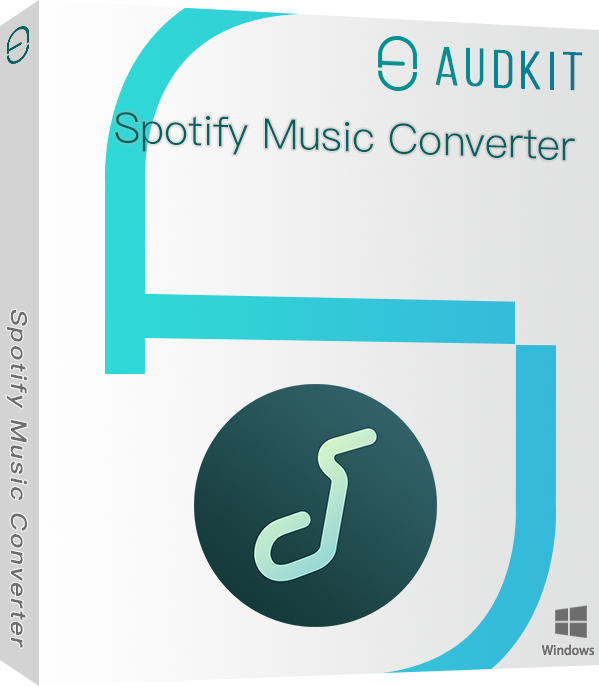 Batch add and download Spotify songs
Convert Spotify Ogg Vorbis to MP3 and others
Stay 100% quality and ID3 tags for use
Make Spotify songs playable on any device
This Spotify Music Converter maintains the quality of Spotify tracks after conversion. You can search for the constant ID3 tags like artists, albums, years in the Spotify tracks files.
Follow some step to permanently save your favorite Spotify tracks on your own device:
Step 1 Add Spotify tracks by URL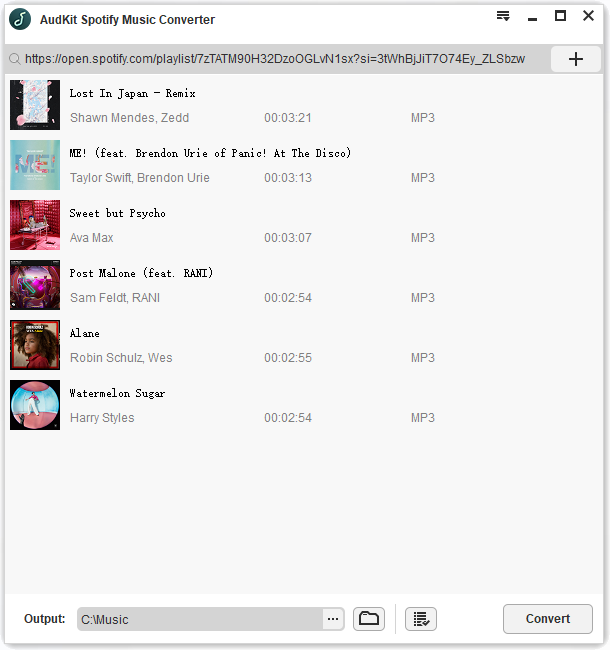 Search for Spotify tracks in the Spotify app. Choose your Spotify songs and then "Right-click" on them. Go to the "Share" option and then "Copy Link." Then place that link into AudKit's search bar.
Step 2 Set output formats and other properties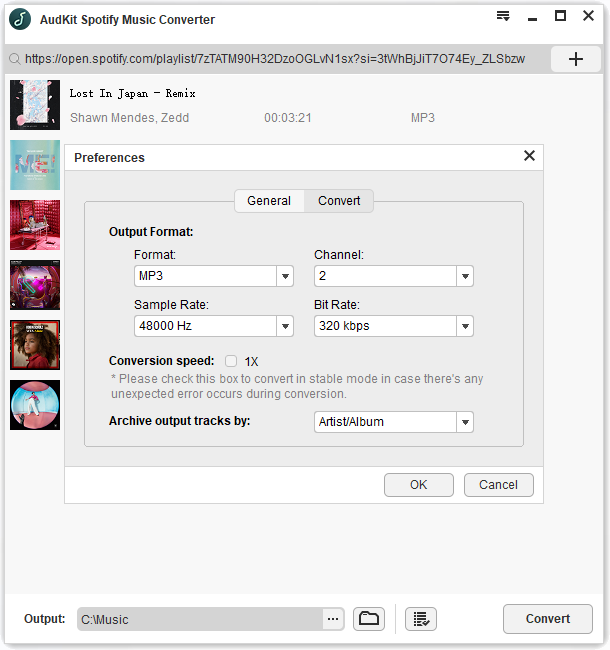 Go to the "Menu" in the taskbar and then choose the "Preferences" option. For adjusting the output format and other settings, choose the "Conversion" option and set them according to your requirements.
Step 3 Convert Spotify tracks to MP3 format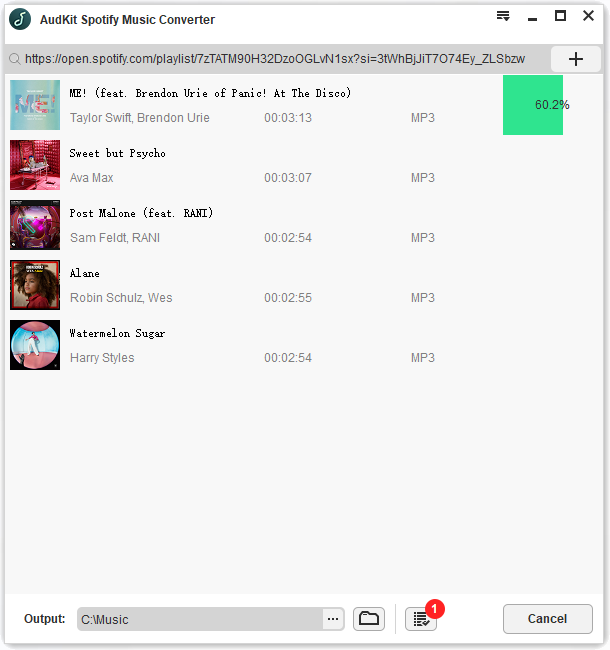 For converting the Spotify tracks, click on the "Converter" button on-screen. Then the conversion will start. After complete conversion, you can see all your downloaded tracks in a local folder on your computer.
---
Conclusion
By concluding this article, we try to discuss the problems that Spotify users face, like "Spotify can't play the current song" and their possible solutions to get rid of that problem, how to process the solution of this problem, and how we can use AudKit Spotify Music Converter for permanently downloading Spotify tracks.