Many individuals can't imagine working out without music. However, not everyone is keen on lugging their phone along on hikes or other strenuous activities. That's when having a smartwatch can be quite useful. While many wearable tech devices allow you to manage the music library and play your music collection. And that's where Realme comes in.
Realme Watch is equipped with music controls, heart rate monitor, timer and other additional features. If you're a Spotify music fanatic, then this article is for you. Read on to find out how to play Spotify on Realme Watch so you can easily manage Spotify music from your wrist.
---
Part 1. How to Play Spotify on Realme Watch Via Spotify Connect
Does Spotify work on Realme Watch? Certainly, with Spotify Connect, you can turn your mobile device into a universal remote control and stream music and videos to all your electronic gadgets around the house, including Realme Watch. All your devices must be on the same Wi-Fi connection and running the most recent software versions. In addition, users do not need a premium account to use Spotify Connect. Follow the tutorial below to use Spotify on Realme Watch.
How to Download and Install Spotify on Realme Watch
Step 1: To begin, push the button on the Realme Watch side until it turns on, which will activate the watch.
Step 2: Afterwards, on your wristwatch, press the icon that says "Google Play" to begin using the Google Play application.
Step 3: After there, look for an application called "Spotify" and download it to your Realme Watch.
How to Listen to Spotify on Realme Watch with Spotify Connect
After completing the Spotify app installation, you can stream Spotify on your Realme Watch directly.
Step 1: Launch the Spotify app installed on your watch and open the Spotify app on your mobile device.
Step 2: Select the playlist you want to listen to within the Spotify app on your smartphone and click on the "Device Available" option.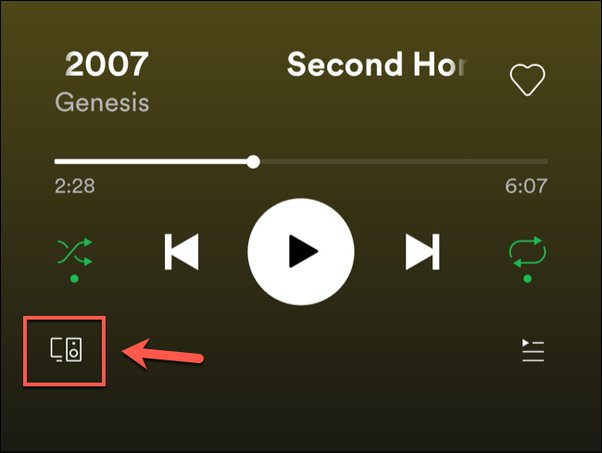 Step 3: Finally, select "Realme Watch" from the selection of options that are accessible. After that, you will be able to control Spotify music playback on Realme Watch with the smartphone.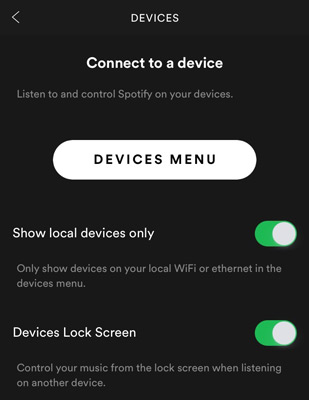 ---
Part 2. How to Connect Spotify to Realme Watch – Best Way
Obviously, the above method requires you to have your phone with you at all times to enable Spotify Connect, which is a little inconvenient according to many users. To solve this problem, we've found an effective way to listen to Spotify on Realme Watch without the need for a phone. All you need is the AudKit SpotiLab Music Converter, which downloads Spotify music locally for offline listening on any device, including the Realme Watch.
Also, it has sophisticated features to convert your Spotify music to popular audio formats including WAV, MP3, FLAC, M4B and AAC. In addition, it maintains Spotify's high-quality audio while increasing productivity. Whether you are a Spotify Free or Premium user, you can benefit from the versatility of this tool. Without having to carry your phone with you, you can play Spotify on Realme Watch effortlessly.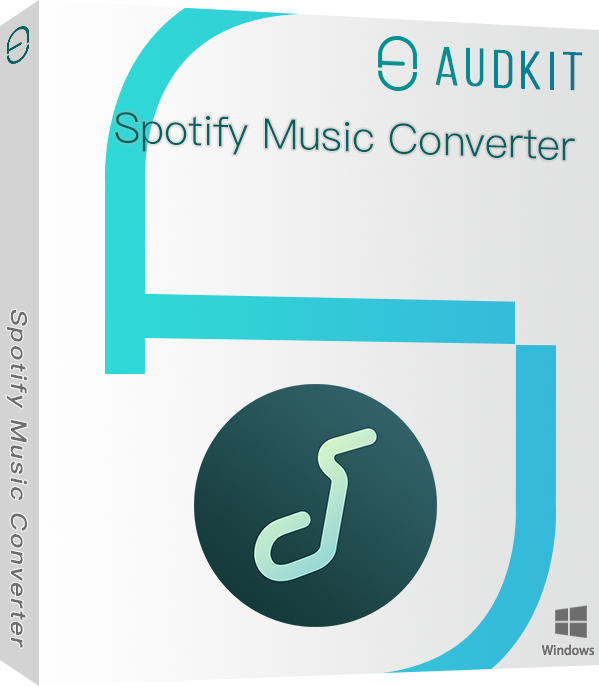 Get Spotify songs in common audio formats, including MP3, AAC and more
Download Spotify music as unprotected local files
Transfer Spotify music to any smartwatch for offline listening
Play Spotify on Realme Watch without the phone and app
How to Download Spotify Songs on Realme Watch
Step 1 Add Spotify Tracks to AudKit Converter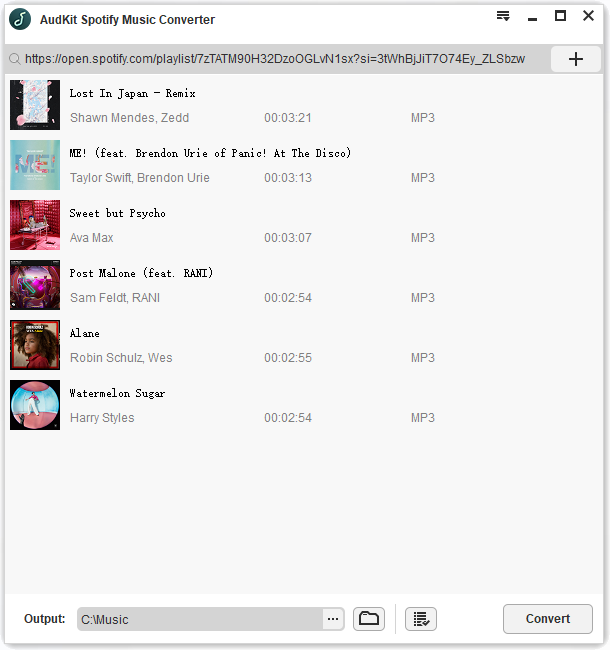 Start the AudKit Spotify Music Converter, after which the Spotify desktop software will open itself. Afterward, browse and select songs via the Spotify app. Right-click on the music you want to download, select Share and choose to copy the song link. Afterward, place the URL in the search box and click on the "+" tab in the top right.
Step 2 Reset Spotify Music Output Preferences for Realme Watch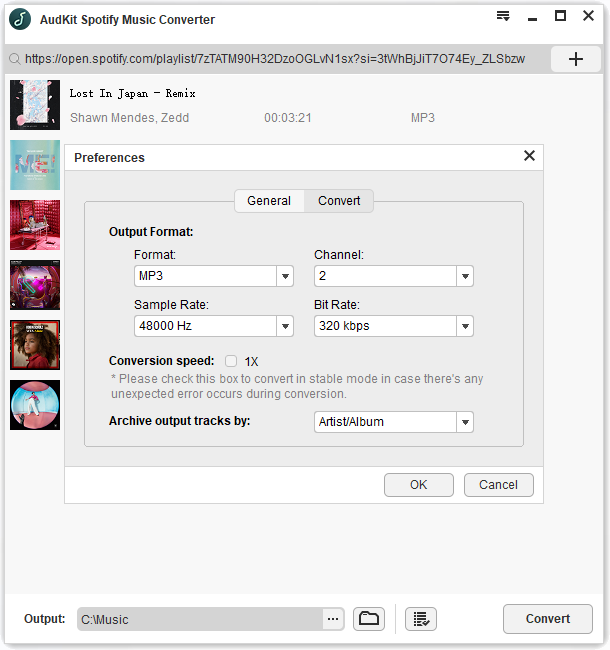 Go to the Menu bar in the top right corner and select the Preferences option. In the settings window that pops up, select the Convert section to set Spotify music to MP3, AAC, FLAC, or WAV. Again, you have the ability to customize other Spotify parameters in this step, such as audio channels, bit rate, sample rate, etc.
Step 3 Download Spotify Playlist for Realme Watch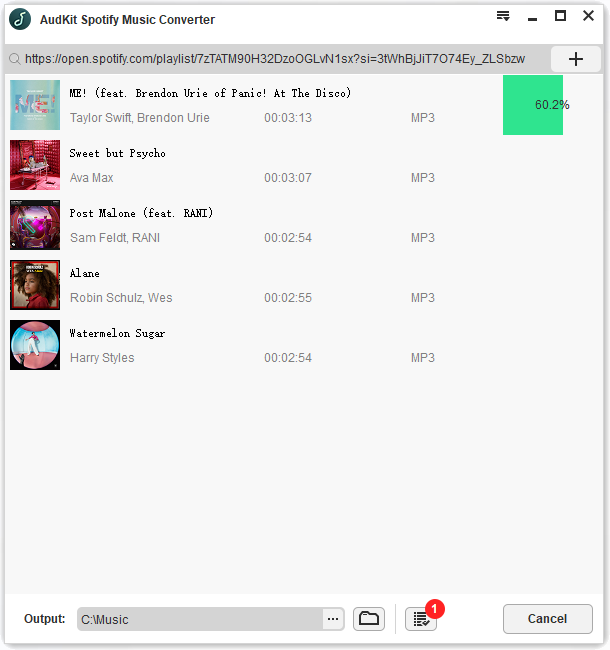 Click the "Convert" button in the bottom right corner of the screen. Depending on your selection, the app will start converting the Spotify tune for you. Then you can find the Spotify music downloads by clicking on the folder icon at the bottom of the screen. In turn, you can start preparing to transfer and play Spotify music on Realme Watch.
How to Transfer Spotify Music to Realme Watch
Step 1. Connect your phone to the computer using a USB cable and transfer the converted Spotify music from your computer to phone.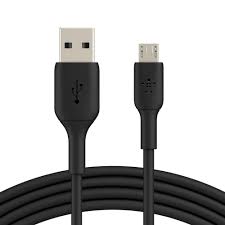 Step 2. Go to the Google Play Store or Apple Store to download and install the Realme Link app on your phone. Then create your Realme Link account and sign in to that account.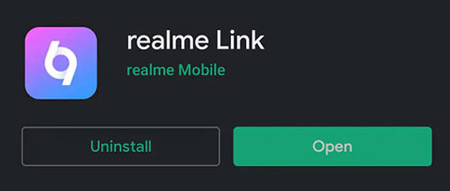 Step 3. Turn on the Bluetooth function on your device and then open the Realme Link app to scan the QR code displayed on Realme Watch. In this way, you can pair Realme Watch with your smartphone without any problems.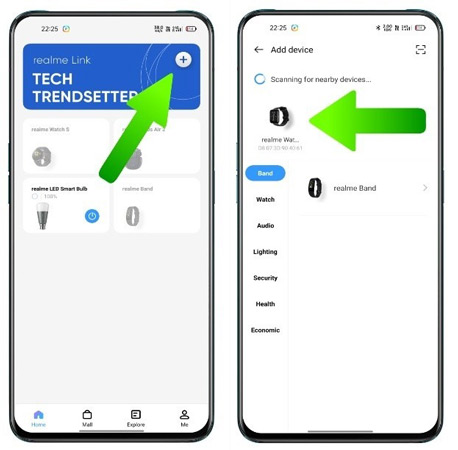 Step 4. Once pairing is complete, you can freely sync Spotify music to Realme Watch via the Realme Link app. After that, you can use Spotify on Realme Watch whenever you want.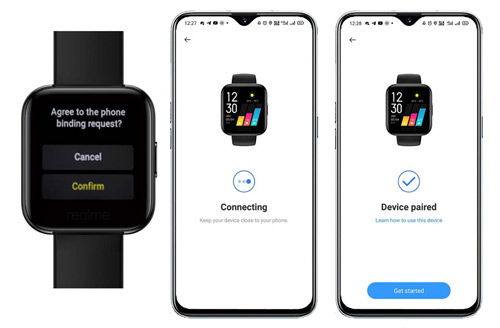 ---
Part 3. FAQs About Spotify on Realme Watch
Q1. Does Spotify Work on Realme Watch?
Thanks to Spotify Connect, you can listen to your phone's Spotify playlists on your Realme Watch directly.
Q2. What Watches Work with Spotify?
Today, many running watches and smartwatches are equipped with the capacity to play music directly from the wristwatch. You can play Spotify as well as other streaming services on the likes of Realme, Garmin, Samsung and Apple Watch.
Q3. How to Add Spotify Music to Realme Watch?
As mentioned above, the AudKit Spotify Music Downloader is the best tool to download music from Spotify to computer locally. In this case, you are free to add Spotify to Realme Watch and have full control of music from your wrist.
---
Part 4. Conclusion
The organic combination of Realme Watch and music brings us a new kind of music experience. If you are eager to connect Spotify to Realme Watch, here are two effective ways for you to consider. Take action to feel Spotify music with Realme Watch whether you're exercising or out for a walk.