Is Djay Pro Spotify still working? Djay Pro and Spotify had terminated the integration since July 1st, 2020. Actually, Spotify revoked cooperation with all third-party DJ apps since then.
It was no doubt a huge impact on djay, which was known as the first choice for Spotify's DJ app. Djay Pro Spotify offline option offers a convenient way to add and remix music when the network connection is bad. But now all is gone.
Fortunately, there is still a workable way to continue using Spotify in djay Pro. In this post, we'll guide you on how to use Spotify with djay Pro offline.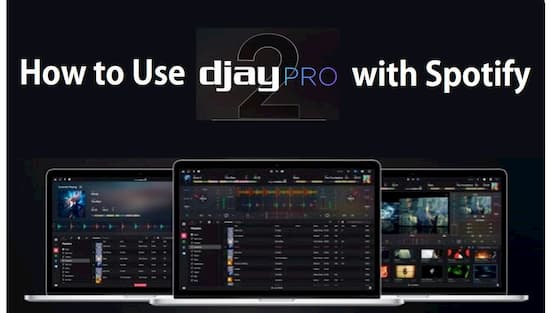 ---
Part 1. Djay Pro Spotify Still Working: Tool Required
This new workable way requires downloading djay Pro Spotify playlists as local music files in advance. The downloaded Spotify songs are available to import and use in djay Pro for further mixing.
To download Spotify music on the computer, AudKit Spotify Music Converter is expertise in this field. Voted as the top 10 most trustworthy converters in 2021, AudKit Spotify Music Converter offers the best feature that protects 100% Spotify sound quality. With up to 10X conversion speed, this tool helps users convert Spotify playlists to MP3, AAC, M4A, etc., and download them as local files for DJing in djay Pro.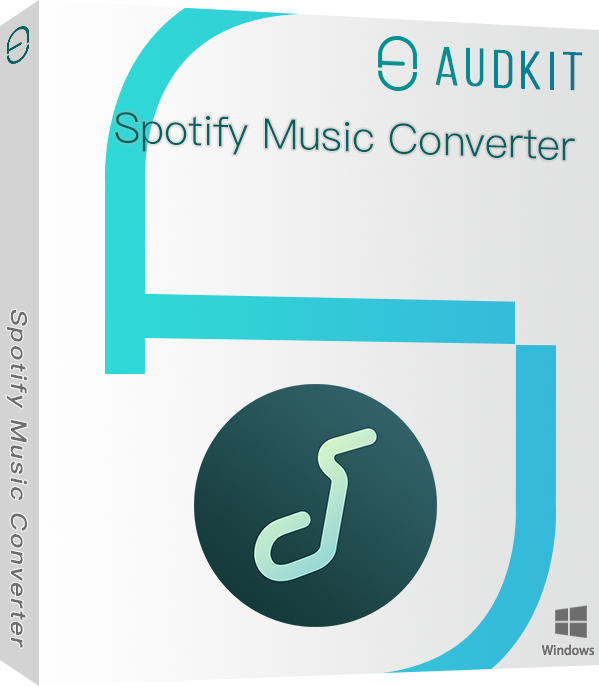 Convert Spotify playlists and tracks to import to djay Pro
Download Spotify songs for offline listening and DJing
Stay lossless audio quality and ID3 tags in output files
Batch convert 100 Spotify tracks at 5X steady speed
Besides, you can enjoy all the Spotify Premium features through this converting software. In the local Spotify files, no pop-up ads, unlimited skipped, offline listening, and so forth. AudKit Spotify Music Converter is supposed to be the new choice of djay pro Spotify offline option.
---
Part 2. How to Use Spotify with Djay Pro: Detailed Steps
Now you can follow the 3 steps below to get Algoriddim Spotify music downloads on the computer.
Preparation Download and launch the converter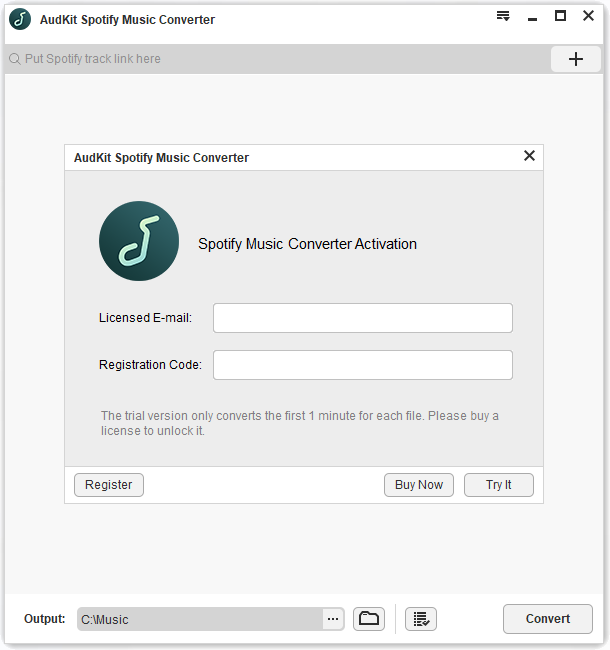 Open the AudKit Spotify Converter on your Mac or Windows. The Spotify app will auto-open as well. Please hit 'Menu' > 'Register' to activate your license code and get the full version.
Tips: The free trial version only offers 1 min conversion for each song.
Step 1 Add music from Spotify to AudKit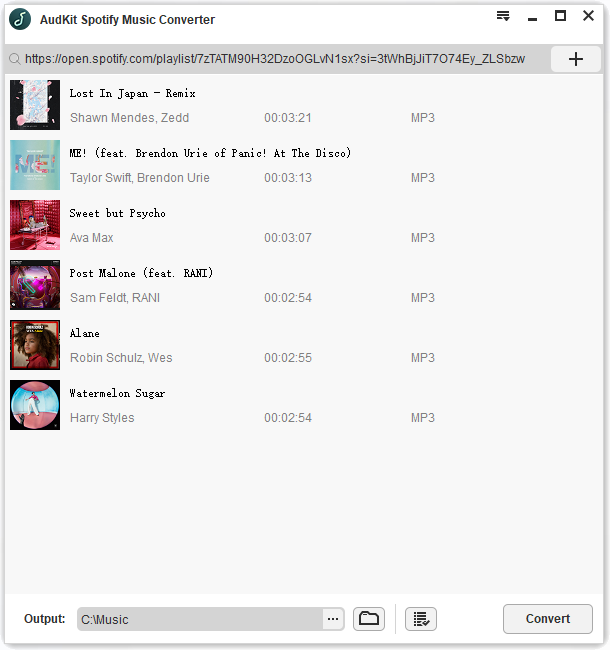 Now, you are eligible to add songs, playlists, or albums to the converter's window. Browse the Spotify music list, select the song, and right-click on it. Click 'Share' > 'Copy Song Link' or 'Copy Playlist Link'. Then paste it on the search box of AudKit's window. You can also drag and drop the songs from the Spotify app to the converter.
Step 2 Customize output settings for Djay Pro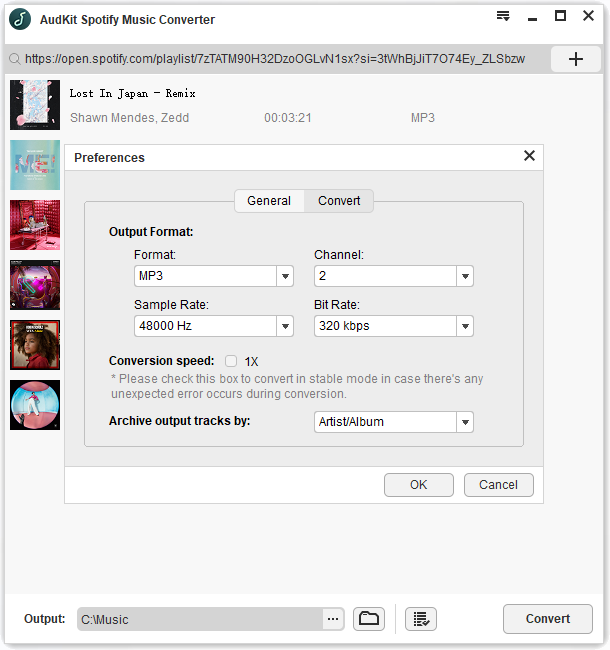 AudKit Spotify Converter allows you to edit the output format like MP3, AAC, WAV, FLAC, M4A, or M4B. For this, go to the 'Menu' > 'Preferences' option. Here, you are also allowed to edit channels, bit rate, sample rate, codec, or output path. The default conversion speed of this software is 5X. You can reset it to 1X for a more stable conversion.
Step 3 Start to download Spotify for Djay Pro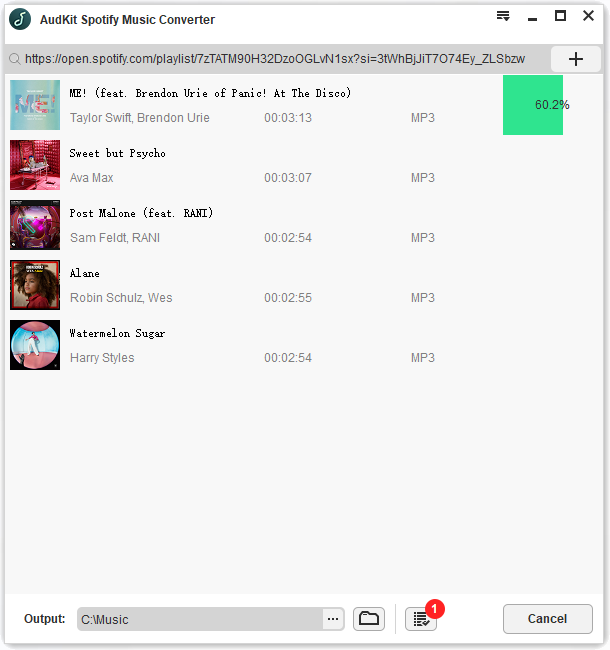 Once you have done all this, it is time to tap the 'Convert' button and start to download the Spotify tracks. The Spotify songs will be saved in the output folder that you set before. You can locate the folder on your device and be ready to add them to djay software.
Tips: You'd better know that it is legal to download Spotify for use in djay Pro, as long as for personal use. Any piracy, contribution, or commercial use is forbidden.
---
Part 3. How to Use Djay Pro Spotify on Different Devices
Now you have downloaded Spotify songs by AudKit Spotify Music Downloader. Are you ready to get the Algoriddim Spotify playlist on Windows, Mac, or Android devices? Here are the brief steps to help you completely set it up.
1. How to Use Djay with Spotify on Windows
When using djay Pro on Windows, you can organize and manage the music with Library Browser. Follow the guide to access your Algoriddim Spotify music on Windows.
Step 1. Start the djay Pro
Open the djay Pro on your computer and look for the library browser.
Step 2. Access to the music collection
Now you are able to add music to djay Pro from Music Playlists, iTunes Playlists, and Explorer Playlists. You can access your Spotify music files from there.
Music Playlists: Browse your Spotify music files stored in Windows Player or Groove Music, go to the Music Playlists tab.
iTunes Playlists: Click the iTunes icon so that the browser tree will show your Spotify playlists.
Explorer Folders: Go to the Explorer tab and click Add Folder to search your stored Spotify songs.
Step 3. Mix the Spotify All your desired Spotify songs are loaded into djay Pro.
You can now do a mix of your Spotify soundtracks.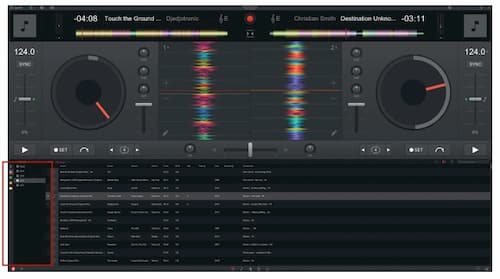 2. How to Use Djay with Spotify on Mac
Step 1. Launch the djay Pro
Please launch the djay Pro on your Mac device and search the library browser in the lower half of the djay Pro window.
Step 2. Add music
From the library browser, search for music and add it. You can try to edit, manage, and sort your Spotify music in djay Pro from My Library, Music Playlists, and Finder.
My Library: From My Library, click on the My Library option and use features search filters to add your Spotify music files.
Music Playlists: In the case of browsing the converted Spotify music, click the 'iTunes' option.
Finder: If you want to locate the Spotify music files from your hard drive and other places, then go to the Finder app and click Add Folder to proceed.
Step 3. Add Spotify songs to djay Pro
Your Spotify songs are imported to the djay Pro, so now make your mix with Spotify songs.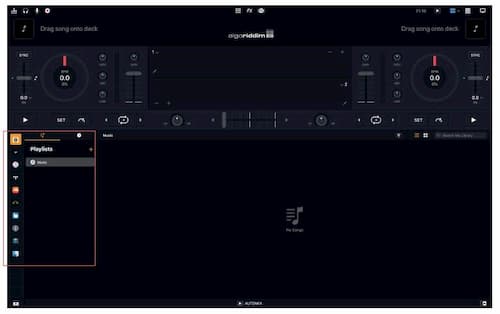 3. How to Use Djay with Spotify on iOS Devices
Please upload the converted Spotify songs to iTunes, cloud drive, or iOS hard drive. Then sync the songs to your iOS devices. Here are the steps to load the Spotify files into djay Pro for a remix.
Step 1. Launch the djay Pro
Open the djay Pro on your IOS device and choose the My Library option. Browse to add songs of your choice.
Step 2. Add music
Now choose the 'Number of Files' option in the playlist and select 'Add from Files.'
Step 3. Add Spotify songs to djay Pro
Browse your Spotify songs and import them to the djay Pro, so now make your mix with Spotify songs.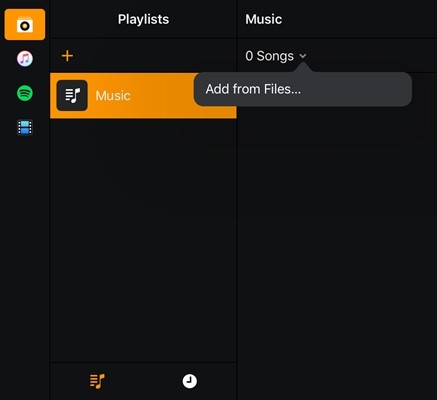 4. How to Use Djay with Spotify on Android Devices
Please transfer the converted Spotify songs to your Android devices via the connection of a USB cable. Then follow the steps to import Spotify tracks to djay Pro for a mix.
Step 1. Launch the djay Pro
Launch the app on your Android device and choose Playlists at the bottom of the screen.
Step 2. Choose the music app
A list will appear, where you can see options like Tidal, SoundCloud, and My Music. Choose 'My Music' out of them.
Step 3. Add the Spotify Music
Now you are all set to add Spotify Music to djay Pro for Android and start the mixing.
---
Part 4. FAQ: All About Djay Pro Spotify Streaming
1. Does DJAY Pro work with Spotify now?
No, Spotify Djay Pro stopped working on July 1, 2020. But AudKit SpotiLab Music Converter is still working with Spotify Djay Pro. Users can use AudKit to download Spotify songs onto the computer then import the downloaded Spotify songs to Djay Pro for music mixing.
2. Why did Spotify remove DJAY?
It's not clear why Spotify removed integration with DJAY and other DJ software. Spotify stays tight-lipped on this subject. It may be due to copyright licensing issues.
3. Which DJ software works with Spotify?
Currently, there is no DJ software working with Spotify, which means users can't directly access the Spotify library in any DJ app. But users can still use AudKit SpotiLab to help DJing Spotify songs in DJ software, which allows users to download Spotify playlists as offline music files in advance.
4. Is it legal to DJ with Spotify?
To some extent, this type of behavior is often considered to be in a gray zone and controversial in the intellectual property field. What is certain is that it is illegal to DJ with Spotify in public.
5. Will Spotify come back to DJAY?
Not sure yet, Spotify may plan to develop its own DJ software, or it may have abandoned the DJ market altogether. Before the day it will come back, it is a better choice to try other streaming services that work with DJAY, such as TIDAL, SoundCloud, Beatport, and Beatsource.
---
Part 5. Conclusion
In this article, we have concluded the ways to continue using Spotify songs in djay Pro with the key tool, AudKit Spotify Music Converter. After downloading Spotify music, it is easy for every DJ lover to add and DJ Spotify music in djay Pro on Windows, Mac, iOS, and Android devices as usual.
---