Virtual DJ (VDJ) is a professional audio and video mixing software. It can be used on both Windows and macOS systems. It is able to work with your DJ systems and recognize different hardware turntables or mixers. Does Spotify work with Virtual DJ? Currently, there is no Virtual DJ Spotify integration, leading to the difficulty of linking Spotify to Virtual DJ. But don't worry, we have found the best tool to help you use Virtual DJ with Spotify. You will still be able to access Spotify music on Virtual DJ for mixing.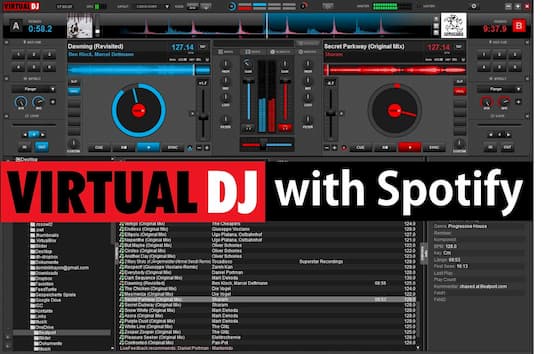 ---
Part 1. Can You Use Virtual DJ with Spotify Directly
In fact, there was a Virtual DJ Spotify plugin at first. But it was removed on July 1, 2020. From then on, users could not find the Spotify streaming service in Virtual DJ's library. Thus, you cannot directly connect Spotify to Virtual DJ for audio or video mixing.
There may be persons who have tried to download Spotify music and then transfer it to Virtual DJ but failed. Why? Because Spotify music is encrypted by digital rights management. This ensures you listen to Spotify music only on the Spotify app or its web player, even if you have downloaded it.
Actually, downloading and then transferring Spotify music to Virtual DJ is a good idea. It can be feasible after you convert Spotify music. Because it would be legal to use Spotify with Virtual DJ for personal use. You can easily add Spotify to Virtual DJ when Spotify music is downloaded as your local music files. In the following sections, you will be recommended the best tool to help you. Just keep reading.
---
Part 2. Make Virtual DJ Spotify Connect – Best Tool
Since there is no integration of Spotify and Virtual DJ, it is inevitable to get assistance from a third-party tool to Convert Spotify to Virtual DJ-supported format. To help you save time in searching for and comparing different products, here I would like to share the latest finding with you, which is named AudKit SpotiLab Music Converter.
It is fully compatible with Spotify songs, playlists, albums, podcasts, radio, audiobooks, and so on. After you import Spotify music into the converter, you can choose to convert Spotify to MP3, AAC, M4A, M4B, FLAC, WAV, and more common formats. The conversion speed is one of its most outstanding features, it can keep 5X on average and get 1X when the network traffic is low. It also allows you to batch add and convert Spotify music once.
After finishing Spotify music conversion, you can play, import, and edit Spotify on Virtual DJ with ease. No need for Spotify Premium, you can easily convert your Spotify tracks to a format that is compatible with Virtual DJ and add your favorite Spotify tracks to your Virtual DJ library, and mix them seamlessly with other songs.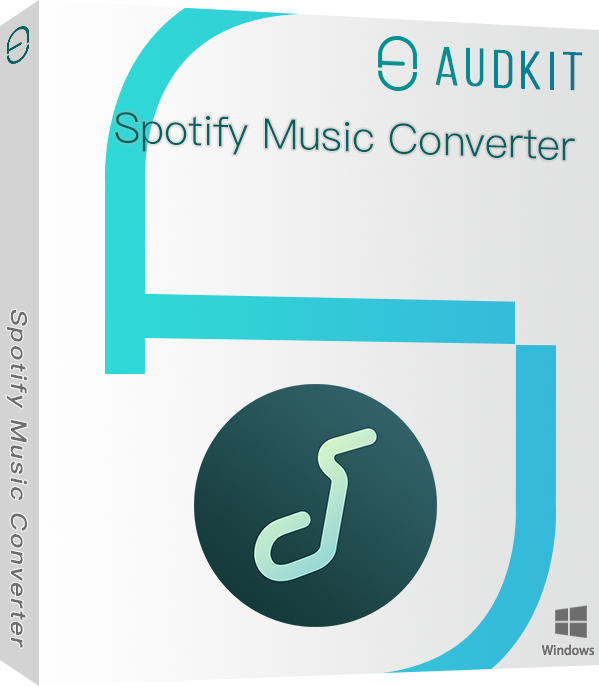 Main Features of AudKit Spotify Music Converter
Support various audio formats such as MP3, FLAC, M4A, etc.
Save ID3 tags and 100% accuracy of the original Spotify track
5X faster speed to convert Spotify songs for Virtual DJ
Batch loading 100 Spotify tracks at a time
---
Part 3. How to Link Spotify to Virtual DJ
As you can see, it is really helpful to make flexible use of AudKit Spotify Music Converter when you want to use Spotify in Virtual DJ. Check the steps below to help you get a further understanding of how to make Virtual DJ Spotify work.
How to Convert Spotify Music to Virtual DJ Compatible Format
Step 1 Drag and drop Spotify music to AudKit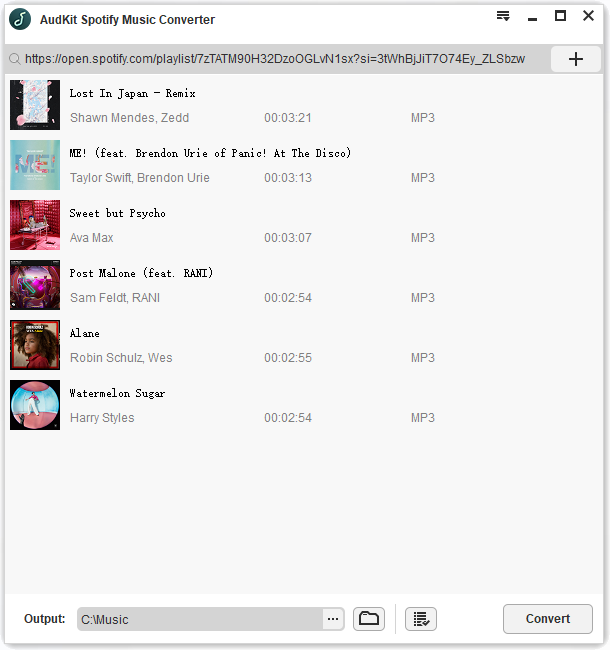 Open the AudKit SpotiLab on your computer. The Spotify app will automatically open or reopen if you have launched it before. Now browse your Spotify music library and select the song or playlist you want to mix in Virtual DJ. Long press your selection then, drag and drop it to the interface of AudKit. Or you can copy the link of the music item and paste it into the search column in AudKit, then press the + icon.
Step 2 Modify output settings of Spotify for Virtual DJ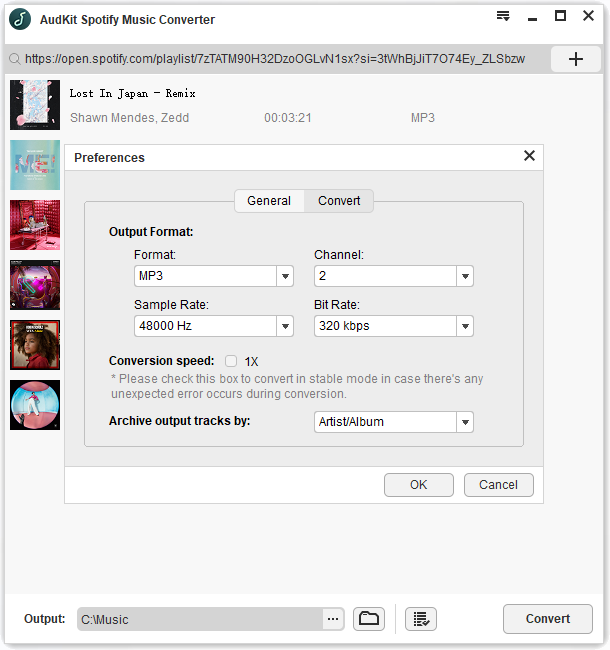 Now hit the Menu icon from the top-right corner on AudKit's main window. On the unfolded menu, please choose the Preference > Convert option. Then reset the output settings of Spotify for Virtual DJ. It is recommended to select the output format as MP3. Then change other parameters for the sound quality of Spotify songs as you prefer.
Step 3 Convert and download Spotify music for Virtual DJ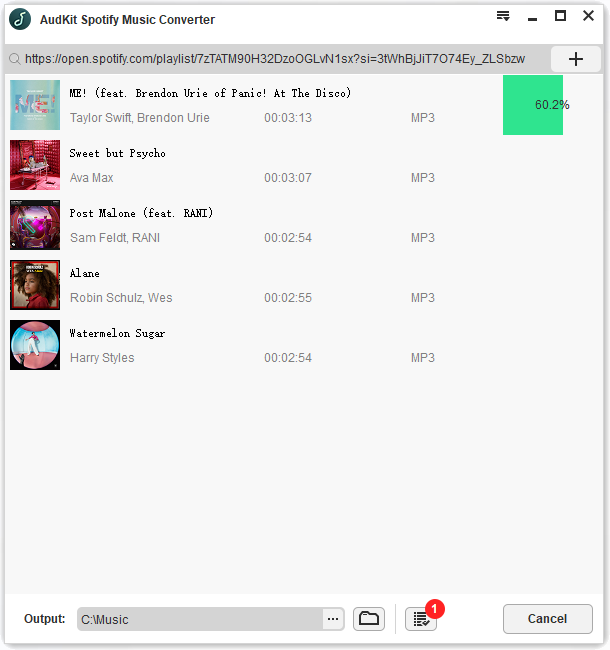 Back to the main page of AudKit. Hit the big Convert tab from the bottom-right corner. The program will turn on and accomplish all tasks in a flash. Once the conversion is over, you can hit the folder icon hanging with a number to see the converted Spotify audio items. You are now able to listen to Spotify music offline without premium as well as transfer music from Spotify to Virtual DJ.
How to Use Spotify on Virtual DJ
Now that you have converted your Spotify tracks to Virtual DJ compatible format, it's time to add Spotify to Virtual DJ. Here's how you can do it: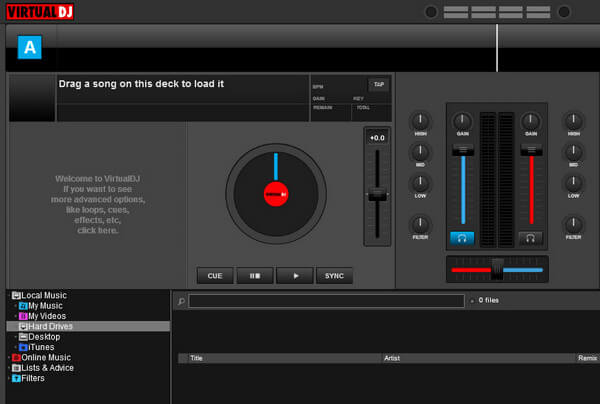 Step 1. Launch the Virtual DJ software on the computer.
Step 2. Click the "Local Music" tab at the bottom-left corner of the main interface.
Step 3. You can then load audio files from "Hard Drives", "iTunes", and so forth.
Step 4. Select your downloaded Spotify files from "Hard Drives".
Step 5. If you are used to loading music from iTunes to Virtual DJ, you can also upload Spotify music to iTunes in advance.
Step 6. Once you upload Spotify music to Virtual DJ software, you can start to mix and DJ Spotify playlists as you like.
---
Part 4. More Tips about Virtual DJ Spotify
As a DJ, Virtual DJ can be a powerful tool to help you create and mix Spotify music. Whether you are a beginner or an experienced DJ, there are several tips that can help you improve your skills and make your sets more enjoyable for your audience. By following these tips, you can take your DJing to the next level and create memorable sets with Spotify music.
📀 1. Set Cue Points: One of the most important tools in Virtual DJ is the cue point feature. This allows you to set specific points in a track where you want to start playing from or jump to. By setting cue points, you can create smooth transitions between Spotify tracks and keep the energy flowing throughout your set.
📀 2. Use Loops: Another great feature of Virtual DJ is the ability to use loops. This allows you to repeat a specific section of a track, which can be useful for building up tension or creating a breakdown. Experiment with different loop lengths and positions to find what works best for each Spotify track.
📀 3. Adjust EQ: Equalization (EQ) is an important tool for DJs, as it allows you to adjust the levels of different frequencies in a track. By adjusting the bass, mid, and treble levels, you can create a more balanced and dynamic sound that will keep your audience engaged.
📀 4. Use Effects: Virtual DJ comes with a range of effects that can be used to add depth and texture to your mixes. From reverb and delay to filters and flangers, there are many different effects to choose from. However, it's important to use effects sparingly and in moderation, as too much can be overwhelming.
📀 5. Beatmatching: Beatmatching is the process of aligning the beats of two tracks so that they play in sync. This is essential for creating smooth transitions between tracks and keeping the energy flowing throughout your set. Use the beatmatching feature in Virtual DJ to help you get started, but don't rely on it too heavily – it's important to develop your own ear for beatmatching.
📀 6. Mix in Key: Mixing in key means playing tracks that are in the same or complementary musical keys. This can create a more harmonious and cohesive sound. Use the key detection feature in Virtual DJ to help you identify the key of each track, and experiment with mixing different tracks together to find what works best.
---
Part 5. FAQs about Spotify Virtual DJ
Q1: What Music Streaming Services Work with Virtual DJ?
A: Music streaming service integration is one big feature of Virtual DJ software. You can access Tidal, Deezer, Beatport, Beatsource, and SoundCloud on Virtual DJ.
Q2: How to Set up Streaming Services on Virtual DJ?
A: It is quite easy to set up streaming services on Virtual DJ software. Note that you need to have a paid subscription to your streaming service, or you cannot access the content of your streaming service.

Step 1. Download the newest Virtual DJ software on your computer.
Step 2. From the "Online Music" menu, right-click the streaming service you want to set up. Then click "Sign in" to log in to your account of your chosen streaming service.
Step 3. Once you complete connecting your streaming service to Virtual DJ, you can use its content to mix your audio or video freely.
Q3: Does the Spotify DJ work offline?
A: Spotify no longer supports DJ apps like Virtual DJ. However, you can still download Spotify albums, playlists, and podcasts to Virtual DJ-supported format via AudKit Spotify Music Converter. Then you can use Virtual DJ with Spotify offline.
---
Conclusion
As a powerful mixing software, Virtual DJ is suitable for most users. You can use several music streaming services on Virtual DJ software. But Spotify is out of the list. To make Virtual DJ connect to Spotify, you need to get the assistance of AudKit SpotiLab Converter. Once you convert and download Spotify music to the compatible audio format with Virtual DJ, mixing Spotify with Virtual DJ is easy to achieve.
---
---
---