iMovie is a video editing tool that empowers iOS and Mac OS users to watch and create videos that look splendid and highly professional. With the intuitive user interface, straightforward editing options, and a full range of basic and professional video editing features, iMovie is an amazing yet meticulous video editing software that makes content creation a swift experience for Apple users. Although the pros outweigh the cons of this video editor, there is one thing you might dislike about the app. It does not support users in adding songs from music streaming services.
Now you are a Tidal subscriber, and you wish to utilize the vast music library at Tidal to make your iMovie videos more lively and a total hit on your social media account. But with the "local file" limitation in place, getting the music out of Tidal and including it in your video on iMovie looks like an achievable task. So, is there a way to add music to iMovie from Tidal?
This article is all about how to get your Tidal music to enhance the quality and content of your videos in iMovie.
---
Part 1. Why Adding Tidal Music to iMovie is Impossible
iMovie is an iOS app that is easy to use and has top features that allow you to create video clips that look like a clip right out of a Hollywood movie. It offers a 4K resolution that maintains high video quality. It also supports all popular video and audio formats. But if you are thinking of adding Tidal music to your iMovie video clip, you may need some tools to shape your idea.
Tidal music is well-protected and can't be uploaded to other unauthorized devices. Although Tidal music allows you to download music and albums with a premium account, they will appear as cache files instead of local files. So, to help you include Tidal songs in your video creation at iMovie, we have discussed the perfect third-party tool for you.
---
Part 2. Add Music to iMovie From Tidal: Necessary Tool
You can easily add Tidal music to iMovie using AudKit Tidizer Music Converter. With a pretty basic user interface and a convenient installation process, the software is an accurate tool for improving the background music of your videos in iMovie. The AudKit converter has been specially designed to download Tidal files as local files and then add the highly enjoyable Tidal music to your video content on iOS.
AudKit Tidal Music Converter allows you to convert Tidal music into a range of multiple formats that are supported by iMovie. It converts Tidal music into FLAC and MP3 without affecting the quality of the music file. Moreover, it has impeccable features offering speed while keeping the audio quality totally intact.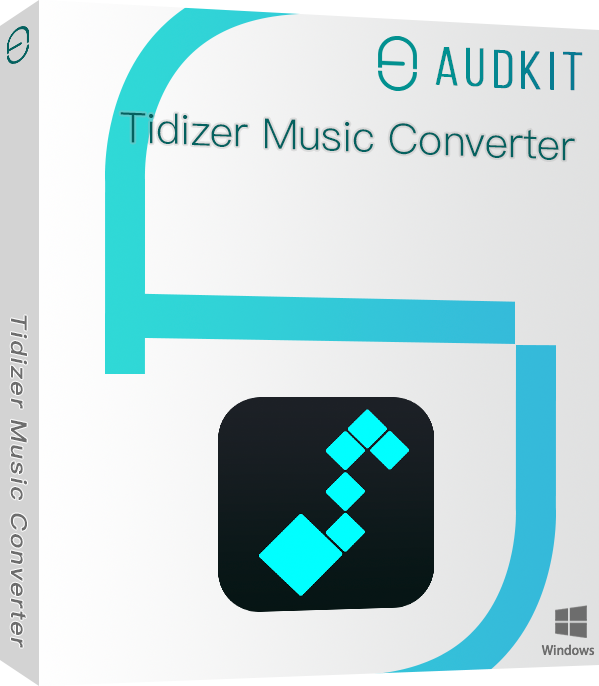 Main Features of AudKit Tidizer Music Converter
Supports various file formats, including MP3, FLAC, WAV, M4A, and M4B
Convert Tidal music to Lossless HiFi quality and original ID3 tags
Speed up the conversion process to 5X faster compared to others
Allow to edit Tidal music in iMovie and other video editors
---
Part 3. Add Music to iMovie From Tidal: Detailed Steps
Since you have decided to edit Tidal music in iMovie using AudKit Tidizer Converter, a little guide will make things easier for you. First, download AudKit Tidizer Music Converter to your Mac OS from its official site. AudKit has Tidal integration, and so you can easily log in to your Tidal account through AudKit. Then, follow the given steps to get the tracks that you enjoyed the most.
Step 1 Customize the output format for iMovie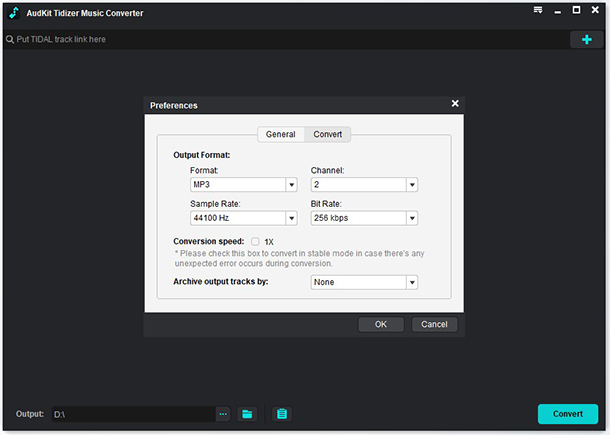 When you log in to your Tidal account, the first thing you must do is customize the output format for your Tidal files. Go to the Preference option. It will open a pop-up menu where you can adjust the output format, Chanel, and bitrate of the output files.
Step 2 Start streaming Tidal Music to AudKit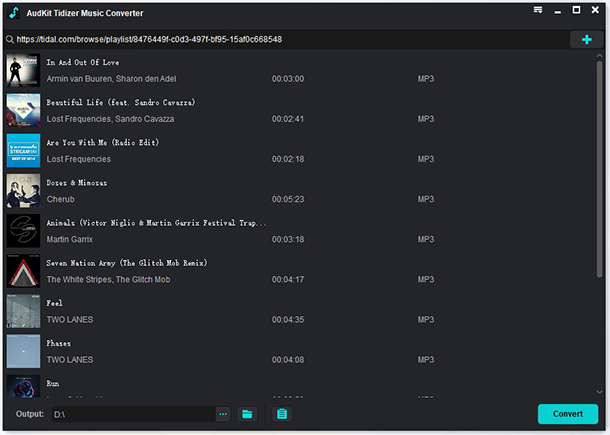 Then, open the album or playlist you wish to download from Tidal. You will notice a blue option on the right side of the screen. Click on the "Add Music" option to include your desired songs and playlist to AudKit Converter.
Step 3 Convert Tidal Music for iMovie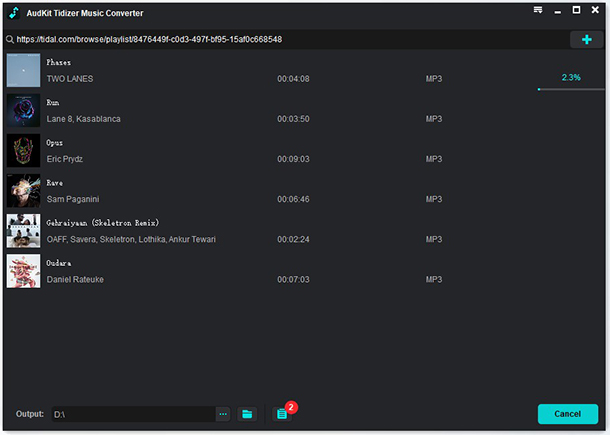 Finally, press the "Convert" option, and the latest decoding technology will automatically convert all your Tidal music files into a high-quality locally saved file format. You will find all these downloaded files on your computer, and you can enjoy them whenever you want.
---
Part 4. How to Upload Music to iMovie From Tidal
Now, you may be thinking about how to upload music to iMovie? This is an even simpler process. Check out the following ways that enable you to get Tidal music to iMovie.
Add Tidal Music to iMovie on Mac OS
Open iMovie video editor on your Mac OS.
Upload the videos you wish to edit.
Go to the "File" option in the top menu bar.
In the list below, click on the "Import Media", which will take you to the downloaded Tidal music on your Mac OS.
Click on "Open" to add music files to your video.
Drag And Drop Tidal Music to iMovie
Within iMovie, start creating a new video.
Using the Finder option, drag and drop the downloaded Tidal song to the timeline.
Edit the length and other attributes of the Tidal music according to your preference.
Add Tidal Music on iPhone
The next big question is, How to add music to iMovie from Tidal using your iPhone? We have the answer to this as well! Check out the below-mentioned steps to get started.
Create iTunes software on your PC and connect your iPhone to the PC.
Import all the downloaded Tidal music to your iTunes Library.
Using the syncing feature, sync all the saved Tidal Music files to your iPhone.
Go to the iMovie app on your iPhone.
Open the videos you want to edit.
Click on the "+" sign and then click on the "Audio" option. Select "Songs" and begin adding music files to your videos.
---
Part 5. Conclusion
Tidal music collects you with millions of songs, and to incorporate those high-quality music files in your videos is surely going to be the peculiarity of your videos. With AudKit Tidal Playlist Converter, you get to enjoy a combination of Tidal Music played through iMovie, the best video editing software.
---