Tidal is popular for its high-quality music. MQA is a high-quality technology offered by Tidal. It is short for Master Quality Authenticated. And now it is available on the latest desktop app and supported Android or Apple devices, and the Tidal web player. It's the highest audio quality on Tidal, delivering studio-quality music. The second highest is high-fidelity, offering CD-quality sound. In contrast, Spotify's "Superior" quality offers 320kbps, while Apple Music's AAC offers 256kbps.
You can enjoy Tidal MQA online with an internet connection. Yet, if you are not able to connect to the internet, or when you have run out of data on your mobile device, you cannot listen to MQA offline. So how to download MQA from Tidal? You can refer to this post to get Tidal MQA download. Besides, you will get a Tidal MQA downloader to help you. Let's get started.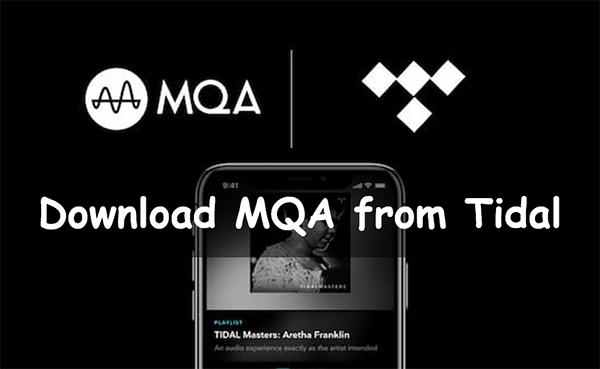 ---
Part 1. What is Tidal MQA
MQA (Master Quality Authenticated) is a method of digitally keeping original master recordings. The benefits of it are that recorded files are small and convenient to download. And the sound quality of MQA songs isn't lossy like traditional compressed audio.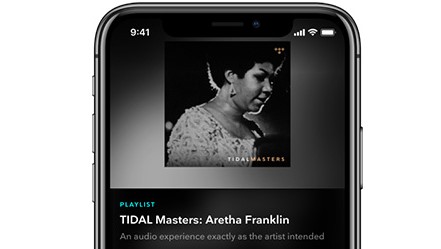 Tidal integrated the HIFI plan and Master Plan in early 2021. Now Tidal HIFI plan contains 4 types of sound quality: High Fidelity (1411 Kbps), Master Quality (up to 9216 Kbps), 360 Reality audio, and Dolby Atmos music.
According to the information coming from the Roon forums, some percentage of albums in the Tidal HiFi tier will be MQA-encoded. That is to say, not every track with the "Master" sign beside is 100% MQA-encoded.
Some said Tidal is giving up MQA and the others said that MQA will apply to every album in the Tidal HiFi tier. When and if it will happen depends on MQA's success in adding more labels to its roster. To be honest, it is more important for a music lover to forget the MQA and enjoy the lossless quality from now on.
---
Part 2. How to Download MQA from Tidal on the Desktop
There are 4 Tidal subscription types: Premium, HiFi, Family Premium, and Family HiFi. Only the HiFi series offers users Tidal MQA songs for listening online and offline. But none of these plans enable users to download Tidal MQA albums. "You can buy your favorite albums but you can't download them." That is the default rule of streaming music services, and Tidal obeys the rule.
That is why you need a reliable Tidal MQA downloader like AudKit Tidizer Music Downloader. It is dedicated to Tidal Premium and HiFi music. With the AudKit Tidizer, you are able to get Tidal MQA download with ease. Whether Tidal High Fidelity, Master Quality, 360 Reality, or Dolby Atmos, the sound quality will keep 100% original.
Tidizer's intelligent conversion skills let you batch download Tidal playlists at 5X if you are using a Windows computer. That means you can download a 10-hour Tidal playlist in only 2 hours or less. Furthermore, this converter is also a smart ID3 tags editor. It preserves complete ID3 tags like artists, albums, album arts, and so forth.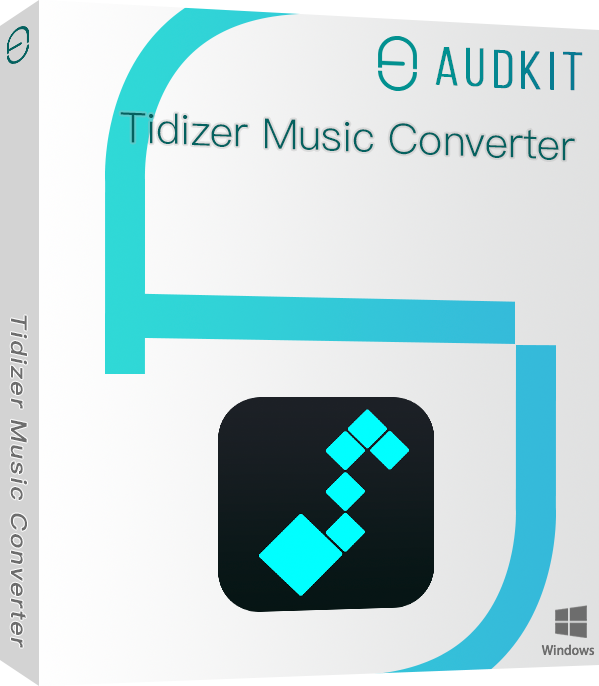 Batch download MQA from Tidal onto the computer
Convert Tidal music to MP3, FLAC, WAV, etc. at 5X
Maintain original ID3 tags and lossless sound quality
Allow users to edit output parameters and output path
AudKit Tidal Music Converter offers a free trial to every unregistered user. But there is only a 1-min conversion of each track. After trial, you can choose your preferred plan from 3 different plans: a 1-month license, a 1-year license, and a lifetime license. The registered license offers the full functions mentioned before. Now you can follow the steps below to download MQA from Tidal onto your computer:
Step 1 Adjust the output properties of Tidal songs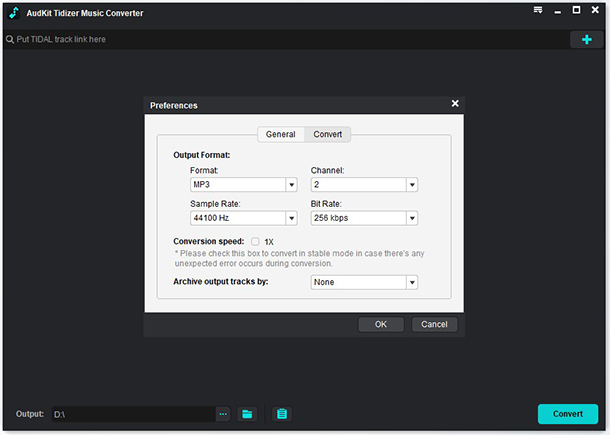 Launch AudKit Tidizer. From the top-right toolbar, open the "Menu" icon > "Register". Type in your email and registration code. Then back to "Menu" icon > "Preferences" > "Advanced". You can now change the output format to FLAC or WAV, bit depth to 24 bit, and sample rate to 96Khz. This output setting 100% matches the Tidal MQA bitrate.
Step 2 Add Tidal MQA albums to AudKit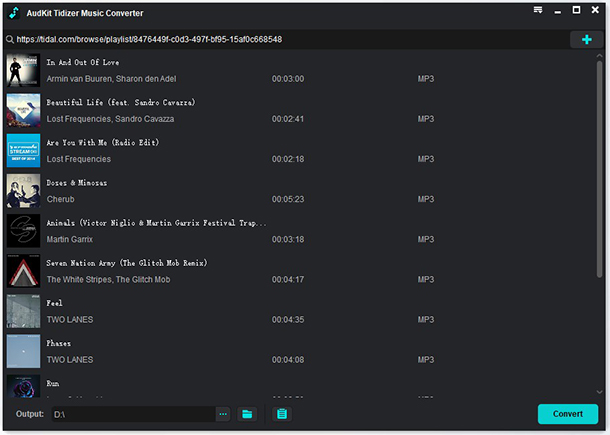 On the main interface of AudKit, open the album or playlist that has a "Master" sign beside the title. Then the "Add Music" tab will flicker. Click it to further select individual tracks or select all.
Step 3 Download Tidal MQA files on the local computer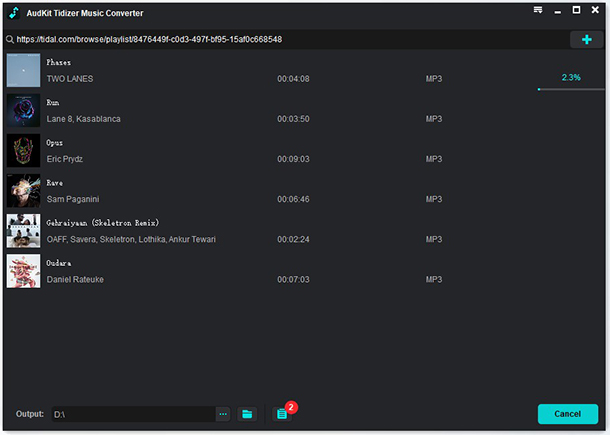 Tap the "Convert" button to make Tidal MQA download. You can keep adding more songs during the conversion. When the downloading process is done, a red tip will display on the "Converted" icon. Hit it to see the downloaded Tidal MQA files. Or you can access the local folder that saves Tidal files by clicking the "Search" icon.
Now you successfully download songs from Tidal onto computer and you can listen to Tidal MQA offline without using the Tidal app. To get an unparalleled listening experience, it is better to use an extra Tidal MQA streamer.
---
Part 3. How to Get Tidal MQA Download on Mobile
If you have subscribed to Tidal's HiFi Plus plan, you can directly download MQA from Tidal. Here are the steps to download Tidal MQA on Android or iOS phones.
Step 1. Open the Tidal app on your iOS or Android.
Step 2. Tap on "My Collection" from the bottom right of the main interface.
Step 3. Tap on the playlist or album that you'd like to download.
Step 4. Tap on the three-dots icon on each song.
Step 5. Select "Download" to download MQA from Tidal.
Step 6. To play the downloaded MQA offline, you can turn on the "offline mode" on the settings page.
---
Part 4. FAQs about Tidal MQA
Here are the answers to some common questions about Tidal MQA for your knowledge:
Q1: What Bitrate Is MQA?
MQA: 96 kHz / 24 bit.
Master: up to 24 bit / 352kHz.
HiFi: 1411kbps or 16bit / 44.1kHz
High: 320kbps AAC
Q2: FLAC vs MQA, Which Is Better?
FLAC means Free Lossless Audio Codec, which is also a lossless audio format.
MQA audio is three times smaller than FLAC. This means that using MQA audio, you can get the same lossless sound quality with a smaller size.
MQA also has an advantage in terms of compatibility. You can stream MQA on a streaming platform like Tidal. Even though it's limited, at least you can access it through streaming. But you are not able to stream FLAC on such a streaming platform like Spotify or Tidal.
Q3: How to Download Tidal MQA and Keep Forever?
Tidal MQA now is only available on your desktop and mobile apps. But using the AudKit Tidizer Music Converter, you can get Tidal MQA download losslessly. Then you are able to listen to Tidal MQA on other devices. And you can keep the downloaded MQA forever even if your subscription is expired.
Q4: How Do I Find MQA on Tidal?
Once you subscribed to Tidal HiFi, you can easily locate MQA music in Tidal's new "Masters Page". Tap on "Tidal" in the "Navigation Drawer" and then select "Masters". Here you can find hundreds of albums and playlists encoded in MQA.
---
Conclusion
Thus, above are all the tips about Tidal MQA. Maybe first you are confused about what exactly is MQA. But now you have known it clearly and you've got a perfect Tidal MQA downloader – AudKit Tidizer Music Converter. You can use it to download Tidal MQA on your computer without any problem. If you want to keep your downloaded MQA songs forever, AudKit is your first choice. Because it downloads Tidal music as your local files, and you can keep them forever even if your subscription is expired. If you want to download FLAC from Tidal, you can also use this smart converter.