As music lovers, we always strive to experience the best possible sound quality, and Tidal's MQA (Master Quality Authenticated) audio format has been a game-changer in this regard. Tidal MQA offers high-resolution audio that can reproduce the original sound quality of a recording with exceptional detail and clarity.
If you're wondering how to download MQA from Tidal, you've come to the right place. This article will guide you through the process of getting Tidal MQA download on both desktop and mobile devices. Additionally, we'll recommend top Tidal MQA streamers, and share some tips on how to enjoy MQA on Tidal.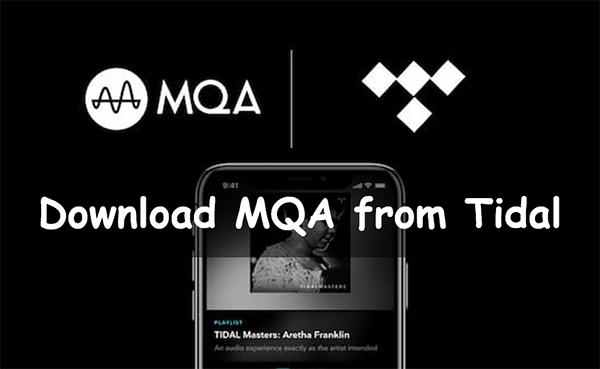 ---
Part 1. FAQs about Tidal MQA
Q1: What Is Tidal MQA?
A: Tidal MQA (Master Quality Authenticated) is a lossless audio codec that claims to deliver studio-quality sound. It's a way to digitally capture and store original master recordings as files that are small enough to be streamed or downloaded. The idea is that this format would allow you to hear unaltered audio straight from the artist.
Q2: What Devices Support Tidal MQA?
A: Tidal MQA is supported on desktop and mobile devices through the Tidal app, as well as on some network players, DACs, and speakers.
Q3: How Much Does Tidal MQA Cost?
A: Tidal's Master Quality Authenticated (MQA) recordings are available with the $19.99 per month subscription. This is the top tier, HiFi Plus, which also includes Dolby Atmos and Sony 360 Audio tracks. The HiFi Plus tier offers audio quality up to 24-bit/192kHz.
Q4: How Do I Find MQA on Tidal?
A: Once you subscribed to Tidal HiFi Plus, you can easily locate MQA music on Tidal's new "Masters" page. Tap on "Tidal" in the "Navigation Drawer" and then select "Masters". Here you can find hundreds of albums and playlists encoded in MQA.
---
Part 2. How to Get Tidal MQA Download on Desktop – Free Way
Tidal offers three subscription tiers: Free, HiFi, and HiFi Plus. Only Tidal HiFi Plus subscribers can listen to Tidal Master tracks, which are streamed in the highest resolution. However, none of these plans allow users to download Tidal MQA music to their computers locally. That's the default rule for streaming music services, and Tidal abides by it.
That is why you need a reliable Tidal MQA downloader like AudKit Tidizer Music Downloader. It is dedicated to Tidal HiFi and HiFi Plus music. With AudKit Tidizer, you are able to get Tidal MQA download with ease. Whether Tidal High Fidelity, Master Quality, 360 Reality, or Dolby Atmos, the sound quality will remain 100% original.
Tidizer's intelligent conversion skills let you batch download Tidal MQA playlists at 5X speed if you are using a Windows computer. That means you can download a 10-hour Tidal playlist in only 2 hours or less. Furthermore, this MQA downloader is also a smart ID3 tags editor. It preserves complete ID3 tags like artists, albums, album arts, and so forth.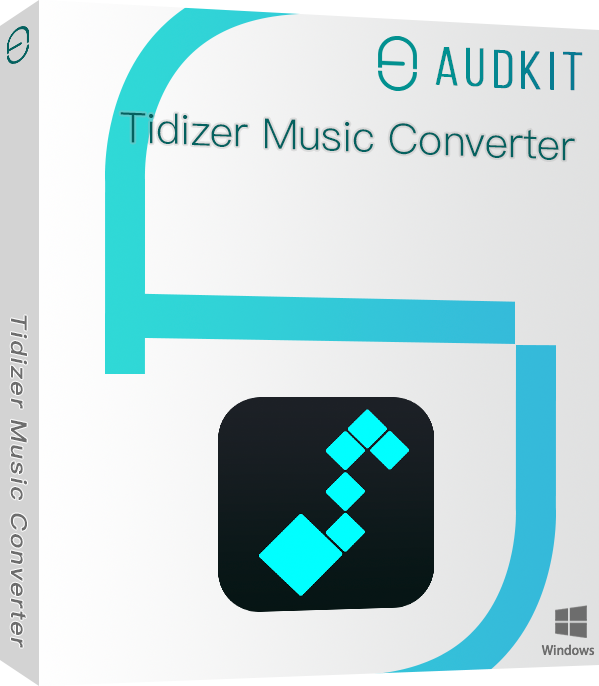 Main Features of AudKit Tidizer Music Converter
Batch download MQA from Tidal onto the computer locally
Convert Tidal MQ music to MP3, FLAC, WAV, etc. at 5X speed
Maintain original ID3 tags and lossless sound quality
Allow users to edit output parameters and output path
How to Get Tidal MQA Audio Download Locally
Now you can follow the steps below to download MQA music from Tidal onto your computer locally.
Step 1 Adjust output properties of Tidal songs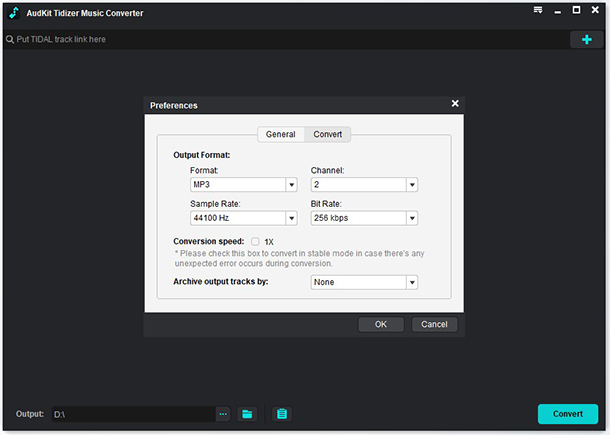 Launch AudKit Tidizer. From the top-right toolbar, open the "Menu" icon > "Register". Type in your email and registration code. Then back to the "Menu" icon > "Preferences" > "Convert". You can now change output format to FLAC or WAV, bit rate to 320 kbps, and sample rate to 48000 Hz. This output setting 100% matches the Tidal MQA bitrate.
Step 2 Add Tidal MQA audio to AudKit Tidizer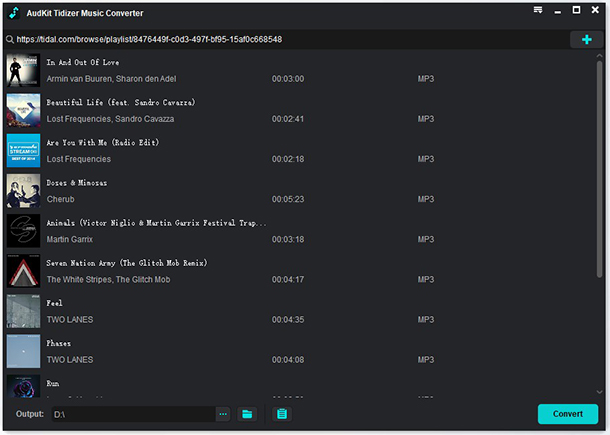 On the Tidal app, find the album or playlist with the "Master" logo next to the title. Copy the target track link and paste it into the AudKit program search bar, after which click the Add button next to it. Or you can just drag and drop Tidal MQA music into its main interface.
Step 3 Download Tidal MQA files on the local computer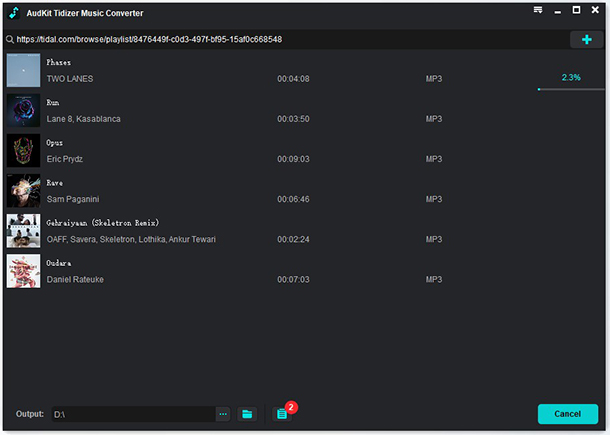 Tap the "Convert" button to make Tidal MQA music download. You can keep adding more songs during the conversion. When the downloading process is done, a red tip will display on the "Converted" icon. Hit it to see the Tidal Master Quality downloads. Or you can access the local folder that saves Tidal files by clicking the "Search" icon. Now you successfully download songs from Tidal onto computer locally and you can listen to Tidal MQA offline without using the Tidal app.
---
Part 3. How to Download MQA from Tidal on Mobile – Official Way
If you have subscribed to Tidal's HiFi Plus plan, you can directly download MQA music from Tidal. Here are the steps to download Tidal MQA on Android or iOS phones.
Step 1. Open the Tidal app on your iOS or Android.
Step 2. Tap on "My Collection" from the bottom right of the main interface.
Step 3. Tap on the Tidal MQA playlist or album that you'd like to download.
Step 4. Tap on the three-dot icon on each song.
Step 5. Select "Download" to download Tidal MQA files.
Step 6. To play the downloaded Tidal MQA music offline, you can turn on the "offline mode" on the settings page.
---
Part 4. Top Tidal MQA Streamers for Audiophiles
In recent years, the demand for high-quality audio streaming has grown exponentially among audiophiles. Audiophiles seeking the best possible audio quality can rely on Tidal's MQA streamers to enhance their listening pleasure. Now, we will explore some of the top Tidal MQA streamers that cater to the discerning ears of audiophiles.
1. Naim Uniti Atom
It is a high-end all-in-one streaming device that offers exceptional audio quality. It features a powerful amplifier that can deliver up to 40 watts per channel, making it suitable for driving a wide range of speakers. The Atom also has built-in support for Tidal MQA streaming, allowing audiophiles to enjoy high-resolution audio without any loss in quality.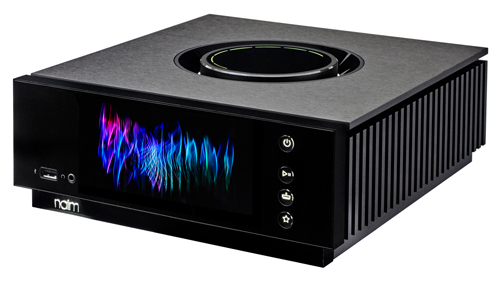 2. Cambridge Audio Evo 75
It is a high-quality audio amplifier and streaming system. It combines a powerful amplifier with advanced streaming capabilities, allowing you to enjoy your favorite music with exceptional sound quality. The Evo 75 offers various connectivity options, including Bluetooth, Wi-Fi, and Ethernet, making it easy to stream music from your devices or online services. It also features a built-in DAC (digital-to-analog converter) for enhanced audio performance.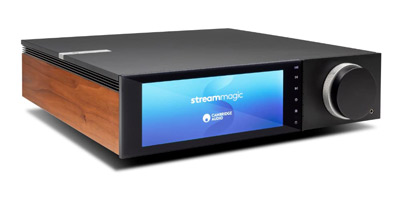 3. Linn Selekt DSM
It is a high-end digital music player that offers exceptional sound quality and versatile connectivity options. It supports a wide range of audio formats, including high-resolution files up to 24-bit/192kHz, and features an advanced digital-to-analog converter (DAC) for superior audio performance. The Selekt DSM also comes with built-in streaming capabilities, allowing you to access your favorite music from various sources, such as Tidal, Qobuz, and Spotify.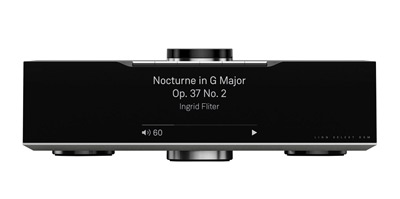 4. Arcam ST60
Arcam ST60 Streamer is a high-end digital music player that offers advanced streaming capabilities and exceptional sound quality. It supports various audio formats, including high-resolution files up to 24-bit/192kHz, and features a high-quality digital-to-analog converter (DAC) for superior audio performance. It also can be controlled through a dedicated app or using the included remote control.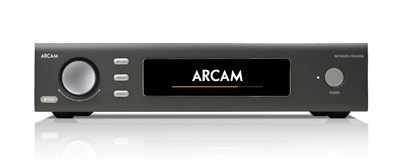 ---
Part 5. Tips for Enjoying MQA on Tidal
Tidal MQA is a high-resolution audio format that promises to deliver studio-quality sound to music lovers. However, to enjoy the full benefits of MQA on Tidal, you need to make some tweaks to your settings and equipment as follows.
🧩 Make sure you have a device that supports MQA playback.
🧩 Use a high-quality audio system to fully appreciate the benefits of MQA.
🧩 Look for the MQA logo when browsing Tidal's library.
🧩 Use Tidal's Master Quality Audio settings to enable MQA playback.
🧩 Consider using a wired connection instead of Wi-Fi for better sound quality.
🧩 Experiment with different headphones or speakers to find the best sound quality for you.
---
Part 6. In Conclusion
Tidal MQA offers an unparalleled listening experience for audiophiles who demand high-quality sound. With this guide, you can now download and enjoy MQA tracks from Tidal on both desktop and mobile devices. Remember to use high-quality equipment for playback and follow our tips for optimal sound quality.
---
---
---