Do you know about some MP3 players that support Tidal? If you already know about it, that's good, but if you need to know all about it, then this is the best place for you to learn this. No need to be worried about looking for the right kind of details as we have sorted out everything for you.
We have done some extensive research for the sake of your ease, so you don't have to go anywhere else in search of the right tools, as we have gathered some of the best options that allow you to know which ones are the finest Tidal MP3 player that you should know about. In this article, we will let you know what we have for you to look forward to.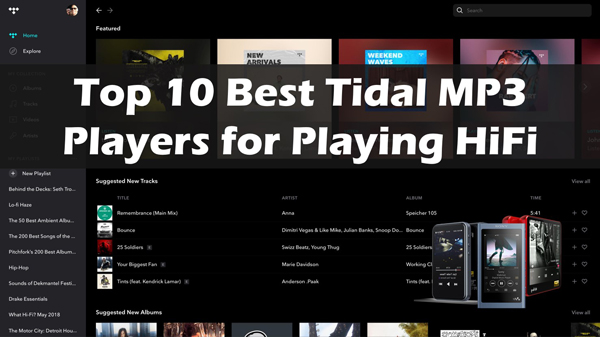 ---
Part 1. Top 10 Best Tidal MP3 Players
Below are the top 10 MP3 player compatible with Tidal, so have a look and check out which ones are they.
1. HiBy R3
HiBy R3 is at the top of the list because of its finest features and outclass performance. It is a portable MP3 player that has some unique elements for audio. This tool has an ESS ES9028Q2M DAC chip, HBC3000 DSD256 with an audio controller, and eight Panasonic hi-polymer, a hi-res audio performance that takes the depth and the breadth of every single note and endless options of music to stream.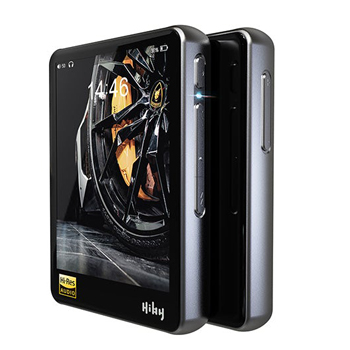 2. Cowon Plenue D3
This is another portable option when choosing some of the best Tidal MP3 music players. It has a new volume dial on the player that looks like an homage to a reasonable pricier Astell & Kern players and makes this looks a bit on the pricy side. Its D3 boasts having a good battery life of up to 45 hours if you're playing MP3 files. It is compatible with 24-bit/192kHz ALAC, WAV, FLAC, AIFF, and DSD128 files and is one of the perfect options to choose from.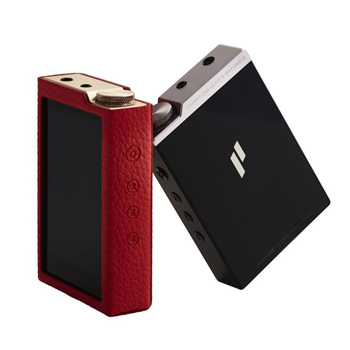 3. FiiO M6
The tool has built-in Wi-Fi for easy streaming that you will not find anywhere else. The music player gives an amazing experience of airplay compatibility that you can listen to the music from your iPhone with an uninterrupted sound. The tool supports USB DAC and has a native DSD support system that converts your files on tap and changes your player into a converter itself.
4. Sony Walkman NWZA17SLV
Another MP3 player Tidal is the one we will write about here. Sony is a well-known company for making some of the finest products, and that's one of them. This Sony Walkman comes along with a compatible storage capacity of 64GB so you can download all kinds of music that appeal to you and an extra memory card slot that can support up to 192GB of memory.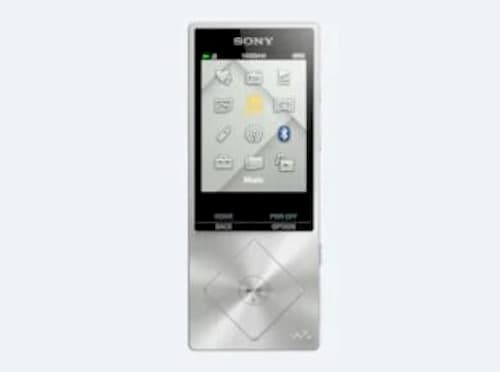 5. Astell & Kern A&norma SR25
Astell & Kern are popular in the high-res portable music player space. Its SR25 iteration searches the memory allocation based on the size of the music that you need to play via automatic processing while in performance mode to stop sonic losses. Users can easily fit up to eight artists or album covers onto the screen even when they are scrolling the library, which makes it easy to use.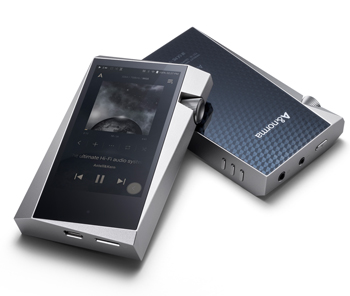 6. Sony NW-A55L
The tool is best for playing any music file you want it to. Not even a single note is undiscovered because of its crystal-clean sound. If you are in need of a budget-friendly option then this is the option for you that has all the finest perks that one can think of including cost-effective, clear sound quality, good storage, and many other functions.
7. Astell & Kern A&ultima SP1000M
This tool has a nice sound quality that is clear and allows you to have a beautiful music experience. It has onboard Wi-Fi which means that it has a streaming capacity and DSD-supported files. Apart from that, USB DAC in this machine allows it to play all kinds of songs. The only downside is that it is a bit complex to deal with its controls, somewhat pricy, but worth a shot.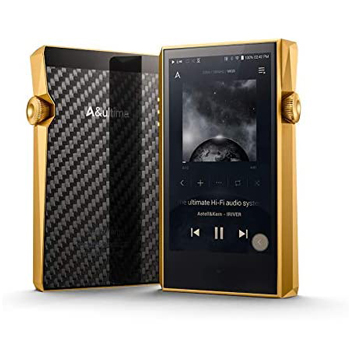 8. FiiO M11 Pro
Another good choice when you need a music player for Tidal. One of the best things about this tool is that it has detailed features for you to look for. It is a bit heavy and has a solid sound quality. If you need to go for a tool that provides you with great UI, then this is the tool for you to pick from. The Fiio with Tidal has extensive functionality that you will not find elsewhere in such an amazing price range.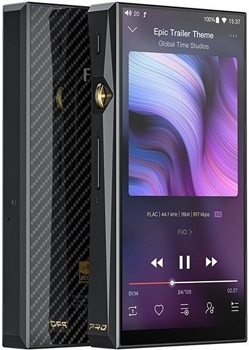 9. Activo CT10
Activo CT10 is a cost-effective option that allows you to have Tidal clients and can work fine with Master Quality Authenticate quality audio. This tool offers a clear and soothing sound for you to cherish. Obviously, you can go for any other high-resolution digital audio player, but this model from Activo gives almost everything one needs in a budget-friendly model, such as aptX HD compatibility and MQA.
10. Astell & Kern Kann
Comes along with a solid and sturdy build that has a long-lasting battery timing, and detailed features. The tool has multiple outputs including aptX Bluetooth for wireless streaming at better-than-CD quality, and native support that is best for 32bit/384kHz and DSD256 files. The design is a bit conventional and not really catchy.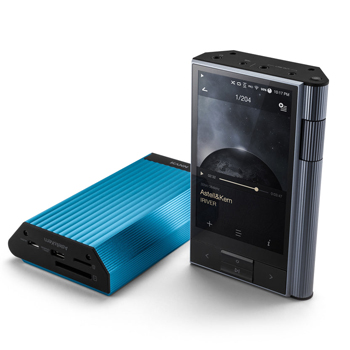 ---
Part 2. How to Play Tidal Music on Any MP3 Player
AudKit Tidal Music Converter is one of the best MP3 music converters that one can gain access to. This smart tool downloads and converts Tidal music to MP3, Lossless, AAC, FLAC, WAV, and other commonly used formats. In this way, you can import your favorite Tidal songs to any MP3 player. It doesn't need the MP3 player to be compatible with the Tidal app.
Moreover, AudKit Tidizer retains the best HiFi quality, 5X quicker downloading access, and an easy-to-use interface. Anyone can make it work without any effort. Users can easily make the most out of this app by giving it ID3 tags, including artist or album name, year, and so forth.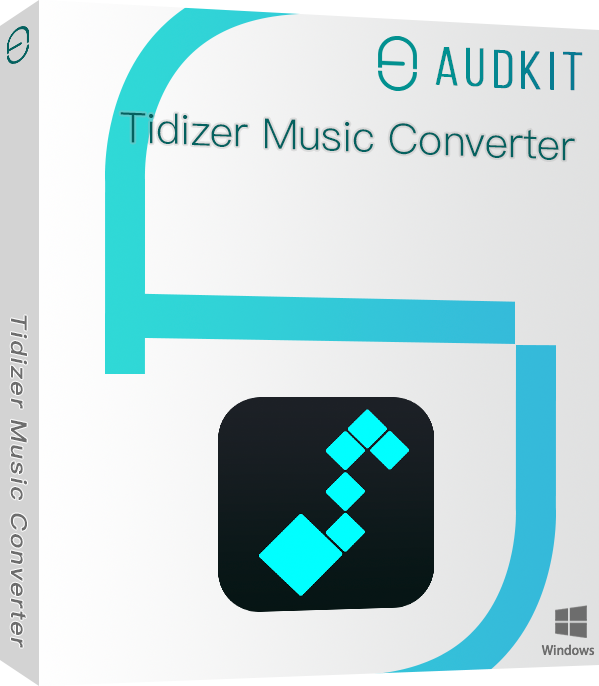 Main Features of AudKit Tidizer Music Converter
Provides you with 5X or faster downloading speed
Maintain lossless sound quality from Tidal HiFi
User-friendly as it works for Windows and MacOS devices
Keep original metadata and ID3 tags for Tidal MP3 players
Download Tidal HiFi for Tidal MP3 Player via AudKit Tidal Music Converter
Use this recommended tool to stream Tidal to DJ in simple steps. First, go to the official website of AudKit Tidizer Music Converter and download the app on your computer. Then install and launch it to start the conversion process. It is also better to activate it and unleash its full potential. Just click on the "Menu" > "Register" tab, then copy and paste the licensed email and registration code for activation.
Step 1 Select the output format to MP3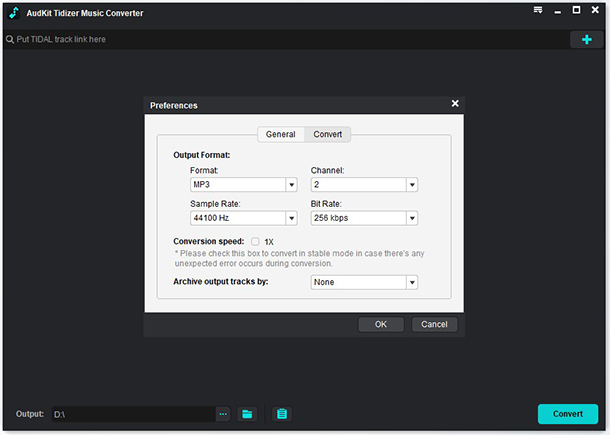 On AudKit's interface, choose the option of Preferences > Conversion from the menu bar and customize the output format to download Tidal to MP3 and play them on MP3 players.
Step 2 Add Tidal tracks into AudKit Tidizer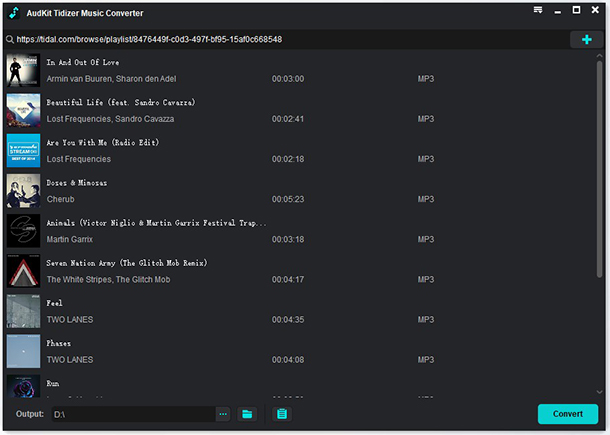 Here, in the built-in Tidal application, just start any Tidal playlist you like. The option of Add Music will be displayed, so just press it to choose the complete playlist or the song you like.
Step 3 Convert Tidal songs for Tidal MP3 player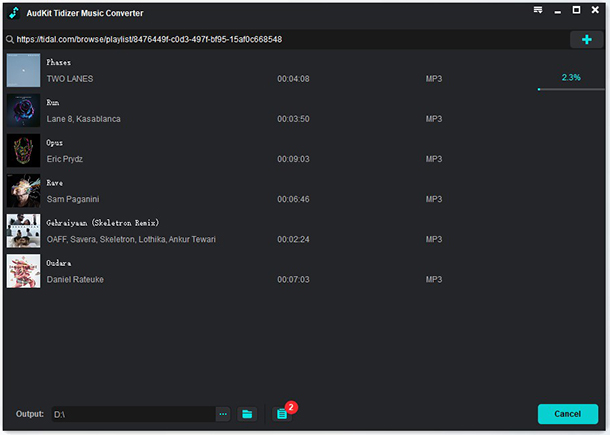 In the end, press the option of Convert and you will see that AudKit has started the process of conversion. You are still allowed to add songs to the converting list. When all of this is done and you see a red tip saying Converted, just start it to see the converted Tidal song files.
You will see that while moving the cursor to the file, a search icon will pop up, so press it to gain access to the local output folder that keeps all converted Tidal music files.
Streaming the Downloaded Tidal HiFi Music on MP3 Player via USB Cable
Step 1. At the start, plug the USB flash drive into your PC, double click the icon of the USB flash drive to open it, and then create a new folder to save Tidal music files.
Step 2. Now search for the converted Tidal audios on your PC before you copy-paste them to the new folder on your USB drive.
Now you can play Tidal on MP3 player anytime through a USB drive.
---
Part 3. Conclusion
The above information has provided users with a list of Tidal portable MP3 players that they can rely on whenever needed. Choose your favorite tool and enjoy your favorite music by downloading it in any format you like. Don't forget to share your feedback with us.