With so many amazing music streaming platforms available at our disposal, staying loyal to any one of them is as impossible as walking on the river. What if you have all your favorite songs on iTunes but you discover a mood-lifting heartwarming playlist on Tidal or vice versa.
Both Spotify and Tidal have over 70 million songs on them. It's quite tempting to prefer one over another. Therefore the incidents of people shifting over these popular platforms have been very common irrespective of their reasons.
So, you might be wondering that you are stuck with switching from one platform to another to listen to your favorite song according to your mood but wait we have something really great for you. Fortunately, there are some qualified ways to export Tidal Playlist to Spotify, iTunes, text, and even to excel sheets as well. Let's move on to find out those hidden ways to export Tidal playlist free to make your music experience better and greater.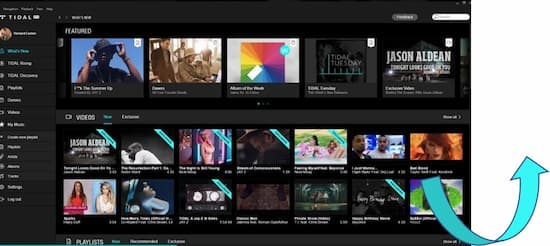 ---
Part 1. How to Export Tidal Playlist to Spotify and iTunes
To export Tidal playlist to Spotify and iTunes AudKit Tidizer Music Converter is the ideal music converter. It is considered special due to its ability to bring the lossless quality of music from Tidal to your desktop for creating a unique music combination on other streaming platforms.
The major beauty of this music converter and downloader is that it is designed to provide convenience and instant results to its users. It allows downloading playlists, tracks, mixes, albums, etc from Tidal effortlessly and also allows you to convert Tidal playlists to MP3, AAC, FLAC, WAV, M4A, and Lossless.
The converter works at a high speed of 5X or even more that never fails to bring 100% HIFI quality of music from Tidal. It lets you enjoy the same quality of music along with smart ID3 tags editors and metadata. You can adjust the ID3 labels by artists, albums, etc.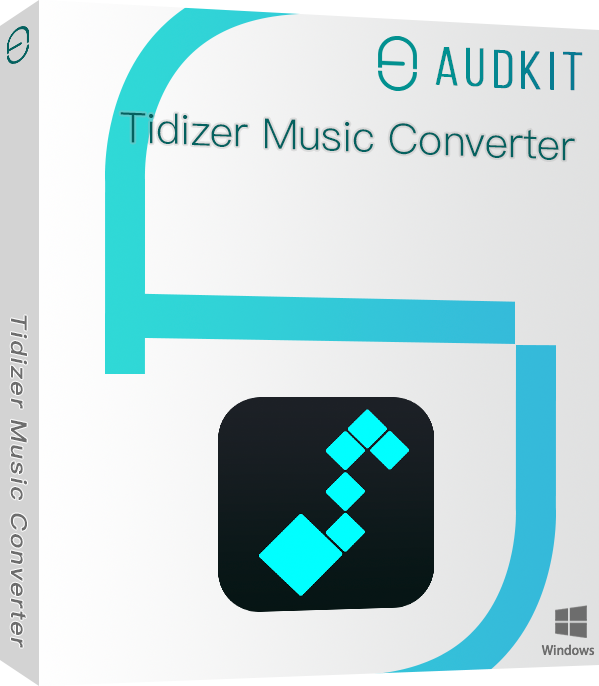 Works at an unbeatable conversion speed of 5X
Allows downloading of Tidal music for offline listening
Free customization of output quality of Tidal Music
Let you keep original metadata and ID3 tags
Here we bring you a comprehensive guide for using AudKit Tidal Music Converter for having better control over their music records.
Firstly download and install the AudKit Tidizer on your PC from their official website. Then follow the below steps.
Step 1 Reset output settings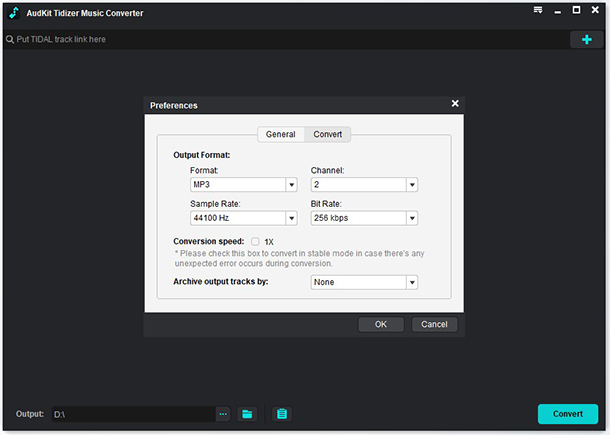 When you launch the software you will find a Tidal Web player on the main interface. Click on the Menu option from the top of the main interface.
Then you will be required to select the Preferences and Advanced options. A pop-up of Setting Window will appear on the screen. Reset the output settings and save the changes you have made.
Step 2 Add Tidal playlists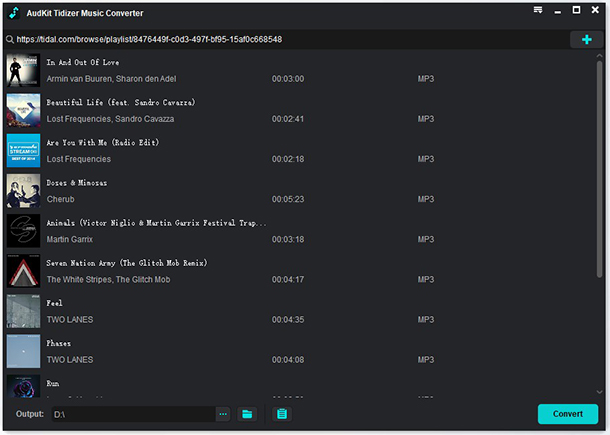 After signing in to your Tidal account browse the songs and playlist and choose the desired one you wish to export. Another way to import the item to AudKit is to click on the + button on the left side of the Tidal interface.
Now you can select the Tidal songs you wish to download for safekeeping or offline listening.
Step 3 Download Tidal playlists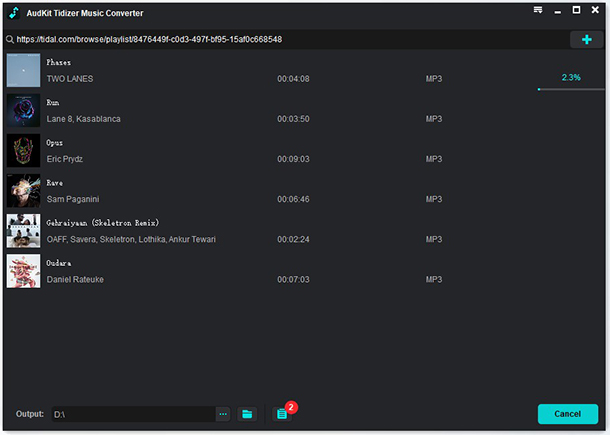 After selecting the Tracks click on the Convert button to start the conversion process. Avoid using another program until the conversion process is completed to avoid any disconnection or issues. At this point, you can keep on selecting the other songs from the Tidal as well for conversion. Once all is done click on the Folder option to locate the output files.
Step 4 Upload the files to Spotify and iTunes
Once your music files are ready on your desktop export Tidal playlist to iTunes and Spotify by uploading them to your desired platform.
For Spotify
Open the app and log into your account
Follow the following: Menu> Settings> Show local files and finally click Add a Source to initiate the transfer process
From the left menu bar access the Local Files and enjoy your Tidal music on Spotify as well.
For iTunes
Locate the Local Tidal Files and from the menu bar select the Files option.
Click on Add File to Library option to add Tidal music to iTunes.
---
Part 2. How to Export Tidal Playlist to Text
When the need arises to export the Tidal Playlist in the text format use Soundiiz the most trending music transferring platform of today's time. It is a playlist transfer tool that also allows its user to transfer music tracks, albums, and much more into the desired format.
Read below to find out the method to export tidal playlist to text using Soundiiz.
Go to the Web application of Soundiiz on your favorite search browser
In the Library section, you will find a Playlist, Albums, Tracks, and Artists.
Select your desired option from Tidal and right-click on Export as File
From here select the Text format to export
Confirm the chosen file to allow the export procedure
Select the Download File option to save the exported file on your device.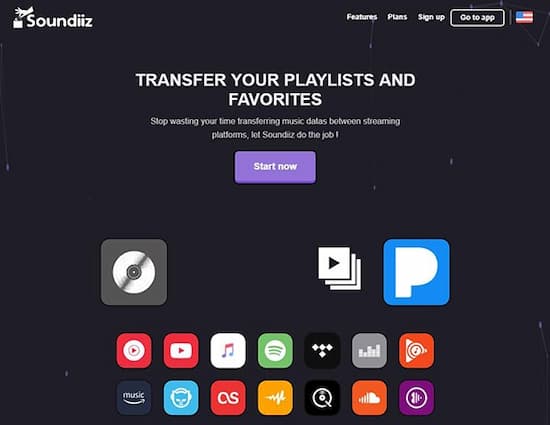 ---
Part 3. How to Export Tidal Playlist to Excel
The task to export a Tidal playlist to excel has become extremely convenient with the TuneMyMusic app. TuneMyMusic is an incredible app that allows easy navigation and quick solutions. Export your favorite playlist from Tidal in CSV format in just a few simple steps.
So let's get started:
Go to the TuneMyMusic official website and click on the Let's Start button
Then select your source of music platform I.e. Tidal in the next window
You will be asked to log in to your Tidal Account
Select your desired playlist and click on the Destination you want to transfer to I.e. Export to File.
Finally, click on Start Moving My Music to complete the procedure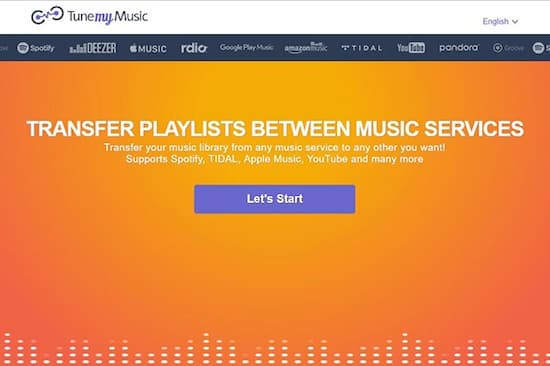 ---
Part 4. Bottom Line
To Export playlist from Tidal might seem like a hectic job but with the above-stated software, you are sure to get your music ready in no time with any complicated procedures. Transferring a limited number of songs at a time will allow you to arrange your playlists in a more organized way.
So keep track of your favorite songs no matter what music streaming platform you are loving these days.
---