"I was using Tidal HiFi plan for a long time. But my friend told me that Tidal HiFi download is possible without buying their premium subscription. After looking through various articles on the Internet, I could not find how to download HiFi music from Tidal. If there is a simple way, please help me download music from Tidal HiFi. Thanks!" – User on the Internet.
Do you wish to download Tidal HiFi music for offline usage on your PC & Mobile? If yes, you are in a good place as our article presents a simple way to download Tidal HiFi music. There is just one limitation to downloading Tidal HiFi music for offline playback. The limitation is that Tidal HiFi music is protected. But there is nothing to worry about. Our article aims to help you get over that limitation and download the Tidal HiFi music.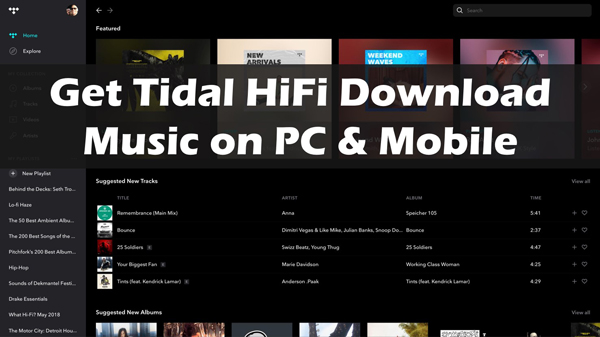 ---
Part 1. Get Tidal HiFi Download Music Offline on PC
Tidal music is difficult to download without a premium subscription. Its music is in protected format, and you need to convert it into a commonly supported format. Therefore, below you will see a special software that can do this job for you.
AudKit Tidal Music Downloader is a top-notch Tidal HiFi music downloader and converter. Using this software, you can download all Tidal HiFi playlists, tracks, mixes, radio, and albums on your computer. The downloaded Tidal music is in a supported format, such as MP3, FLAC, WAV, M4A, etc. with lossless quality kept. The original ID3 tags are also completely saved with the downloaded Tidal audio files. After 5X conversion, the Tidal HiFi music is stored on PC and they can be played offline anywhere and anytime.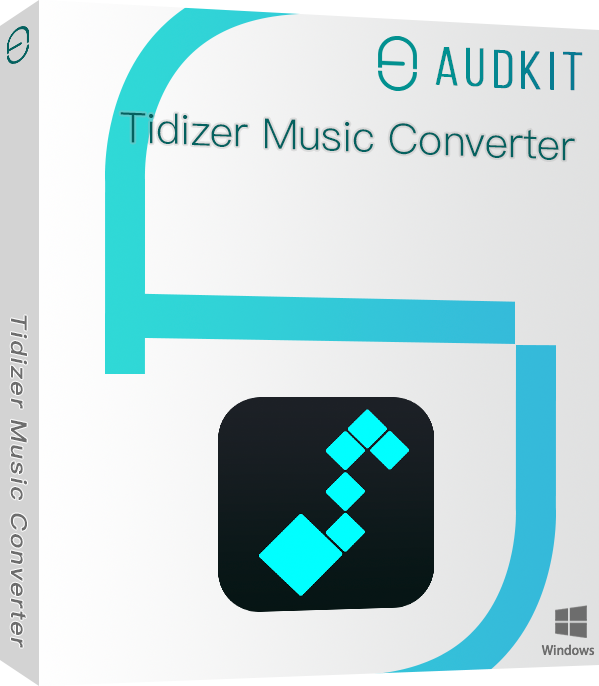 Main Features of AudKit Tidizer Music Converter
Download Tidal HiFi quality music with original ID3 tags
5X speedly convert Tidal HiFi music into common audio formats
Download HiFi music from Tidal for offline usage
Offer a simple interface that newbie can easy-to-use
Steps to Use AudKit to Download Tidal HiFi Music on the Computer
Step 1 Output format settings of Tidal HiFi music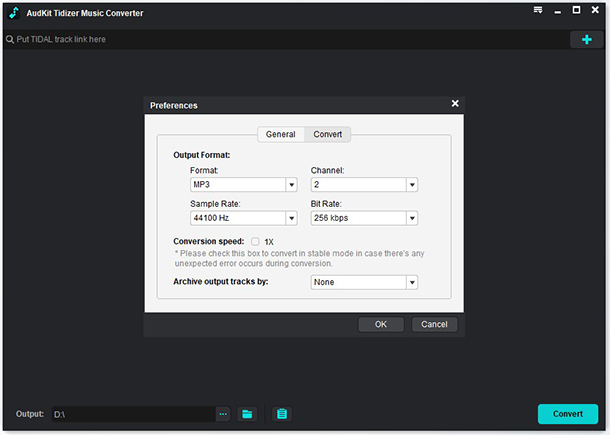 Launch the AudKit Tidizer Music Converter on your computer after downloading it from its official website. After that, select Preferences and choose Conversion. A new window will open to set the output format for Tidal to FLAC, MP3, and more. You can also reset other parameters such as sample rate, bit rate, and channel rate.
Step 2 Add Tidal HiFi music into the AudKit Tidizer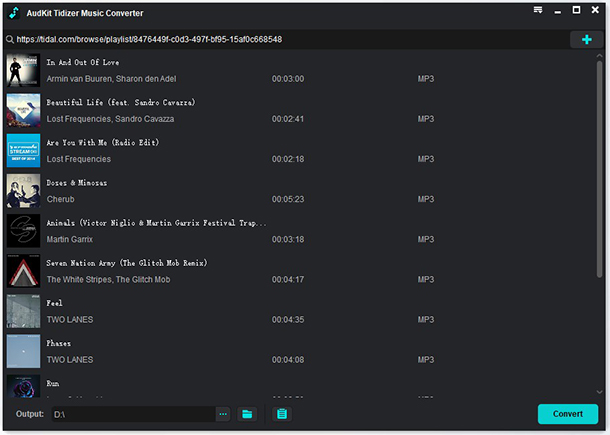 AudKit Tidizer comes with an in-built Tidal application. Using the built-in Tidal web player, search for a playlist that you want to download and hit the Add music button in the lower-right corner. You can click that song and import that into the AudKit Tidizer. Suppose you wish just to select any individual song from a playlist. In that case, you need to open the playlist and add only a specific song.
Step 3 Download and convert Tidal HiFi music through AudKit Tidizer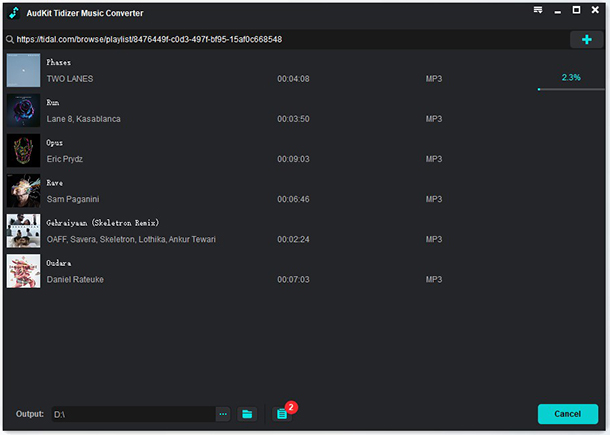 In the bottom right, you will see a tab titled Convert. Click the Convert tab, and you will see that the software will start converting the music. You can also add more songs during the conversion process. Once the conversion is done, you can click on the Convert icon, and it will open the Tidal HiFi downloaded music for you. If you wish to see the Tidal download music on your computer, just click the search icon in front of the songs.
After completing the above steps, you will successfully have Tidal HiFi music available on your computer for offline play.
---
Part 2. Download Tidal HiFi Music on Mobile Devices
Part 1 of the article showed you how you could easily download Tidal HiFi music on your computer for offline play. Let's see another method below that will help you download Tidal HiFi music on your mobile devices.
Tidal allows you to download its albums and playlists for offline listening on mobile devices. You do not require any additional software to perform this method. You can easily download Tidal HiFi music files on your mobile devices.
Step 1: Launch the Tidal application on your Android or iOS device.
Step 2: Find the album or playlist you want to download on your device through the Tidal search option.
Step 3: After you find the music from the Tidal application, just click on the Download button. It will start downloading the Tidal songs for you and place the downloaded files on your mobile device.
Step 4: Now, turn off your mobile data, disconnect your Wi-Fi, and re-open the Tidal application on your Android/iOS device.
Step 5: Tap on the My Collection tab from the bottom menu and move to the Downloaded section.
You will be able to see all your downloaded tracks. You can start playing them by tapping on them.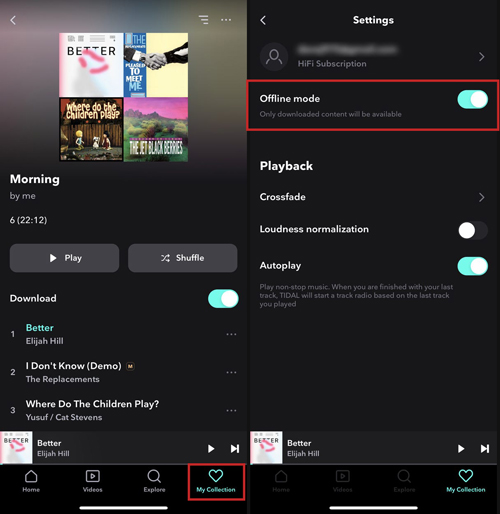 Note: If you wish to play Tidal music without having to disconnect the Internet from your device, you can do that. All you have to do is tap the gear icon in your My Collection section. It will open the settings to authorize the paly downloaded Tidal streaming music. Now you can select the Offline button from Settings and play the music offline without disconnecting the Internet.
---
Part 3. Conclusion
Tidal HiFi music is a streaming service that helps you stream the latest music. But, downloading its music for offline usage is a key challenge. There are two ways through which you can play Tidal HiFi music offline.
The first method is to use the AudKit Tidizer Music Converter. It helps you download Tidal music without premium on your computer by first converting it into a supported audio format. You can play that downloaded music anywhere anytime from your PC in offline mode.
The second method is the official way not to require any additional software. You can do that from your mobile device by downloading it and playing it from your collection.
The major difference between these two methods is that you cannot play the Tidal music outside its application if it is done using the second method. Also, you need a premium subscription to do that. Therefore, the first method using AudKit Tidizer is the most ideal and easiest way to enjoy Tidal music free and for a complete lifetime.
---