As a significant player in the entertainment streaming music industry, Tidal is dedicated to bringing premium, unique content with exclusive experiences to every area of users' lives. Tidal has been progressing with its integration with other platforms, as promised, and is attempting to make Tidal a routine part of users' modern existence. Tidal presently works with the most popular and successful platform devices, meeting their expectations.
Roku, a famous digital media player, offers access to streaming content. Is there a Tidal app for Roku? Yes, Tidal announced the integration with Roku in 2019. From then on, Roku users can enjoy more than 70 million Tidal music tracks and high-profile original content such as music videos, documentaries, live event streams, and more. If you are still confused about how to get Tidal on Roku, this article tells you the answer.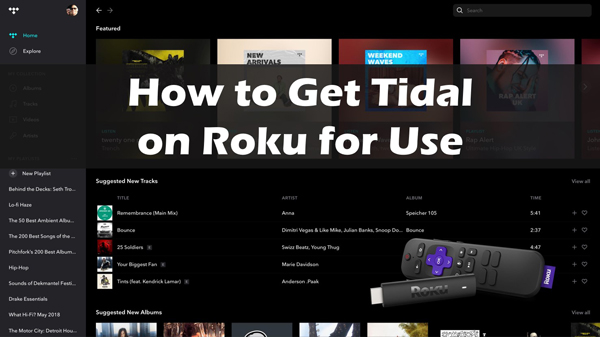 ---
Part 1. A Brief Introduction to Tidal and Roku
Tidal is a transnational music streaming and entertainment company owned by artists that aim at bringing artists and followers closer together through original content, exceptional experiences, and superior audio quality. Tidal is only here to bring you closer to the musicians you listen to, with over 60 million tracks and plenty of exclusive interviews and videos. Make your playlist or try one of ours, hand-curated by music editors and musicians.
Roku is a streaming media service that focuses on access to streaming audio and video content on a TV. You can access Netflix, YouTube, Amazon Prime Video, and other streaming services on a Roku device.
Since there is a Tidal app for Roku from 2019, streaming music lovers all like to stream Tidal on Roku. You can stream music from your Roku as you've never heard it before with a lossless audio experience and high-fidelity sound quality.
Tidal Subscription Types
You've determined that Tidal is the best music streaming service for you. What's next? Choosing between the two plans available: Tidal HiFi and Tidal HiFi Plus. Unlike several other streaming sites, Tidal's two tiers provide radically distinct offerings. One keeps things affordable but limits features, while the other sees a significant price increase but a slew of additional benefits.
You may listen to over 70 million losslessly packed tracks with a Tidal HiFi subscription. Tidal content has 4.4 times the bitrate of rival services' highest Standard Definition streams, allowing you to hear music in its purest form. Tidal HiFi Plus is the only service that combines lossless high-fidelity audio, Master Quality Authenticated audio, and realistic audio formats into one convenient package. A HiFi Plus subscription ensures that you'll be the first to hear about new sound technologies before other members.
Here is a difference between the features of Tidal HiFi and Tidal HiFi Plus for you to download Tidal HiFi or MQA music.
| | |
| --- | --- |
| Tidal HiFi | Tidal HiFi Plus |
| Monthly fee of $9.99 | $19.99 each month |
| Normal sound quality (1,411kbps) | 80 million music and 350 thousand videos |
| HiFi, Master Quality audio, Sony 360 Reality Audio, Dolby Atmos | Master Quality audio, Sony 360 Reality Audio, Dolby Atmos, and HiFi |
| Fan-driven royalties | Lossless High Fidelity sound quality |
| Listening on your compatible devices in all unique and immersive audio formats. | Keep track of and discuss the impact your listening habits have on your favorite musicians. |
---
Part 2. How to Get Tidal on Roku TV with Tidal App
In this part, you will know how to get Tidal on Roku TV with the Tidal app. After you subscribe, you may access Tidal's vast collection on your Roku TV. Users can also watch interviews and music videos with their favorite musicians.
How to Connect Tidal to Roku TV with Tidal App
Step 1. Turn on your Roku device and check that it is linked to the Internet through Wi-Fi.
Step 2. On the Roku TV remote, press and hold the home button.
Step 3. Choose Streaming Channels from the drop-down menu and then Search Channels.
Step 4. Type Tidal into your keyboard to find it.
Step 5. To install the Tidal app, tap Add channel.
Step 6. To open the Tidal app on Roku, choose Go to Channel.
Step 7. Sign in to your account and choose to Start a free trial.
Step 8. Select the song to play on the Roku.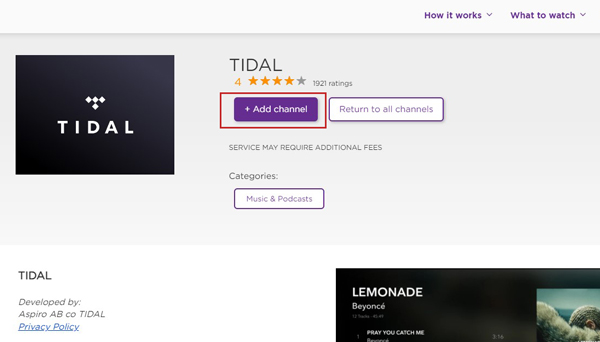 How to Stream Tidal on Roku TV with AirPlay Feature
Step 1. Use the same Wi-Fi network to connect your Roku device and smartphone.
Step 2. Open the App Store on your iOS device and download the Tidal app.
Step 3. log into Tidal using the Tidal app subscription on your phone.
Step 4. To stream a track, go to the left bottom of the app and tap the AirPlay icon.
Step 5. It will show you the available devices on your network and allow you to connect to a Roku device.
Step 6. If prompted, enter the PIN, and your device will immediately stream the music to Roku.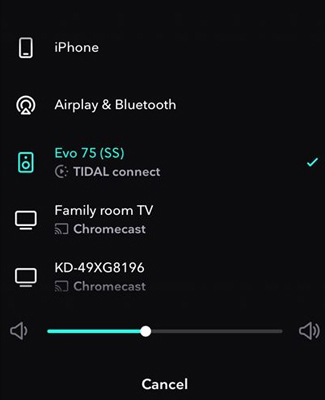 ---
Part 3. How to Play Tidal on Roku TV with AudKit
Because Tidal is only available for some countries: Canada, USA, France, United Kingdom, Argentina, Chile, Colombia, Mexico, Peru, and Ireland. If you are in these countries, you will not be able to play Tidal on Roku directly. Therefore, we give you a solution to solve this problem with ease.
To play Tidal on Roku, you need a Tidal converter to help you remove the protection of Tidal music. AudKit Tidizer Music Converter is one of the top Tidal downloader applications for Mac and Windows. Whether you have a Tidal Free or Tidal HiFi account, it can download Tidal songs and playlists to your computer for local storage. You no longer need to install the Tidal desktop program but use AudKit's built-in Tidal music library.
Besides, AudKit Tidizer is a Tidal media downloader and converter in one. It can download and convert Tidal's HiFi songs and playlists to MP3, FLAC, WAV, AAC, M4A, M4B, and M4B for better compatibility and playback. It also maintains Tidal HiFi lossless quality so that it can provide you with the most excellent audio experience ever. And it uses a high-speed processor to batch convert a 10-hour Tidal playlist in under 2 hours or even less.
How to Download Tidal Music for Use on Roku TV
Now you can install the AudKit converter on your computer from the above "Download" button. Then you need to follow a few steps using AudKit to convert and download Tidal music for use on Roku.
Step 1 Change audio output format for Tidal Roku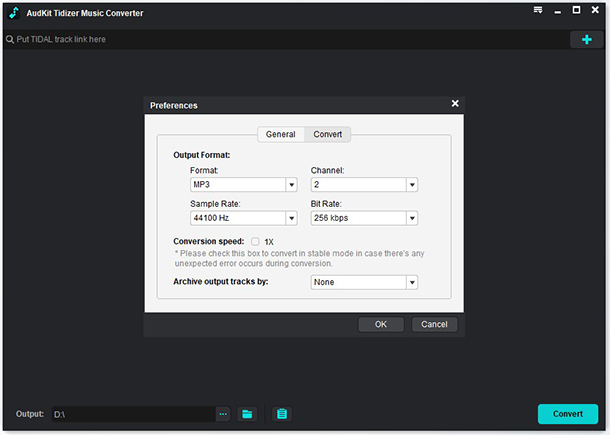 Look at the top-right menu icon, and choose "Preferences" > "Advanced". You can change the output format, channels, sampling rate, bit rate, and archiving mechanism to suit your needs. To play Tidal on Roku, you can select MP3 as the output format. AudKit Tidizer Music Converter will allow you to convert music at 5X the speed.
Step 2 Import Tidal songs to AudKit for Roku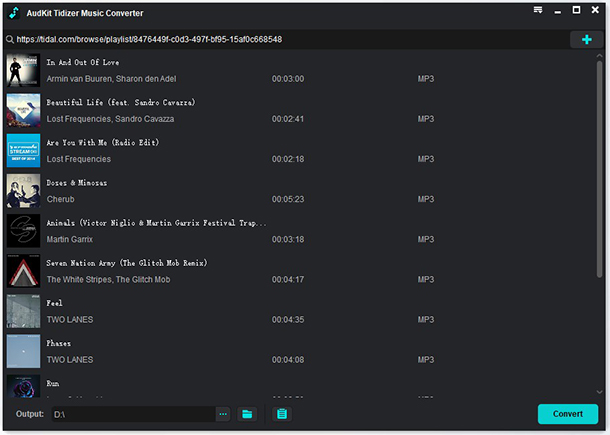 You can click "Log in" to log in to your Tidal account on AudKit. This will show all your Tidal playlists on AudKit, which is quicker to import Tidal songs. Just choose and open one playlist, and the "Add Music" button will glow in the lower-right corner. You can click it to select the entire playlist or specific tracks.
Step 3 Convert Tidal to MP3 for Roku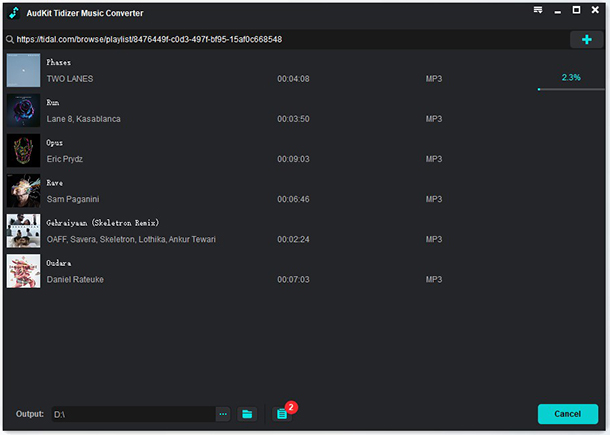 Click the "Convert" button in the bottom right corner. AudKit Tidizer will start the conversion procedure. A red tip will appear on the "Converted" symbol when all downloading tasks are completed. If you want to see the Tidal music files converted, open it. You can get the plain Tidal music and you are able to play Tidal on Roku.
Step 4 Listen to Tidal on Roku TV
Now you can transfer all your converted Tidal music to your Roku TV for offline listening.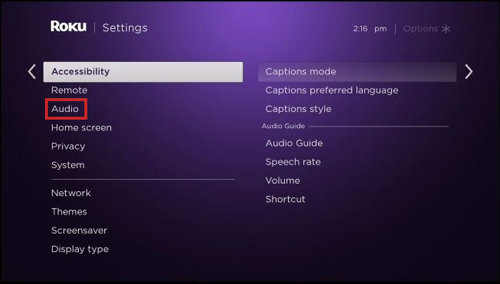 1) Connect your USB drive to your computer and copy and paste Tidal music to your USB drive.
2) Connect your USB drive to your Roku TV.
3)To access audio files, launch Roku Media Player and select the 'Audio' option.
4) From the menu, choose a USB device and search for Tidal songs to play on Roku.
---
Part 4. Final Words
As a significant participant in the entertainment streaming music market, Tidal is committed to offering premium, unique content with exclusive experiences to every aspect of consumers' life.
To use Tidal on Roku devices, you can use AudKit Tidizer Music Converter to maintain lossless Tidal quality, including ID3 tags like title, artists, album, album art, track number, years, etc. You can also customize the quality. With AudKit, playing Tidal music on other devices is not a dream. It enables you to convert any Tidal music to a compatible format with your desired device. Then you can offline listen to Tidal on any device you want without limitation.
---