The trending music streaming app Tidal has now been made available on a variety of devices. But, sadly, it still does not allow users to play Tidal on Apple watch. So, what if you wish to use Tidal Apple watch? Is there absolutely no way to add Tidal to Apple watch?
The answer is, yes, there is. This guide will show you the ropes on how to use Tidal on Apple watch. By using a third-party app, you will be able to enjoy Tidal Apple watch. No more carrying your phone around.
Let's dive in.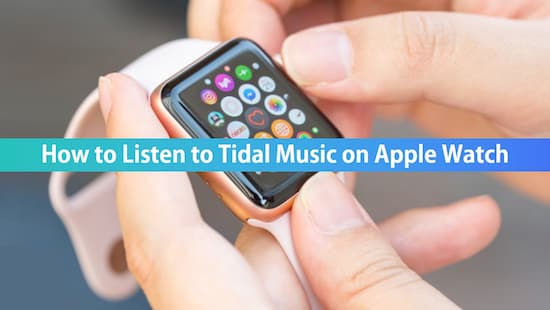 ---
Part 1. How to Add Tidal on Apple Watch: Best Tool
AudKit Tidizer Music Converter is a tool that lets you losslessly convert Tidal music files into the format of your choice. It supports a wide range of frequently used formats. For example, you can convert Tidal music to MP3, FLAC, WAV, etc. With AudKit Tidizer, you can also customize the output audio settings like the conversion speed.
Also, this tool allows easy and 5x fast conversion. The batch download feature is an added benefit of Tidizer. With this tool, users can enjoy high-quality audio that is available for offline streaming.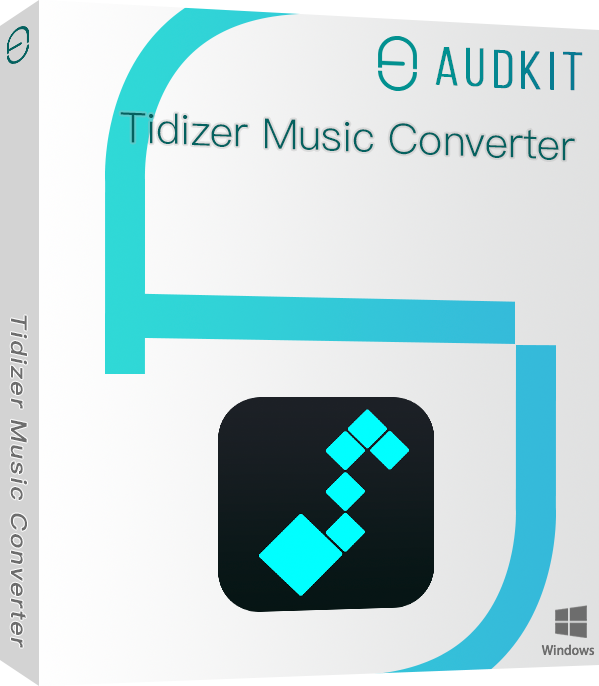 A wide variety of output formats are supported
Super-fast conversion speed with batch download
Metadata and ID3 tags are reserved
Music is downloaded in lossless quality
---
Part 2. How to Use Tidal on Apple Watch: Detailed Steps
Apart from the powerful features that Tidizer offers, it is also super easy to use. It takes only three steps to download the Tidal music locally.
Preparation Download, install and register AudKit Tidizer Music Converter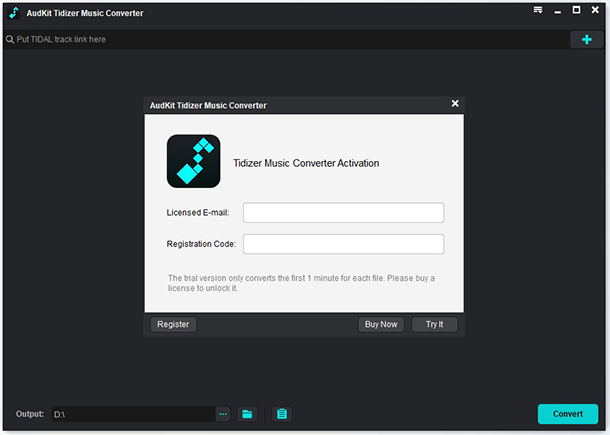 Download and install the AudKit Tidizer Music Converter from the website. Launch it. Since the free version only lets you convert the first one minute of a song, you will need to unlock the full version.
To do that, click on Menu from the top-right taskbar. Then, tap on Register. Now, you must enter the licensed email and registration code. This will instantly activate the premium version with loads of benefits.
Step 1 Import Tidal music tracks or playlists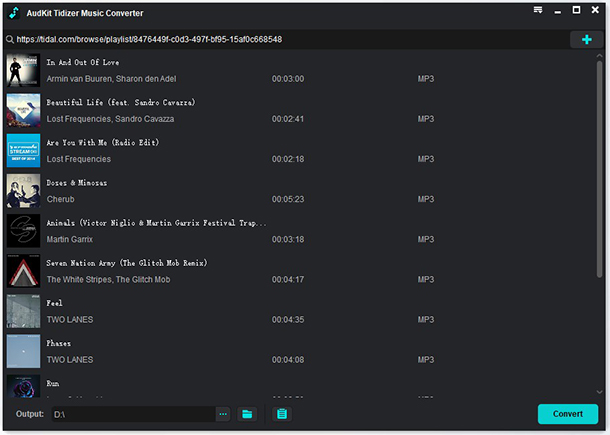 Now, you can import countless Tidal music files. Whether you want to convert individual music tracks or whole playlists, you can do both as a batch download feature. There are two ways to import Tidal files to the Tidizer. One way is to drag and drop the files to the main interface. Or, alternatively, you can copy the link of the tracks from Tidal and paste them into the search bar on the top and click on the plus icon to add them to the list.
Step 2 Change output parameters for Apple Watch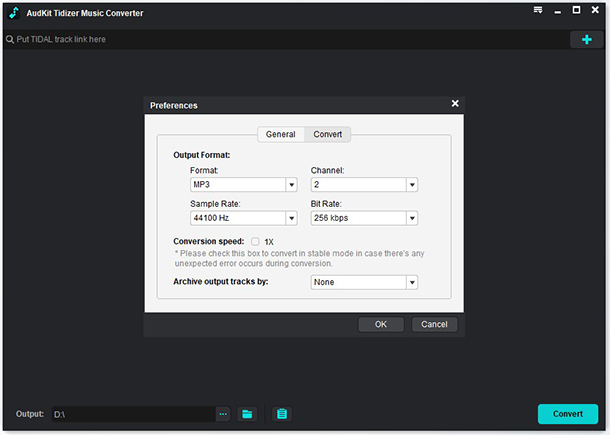 To customize the output parameters, click on the Menu icon again and tap on Preferences. In the Convert tab, change the parameters as you like. You can customize the output audio format, bit rate, and even the conversion speed, depending upon your bandwidth.
Step 3 Convert Tidal tracks for Apple Watch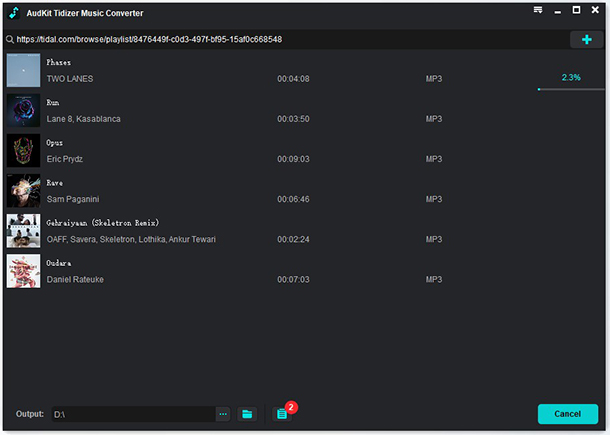 Once you have changed the settings according to your requirements, click on the Convert button to start the process. A loading bar will indicate the conversion in process.
After completion, the downloaded files will be shown as Converted. If you want to find the converted files on your device, click on the search icon beside the track which will open the track saved locally to your device.
Finally, your favorite tidal music is saved in a format that is commonly compatible. Now, all you need to do to play Tidal on Apple watch is to transfer and sync.
Here the steps on how to use Tidal on Apple watch.
Step 4 Add and play Tidal With Volumio
1- Transfer Tidal Music to iTunes Library
Open your PC or Mac and open the iTunes or Music library. Click on File and tap on Add File to Library. Now, select the locally saved Tidal files you wish to play on Apple watch and click on Open.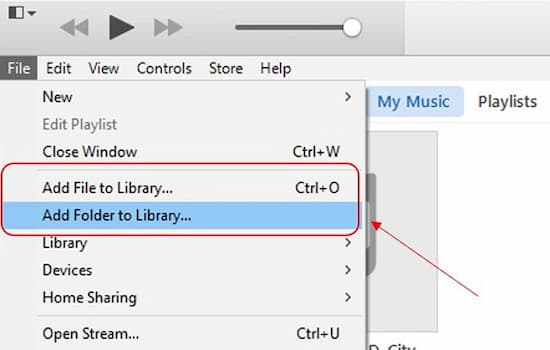 2- Add Tidal Music to iPhone from iTunes
Now, connect your iPhone to your PC. Tap on your device on iTunes in the top-right corner. From the left menu bar, tap on Music. Check the Sync Music toggle. Now, you can select to sync the Entire music library or Selected playlists. Then, click on Done to sync the Tidal music to your iPhone.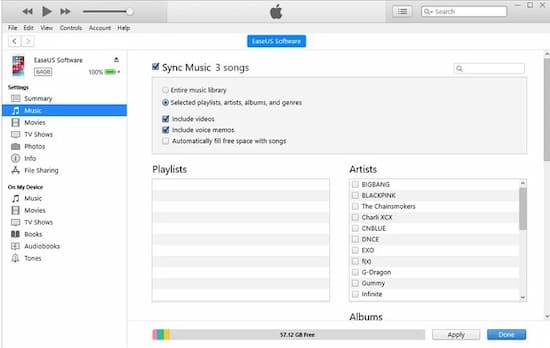 3- Add Tidal Music From iPhone to Apple Watch
For this, you must first put the watch on charge and then turn on Bluetooth on the iPhone. Then, in the Apple Watch app on your iPhone, open My Watch. Scroll and tap on Music, then on Add Music. After that, select the Tidal files and click on add. Now, you will be able to play Tidal on Apple watch.
---
Part 3. Conclusion
Finally, you have the magic answer that will help you play Tidal on Apple Watch. With this feature, you can enjoy Tidal music anywhere, anytime, even when you are not carrying your phone. The Tidal for Apple Watch feature is bound to transform your music streaming experience. So, go on and enjoy limitless streaming of Tidal Apple Watch. Good luck!
---