Can you use Tidal on your iPhone? The answer is absolute yes. You can download the Tidal app directly from the App Store on your iPhone. You will be able to access over 70 million songs and 25,000 videos on Tidal. But can you play MQA on iPhone? If you don't know how to do that yet, read on. This article will cover all the things you want to know about Tidal on iPhone. You'll know how to download and listen to Tidal HiFi and MQA offline on your iPhone.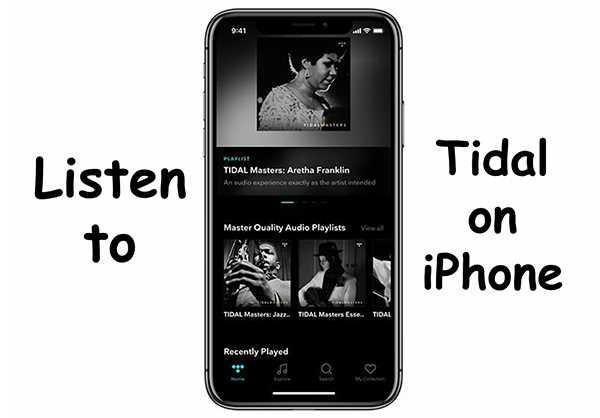 ---
Part 1. Tidal on iPhone Review
To begin with, let's take a detailed Tidal on iPhone review. Compared to other music streaming services, Tidal offers high-fidelity audio (Hi-Fi). This is Tidal's biggest advantage over other music streaming services. Other music streaming platforms, such as Spotify, are limited to offering a bit rate of 320kbps. However, Tidal offers its users CD-quality music at a bit rate of 1411kbps. So, if you want a high-quality music experience, you may want to consider Tidal on iPhone.
Tidal has three main types of subscriptions. Free, HiFi, and HiFi Plus.
Tidal Free
You can use Tidal for free and have access to a complete library of over 90 million songs. However, you will be interrupted by annoying ads. Also, if you use Tidal on iPhone/Android, you can only skip 6 times per hour. Tidal on Mac or PC will have unlimited skips.
Tidal HiFi ($9.99/month)
Tidal HiFi is the basic subscription type. With a Tidal HiFi account, you will be able to access over 90 million HiFi songs and over 450,000 videos. You will not be distracted by annoying ads. In addition, you will get unlimited skips. The most wonderful thing is that you can download music for offline playback without having to connect to Wi-Fi. There is also a fantastic feature – Tidal Connect. you can use Tidal Connect to play Tidal wirelessly on supported devices.
Tidal HiFi Plus ($19.99/month)
It is the premium mode of Tidal HiFi. It includes all the features of Tidal HiFi but also benefits listeners and artists. With a Tidal HiFi Plus subscription, you can also listen to Master Quality Authenticated audio, Dolby Atmos, Sony 360 Reality Audio, and other immersive formats. HiFi Plus subscribers also contribute to our artist direct payments.
---
Part 2. How to Listen to MQA Tidal on iPhone
Is there Tidal master quality on iPhone? When it comes to MQA (Master Quality Authenticated) Tidal on iPhone, you're in such luck. Previously, Tidal MQA was only accessible to higher-end music players and hi-fi systems. Then Tidal MQA was added to Android devices, and now iOS supports MQA as well. If your Apple device is running iOS 11 or later, you'll be able to access Tidal masters on iPhone. But how do you do it? Follow the next steps: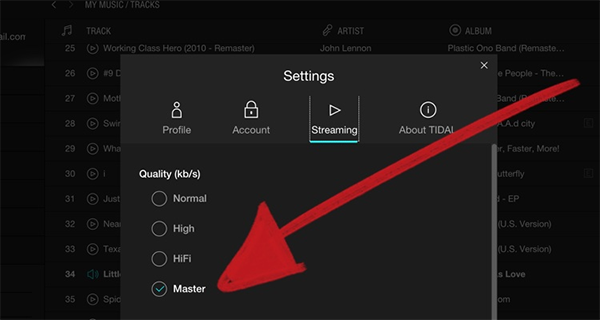 Step 1. Open Tidal on iPhone and log in to your Tidal HiFi account.
Step 2. Tap on the Home button on the left side.
Step 3. Scroll down and you will find "Master Quality Authenticated Albums" and "Master Quality Authenticated Playlists".
Tips:
1. Alternatively, you can tap on Explore and then choose the TIDAL Masters icon to access Tidal MQA music.
2. You can also go to Settings and choose the Streaming tab to select Master.
(All "Master Quality Authenticated" music will have a 'Master' icon next to them.)
---
Part 3. How to Offline Listen to Tidal on iPhone
If you are a new subscriber, you can get a free trial of Tidal HiFi for 3 months. After that, you need to choose a genre to use Tidal. By subscribing to Tidal HiFi, you can enjoy the offline mode on Tidal on iPhone. However, the downloaded songs are just cached files, so you can't use them on other players or devices.
To break this limitation, you can use the AudKit Tidizer Music Converter. It allows you to download any music from Tidal and use it as your own file. Not only Tidal HiFi music, but it can also download Tidal MQA. After downloading, you will get the real file of Tidal music.
Not only that, but you can also convert Tidal music to MP3, FLAC, and other common files. In other words, you are able to share the downloaded Tidal high-quality songs with others, listen to Tidal music on multiple devices, or do whatever you want with these downloaded songs.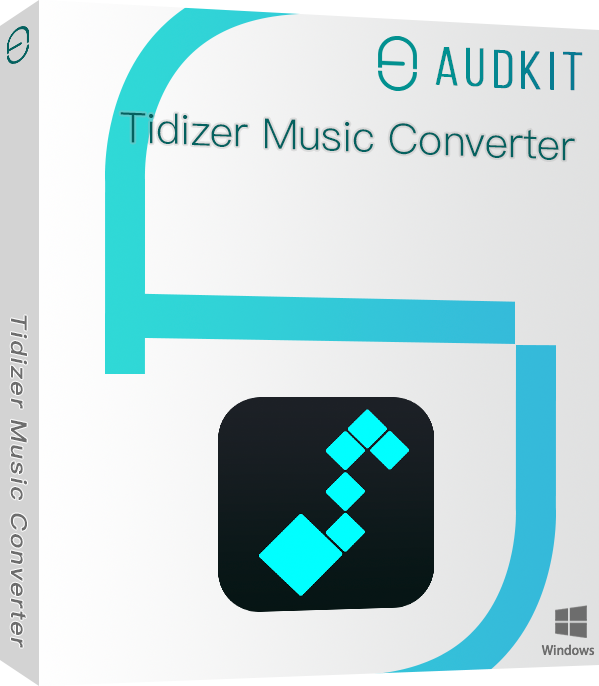 Has both Windows and Mac versions
High download and conversion speed of 5X
Keep the original sound quality
Support multiple output formats
Now let's see the detailed steps to download music from Tidal on iPhone for offline listening. Before you start, please download and install the AudKit Tidal Converter on your computer.
Step 1 Add Tidal music to AudKit for iPhone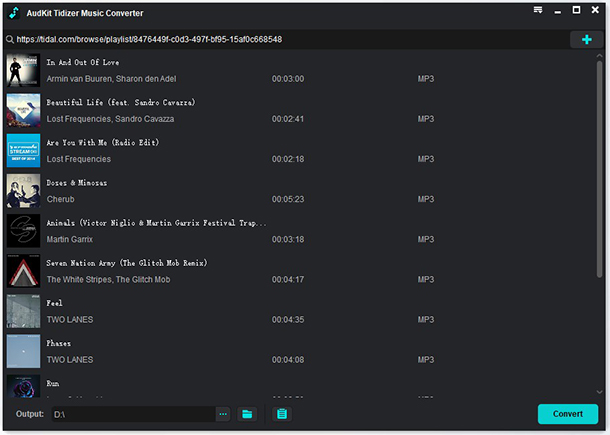 Open this powerful converter and the Tidal app will open automatically. Find the songs you want to download, drag and drop them to AudKit. Alternatively, you can copy and paste the song's link into the address bar near the top of AudKit. Then click on the + icon to load and add them.
Step 2 Reset the output format for Tidal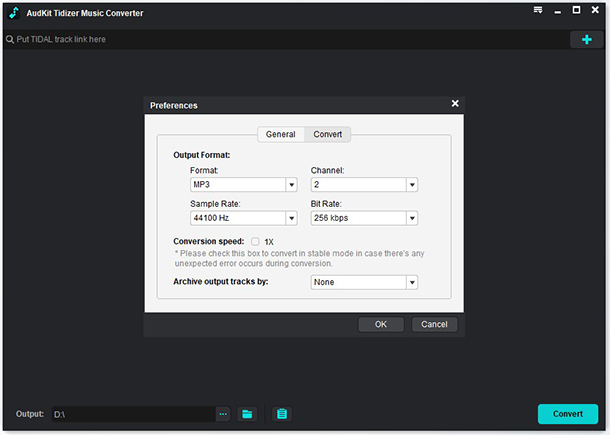 Click on the menu icon at the top-right corner, then select the Preferences and Convert option. Here you are able to customize the output format and other settings as you want. To play Tidal on iPhone offline, you can reset the output format as MP3. You can also do other changes like the channel, and bitrate as you like.
Step 3 Download Tidal music for playing on iPhone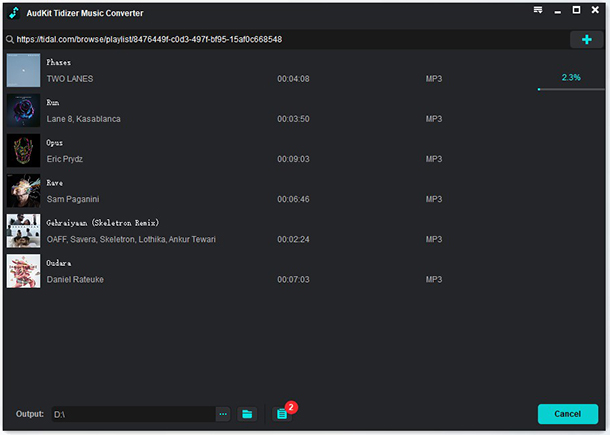 Finally, click the Convert button to launch the download process. All the added songs will be downloaded and converted as your setting. After downloading, you will get the true files of Tidal music stored on your computer's local folder. You are able to offline play Tidal on iPhone or other devices you want.
Step 4 Transfer the downloaded Tidal songs to iPhone
You can transfer the downloaded Tidal songs to your iPhone via iTunes on Windows or Finder on Mac.
How to move the downloaded Tidal music from PC to iPhone via iTunes: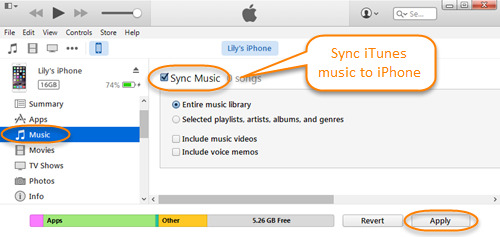 Step 1. Follow the tutorial above on how to download music from Tidal to iTunes.
Step 2. Connect your computer to your iPhone with a USB cable.
Step 3. Open the iTunes app on your PC. Click on "Device" > "Music" > "Sync Music".
Step 4. Choose "Entire music library" and then select your downloaded Tidal music.
Step 5. Click "Sync" to start transferring the downloaded Tidal music from your PC to your iPhone.
How to transfer the downloaded Tidal music from Mac to iPhone via Finder: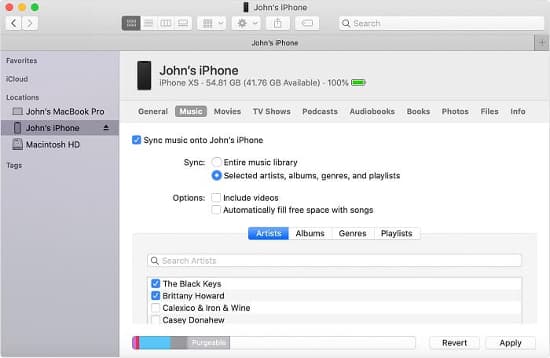 Step 1. Connect your computer to your Mac with a USB cable.
Step 2. Open Finder. Under Locations, click on your iPhone.
Step 3. Select "Music" in the Finder window.
Step 4. Check the option "Sync music onto (your iPhone)".
Step 5. Then select "Selected artists, albums, genres, and playlists" to choose your downloaded Tidal music.
Step 6. Click "Apply" to start transferring music from your Mac to your iPhone.
When finished, you can offline listen to Tidal on iPhone through Tidal or other music players. Listening to the downloaded Tidal music through other music players on your iPhone, you don't need to worry about Tidal not working on iPhone issue.
---
In Conclusion
Thanks to the addition of Tidal MQA to iOS, you can freely enjoy Tidal's high-quality music on your iPhone. However, even if you download Tidal songs, they are only cached files. To actually download Tidal music, you can use AudKit Tidal Converter. It can download Tidal HiFi and MQA music up to 5 times faster. And the original sound quality and all metadata are fully preserved. Download AudKit Tidal Converter and enjoy Tidal on iPhone or any other device!
---