Amazon Alexa, famously referred Alexa is a virtual assistant AI developed by Amazon. The AI is capable of voice interactions, traffic updates, alarm settings, and music playback from music streaming platforms such as Amazon Music, Spotify, among others. Also, you can Play Tidal on Alexa.
Unlike other online streaming platforms, Tidal users can now play Tidal songs via Alexa without involving Amazon. This is very much possible following a recent business cooperation agreement between Amazon and Tidal that granted Tidal the privilege to use Amazon's service, "Music Skill API."
Tidal fans can stream high-quality Tidal music files on Amazon Echo Device through Alexa. However, you must be a Tidal premium subscriber to connect Tidal to Alexa. In this article, we will equip you with relevant skills to connect Tidal to Alexa and furnish you with an alternative tip on how to play Tidal on Alexa if you do not have an active Tidal premium account. Read on!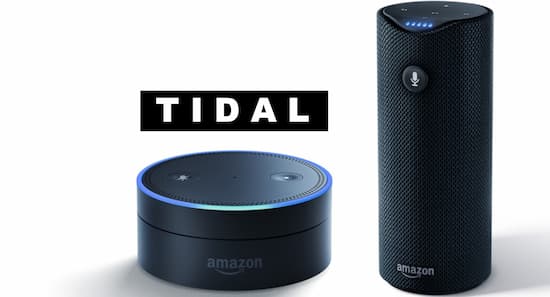 ---
Part 1. How to Connect Tidal to Alexa: Official Way
As we said in the former part of this post, both Alexa and Tidal are integrated, and therefore linking Tidal to Alexa is pretty much straightforward. To do that, however, you need to be an active premium Tidal subscriber. It is crucial that you double-check your Tidal account's validity before you attempt linking Tidal to Alexa; otherwise, it will not work! After that, you can proceed with the steps below to have your Tidal connected to Alexa.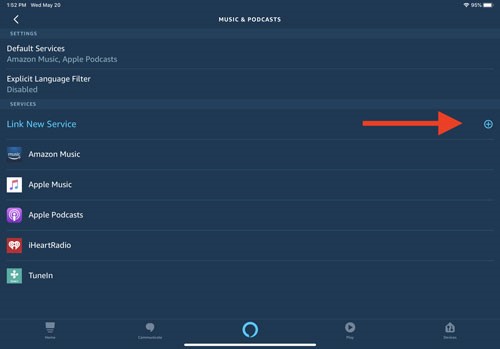 Step 1: Download, install and launch Amazon Alexa App on your smartphone.
Step 2: Go on to "Settings" and select the "Music" option.
Step 3: Select "Link New Service", then "TIDAL", and finally hit the "Enable to Use" option to connect your Tidal account.
Step 4: Go back to "Settings" then "Music" and choose "TIDAL" as your "Default Services."
Once the Alexa and Tidal connection is successful, you can now play your favorite Tidal playlist by voice command. For instance, you can say, "Ok, Alexa, play Jingle Bells." Then, Alexa will "Gladly" play Jiggle Bells Christmas tunes on Amazon Echo device for you.
---
Part 2. Alexa Tidal Skills – How to Download Tidal on Alexa
So, what happens if you do not have an active Tidal premium account? Does that mean you cannot play Tidal music on your Amazon Echo device? Well, it is practically impossible to play Tidal on Alexa if you do not have an active Tidal premium account. However, we have found a way around that! You can choose to play Tidal songs on your phone/tablet to Amazon Echo device via Bluetooth. To do that, you will first need to download your Tidal songs to your computer, which is somewhat impossible courtesy of the copy technology protection imposed on all Tidal music contents.
It is for this reason that we introduce to you the new AudKit Tidal Music Converter. AudKit is knit with leading technology to help Tidal fans bypass download restrictions on Tidal and therefore facilitating the easy download of Tidal songs. With the App, you can effortlessly and limitlessly download and convert Tidal songs from Tidal to more playable audio formats on most portable devices.
AudKit is easy to use, and you certainly do not need any technical training to navigate and use it. Besides, here are a few top features that you stand to enjoy when using AudKit Tidizer Music Converter.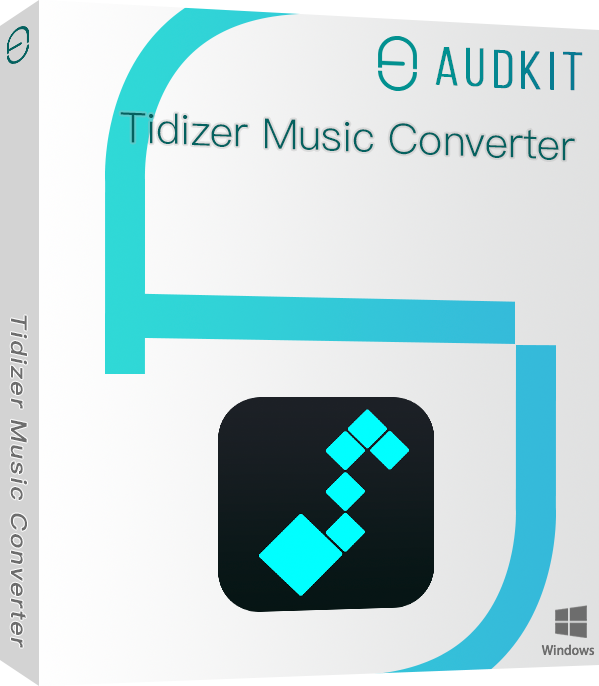 Convert Tidal to MP3, WAV, FLAC, etc.
Work at 5X conversion speed for Tidal
Support batch Tidal songs download
Keep 100% audio quality and metadata
So, how do you use AudKit to download songs from Tidal? Here is how you do it!
Step 1 Add Tidal songs to AudKit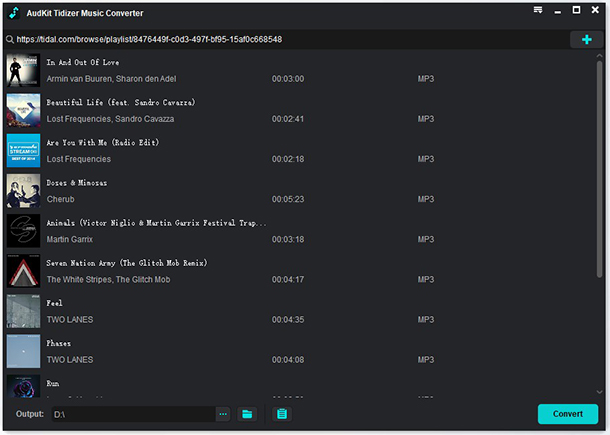 Launch AudKit on your PC. Sign in to your Tidal account and select the songs you would like to download. Right-click on the songs and select "Share">> "Copy Track Link. "Then, paste the URL link on AudKit's interface and click on the "+" icon import the track to AudKit.
Step 2 Customize audio parameters for Alexa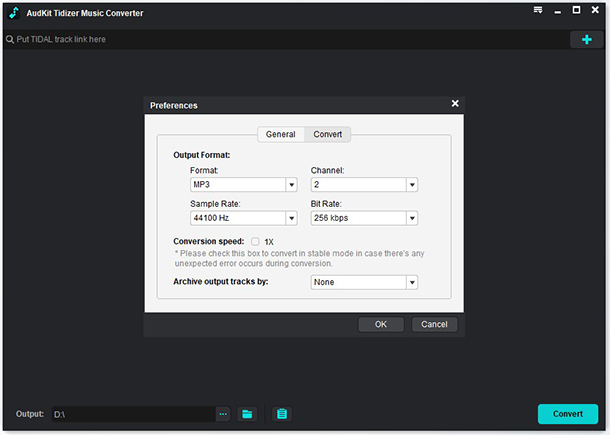 Click on the right-top menu icon to access the "Preferences" option. Here, you can customize your preferred audio output and alter a few basic audio parameters, including audio channel, sample rate, and bit rate, for enhanced sound quality.
Step 3 Download Tidal songs for Alexa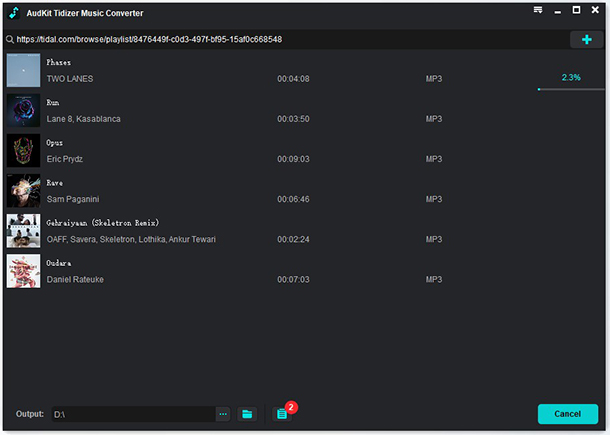 Hit on the "Conversion" option to start the conversion and download process. Once the process is complete, a red tip will appear on the "Converted" icon. Click on it to locate your downloaded Tidal songs.
---
Part 3. How to Play Tidal on Alexa with Ease
After downloading, you can now use your device, i.e. computer, to play tidal on Amazon Echo using Alexa. Here are a few steps you should follow to play Tidal on Alexa easily.
Step 1: Connect device to Amazon Echo
Ensure that your device's Bluetooth is discoverable. Say, "Alexa pair", and your Echo will enter into pairing mode Echo will display a list of devices available for pairing. Tap on the name of your device to connect with Echo. Alexa will tell you when the connection is complete.
Step 2: Add device to Alexa
Click on "Device">> "Echo & Alexa" and select the Echo device you would like to pair with your phone or PC. Tap "Pair Alexa Gadget" on the connected devices section. Open Bluetooth settings on your device and click on your Echo's name to connect.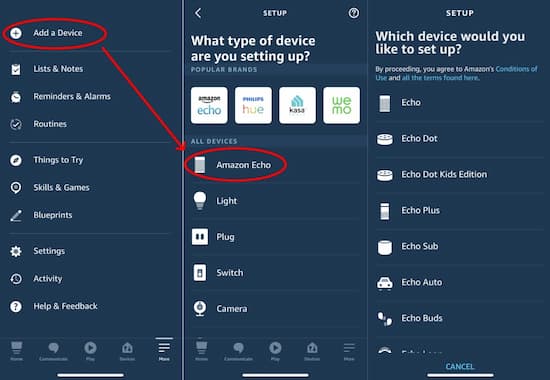 Step 3: Play Tidal on Alexa
Use music commands to play certain Tidal songs on your playlist, and they will automatically play on your Amazon Echo device. Also, you can choose Tidal as your default music service by returning to "Music & Media" >> "Choose default music services" to define Tidal default on Alexa.
---
Part 4. In Conclusion
From the guide above, you can now easily link Tidal to Alexa and ultimately enjoy your Tidal playlist on your Amazon Echo device. We have also featured a top solution -AudKit Tidizer Music Converter -to help you download protected music contents from Tidal App. The software also supports the conversion of Tidal music files to more playable audio formats for offline playback on your phone or tablet. With the App, you can enjoy limitless songs download from Tidal.
---