When you take a closer look at the digital space, there are many entreating applications carrying millions of songs in their database waiting to engage the users. Among all the popular music platforms, YouTube Music app vs Tidal is at the top of the list and has much in common, which makes users dazzled to choose one of them. Tidal vs YouTube music, which one is better?
Choosing the best requires in-depth understanding and reliable insights. This article helps to resolve in selecting between Tidal vs YouTube Music. As you all know that both platforms have many similarities and differences but their foremost goal is to engage the users without compromising any factors. Here, you will be studying the various factors associated with these two music applications. The attributes include music quality, pricing plans, discovery techniques and details about its database. It is high time to choose the perfect tool that meets your expectations promptly.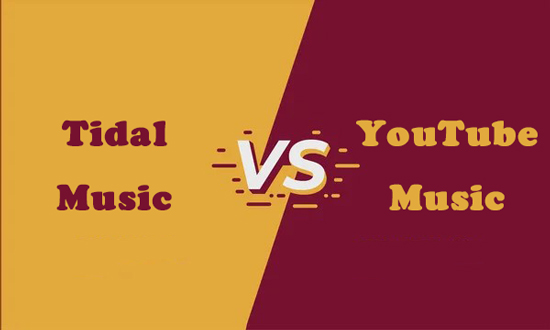 ---
Part 1. What Is Tidal vs What Is YouTube Music
To begin with, you need to figure out what is Tidal vs what is YouTube Music. Tidal and YouTube Music are the best entertaining streaming applications available in the digital space to engage music lovers. Both the applications contain huge collections of songs from different languages. They both have a simple interface and help you to play them flawlessly.
YouTube Music replaced Google Play Music and serves as one of the Android applications to play the music tracks precisely. Both the applications offer similar services in unique ways. They differ on how they stream the soundtracks to desired players efficiently. You can find millions of songs structured in the database for quick retrieval on both platforms.
---
Part 2. YouTube Music vs Tidal Music: Quality
We will compare Tidal vs YouTube Music in five different aspects. The first is music quality. When comparing it on the quality grounds, Tidal wins the race because it provides a high-definition audio experience than YouTube Music. It offers three types of subscriptions allowing you to access lossless FLACs and even 9216Kbps Master quality audio on the HiFi Plus plan. In terms of quality factors, Tidal gives you the best experience. If you can stream it to high-quality receivers, then you can listen to mind-blowing music tracks without any regrets.
---
Part 3. Tidal vs YouTube Music: Pricing Plans
In discussing the pricing plans, YouTube offers Premium plans for individuals at $9.99/month, Family $14.99/month, and finally for students at $4.99. The Tidal app categorized the pricing plans based on two options standard quality and HiFi quality. Here, you can find discount plans for Military and community heroes. The details of the Tidal app pricing were as follows.
Tidal Premium vs Tidal HiFi: Standard quality and HiFi quality
| | | |
| --- | --- | --- |
| Category | Standard Quality | HiFi Quality |
| Individuals | $9.99 | $19.99 |
| Family | $14.99 | $29.99 |
| Students | $4.99 | $9.99 |
| Military and Community Heroes | $5.99 | $11.99 |
The above pricing details are the application per month and based on your needs you can subscribe to it without any hesitation.
---
Part 4. Tidal vs YouTube Music: Library
In the case of the songs count, YouTube Music outruns the Tidal platform. YouTube Music comprises a greater number of playlists with video integration than the Tidal interface. The YouTube Music Library impresses the users by providing them with video content along with streaming music. Also, you are able to upload up to 100,000 songs to your YouTube Music library.
---
Part 5. Tidal HiFi vs YouTube Music: Discovery
From the perspective of Discovery factors, both YouTube Music and Tidal entertain the users with mixes, memories, and recent plays playlists to ease the searching procedure. As YouTube Music is closely linked with YouTube, you can enjoy videos while playing the music. Both the applications are in-built with excellent search algorithms to retrieve the desired playlists quickly.
---
Part 6. YouTube Music Lossless vs Tidal Compatible Platforms
The Tidal interface has a compatible pattern with large icons to guide the newbie users to make the right click according to their needs. YouTube Music ensures lossless streaming of the audio files to any player hassle-free. Both the applications are equally good and depending on your needs you can switch to any app without regrets. Alternatively, if you want to access the songs from these streaming platforms in an offline mode, then quickly surf the below content for insightful ideas.
You can access the Tidal playlists effortlessly using a reliable tool – AudKit Tidizer Music Converter. It is the perfect program to fix the protected file type of the Tidal songs and eases playing the soundtracks flawlessly on any media player. Here you will be learning how to use the AudKit Tidizer Music Converter app to download your favorite Tidal playlists by removing its protected file type wisely. After a successful conversion, the chosen soundtracks download to the local drive for offline listening. Connect with this app to obtain fabulous results.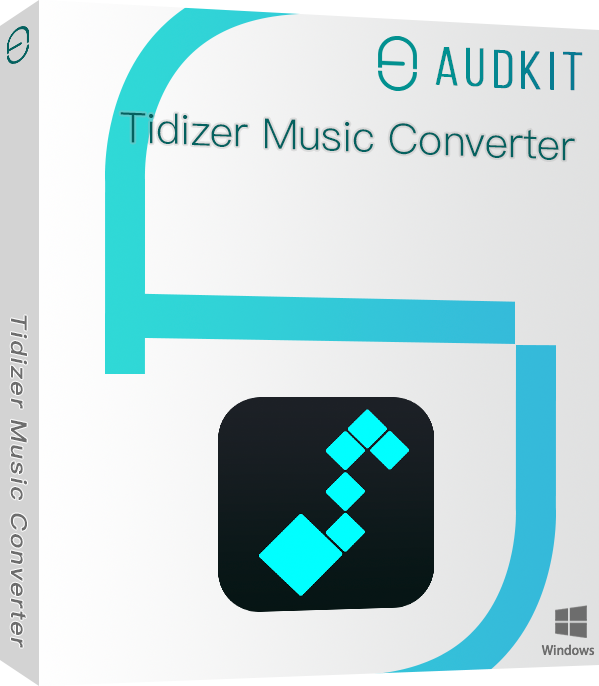 Main Features of AudKit Tidizer Music Converter
Download the Tidal playlists at a faster rate of up to 5X
Converts the Tidal soundtrack's file type to your desired format
Listen to Tidal music offline on any device you want
Retains the metadata and all ID3 tags after conversion
Here are the stepwise instructions to download and convert the Tidal music to your desired file format:
Step 1 Install the AudKit application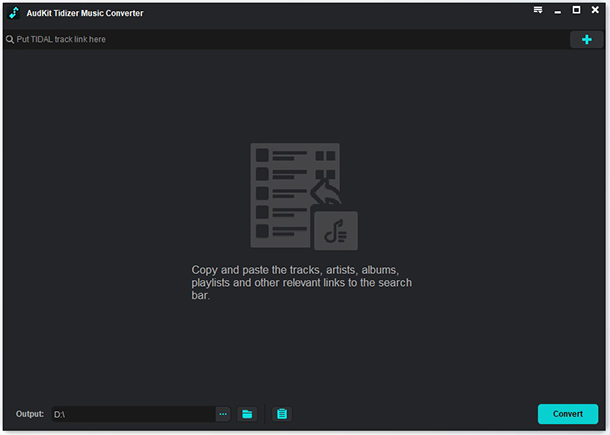 Go to the official webpage of the AudKit Tidizer Music Converter, and download and install the appropriate version based on your system OS. Then, launch the program and register with your licensed email to access all the functionalities of this program.
Step 2 Set the output parameters for Tidal songs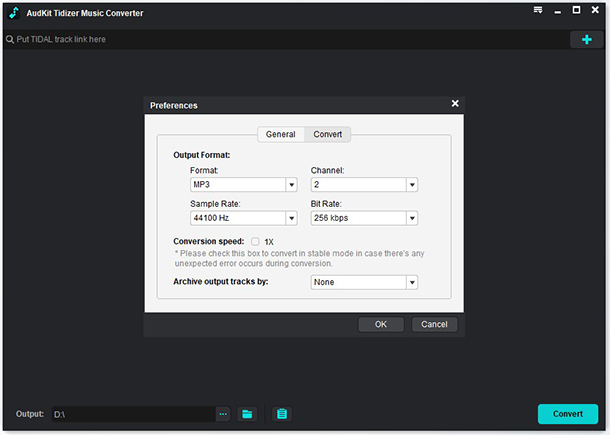 Next, choose the Preferences option from the menu and change to the Advanced panel. Here you can change the conversion attributes like output file format, bit rate, sample rate, and conversion speed. You can set the output format like MP3, FLAC, WAV, Lossless, etc. Finally, tap the OK button to save all your settings.
Step 3 Add Tidal playlists to AudKit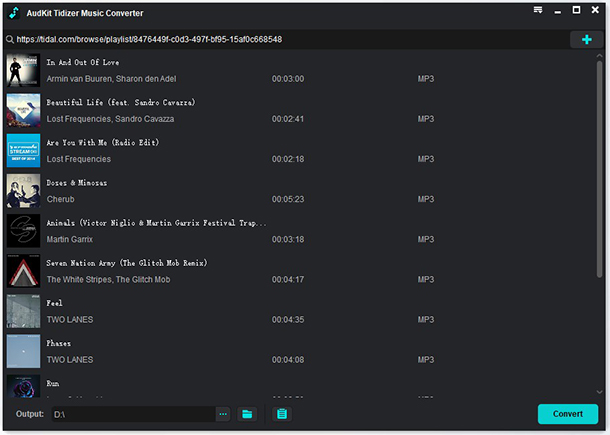 Now, go to the in-built Tidal app and open a playlist that you want to listen to offline. Tap the Music icon and insert the desired Tidal playlists into this working interface. You can also select some songs from the playlist to add.
Step 4 Start the conversion of Tidal playlists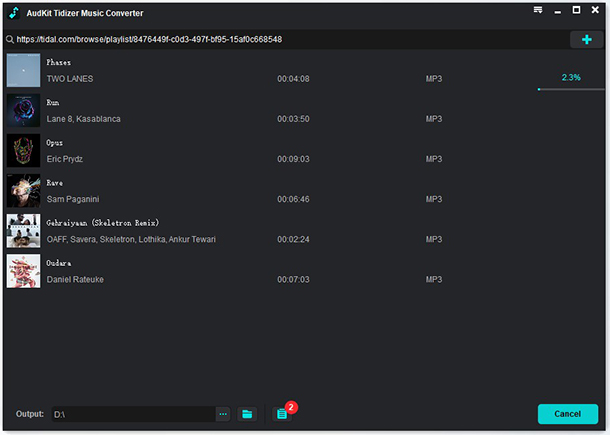 At last, click the Convert button to begin to get Tidal HiFi download. AudKit will automatically convert and download all your added songs at up to 5X speed. After the conversion, you can find them by tapping the History menu or from your computer's local folder. And now you are able to stream Tidal music on any media player for offline listening.
---
Part 6. Conclusion
Today, we had an informative discussion on the topic of Tidal vs YouTube Music. After surfing the above facts, you will be clear about what to choose between these two programs. Select the right app that rightly suits you. And there is a professional tool to help you play Tidal music. That is AudKit Tidizer Music Converter. It can download Tidal music to listen to without connecting to the Internet. And you are able to listen to Tidal on any device you want because it is dedicated to converting Tidal tracks to multiple audio formats. The AudKit Tidizer Music Converter serves as an amazing application to work with the Tidal platform hassle-free.
---