At a glance, music history has collapsed into the modern streaming era. Today, it's all about firing up an app and enjoying tens of thousands of tunes on the go. Consequently, the music streaming world is saturated with an array of online streaming services that have entirely transformed the way audiophiles consume music.
To name a few, Napster and Tidal are perfect examples. While the two services are seemingly similar, with huge Hi-Fi music catalogs and slick interfaces, there are numerous distinct functions vying for your attention. Which got us thinking Tidal or Napster? Which streaming service offers features that are worth your subscription bucks? Below we have compared the two popular music platforms, Tidal vs Napster, with a full breakdown of their pricing, audio quality, interface, and more. Here we go.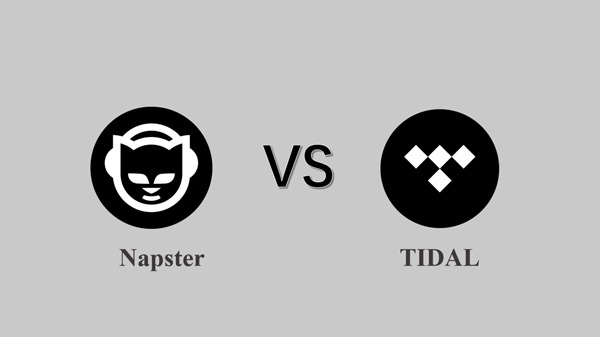 ---
Part 1. Napster vs Tidal: All-around Comparison
Napster vs Tidal – Overview
Napster – at 80 million users, it is arguably the most popular and convenient online music streaming service. This music store has changed the streaming industry with its decent 192kbps sound quality and an expansive catalog of over 110M sweet tunes and a variety of videos. With Napster, you can browse through some big artists, create a playlist, and enjoy the best music fix. Moreover, it comes with a new discovery algorithm that offers excellently curated playlists and weekly music recommendations for your listening habits.
Tidal – home to around 60 million registered users, a music library of 90+ M songs, and 450+ K official music videos. It is the first music streaming service to offer Hi-fidelity lossless audio quality and hi-resolution video content – a compelling reason for audiophiles to choose Tidal. Of course, that's not all. Tidal Hi-Fi and Hi-Fi Plus afford extra perks for its users, such as MQA, Dolby Atmos, and Sony 360 Reality Audio quality. As a plus, Tidal gives you a chance to connect with your favorite artists through their documentaries, podcasts, special events, and interview series. Thanks to its simple interface and broad device support, Tidal's ease of use is exemplary.
Tidal vs Napster – Interface
Napster – if you are fond of listening to music on your mobile phone, Napster's mobile app is your best bet. Designed with colors and integrated functions, it has an intuitive interface. The homepage has four main tabs: Home, Watch Videos, Search, and My Music. The "My Music" section is where you can access your favorite songs and playlists played recently or downloaded for offline listening. Alternatively, you can use the "Search" section to browse albums, top songs, and radio stations of artists. On the flip side, Napster's web browser comes with a Now Playing panel for easy navigation without installing the program.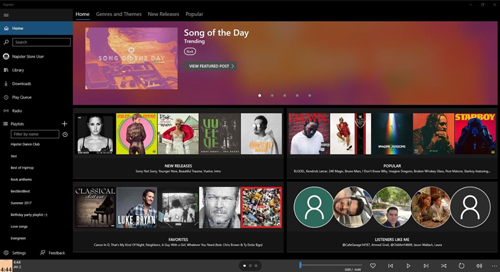 Tidal – being beginner-friendly, Tidal comes with an all-around and simple interface. On the left panel, Tidal's feature menu is clear and organized for easy navigation. That is to say; you don't need any technical knowledge to steer your way through the app to enjoy quality music. It also allows basic control through large "Play", "Loop", and "Shuffle" icons. However, Tidal's color and style are a little monotonous in contrast to Napster.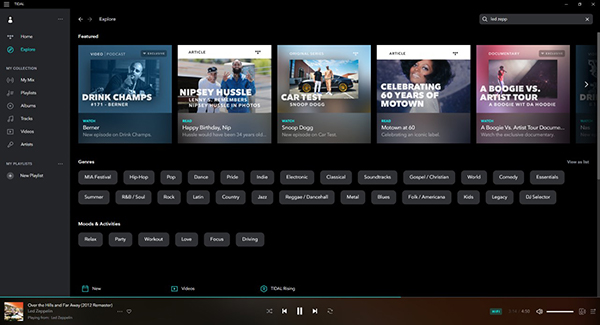 Napster vs Tidal – Audio Quality
This is where Tidal's excellent streaming quality shines over Napster's normal bit rate. Here is a table to compare the sound aspects of both streaming platforms.
TIDAL
NAPSTER
Maximum Bit Rate
Tidal Hi-Fi: 1411 kbps;
Tidal Hi-Fi Plus: 9216 kbps
320 kbps
Lossless Audio
Yes
No
MAQ
Yes
No
Dolby Atmos
Yes
No
Sony 360 Audio
Yes
No
Napster vs Tidal – Pricing and Plans
When it comes to pricing, both Tidal and Napster, cater well to their users with different subscription plans. Find all the details of the pricing of each streaming service below.
SUBSCRIPTION PLAN
PRICE
NAPSTER
Napster Premium
$9.99 a month
Napster Family
$14.99 a month
TIDAL
Tidal Hi-Fi
$9.99 a month
Tidal Hi-Fi Plus
$19.99 a month
Tidal Family Hi-Fi
$14.99 a month
Tidal Family Hi-Fi Plus
$29.99 a month
Tidal vs Napster – Device Compatibility
Napster makes it easy to access millions of songs on a variety of devices. These include iOS, Android, tablet, iPad, Amazon Alexa, Apple and Samsung watch, CarPlay, Android Auto, web, and laptop.
Comparatively, Tidal offers support for a lot more devices and platforms than Napster. For example, it is compatible with all smart TVs, Vizio, Chromecast, Roku, Volkswagen, Lincoln, Mercedes Benz, Tesla, Apple and Android Phones, CarPlay, Android Auto, windows OS, and Mac OS. For the best part, you can also improve Tidal's compatibility using a third-party app called AudKit Tidizer. Not sure what it is? We have you covered.
Step 1: Download the AudKit Tidizer tool from its official website and launch it.
Step 2: Change your output settings by heading to Preferences > Convert, and adjust the bit rate, sample rate, output format, etc. Then click OK.
Step 3: On the Tidal app, select your favorite tracks and playlists, then click Share > Copy Link. Paste this link on AudKit Tidizer's search bar and press the + icon to import.
Step 4: Finally, hit the Convert button to start converting. Once finished, your favorite Tidal music will be ready to be played on any device.
---
Part 2. Napster vs Tidal: Comparison Table
For a quick review, here is a feature comparison chart between Tidal and Napster covering the abovementioned aspects.
PARAMETERS
TIDAL
NAPSTER
Monthly Fee
Tidal Hi-Fi: $9.99/month;
Tidal Hi-Fi Plus: $19.99/month
$9.99/month
Sound Quality
Tidal Hi-Fi: 1411 kbps;
Tidal Hi-Fi Plus: 9216 kbps
192 kbps
Lossless Audio
Hi-Fi quality
MAQ (Master Quality Authenticated)
Dolby Atmos
Sony 360 reality audio
Not available
Interface and Design
Easy-to-use and monotonous
Colorful and intuitive
Compatible Devices
20
10
Music Library Size
90+ M tracks & official music videos
110+ M tracks & 450+ K videos
Platforms Supported
Web, iPhone, iPad, Android
Web, iPhone, iPad, Android
---
Extra Tips: How to Download Tidal Music without Tidal HiFi/HiFi Plus
While Tidal does not allow you to enjoy offline playback without its Hi-Fi or Hi-Fi Plus plans, AudKit Tidizer Music Converter can do it for you. It allows you to download music from Tidal to a computer without a Tidal paid plan.
AudKit Tidizer is a powerful tool that helps you remove protection from Tidal and stream them as plain audio formats, including MP3, FLAC, WAV, M4A, M4B, etc. Not to mention, the download process is 100% lossless, and the converted music has original Hi-Fi master audio quality.
Moreover, AudKit Tidizer takes pride in its advanced technology that allows you to batch convert numerous songs, playlists, and albums with 5x lightning speed. That is to say, even the most exhaustive playlist will be downloaded within no time.
Last but not least, AudKit Tidizer Music Converter also preserves the original ID3 tags from Tidal tracks. In order to facilitate better music organization, it keeps the official details like the album, title, year of recording, and more.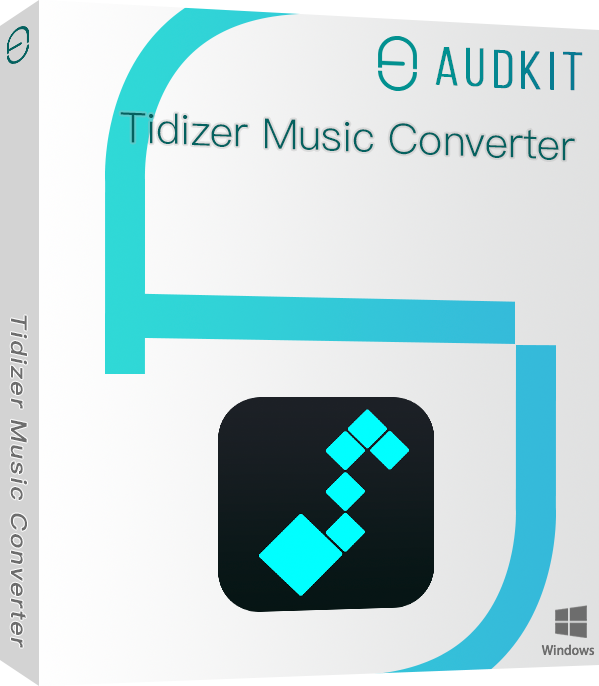 Convert Hi-Fi Tidal music to MP3, M4A, M4B, FLAC, etc.
Batch conversion with 5X faster speed
Keep original ID3 tags intact
100% lossless output quality
Learn how to download Tidal music without Hi-Fi/Hi-Fi Plus using the amazing AudKit Tidizer tool in 3 simple steps.
Step 1: After downloading the AudKit Tidizer Music Converter on your PC, run it to get started. On the top menu, click Preferences > Convert to open the settings window. Here you can customize the required output format, bit rate, sample rate, etc., as per your needs. Then hit OK.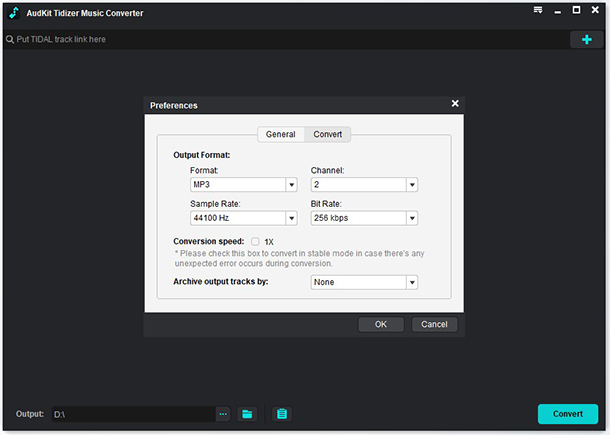 Step 2: Next, open the Tidal app and browse through your library to select the tracks or playlists you want to convert. After selecting, press the Share button and copy the song link. Move back to the AudKit Tidizer interface and paste the URL in the search box, then click + to upload all the selected songs.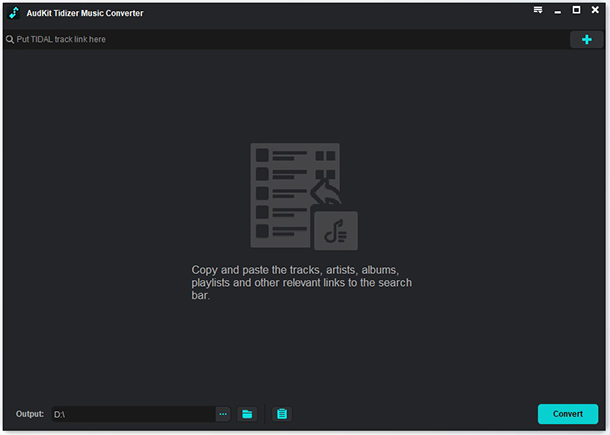 Step 3: Once the settings are done, tap the Convert button on the lower left corner and relax for a few minutes. After the conversion process completes, locate the downloaded Tidal songs and play them offline without Hi-Fi/Hi-Fi Plus.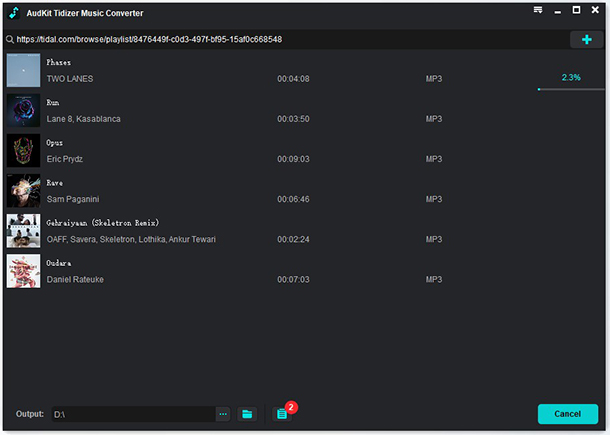 ---
In Conclusion
There you go. A complete and detailed comparison between Tidal and Napster. So, which one is better in the Napster vs Tidal comparison? Well, it all depends on your requirements. As you can see, both platforms allow you to play your favorite tracks or playlists seamlessly. But if you are someone who pays attention to sound quality, Tidal is unquestionably for you. Its Hi-fi and Hi-Fi Plus plans offer various impressive audio quality and allow you to listen to music offline.
By the way, if you choose Tidal, we have a better option for you to enjoy offline playback. That is AudKit Tidal Music Converter. It allows you to download music from Tidal to your computer without Tidal HiFi/HiFi Plus.
---