Tidal is a prominent music streaming service that differentiates itself from the other streaming platform by providing lossless audio. It offers quality music to its consumers after they subscribe to its services. After becoming a member of Tidal, you will get access to movies and podcasts in addition to music.
Tidal has attracted the attention of individuals who like high-quality music in addition to 320kbps audio. Tidal respects not only the rights of artists but also the rights of users, so users enjoy quality music only inside the app.
Tidal allows you to hear music with increased clarity and spaciousness. But because Tidal does not give free usage to its users after the initial 30-day trial for new users, users may not be able to download or play songs when the free trial day elapses. To continue using Tidal, you will be required to pay a minimum of $2.33 per month for the most basic premium membership or a Tidal HiFi subscription. When your Tidal subscription expires, you will no longer be able to download or listen to your Tidal playlist.
As a result, we will show you how to use Tidal on Linux even if your subscription is expired.
---
Part 1. How to Get Tidal App to Work for Linux
While Tidal has been working hard to offer its exclusive products to every part of customers' life, it does not have a special app for Linux until Tidal CLI Client came into the scenes. With Tidal CLI Client, you may access over 50 million Tidal songs as well as high-profile original material such as music videos, concert live streaming, documentaries, and more with the app.
Playing Tidal on Linux with Tidal CLI Client
Tidal CLI Client is a free and open-source command-line music streaming software that allows Tidal customers to search for and play music on their Linux computers. Before you get too excited to start using Tidal CLI Client, bear in mind that it's simply a client app, and you'll need a Tidal account to use it since you'll be requested for your credentials the first time, you use the app.
Here are ways to use Tidal CLI Client.
Install the Tidal CLI Client using the NPM package manager.
Run the app and sign in to your Tidal account.
To search for a song, click ":" and put the song's title or "track" into the search box. Alternatively, enter an artist or album as a search term.
To play music, choose one from the list. To add music to the queue, press "N." You may also pause the music at any moment by using the "Esc" key.
There is currently no sign-out option available in the Tidal-CLI app. Instead, you'll have to delete the file that holds login information on your Linux PC if you wish to sign out of one account and sign in to another.
---
Part 2. Tool You Need to Use Tidal on Linux
Tidal-CLI is, in fact, quite buggy right now. Its installation is a little complicated for Linux users, and it won't work for everyone. You may run across several problems when installing and running. Is there any other way to make Tidal easier to stream on Linux Tidal?
The answer is a resounding yes. All you have to do is use AudKit Tidizer Music Converter to download and convert Tidal music songs to popular audio formats. Congratulations, if you have your Windows or Mac computer, the procedures will be much easier for you. You can always borrow one from your friends or siblings if you don't have one. If you keep it for a bit, they won't mind.
The Best Tidal Music Converter You Will Ever Need
AudKit Tidizer Music Converter, as a multi-track sound recording tool, specializes in collecting any audio from your computer, including online streaming content, live broadcasts, movie soundtracks, and so forth, whether playing in online players, desktop media players, or other programs.
You can easily get Tidal music and convert Tidal music to MP3, WAV, FLAC, and other commonly used formats with lossless audio quality with our powerful sound recorder. AudKit Tidizer Music Converter may also make it easier to handle the ID3 tags on records, such as the artwork cover, title, artist, year, album, and genre, among other things.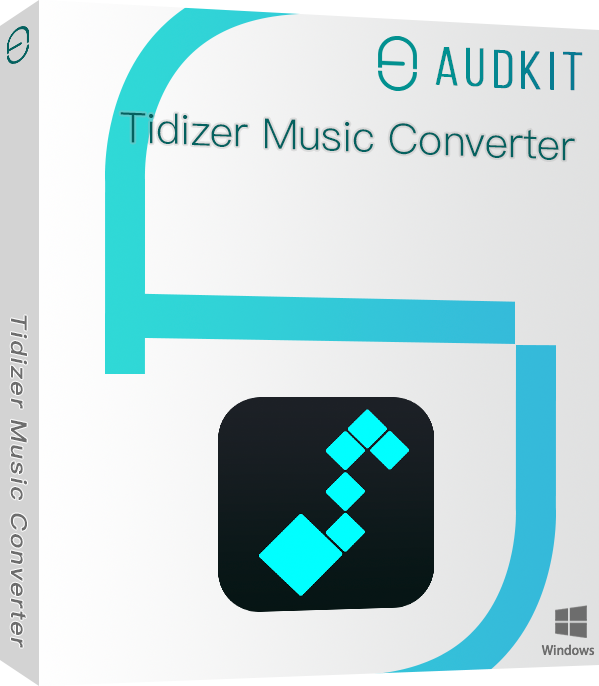 Main Features of AudKit Tidizer Music Converter
Save songs from Tidal to your PC for offline listening
Convert all Tidal files to Lossless, MP3, FLAC, WAV, and more formats
Export Tidal music in lossless quality, with all ID3 tags maintained
A few clicks to automatically download Tidal songs at 5X speed
---
Part 3. Detailed Guide to Play Tidal HIFI on Linux
Before you convert, be advised that you must first download and install AudKit Tidizer Music Converter from the AudKit website. Then, using the steps below, you may convert Tidal songs to Linux.
Step 1 Add Tidal Music to AudKit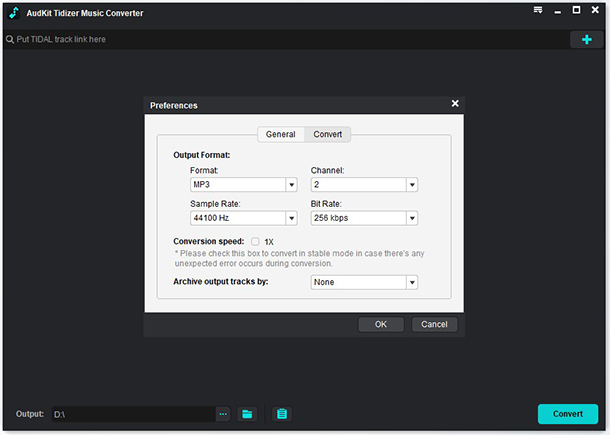 You can reset the settings in AudKit Tidizer Music Converter. You may specify the output format, channel, bit rate, and sample rate in the window. Simply tap the "Preference" > "Advance" button to finish. If you're using Tidal HiFi, you should use FLAC, 16bit, 44100Hz. Tidal Master users should choose FLAC, 24 bit, and 96000Hz.
Step 2 Import Tidal audio into Linux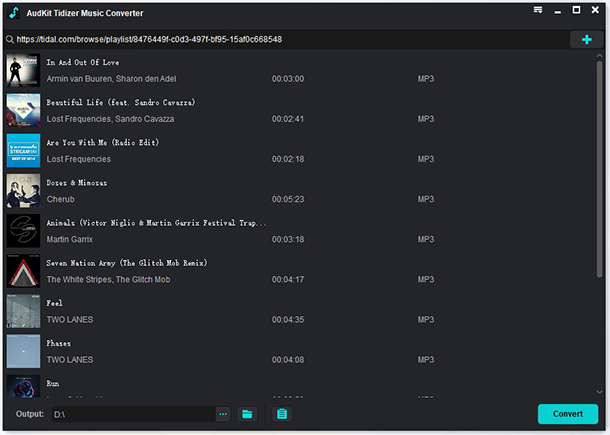 Select your favorite Tidal playlist in the built-in Tidal web player. Choose the "Add Music" blue tab. Then further select and import Tidal tracks into AudKit. After selecting the "OK" button to save the settings, please click the large "Convert" icon at the bottom to download Tidal music. You may bulk convert up to 100 songs in a playlist at a time.
Step 3 Tidal music conversion for Linux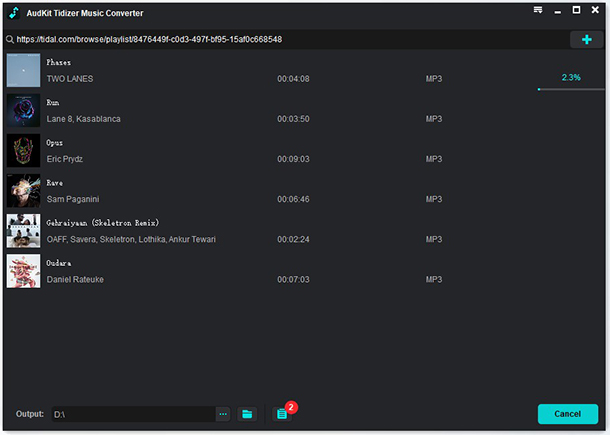 You can witness the conversion process in the window. After it is finished, click the "History" button to see the "Converted" catalog. As a result, the Tidal files that have been converted may be located in the history folder. You will receive one-third of the file back if you use the free version of the AudKit software. If you pay for it, you can get the whole Tidal song.
---
Part 4. How to Add Tidal Music Library to Linux
You may effortlessly transfer Tidal music to Linux for offline listening via a USB drive following the conversion. You can do so by following the precise procedures outlined below.
Step 1. Connect the USB drive to the computer's USB port, whether Windows or Mac.
Step 2. Locate the Tidal music files that have been converted on your PC.
Step 3. Copy and paste the converted Tidal tracks you desire onto your USB stick. Alternatively, you may drag the folder straight onto the USB device.
Step 4. Connect a USB flash drive to your computer.
Step 5. Choose a media player to use to play Tidal Linux.
---
Part 5. Conclusion
This article illustrates two different methods for playing Tidal on Linux. It's a little complex and unreliable to stream using Tidal CLI Client. Alternatively, using AudKit Tidizer Music Converter to convert Tidal audio songs to Linux is the best solution. Don't hesitate to acquire this excellent utility if you're a Linux lover who subscribes to Tidal.
---