All users in the United States are now able to access Spotify Audiobooks. As a result of the new functionality, you will be able to buy audiobooks and listen to them on Spotify, meaning that you will only need to use one platform for all your listening requirements. However, since there is no set category for audiobooks on Spotify, it might be difficult to identify the specific title that you are looking for.
Because the Audible Store makes available to customers a considerable number of audiobooks, you could find it useful to import them from Audible to Spotify. However, if you find that you often listen to audiobooks on Audible as part of your routine, you can want to think about moving those audiobooks from Audible to Spotify.
Since Audible audiobooks are stored in the AA/AAX format, it is impossible to listen to Audible books on Spotify directly. Therefore, do you know of any method to incorporate Audible into Spotify? This is the ideal solution for you if you are a user of Spotify and would rather have someone else read your books to you than read them yourself!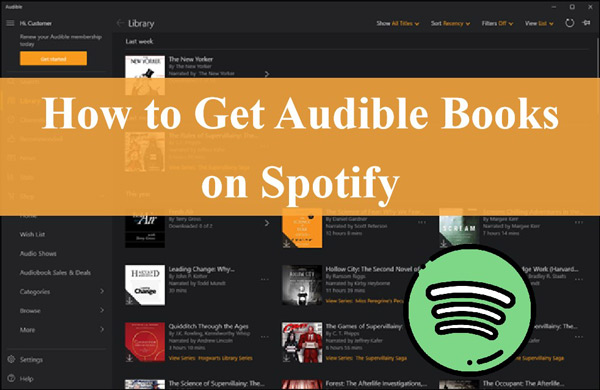 ---
Part 1. Why Can't You Listen to Audible Books on Spotify?
Can Audible books be listened to on Spotify? Before we get started, you need to be aware that to keep their resources safe, Audible, a streaming service, encrypts all the AA/AAX files used to download their books. The Audible app is the only one capable of recognizing these encrypted audio files, which implies that the recordings can only be played inside the Audible app.
Because Audible and Spotify have not formed a relationship, it is possible that you will not be able to access books purchased through Audible via Spotify. A lock will display next to the play button if you have not yet bought an audiobook. This will remind you that you must first purchase the book to listen to it.
So how to get Audible books on Spotify? Following the instructions will show you how to make audiobooks from Audible accessible on Spotify.
---
Part 2. How to Download and Get Audible on Spotify
If you have a premium membership with Audible, you can download and save audiobooks from the service you want to listen to later. To access the audiobooks on your devices, those devices must be able to visit the Audible website and have a login option. However, if you're thinking about putting your Audible books on other music services like Spotify, the answer is no. You cannot add Audible to Spotify because the audiobooks are encrypted in the AA/AAX format, which is not a standard format for applications like this. Therefore, Audible audiobooks cannot be played using Spotify.
Converting audiobooks purchased via Audible to a universal format, such as MP3, is the solution to this problem. This kind of tool is available to you in the form of the AudKit Audible AAX Converter. This software can convert Audible AA/AAX files to MP3, FLAC, WAV, M4A, and many more formats. After that, you'll be able to listen to the converted audiobooks offline on Spotify by importing them.
With the AudKit tool, all the downloaded Audible audiobooks are retained in their original quality without any loss, and their ID3 tags are not lost. Additionally, you can configure the output settings and divide the books from Audible into sections based on the chapters. AudKit Audible AAX Converter, which operates at a pace that is 100 times quicker, will unquestionably return the audio files to you in a brief period. After that, you can easily put them into Spotify for listening.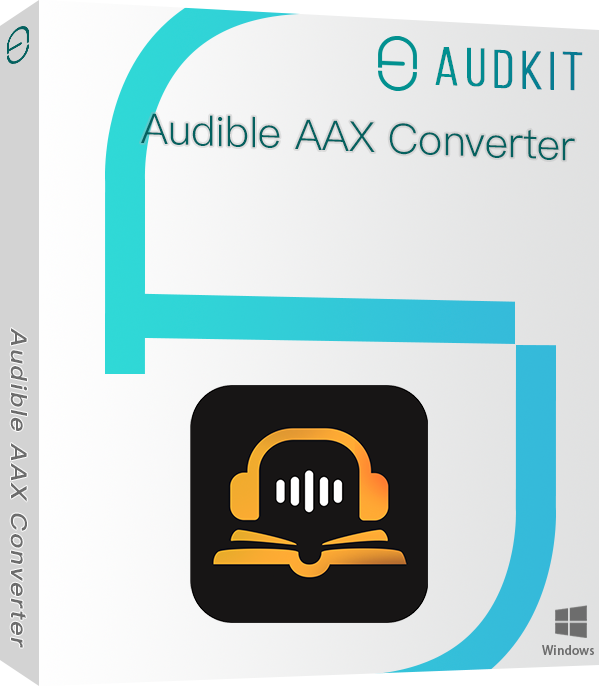 Break up prolonged Audible audiobooks into chapters or periods
Convert Audible AAX to MP3, M4A, AAC, M4B, and other file types
Store Audible books with full ID3 tags and the lossless quality
Download Audible books in minutes with 100X speed
How to Convert Audible Books Offline to Listen on Spotify
Step 1 Install and register AudKit Audible AAX Converter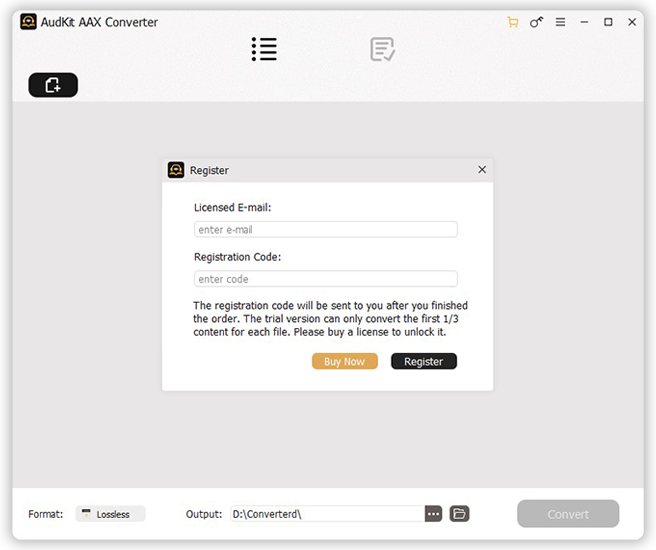 If you're interested in giving the AudKit Audible Converter a try before committing to a full purchase, you can get a free demo for either Mac or Windows by selecting the appropriate "Download" button above. After installing and opening the AudKit app, choose "Register" under the menu to access this window. To start using this product, enter your licensing information into the registration box that will appear.
Note 1: To see how well it works, you can use the free trial to convert the first one-third of any Audible audiobook.
Note 2: You can purchase a license and unlock all conversion features in the trial version by providing a valid email address and a registration code.
Step 2 Import Audible AA/AAX audiobooks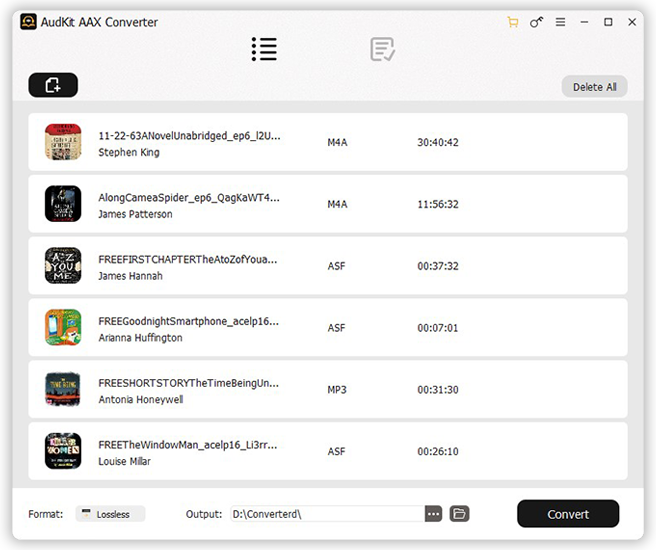 To import Audible audiobooks, you can choose the "Add Files" icon, additional windows will open, each displaying an Audible file. Select many books at once and hit the Open button to have them all added at once. In an easier way, you can also use the AudKit program's drag-and-drop functionality to import Audible files straight into the conversion window.
Step 3 Reset Audible output settings for Spotify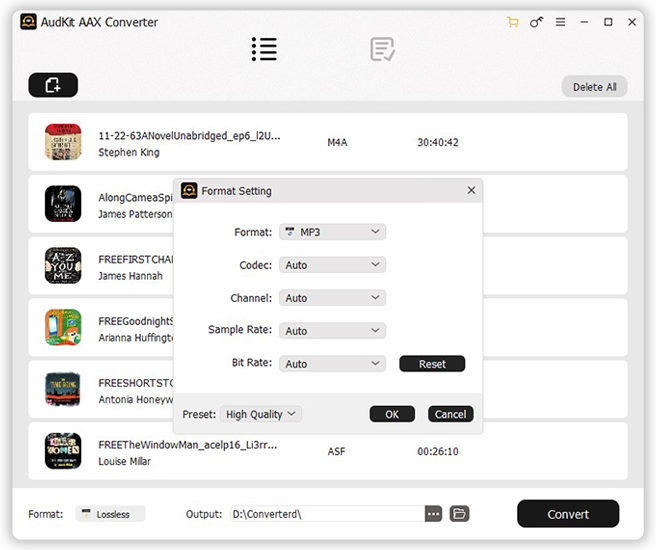 Once all your Audible books have been imported into the AudKit Audible AAX Converter, you can adjust the output settings for Audible files by clicking the "Format" option in the AudKit program's lower left corner.
Tip: To meet your specific requirements, you can choose the output format to be anything from Lossless to MP3, FLAC, WAV, AAC, M4A, and more. You can change the bit rate, sampling rate, audio channel, and more if you're not using Lossless as the destination format to maintain the original files.
Step 4 Make other customizations for Audible books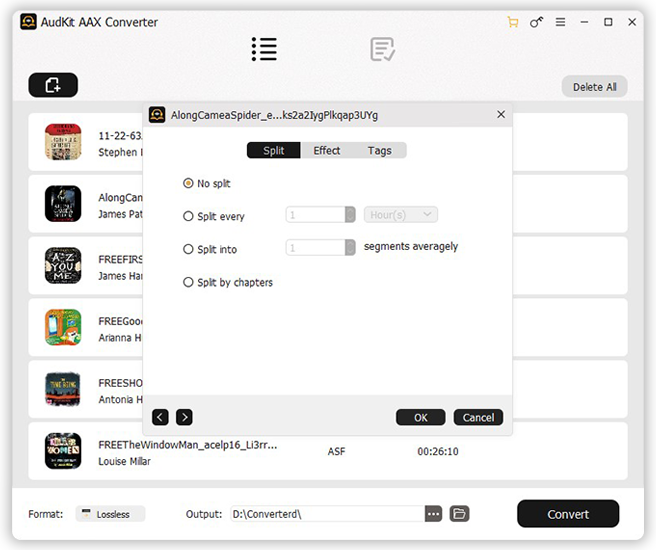 Each newly added Audible audiobook on the AudKit app has two icons. You can change the volume, speed, and pitch of an audiobook playing in the 'Effect' area by clicking the 'Edit' button, and you can modify ID3 tags such as the year, title, and album in the 'Tags' section. While in the "Split" part, you can split Audible books by chapters.
Tip: When using AudKit Audible AAX Converter, you can alter the output location to keep it standard audio files. To modify the output pitch, choose "Preferences" > "Convert" from the main menu before beginning the conversion procedure.
Step 5 Download Audible audiobooks for Spotify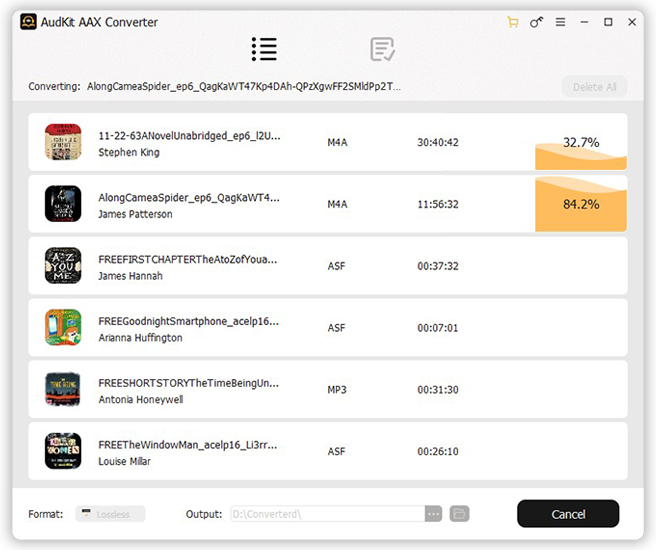 The AudKit Audible AA/AAX Converter will then download audiobooks you've imported and convert them to standard audio files at a rate of up to 100 times the original speed when you press the "Convert" button in the bottom right corner of the interface.
You can then locate the downloaded Audible files by tapping the Folder icon at the bottom when the process is finished. Those audiobook files can be now imported to Spotify if you want. You can follow the steps in the post: How to Add Local Files to Spotify to add your local Audible files to Spotify.
---
The Bottom Line
Do not hesitate to start if you wonder if can you add Audible books to Spotify. This article is a textbook-like guide for you to learn how to get Audible books on Spotify. You can quickly transfer your Audible audiobooks to the Spotify app with the AudKit Audible AAX Converter. There is no ongoing monthly fee for maintaining your membership. The audiobooks are easily accessible on the Audible website, saving you time. The converted lossless audio files are compatible with any music player, including Spotify.
The audiobooks will be fully yours to keep on your gadgets. You can try out the AudKit Audible AAX Converter before you commit to purchasing it.
---